FOR MORE INFORMATION: wildernessexperience.net


Wilderness Experience, Inc.
For the first few years Wilderness Experience specialized in designing and manufacturing backpacks and luggage. Our sales organization worked closely with Snow Lion, a manufacturer of tents, sleeping bags and apparel. In 1978, at the major trade show in Chicago, Snow Lion announced they were having financial problems and declared bankruptcy. Although we had never made a tent, a sleeping bag, or any type of apparel for that matter, we assured everyone that we would start making these products if they would switch their orders to us.
They did. We began to manufacturer tents, sleeping bags, technical apparel and sportswear.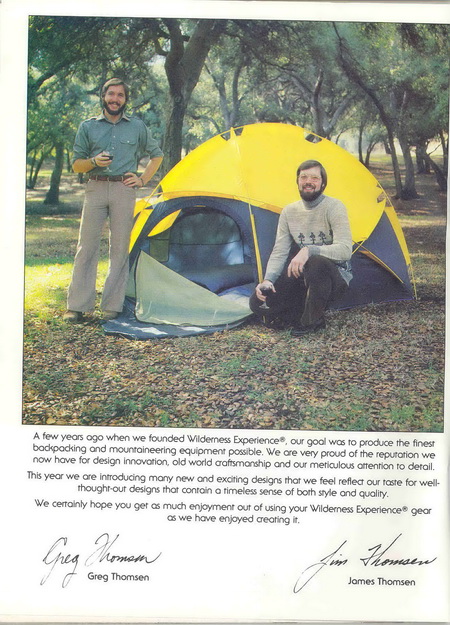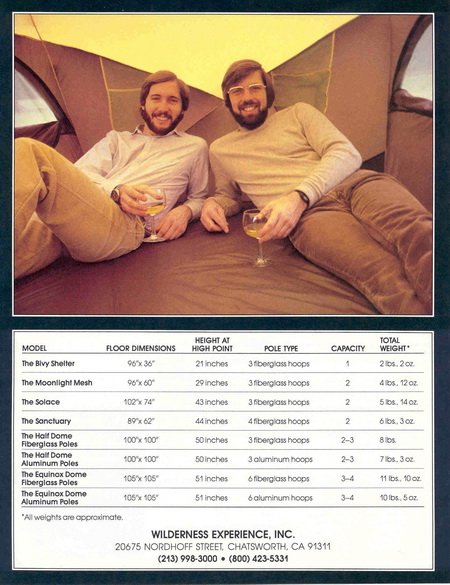 After our first catalog included a randomly shot picture of Greg and me holding our glasses of wine, it became our "trademark". All future catalogs pictured us on the inside cover holding our partially filled wine glasses. As the years went by the glasses were of better quality and the wines of better vintage.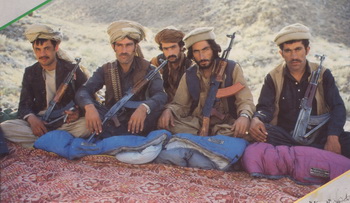 The Taliban, when they were our friends fighting the Soviets. Maybe they are still using their Wilderness Experience sleeping bags today. This picture was taken by Mike Hoover when he was making a documentary on the war in Afghanistan. We used it in a catalog.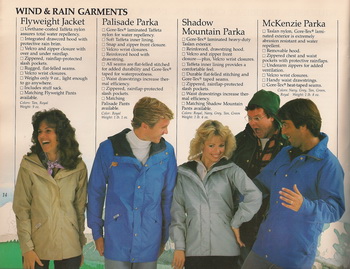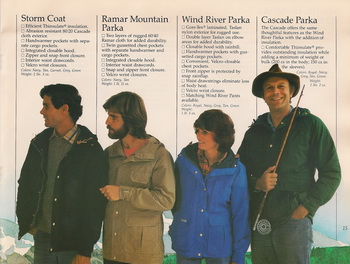 By the 1980s Wilderness Experience had an extensive line of apparel including down jackets, Gore-Tex pants and jackets, rainwear, activewear and sportswear.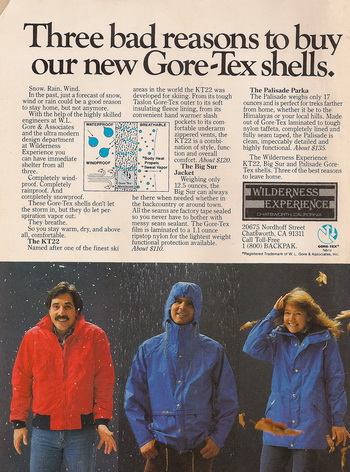 In all humility, Wilderness Experience made the very best high altitude equipment available at the time. When Gore-Tex fabric was first introduced three companies signed up to make products. Wilderness Experience was one of those companies.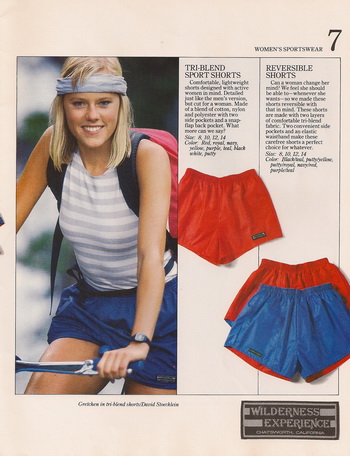 In addition to technical apparel Wilderness Experience made a complete line of outdoor apparel and sportswear. Many of these products were ahead of their time and today are standards in the product lines of major outdoor companies.
Those were incredibly interesting, exciting and fun years. To start a company with no money and see it grow, to see our products being used by people we didn't know, to read about ourselves in the trade magazines and in the financial pages of the local paper...it was all hard to believe. Today all the companies use contract sewing factories, usually in Asia, but we not only had to design good equipment we also had to learn how to produce it. I think it was that knowledge of the entire process that helped us produce great products at reasonable prices.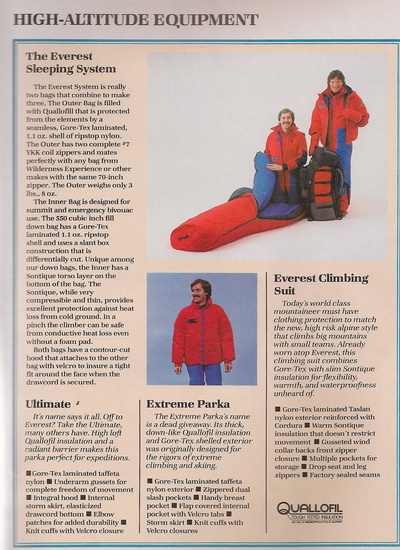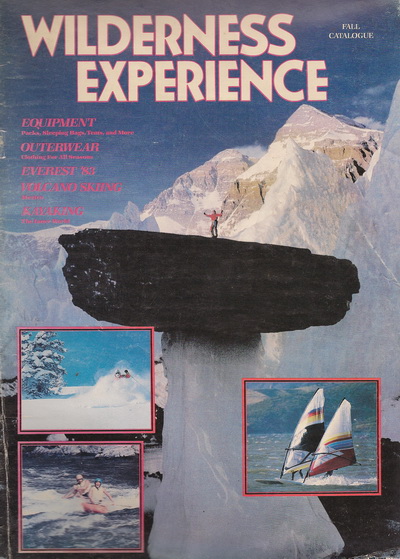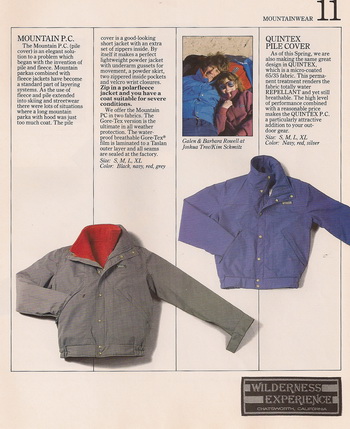 Today every outdoor company makes a shelled jacket with a zip out fleece liner. Greg was the first person to design one and Wilderness Experience was the first manufacturer. I guess we should have patented it. In the above ad Galen and Barbara Rowell introduced this product.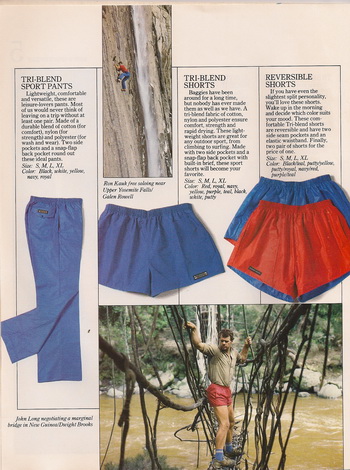 In the days before Patagonia, Wilderness Experience made quick drying shorts and pants. John Long and Ron Kalk promote these new items in the above ad.
First Hydration backpack? Long before Camelbak existed Wilderness Experience made a Hydration pack for an important industry friend who raced every year in the famous Birkebiner cross country ski race in the upper midwest. In 1975 Greg designed and made a pack based on our Hummingbird design, but with an enema bottle inside and the plastic "mouthpiece" attached to the shoulder strap. Maybe if it was a high tech bladder inside rather than a regular enema bladder it could have been successfully marketed?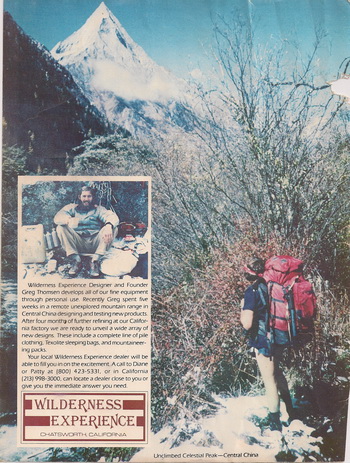 Mountaineering continued to be a passion for Greg and me. Above is a picture of Greg on one of the very first western expeditions to a remote area of China in the 1980s.
Wilderness Experience offered a large range of backpacking and mountaineering tents from single person bivy shelters and 2 person tents weighing less than 5 pounds to the Equinox (above). The Equinox, I believe, is still the best high altitude mountaineering tent ever made and the only truly geodesic dome tent. All six aluminum poles were the same length and the side walls are nearly vertical.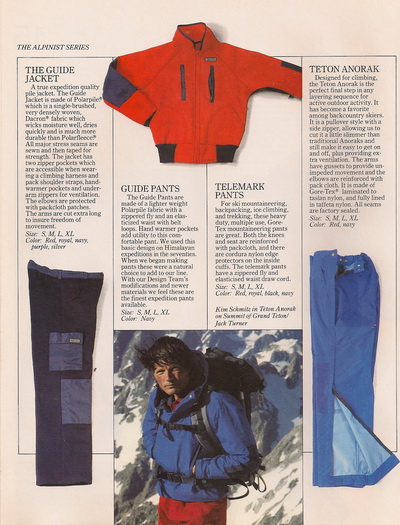 Kim Schmidt, a climber who used Wilderness Experience gear, consulted with Greg to design the best products possible.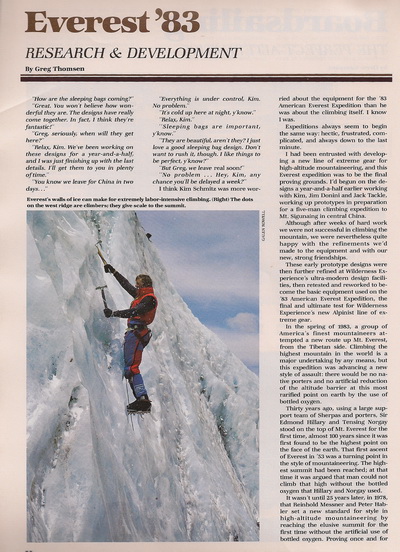 Jim Donini, current president of the American Alpine Club, was the Wilderness Experience sales agent for the Pacific Northwest for several years. He continues to do some of the most incredible climbs in the world.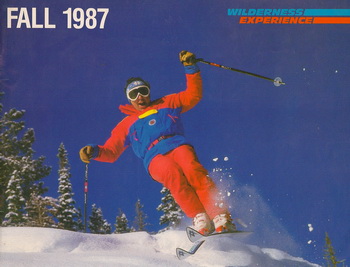 As growing and successful companies run by more than one person often do, disagreements arose on the direction of the company. I left the company in 1983 and after making some important changes, Greg left about a year later. Wilderness Experience was purchased by K2 some years later.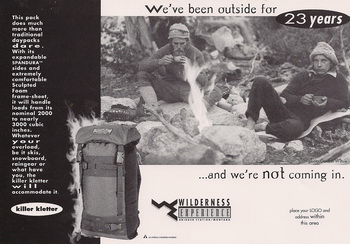 K2 - Anthony Industries tried to re-introduce Wilderness Experience but there was no commitment behind the brand and nobody there who really wanted to see it succeed. Today it is all but gone.
It is very sad to have a brand that was one of the best in the outdoor industry, the first to have a public stock offering and one of the fastest growing companies just disappear. Greg designed some of the most innovative products available and many of those designs exist today under other brand names.
Over the years Wilderness Experience was very lucky to have hundreds of excellent employees who cared so much about the company. It really did feel like a family. We had loads of good times along with a few bad times, many challenges and quite a few major successes.
If anyone who worked with Wild X reads this, please contact us. We would love to hear from you. Even better, if you have any pictures or stories it would be great to include them on this site.
Go to Wilderness Experience Page Three
Read about Jim's work at Eastpak & Kipling
SNEWS magazine One of the first outdoor industry magazines has a series of profiles of the early outdoor industry pioneers.
Read the Wilderness Experience Story
Read other stories about the history of the outdoor business