The Grand Plan
We ordered our 4x4 short wheelbase (144"), high-top Sprinter cargo van in April 2016 and received it in October. Building it out ourselves allows complete control over the design and materials. Plus, it's cheaper than a Sportsmobile.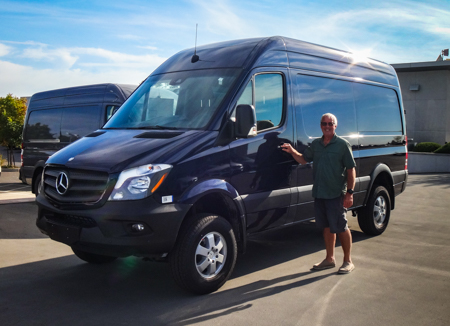 We've owned VW Westies and spent the summer of 2011 touring New Zealand in Gerty, an old Toyota Hiace campervan. Our home for the last ten years has been a 40' Hallberg-Rassy sailboat named Tenaya. All were fully fitted when we bought them.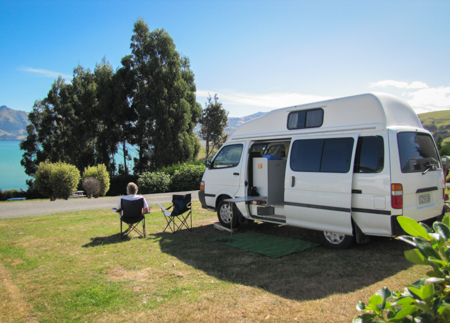 You cannot believe how excited we are to build our Sprinter from scratch! We've got some pretty good ideas of what we want and plenty of time to work on it, so let's see how it goes!
We liked Gerty's layout with a sink behind the passenger seat, galley across from the sliding door, and two long bunks that could be used as couches or converted into a big bed. So, with a few tweaks, we'll do the same with the Sprinter.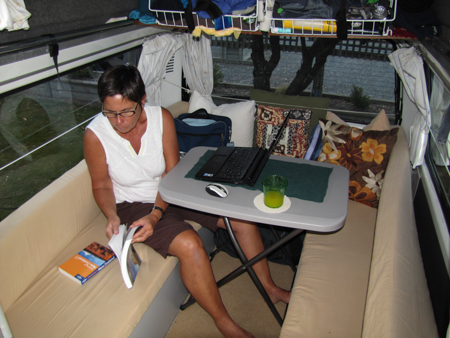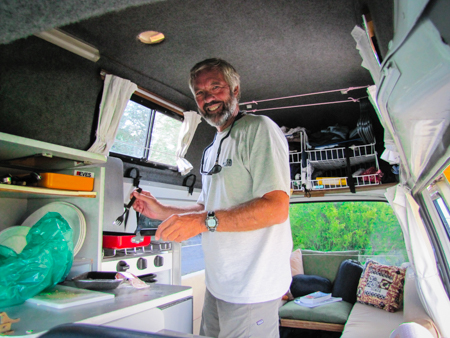 Tenaya has a similar main salon layout with a table between the couches.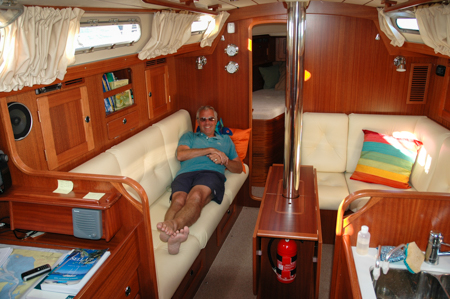 Our plan is to put a 6" raised floor behind the galley on which the bunks and table will be secured. That will give us space for long narrow things like skis, shovels, tripods and collapsible chairs.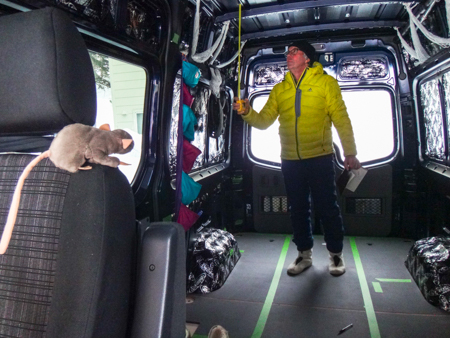 We opted for factory windows only in the rear and on the sliding door. If we decide a small window or two is necesssary for airflow, we may install Lewmar portlights.
Lockers will be mounted along the top of both sides and perhaps in front of the back door, widthwise. The galley will have them too.
Because we live at 8000 feet and will be winter camping, abundant insulation and a good heater are important. Tenaya has a Webasto diesel heater which works well so we'll install one here. To eliminate the need for propane, we'll also fit a diesel stove.
Several van owners say they love their microwaves and we certainly appreciate the 750 watt one on Tenaya during night watches, the first few days of a passage when seasickess looms, and when it's too hot to use the oven or stove, but we don't plan to put one in the Sprinter. We'll have a 1000 watt inverter to plug in a teapot...and if we change our minds.
Katie has always admired dark blue sailboats. Ours is white. So, when it came time to order our land yacht, we chose Cavansite Blue Metallic (#890). We think it will be pretty cool to put in a teak and holly floor and have a few other marine fixtures on board.
When it's finished, the Sprinter will be ready to take us away for weekends, weeks or months. We can't wait!