Eastpak, JanSport and Kipling
In 1994 I joined the VF Corporation as Vice President/General Manager of JanSport, the number one brand of backpacks and student daypacks in the USA. It was an exciting and challenging job but with parts that were very hard for me. The business was divided between offices in Seattle and in Wisconsin. All the manufacturing was in the USA and our competition was able to offer more features and better designs by producing products in Asia. It was easy to know what things should be done, that we should move production to Asia too, but for me it was really hard. I felt like I had become of the those businessmen who did things without caring about how it affected people. But they were the right things to do for the business and needed to be done if the company was to continue to succeed. And I was being paid well by VF Corporation to do the things I knew were right. Over the next 4 years we consolidated the offices and moved all the manufacturing to Asia.
VF Corporation owns more than 50 brands and has a very interesting method of acquiring businesses. There was not an acquisition team or department. Suggestions for possible acquisitions come from someone in one of the operating businesses and that person has to "sell" the idea to the top management, being responsible for all the financial plans and usually then running the new business.
Starting in 1997 I pushed hard for the acquisition of three companies. First was Eagle Creek which made it to a meeting with the owners and the top VF management, but was turned down (VF finally did purchase Eagle Creek in 2006). The second was The North Face, but in 1997 the VF President thought it was too expensive (he turned out to be very right) and the third was Eastpak, JanSport's largest competitor in the USA and the number one position in Europe.
Eastpak was owned by Sunbeam/Coleman and in 1999 they were having financial problems and the chance to sell Eastpak for $100 million was too good to pass up. The business was 80% Europe and 20% USA. I moved to Europe to handle the management and integration of Eastpak into VF. Right after I moved to Brussels the North Face opportunity reappeared. The brand was loved by consumers and the products were excellent, but the business was not run well and the bank was going to pull all the loans within a month or two. I joined a team of finance and operations people to visit The North Face offices in California and make a recommendation about the advisability of making the acquisition. From my view of sales, products and marketing, it was a great company. I knew the history since the company my brother and I owned in the 1970's and 1980's competed directly with The North Face. The top management of VF knew I was in favor of the acquisition and that I wanted to be the president.
The acquisition went through, but by then I was very attached to the Eastpak brand in Europe and excited about working on an international project. I still believe that Eastpak is one of only a few companies that has built their business by just following the rules that every marketing student learns (but that very, very few brands actually follow!). Define a target consumer and make products for that consumer and aim all marketing and advertising only at that consumer. Don't sell any products, no mater how much money can be made in the short term, that are not made for that consumer. Eastpak is the perfect example of a marketing driven brand, not sales driven or financial or operations driven. It was and still is, very successful and very profitable.
Competing with Eastpak in Europe was the JanSport brand. In 1996 the founder of JanSport, Skip Yowell and I set up a small booth at ISPO, the largest sporting goods show in the world, in Munich, Germany. The two of us sat in the booth, waiting for someone to come by who wanted JanSport. At the time the sales in Europe were zero, so we had nowhere to go but up. We did find a distributor in Germany and the following year hired a General Manager and opened an office in London. Soon there were offices in France, the Netherlands, Germany, Italy and Poland.
In the USA Eastpak was the number two brand and was always fighting directly against JanSport. In 2000 in Europe it was the opposite with JanSport fighting against the number one Eastpak. The JanSport salesmen in every country saw the Eastpak salesmen as the enemy and did everything possible to gain market share. The Eastpak teams had to continually watch what the JanSport guys were doing. They were on opposite sides of the fence for 5 years and now they were owned by the same company and VF had put me in charge of both brands internationally. Finally the Eastpak and JanSport teams were in complete agreement: Both thought it was stupid to send an American over to Europe to run them.
The project did have another major issue to overcome. The Eastpak business was doing great in all the European countries, but the business was run through the offices of Sunbeam/Coleman/Camping Gaz. In almost every country the country managers, the sales managers, the customer service departments, the distribution centers and the invoicing and finance departments were part of the Coleman/Camping Gaz organization and were not part of the Eastpak acquisition. We owned a great brand, with great products and excellent marketing but had 6 months to move out of every office and hire all new people to run the business, set up distribution centers, customer service centers start invoicing in about 10 different currencies (this was before the introduction of the euro).
To make all this happen in 6 months as well as continue to grow the brand internationally and make the acquisition a success, both sales and profit wise, top VF management at the time put together a team. A team of two. A finance and operations guy, Dave Sweet and me. First we had to decide where we would have our office. JanSport had a nice office in London with enough space for us and Germany was the largest Eastpak market and VF Jeanswear (Lee and Wrangler) had a large office in Nottingham, England with a distribution center already handling JanSport and a good customer service department.
Since I knew little about the European market I came with no preconceptions and learned by asking hundreds of questions of each of the current Eastpak and JanSport country managers. I came to the conclusion that even though many American companies choose the United Kingdom for their head offices, probably for language similarities, it was best to be on the European continent and in the middle of the markets. So we choose Belgium, first because it is central in Europe, but also because I believe if a company is located in England, Germany, France, Italy or Spain it is considered an English, German, French or Italian company, but Belgium is looked at as a mix of different cultures and languages. And Dave Sweet knew the people in the VF Jeanswear office in Brussels and they gave us a small office to share. By summer 2000 we had a office in Brussels, 2 desks, mobile phones and computers, but no employees.
Within 6 months we had country mangers in all markets, new offices in each country,and a distribution center capable of shipping to all countries. Rather than having customer service centers in each country, we set up a central one in England and hired people with all the necessary language skills. Our main office had expanded to four in the VF Jeanswear building. We took down all the walls and pushed desks together to make room for our growing team. It was an exciting and fun time.
Space was a big problem until 2003 when we finally moved to new offices in Bornem, taking an entire floor of an office building (today the company has the entire building). We continued to add people and expand our markets.
Kipling was an interesting brand and I thought it would make a good acquisition for VF. The products were everywhere in Belgium, their home market (Kipling was founded in Antwerp) and they had sales in all the international markets. Again, like The North Face, it was not an easy sell to VF top management. At one point I was told it was "at the bottom of the list of potential acquisitions". But I really believed in the brand and finally in 2005 VF completed the acquisition. It is a great brand and one of the few truly international brands in the VF portfolio with retail stores around the world.
Once Kipling, Eastpak and JanSport were running smoothly (and I'd ordered Tenaya) it seemed the right time for me to leave. I was President of a division making more than an million dollars a week in operating profit, the management teams were excellent, the Eastpak and Kipling acquisitions had both exceeded their original pre-acquisition plans and, I believe, were 2 of the most successful integrations of new acquisitions in the corporation (but that may just be my view!). What made me feel even better was that the new General Managers for all three of the brands came from inside our small team...no new management had to be hired.
I have started a number of companies, completing a public stock offering with one, owned retail stores, sales companies, manufacturing companies, was a college professor and a business consultant, but my time with Eastpak, thanks to the people we assembled into a team, were the best years of my business life. Kipling just made my 6 years in Europe even better. I want to thank everyone at Kipling, Eastpak and JanSport for making the businesses so successful and, most importantly, for making every workday a fun and exciting experience!
.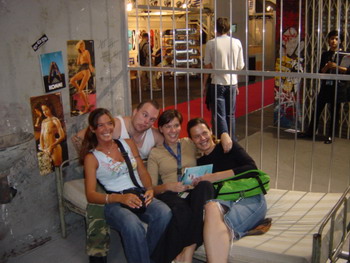 Eastpak has it's own style and it's not for everybody - just our target consumer! Above is a trade show booth for Eastpak Break-Away Luggage.
When we launched a new line of travel luggage it was named Break-Away and all models were named after famous criminals. At the largest international trade show we built a jail cell, complete with a heavily tattooed and very mean looking guy handcuffed inside.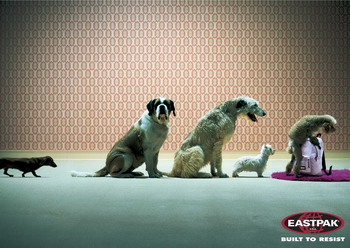 The Eastpak advertisements were always "on the edge" and most I could never show at the corporate office in the USA.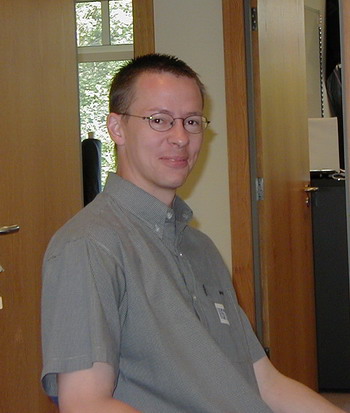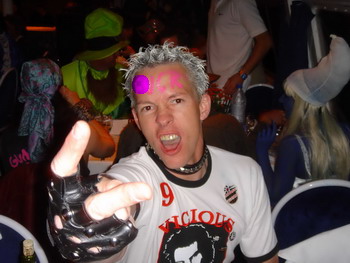 Darren is the most calm, intelligent, organized, analytical person you could find...most of the time. His ability and skill was responsible for Eastpak's on time delivery rate of 99% with one of the lowest inventories in the corporation.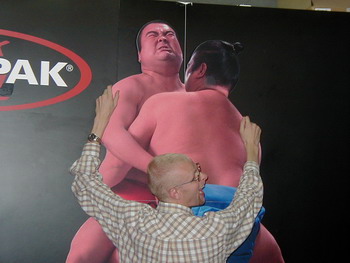 Sven joined the team to handle distributors outside the European Union and was responsible for the opening of our first store - in Kuwait.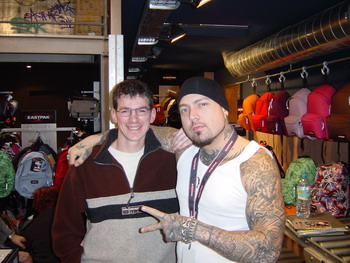 Herbert was our first accounting department employee (Herbert is on the left)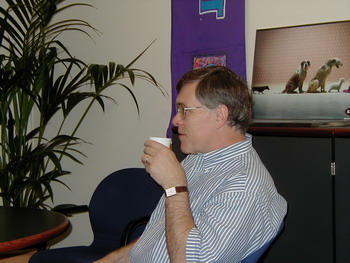 Dave Sweet, my partner for the integration of Eastpak in 2001. Today he is retired and living on the east coast of the USA.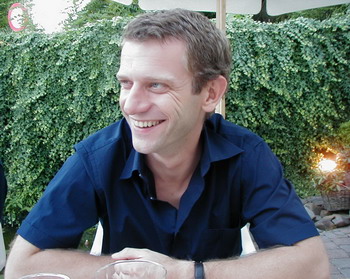 Gilles, the best marketing person I've ever known. Today he is Vice President/General Manager of Eastpak International.
2009: Gilles has been promoted to President of Lee Jeans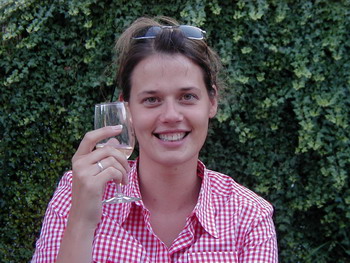 Marie, whom I hired in 2000 to be in charge of design and product development- a great decision! Today she's got her own company that has designed products for Eastpak.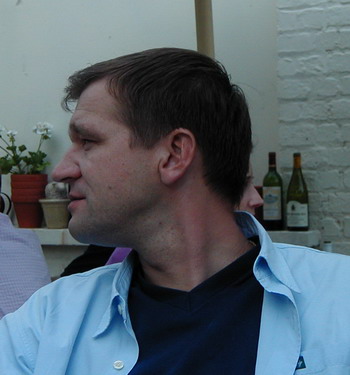 Thomas was the country manager for Germany, hired in 2001. Today he is Vice President of Sales for Eastpak International
2009: Thomas has been promoted to Managing Director Eastpak International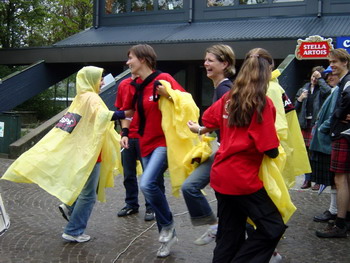 The new Eastpak team: Domi, An, Barbara and Helena in 2002
At the party this week (November 2007) An, Domi and Barbara were out on the dance floor with the same joy and enthusiasm I remember. They made me smile everyday I was in the office, especially when they would all start singing.
Ursula set up the customer service organization with a great team who handled calls from all the countries. This isn't her normal look--it's a costume party picture. We had many fun times together.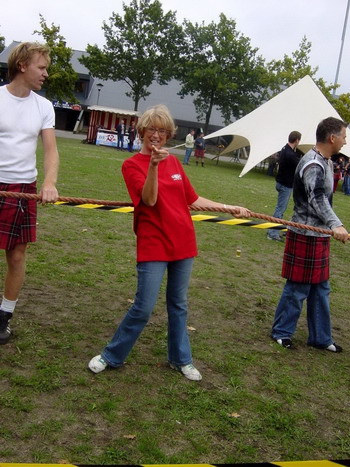 Gerda, my executive assistant. She took wonderful care of me for years and is still a good friend.
Anouk joined us with the Kipling purchase. She worked closely with me as an executive assistant and today is part of the Kipling management team. She and her daughter Jillian visited us on Tenaya when we sailed to Antwerp.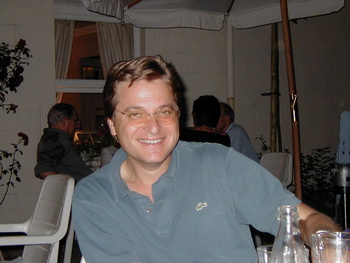 Kostia was the person responsible for introducing Eastpak to Europe. When we sailed to the French Riviera we had a great time with him.
Read about Jim's first company: Wilderness Experience