During July we had great weather - it was a lot like San Diego. Most of the pictures I took in July have no clouds and we are in shorts. After a cold June we were getting used to being warm and comfortable.
One regret I had was I didn't have a picture of myself in my very cool Musto foul weather gear that I could send to the people at Eastpak, thanking them again for such a wonderful going away gift.
August solved that problem with lots of rain and wind most of the month. So, I got my picture!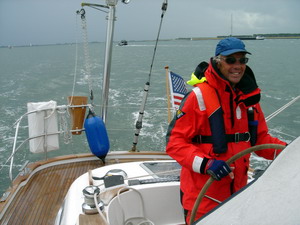 This is a "Double Gift" picture.
The life vest was a gift from the JanSport team, as was Katie's.
We left Antwerp on August 3rd. The bridges open about every hour and a half, so we got up early - not my normal style - and left the marina at 8:30. After leaving the marina we called the lock on the VHF and requested entry. This can often take some time, but this morning it was quick and we were sailing up the Schelde before 10, with the tide flowing 2 knots with us.
The weather report for our route to Bruinisse was wind from the north, force 4-5 (10 - 20 knots). Perfect weather for our trip. By 3 PM we were out of the Zuid Beveland canal, near Wemeldinge, the marina we stopped at on our way south. The weather was light sprinkles with a northwest force 4 (15 knots) wind and a steady barometer. We could make it back to Bruinisse that evening if we kept going.
I would like to say that from my knowledge of the North Sea and it's weather patterns I made the decision to spend the night. But that isn't true. We started talking about a small restaurant in Wemeldinge where we ate on our last stay and about the large, American sized servings of spare ribs.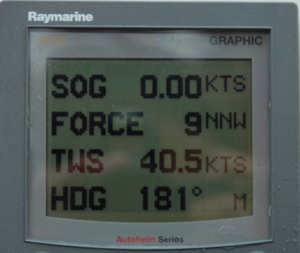 By 6 PM the winds were above 40 knots and continued, with gusts to 48 knots all night. The next day it was still force 7 (30 knots with gusts to 40). We stayed another day and had a second spare ribs meal from leftovers.
We left on August 5 with a forecast of force 4-5 winds at 9:45 for the 28 mile trip to Bruinisse. We made it to the lock at Bruinisse by 3 PM but from the huge crowd of boats in the narrow channel it was obvious that something was wrong. A boat near us (there were so many boats all around us and I was doing my best to keep from hitting anyone or being hit) told us, first, the bridge was broken and they did not know how long it would be and second, that the Netherlands courtesy flag we put up to replace the Belgium flag was upside down. The twentysomethings onboard laughed when Katie asked how to say "dumbshit" in Nederlands (Dutch).
We finally made it back at 8:30 p. m. with the flag flying properly.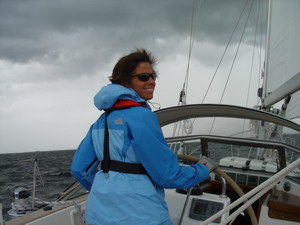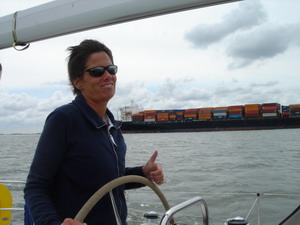 Tension ran high with our first encounters with barges in canals and locks. But now after trips outside our lake and to Antwerp twice we are used to them and they no longer scare us. Many of them even wave to us!