September 29, 2015
Vento di Venezia, Certosa Island
45 26'.16N : 12 22'.42 E
Here comes the judge! Here comes the judge! I'm dating myself, I know.
I wasn't sure it would ever happen. We have been waiting almost ten years for my brother, Dwight, to visit Tenaya. Unlike Jim's brother, Greg, who spends half his life on planes and in foreign cities, mine doesn't travel much. He prefers riding his road bikes and racing his cars. So it was with much excitement that we welcomed him to Venice.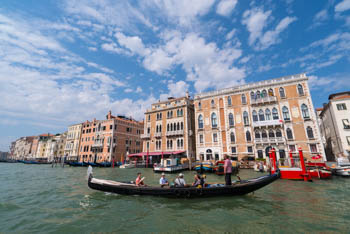 Tenaya is moored in the Vento di Venezia marina on Certosa Island. Dwight and Elisa arrived on Sept 9 and checked into the only hotel in this park-like setting. I was hoping they would stay on board but, well, I'll take what I can get.
Dwight just wanted to see Tenaya and go sailing. Elisa, on the other hand, had a list. She's a big Michelangelo fan so trips to Florence and Rome where mandatory.
But first, she hoped to find a bridge. The bridge. The one her father posed on for a photograph taken sometime in the 1940s. Do you know how many bridges there are in Venice? About 400.
Elisa showed Sabrina at Reception the photo. Did she know it? Turns out it's between her home and the train station. She likes it because it has short steps and is easy to cross with luggage. Their trip was off to a good start!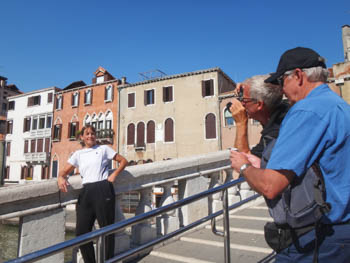 A man on the vaporetto, water bus, overheard our conversation about the bridge. After seeing the photo, he ageed that we were heading to the right place.
Jim took about a thousand photos with his and Elisa's cameras while I tried to match her pose with her father's. It's pretty cool that only the color of the buildings have changed in 70 years.
With the bridge ticked off, we did what the guide books say to do in Venice. We wandered and got lost.
The next day we came back for a tour of St. Mark's Basillica and the Doge's Palace. We were awed by the opulence of the interiors, walked through the prison, and crossed the Bridge of Sighs.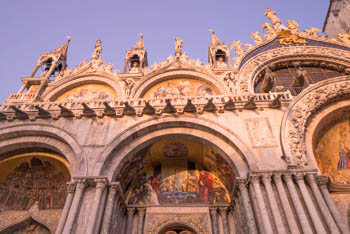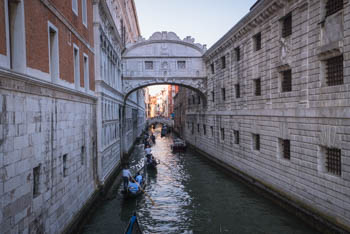 Sometimes people have themes for their travel photos like a partner leading them someplace wonderful or selfies taken everywhere. Elisa shoots photos of her knees in front of things and places she likes. Nobody seemed to notice in St. Mark's square, but when she sat on the ground in Florence and Rome, she was scolded.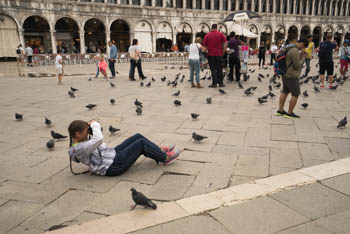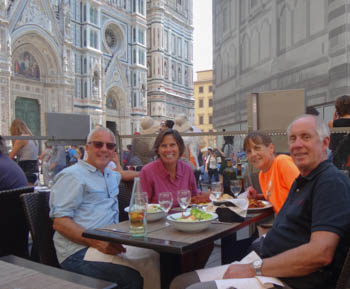 We took the train to Florence together and saw all things Michelangelo in two days. It was fun to have a goal. The morning of the third day Dwight and Elisa headed off for one more museum and Jim and I went to the Duomo.
I've got a thing for Last Judgements - the gorier the better - and the entire cuppola of the Duomo of the Santa Maria del Fiore Cathedral depicts the scene. I've been here before, but I wanted to stand in Hell again so Jim, bless his heart, climbed the 463 steps with me.
I also got to see my favorite statue in the whole world: The Rape of the Sabines, and Jim got to see his favorite Fiorentini friend from the Eastpak days: Marco.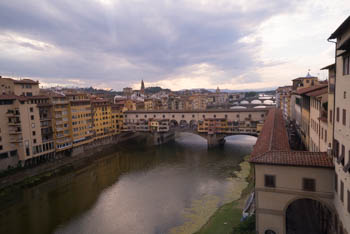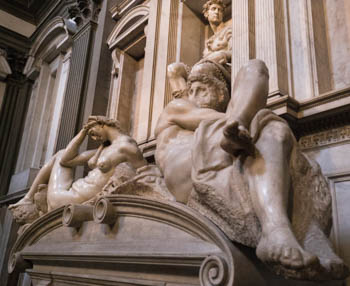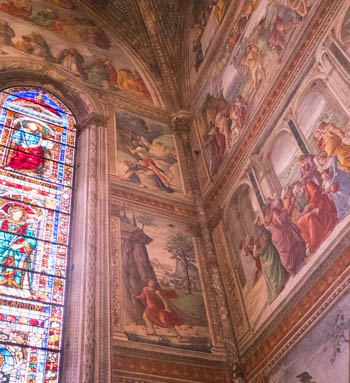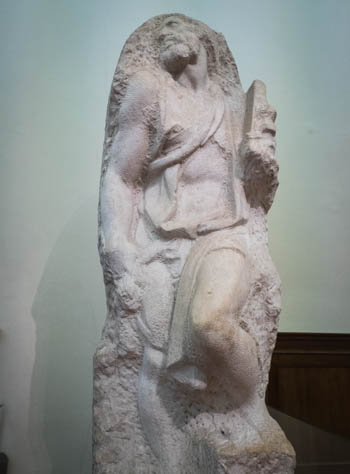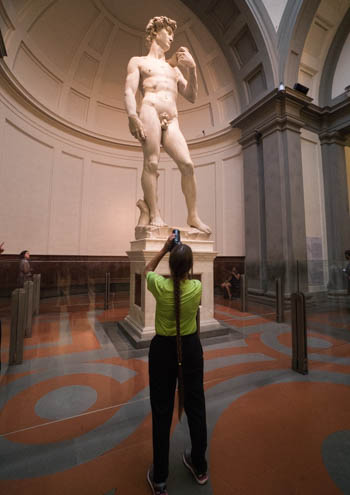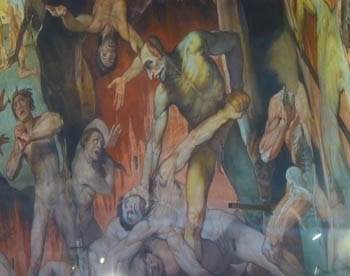 Dwight and Elisa left Florence for Rome and Jim and I came back to Venice to prepare Tenaya for the winter. We will leave her on the hard at Vento di Venezia and spend the next several months in Mammoth.
When they returned, we went out on Tenaya. Neither had sailed before. The wind was light as we motored through the canals to the main channel out of the lagoon and into the Adriatic Sea.
Dwight was at the helm when the wind picked up enough to roll out the sails. Yippee, we could actually sail! He transitioned seamlessly from driving to sailing.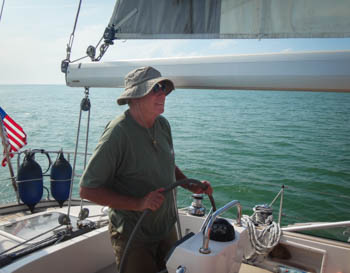 How nice it was to be steering in any direction we chose. There was no point 40, 50, or 60 miles away that we needed to reach before sunset. Wow, it's really nice to just go daysailing!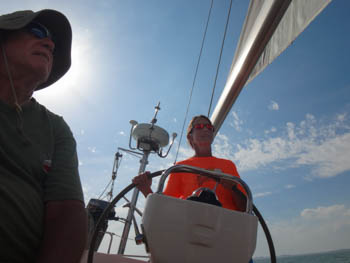 The wind filled in while Elisa was at the helm. With only the company of two small catamarans, we tacked back and forth in front the Lido, a seven-mile long sand spit that separates the Venice Lagoon from the Adriatic. She's a talented athlete in several sports and naturally found Tenaya's fastest point of sail.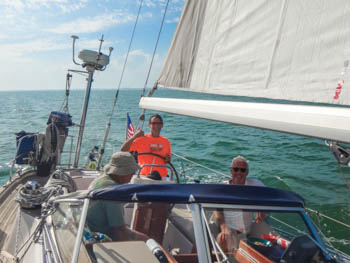 Elisa is game to try new things so when we asked if she wanted to go up the mast, she did. Twice.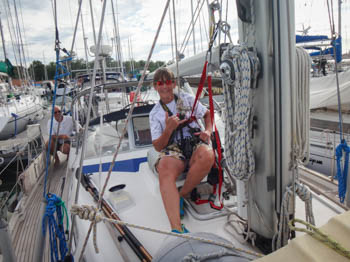 Jim and Dwight buzzed her with the drone and took 30 minutes of footage of her perched on the top spreader. Sitting in the bosun's chair and clipped onto a second halyard with a jumar, she was safe, secure and comfortable.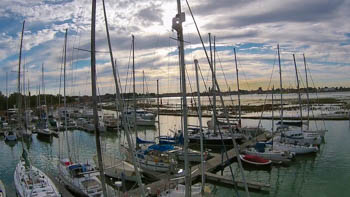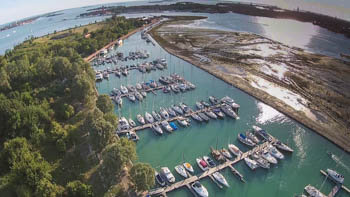 Certosa Island is on the vaporetto route from Venice to Murano, the island know for blowing glass. We had souvenirs to buy, so what better place to visit next?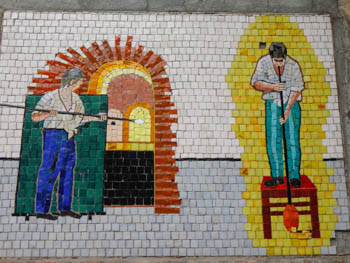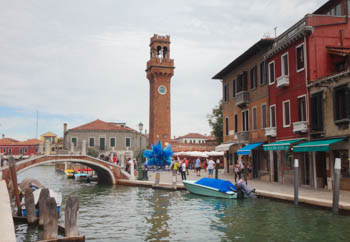 Elisa found the coolest Christmas decoration - Santa in his sleigh filled with presents and pulled by the reindeer - all in glass.
Worried about it making it back to LA in once piece, she hesitated buying it until the saleswoman said she could package it well. When she showed us the materials - bubble wrap, styrofoam sheets, and soft, thin, flexible foam, my eyes widened, my heart beat faster, and my mind went back in time. I was back behind the counters of Mammoth Postal Center and Access, my shops where I did tons of packaging and shipping. I begged the saleswoman to let me package it and she agreed. Elisa, being an ER doc, got her hands in there too.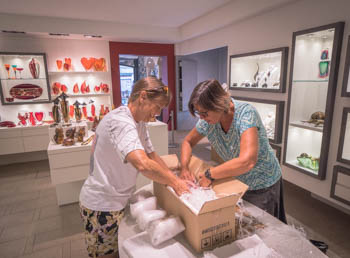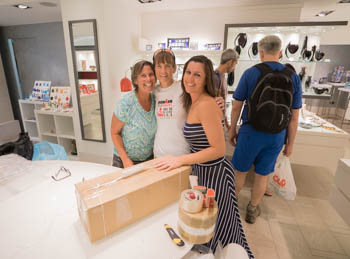 Elisa does Ironmans and is supposed to be training while she's here. She likes to run early in the morning so I got up with her one day and waited for her to run through St. Mark's square.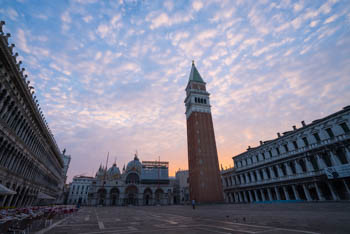 The time to say good-bye came too soon. Dwight and Elisa, we had a great time with you! We'd love for you to return next year and stay aboard.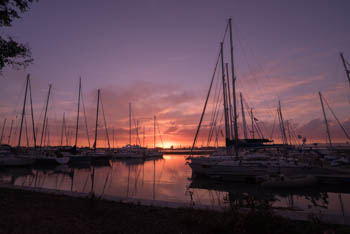 It is bittersweet that I am making this page today. It would be my father's 101st birthday. He loved sailing. He would be happy that Jim and I have a sailboat and that Dwight came sailing with us. If only he could have been here too...