5 August 2015
Durres (Port)
41 18'.33N : 019 27'.06E
"Come to the tugs," Our agent, Arben, told Jim on the phone as we entered the port of Durres, the largest in Albania. Cargo ships were tied to walls beneath towering cranes and two ferries belched smoke in a far corner. Using binoculars, I scanned the port until a cluster of tugs came into view. Arben was standing in front of them.
Bollards are spaced for large ships and, here and there, rusty bits of rebar poke out of the crumbling concrete. It's not an ideal spot for a small sailing boat, but it's all part of the adventure. We're just one more in a long line of vessels that have used this natural port in the last 2700 years.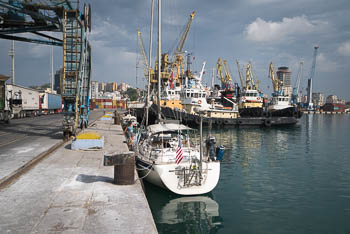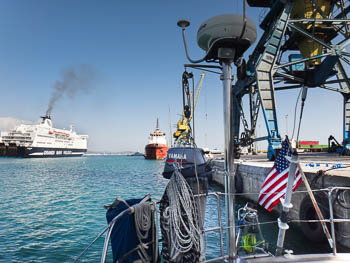 The good thing about ports here in Albania is that they are in the city centers. We didn't have to walk far to find a Vodafone office to top up our SIM cards. It cost 1600 lek (about $12) for 4GB.
Durres is an interesting workaday city that also caters to tourists. Beyond the ferry terminal is a long, sandy beach packed with umbrellas and chaises, and backed with multi-storied hotels and apartments. Shops, bars and cafes crowd the boardwalk and streets. It looks like Pacific Beach in San Diego on steroids. We saw license plates from Bosnia Herzegovina, Serbia, the Czech Republic, Austria, Hungary, Switzerland, Germany and Italy.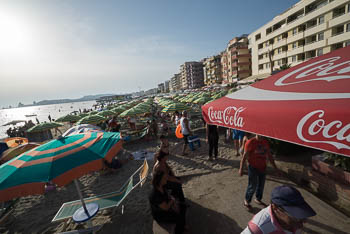 Just north of the port is a quieter shopping and residential area with an impressive college building, an orthodox church, lots of well-kept apartments and houses, an empty lot with goats grazing near their herder, and a narrow alley with murals painted on the walls. The main street is lined with palm trees, shops and cafes, and leads to a mosque.
Behind the mosque is an ancient amphitheater that was recently partially unearthed. The rest of it lies under occupied houses. The amphitheater sat about 15,000 people. It was damaged by an earthquake and rebuilt by the Romans using alternating rows of brick and a mixture of stones and mortar in hopes of withstanding future quakes. At one point in history, when the amphitheater wasn't used, a church took possession and added a chapel with detailed mosaics.
Durres has been constantly inhabited for at least 3,000 years. Twice the city was damaged by earthquakes. The Archaeological Museum displays pottery, jewelry, coins and glass found in the vicinity. Alben grew up here. "My friends and I could not dig in the dirt without finding old things," he said.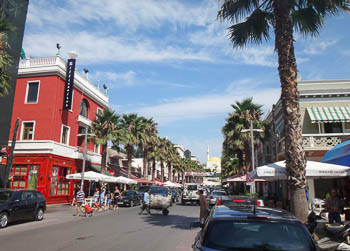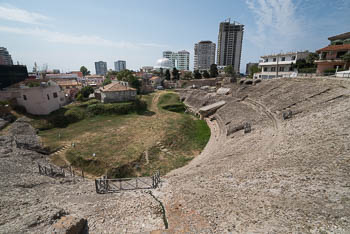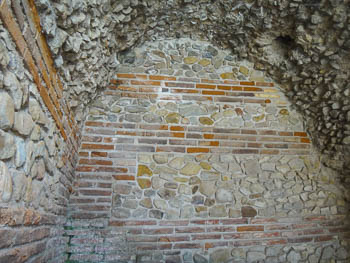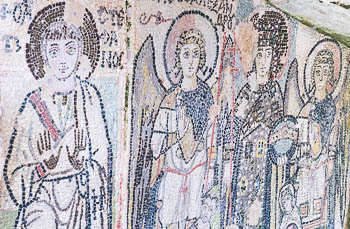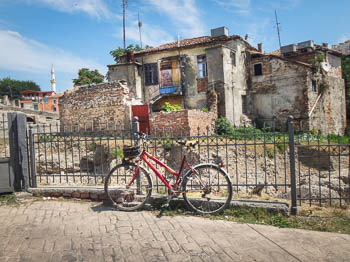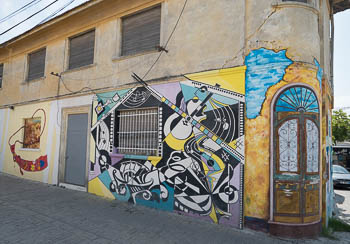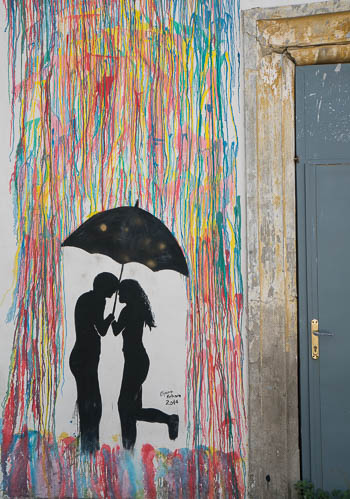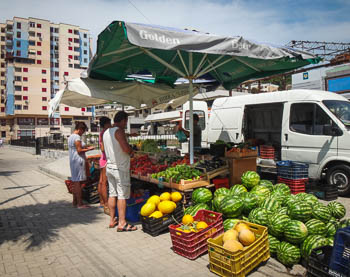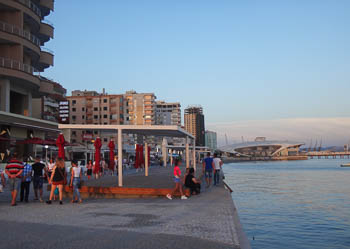 Kruja
When I asked Alben about arranging transportation to see the mountainside town of Kruja, he offered to take us himself.
We drove east past the turn-off to Tirana, the capital, and on towards the mountains. Eventually we came to a town high in the hills surrounded by greenery and backed by steep, stone mountains. A castle stood like a sentry above the clutch of buildings. Kruja.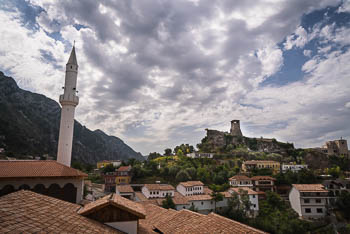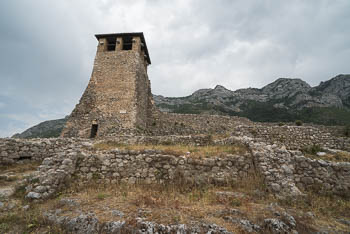 Arben took us to a restaurant with a fantastic view for a coffee and so we could get our bearings. Then we meandered through narrow, cobbled streets slippery with ancient stones and filled with unusual souvenirs, up to the remains of the castle, and a lovely modern museum all about Skanderbeg. Later we returned to the same restaurant for lunch and devoured a salad and cornmeal pie with herbs before picking at a goat meat with sour cream casserole.
Skanderbeg, a national hero, defeated the Ottomans in the 15th century. This castle was part of his defense system with whom he communicated using smoke signals. Until his death, these were the only cities in the region not controlled by the Ottoman Empire.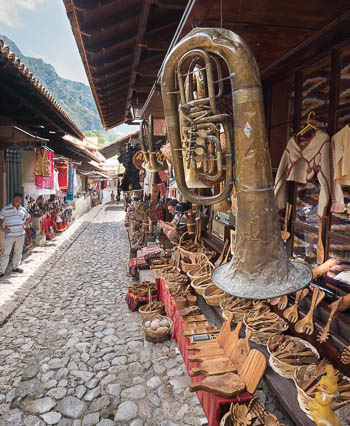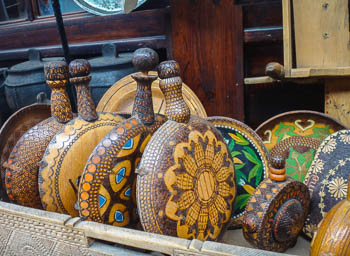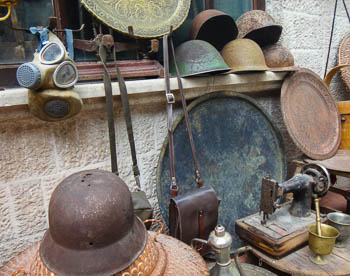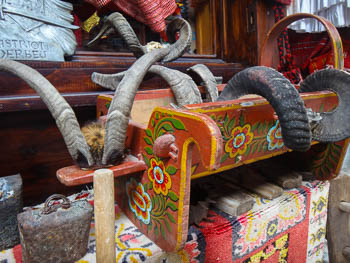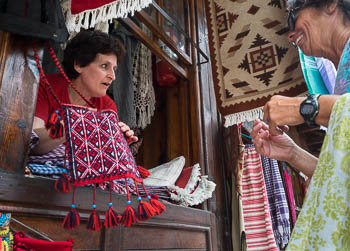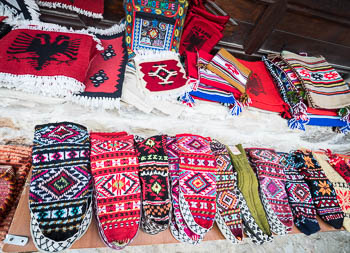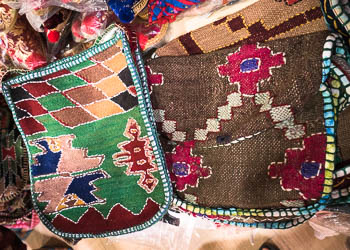 It was odd walking around the port unescorted, especially at night. Imagine trying to do that in San Pedro or Antwerpen!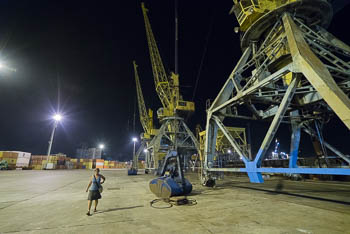 Yachtie Information:
It is 75 miles from Orikum Marina in Vlore to Durres. We had wind in the single digits, thus motored the entire trip. An agent is needed to check in and out with the harbor police. We used Arben Ninga arben.ninga@kad.al, phone: 00355672082061. Otherwise, request one when you call the harbormaster for permission to enter and dock.
Having dock lines of 15 meters or longer allows for tying to bollards and avoiding the small, rusting rings that lines cannot slide through. A storm with 25 knot winds pushed us against the wall one night. Plenty of strong fenders are a must!
Arben reminded us several times that it is a port, not a marina. At first we took it that he was apologizing for not offering electricity and water, but we later figured out that he was saying that we could not stay there indefinitely. We had to be ready to move if the port needed the space we occupied, but that was known by 9:00 AM each day.
Arben charged us 50 euro to check in and out with the harbor police, and 10 euro a day to stay. Even though we left at 6:00 AM, we had to pay 10 euro for that day. We gave him what we felt was fair, plus some, for the day he took us to Kruja.
The best Pilot Book to have is: 777 Harbours & Anchorages, Eastern Adriadic - Slovenia, Croatia, Montenegro & Albania by Sonia Florian, Dario Silvestro and Piero Magnasbosco, 2014 version. Each page is a true nautical chart - North up - featuring meridians and parrallels. The anchorages show directions of wind protection and contour lines. The author provides a keen insight into the country and its people, better than the Bradt Albania (non-sailing) guide book. The Imray Adriatic Pilot, by Trevor and Dinah Thompson, has more waypoint errors than we have seen in all other Imray publications combined.
Quote from the Imray guide: We have been unable to visit Albania ourselves because of the political and social situation. 2012 Version.
Quote from the 777 guide: We arrived in Durres two hours later. It was the best decision in our lives: Albania became our great passion. This is the reason why this pilot book was written.
Next stop: Shengjin
Go to August 2015, Part Three - Northern Albania
Go to Previous Page: Southern Albania