July 8, 2015
The Aegean Sea, the often boisterous body of water between mainland Greece and Turkey, is sprinkled with hundreds of islands. Mountainous stepping stones between Europe and Asia, they create an ideal cruising area. Almost all the islands in the archipelago - the ancient Greek name for the Aegean - belong to Greece. It would be easy to spend an entire season pottering around the region. We crossed in nine days.
Meltemi winds from the N-NW blow regularly during the summer up to Force 6, 21-27 knots. That is perfect for boats sailing W-SW. Our route from Kos to the Corinth Canal was NW. Yep, the wind was on our nose.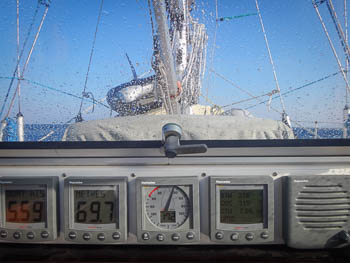 Kos Marina, Kos
36 53'.49N : 27 18'.15E
Our first destination in Greece was 11 miles south of Bodrum. Once Tenaya was settled in the marina, we set off to check into the country. It's a mile-long walk along the touristy coast to the old town tucked behind an enormous castle wall.
Immigration was a breeze. The Customs office was closed so we tried the Port Police. They needed our Transit Log from Customs and thought that office would be open at 5:00pm. Hungry and with two hours to kill, we lingered over lunch at one of the many restaurants along the old harbor.
Back at Customs we waited until 5:30pm on a wooden bench in the shade of a big tree. The only signs of life were a tattered, brutish tomcat and two scrawny females that wearily fought off his advances.
The man in the town harbor office said Customs might open at 7:00pm but our best bet was the next morning. We walked back to Tenaya, took a power nap, and returned. Dodging cycling tourists, we wished for our own bikes. An unlocked scooter was parked by the door. Good sign. Eventually a Customs officer arrived and invited us in. He explained that for 30 euros we could have our Transit Log for one month or six. We chose six.
15 minutes and 15 euros later we were done with the Port Police. Legal at last. On the way back to the marina we stopped at Vodafone and bought Greek SIM cards, phone and text bundles and 5 GB of data each. We use our iPhones as hotspots giving us wifi for our computers.
We spent four days in Kos waiting out strong winds and planning our route through the Dodecanese and Cyclades. We were booted out because the charter fleet was returning on Friday so left our spot among the boats flying French, Dutch, German, Australian and English flags.
We were surprised to find the crews of these boats unfriendly. Trying to make eye contact to say 'hello' proved successful only twice. It's a big difference from the friendly vibe in the Pacific. But, come to think of it, when we were in the Mediterranean in 2007-2009, people kept to themselves. It wasn't until we passed through the Panama Canal that socializing became the norm.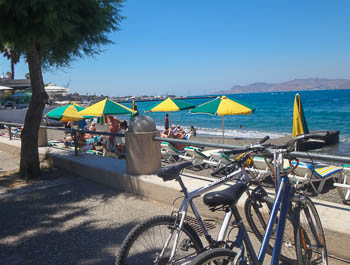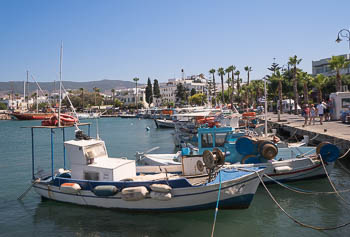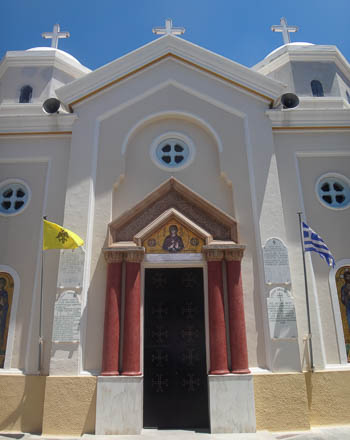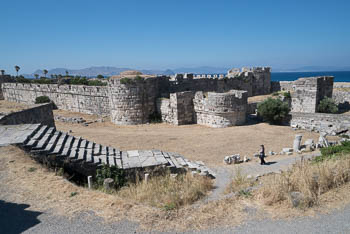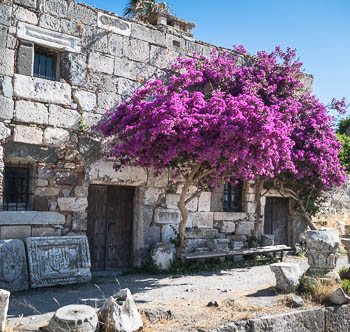 Ormos Agrilithi, Astipalaia
36 35'.04N : 26 25'.44E
We dodged a boat trying to maneuver in 17 knot winds as we left the Kos Marina early on June 26. At 7:15am we spotted a dingy full of people wearing red life jackets rowing across the channel between Kos and Pserimos, another Greek island. We eased the sails and altered course to pass slowly behind them. When they signaled with their oars, we rolled in our sails and called the Coast Guard.
Their dinghy was sturdy and nobody looked desperate or bedraggled. The Coast Guard thanked Jim for calling and said they were sending a boat which would arrive in 15 minutes. Would we stay? Sure.
I circled the inflatable as Jim received calls from two different numbers confirming waypoints. Eventually the refugees stopped paddling and drifted into shallow water. Although we could not stay with them, the Coast Guard asked us to continue to keep an eye on them. Ninety minutes after our first call, the people reached the shore on Kos. Jim call the Coast Guard one last time to give them their position before we carried on, perplexed.
Dolphins came twice as we sailed with 14-19 knots in moderate seas. Astipalaia is steep, rugged and shaped like a butterfly. As we entered Ormos Agrilithi/Agriligi, a protected bay on the eastern side, the wind kicked up to 30 knots. We anchored near the head of the bay and I let out plenty of scope as the forecast was for 25+ the next few days. We were the only boat there. How nice it was to be in a quiet anchorage after being in Bodrum and Kos marinas for two weeks!
The hills around the anchorage are covered in green shrubs. The gently sloping head of the bay has a row of olive trees, tall, dry grass, parts of stone buildings and walls, two abandoned houses and a church, and long-haired goats and sheep. Each morning and evening the only sounds we heard were the animals' bells.
The big bay has a smaller offshoot which is very protected. A pretty white church stands near the point. We watched a small Swedish boat set a stern anchor and tie to shore below the church. Later a family with two little kids anchored next to us.
The main dirt road along this coast is being widened and the small road to the bay has recently been improved. A flat area is being built and we wonder if they are preparing to put fish farms in this bay. It's 15 kilometers from the main town and the closest house is high above and has a view in the opposite direction. We think the sheep and goats live there.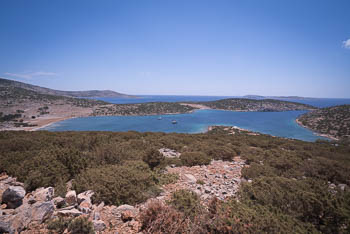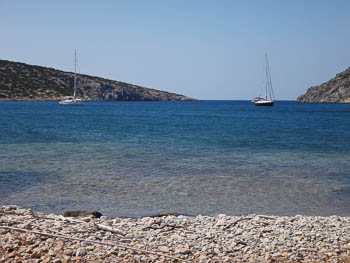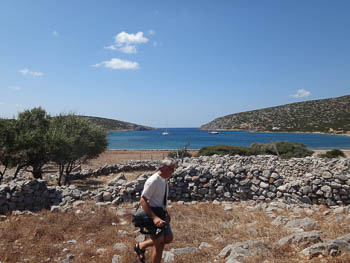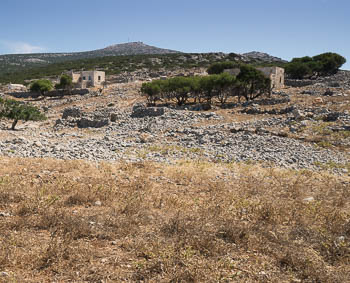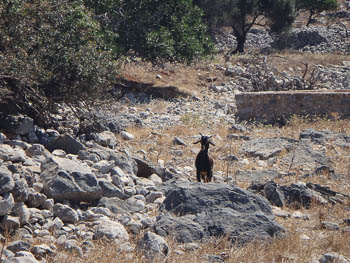 SE of Mirsini Harbor, Schoinousa
36 51'.59N : 25 31'.25E
Our destination was Katapola on Amorgos. But as we neared the southern tip and could see a monastery perched partway up a cliff, the wind kicked up over 30 knots. The guidebook says the Meltemi howls into the entrance of the harbor although the quay is protected.
Jim was sleeping and I woke him up to ask if we could continue on. As much as we wanted to visit this pretty island, I preferred to keep going.
All in all, it was a 60 mile bash into 15-20 knots and moderate seas to reach the small island of Schoinousa.
We'd planned to anchor and tie a line ashore in Mirsini, a compact harbor, but it was pretty full. Two boats were attempting to tie to the rocks and a big sailboat dropped their line to re-anchor. Our guts said to bail. We went SE to a bay with just one other boat and no drama.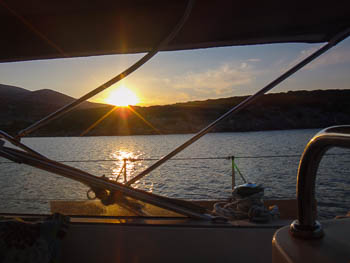 Merikha, Kythnos
37 23'.41 : 24 23'.82E
We left Schoinousa early planning to go to the northern tip of Paros. It was only 11:00 when we arrived. The wind was light and the sea slight so we kept motoring to Kythnos.
We arrived at 6:30pm thinking we'd anchor in the bay. There was less room than anticipated and room on the quay, so we decided to tie up. As I put the fenders on and readied the lines, two powerboats came speeding in. As we dropped the anchor and began backing into the spot, one of the powerboats anchored right next to us and tried to beat us in. There was room for two, albeit tight, and we just wanted to get in and our windward line tied before dealing with him. In the end that's what happened thanks to the vocal folks on sailboats nearby.
After a walk along the water, Jim enjoyed the best grilled kalamari he's ever eaten and I went to bed with a raging migraine.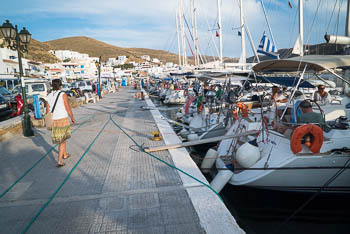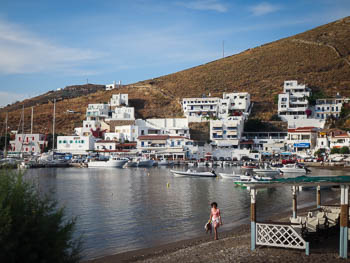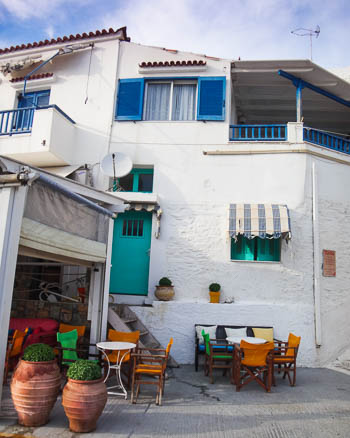 Poros Town Quay, Poros
37 29'.89N : 23 27'.34E
We arrived in Poros a week ago and are enjoying it very much. There's a great vibe, beautiful early morning and evening light, and friendly locals. Narrow passageways lead to tidy houses, mostly white but some pastels, built on the steep hillside. A white clocktower tops the summit.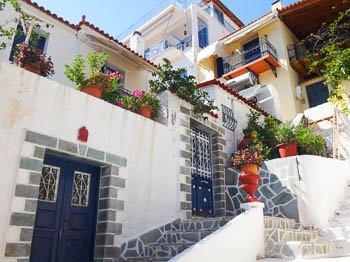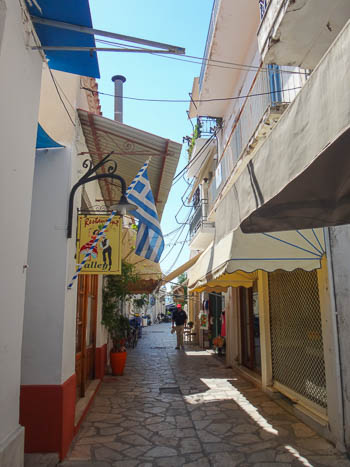 Ferries bring tourists hourly but the place is not overstuffed. Heaps of restaurants, their tables and chairs spilling into the squares and walkways, can accommodate everyone.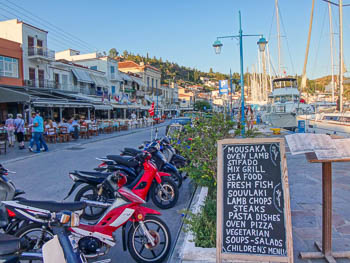 Back in Istanbul, Rod Heikell said we should visit Poros. Now, here we are tied to the mile-long town quay.
We're not far from Piraeus, the harbor for Athens, so each day boats pass through the narrow channel between Poros and Galatas on the Peloponnesian Peninsula. Some are local, most are charters.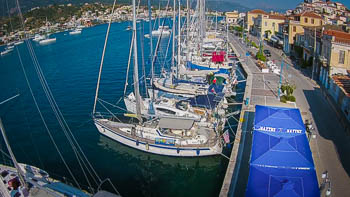 Jim and I go on full alert when we hear an engine, bow thruster, or anchor deploy. The day we arrived, a powerboat wanted to moor on our port side. He dropped his anchor, began backing up, and blew to starboard. I was on our bow, the Italian guy next to us was on his bow, the English guy next to him was on his bow, and so it went down the line.
When the powerboat realized it wasn't going to work and pulled up his anchor, he caught the Italians' chain. Whoa, did that raise the vocal volume!
The extremely fit, calm, capable, bikini-wearing crew saved this guy's ass. She and the yachtie that went out in his dinghy and put a line under the Italian's chain so the captain could lower his anchor to freedom. Why he didn't pull the anchor up further so she could reach it is a mystery. While they messed with the anchor and chain, he blew down on the other boats. Once freed, they left in a hurry.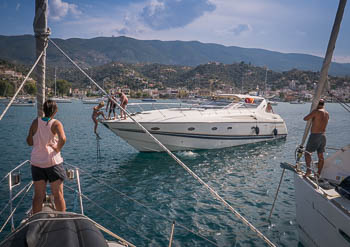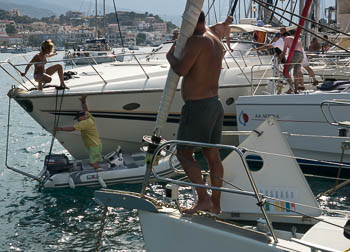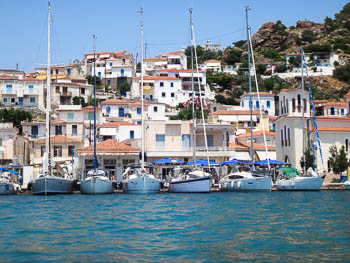 Friends that remember my shops in Mammoth know that I love whimsical things. I'm not much of a shopper these days but we've been stockpiling euros and want to spend them in family-owned businesses. This shop looked like a good place to start. The first day I bought a fish pillow displayed in the window. I took photos of these cats and each time I looked at it, I smiled. Two days later I returned and bought the redhead. A young woman helped me while her mother kept weaving. It's their store and it's really a cool place.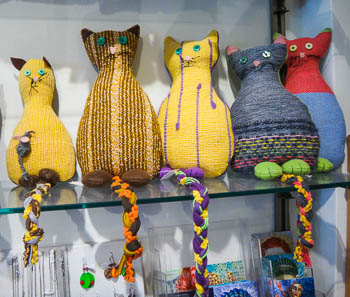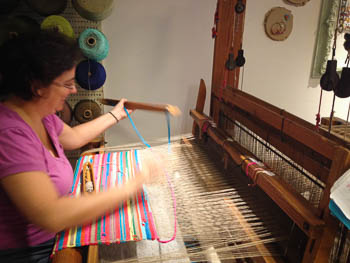 I've been looking for a strong rubber bucket to replace one we bought in Holland that melted part way across the Pacific. We finally found one at Bros Pavlou Poros Chandler! Spyros and Nick's father opened it in 1919. They had two spaces, but when the austerity measures tightened too much, they had to close one.
Jim asked about paper charts for the Ionian and Nick recommended the Greek Sea Guide, Volume III. It's full of useful information, photos, Hellenic Navy charts, and drawings the author, Nicholas D. Elias, drew himself.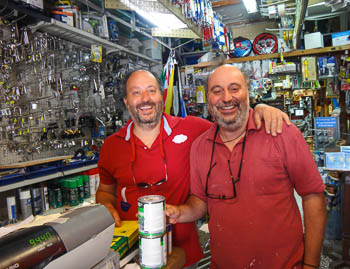 About 100 meters from Tenaya is Th. Vessala patisserie. We discovered it because people kept walking past our stern with ice cream cones. After she pointed out the different flavors, Roula told us that all their ice cream, indeed everything in the shop, is handmade. She has a masters degree in chemical engineering and is passionate about food in general and chocolate in particular. That explains the two choices of chocolate ice cream - rich and creamy, and richer and creamier. They are both are divine, ask me how I know. There are a handful of ice cream shops across the planet that are I'd search out again and recommend to visitors. This is one.
Roula's grandfather opened their first store in 1968 nearby. Now her mother, Dora, runs it. Dora's brother operates another one across the water in Galatas.
On the third night of our ice cream indulgence, Jim and I sat outside talking with Roula and Dora. They have dreams of selling Roula's innovative chocolate bars, made with fresh herbs, beyond Poros and Galatas. Jim encouraged her to market them to the rest of the world. Dora said they began thinking of expanding five years ago but had to stop. My optimistic husband, who loves a challenge, still thinks it's possible.
My face lit up when Roula mentioned the chocolate bars so, before we left, she put together a package of her favorites for Jim and me to sample - dark chocolate with mastic and lime (Mastic is a sap found only on Chios); milk chocolate with green tea, apple, cinnamon, orange, cardamom and red pepper; dark chocolate with green tea, ginger, cardamon, chili and red pepper; milk chocolate with green tea and Greek herbs; dark chocolate with green tea and jasmin; dark chocolate with green tea, goji, acai, hibiscus and pomegranate; and white chocolate with Himalayan salt. Can't wait to break into them!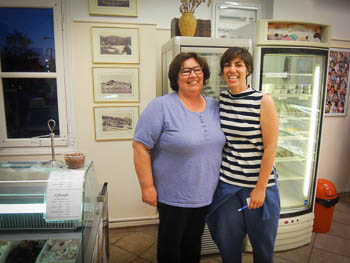 There is such a disconnect from the comments I read online about the situation in Greece and what travelers might expect, to what we are actually experiencing here in the country. Granted, we are not in struggling neighborhoods of Athens, but Greeks everywhere have been dealing with increasing austerity for several years. Regardless, we find people to be friendly and welcoming, and we feel completely safe. Even today, 'the day the banks ran out of money', we were able to get cash from an ATM.
Liz and Spyros (a different one) own Apagio, a restaurant a short walk along the quay from the main tourist area. She invited us to return a few days later to listen to the local yachties band play with musicians flying in from Virginia.
Jan, Tom, Bjorn and Dennis are Norwegian liveaboards. Jan on Marylou is the permanent fixture, others come and go around their cruising plans. What fun to hear these guys sing and play the blues!
Glenn and his twenty-something son, Stuart, flew in on a travelers tour from Virginia. Glenn plays and sings in a real band. He played guitar and harmonica. Ken was also on the tour and played mandolin. These guys were fantastic! Having only met the Norwegians a few hours earlier, Ken said that music is a universal language and Glenn agreed that it is fun to play while traveling.
The Americans started their set with Stuart singing a beautiful rendition of David Crosby's Almost Cut My Hair. How appropriate for the times in Greece right now. Next they played one of my all-time favorites, The Weight, by Robbie Robertson of The Band. Quite fitting for a restaurant full of travelers.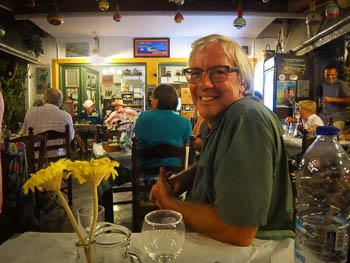 The weather looks good for going through the Corinth Canal on Friday so we'll leave Poros tomorrow and anchor in the big bay at Korfos. Some places are harder to leave than others. Poros is a tough one.
Go to July 2015 Part Two - The Corinth Canal and the Gulf of Corinth