15 June 2015
The prevailing winds are northerly so we thought it would be a sleigh ride south across the Marmara Sea, through the Dardanelles, and down the Aegean Sea to Bodrum. But wouldn't you know it... So far, the wind has been on our nose. Fortunately it hasn't been more than Force 4.
The early morning sky was pink as we eased out of Canakkale exactly one month ago. We motored along the eastern side of the Dardanelles, through the narrowest section, so we would not need to cross the traffic separation zone twice. The authorities had a different idea, called us by name on the radio (gotta love transponding AIS) and sent us to the other side. The chop was steep and lively as we crossed back south of the strait.
Bozcaada - 39 50'.16N 26 04'.98E
Local friends told us not to miss visiting the small, picturesque island of Bozcaada, one of the few Turkish islands in the Aegean Sea. Quality wine has been produced here for centuries and now it is a delightful holiday spot with tidy Greek houses and lots of cafes and restaurants.
The harbour dates to ancient Greek times - it was their base for attacking Troy - and a castle built by the Genoese still stands above.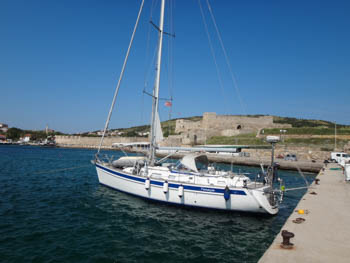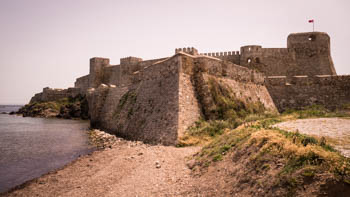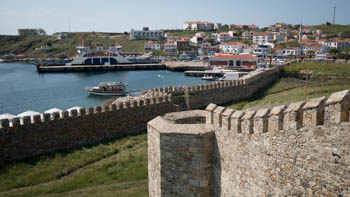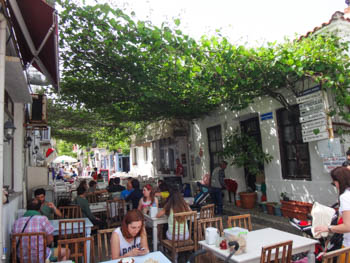 The wind was light when we arrived but grew stronger from the southeast which made mooring on the wall uncomfortable. We were safe with two tailed mooring lines to our bow and a spring from midships, but still bounced a bit.
Boats began to arrive, taking refuge from the wind. As we were lunching on cheese gozleme, something akin to a goat cheese quesadilla, a motorboat came in and lined up to back in next to us. Jim hurried over to Tenaya to fend it off. The skipper blasted the bow thruster which sent his boat careening into the sailboat opposite us. I heard the thud across the harbor.
Later we were up on the castle wall taking photos and saw a sailboat line up next to us. He backed down and we heard the smack as it blew down on our bow. Jim filmed it just in case. Tenaya sports an anchor two sizes larger than usual yet there was no damage to either boat.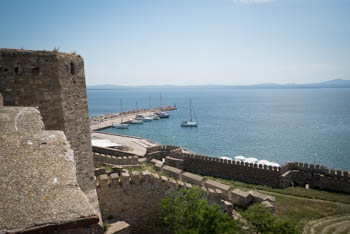 As I put away new bottles of locally made wine and olive oil, there was a loud noise at the stern followed at once by a loud and frantic, "Katie!" I went out to find Jim bobbing in the water between the wall and our stern. "Get my pack," he said before I had a chance to ask if he was okay. After lifting it off his back I pulled out his camera and lenses and checked them.
Two guys hurried over and helped him up to the windvane which, because it is made to open, resembles a small jungle gym. Jim quickly climbed up on the deck.
When he felt our old, flimsy, weathered board snap, he instinctively grabbed onto the line holding it up which slid through his hand and gave all five fingers and his palm some painful rope burns.
We had no idea where to find more wood to make a new passerelle but the guys felt bad and did the legwork for us. One man even rounded the corners and was willing to drill holes. He only took enough money to cover the wood, not his time or efforts.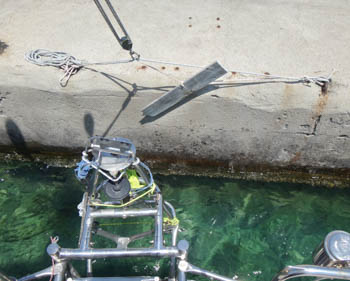 Ayvalik - 39 18'.78N 26 41'.24E
Both the crew of Skylax and our new friend, Zeynep, said to stop at Ayvalik. It's a lovely area with a bay that is almost like a lake, entered though a narrow, buoyed channel. There are several anchorages but we chose to go to the marina and buy a Blue Card. This is a requirement further south as part of a scheme to keep the waters clean and facilitate holding tank pump-outs. Turns out they did not have Blue Cards.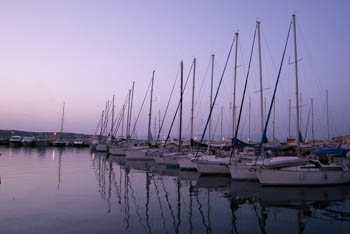 Ayvalik is a pretty city spread along the shore of the bay. Olive oil is produced here and tourism is beginning to flourish. We walked south until we found a place to eat dinner and watch the sunset. It's normal to be shown the choice of mezes (starters) of which there are usually a dozen or two. Many will be made with yogurt and there will always be eggplant/aubergines, beans and fish.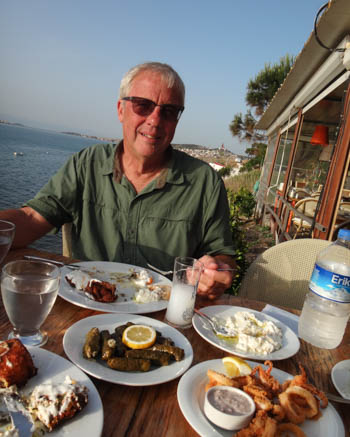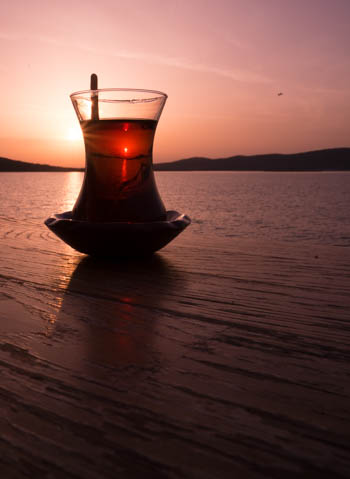 The streets behind the main coastal road are narrow and filled with old Greek houses as many Greek Orthodox people lived here until the population exchange with Lesvos, Crete and Macedonia in 1923.

Pergamon
It was a gorgeous drive through the mountains from Ayvalik to Bergama and the ruins of Pergamon. I won't go into the history of any of the sites we visit because most are quite extensive - the origins and subsequent changes by conquerors.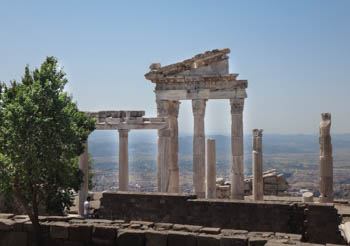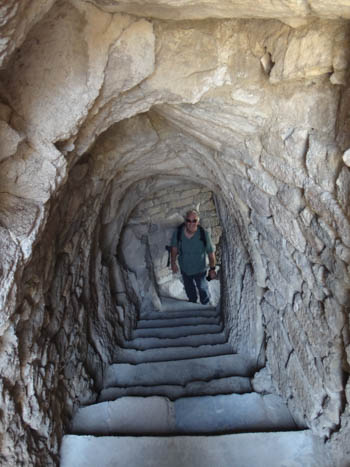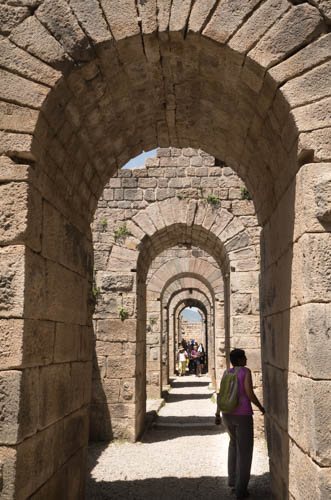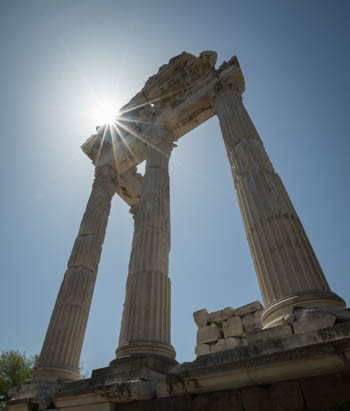 Pergamon was built on a mountain. Today the town of Bergama rests in the valley below. As we wandered around looking at the buildings we came across a lot with carpets laid on the ground and on the walls. Under the roof were some big tubs and pipes. A carpet wash.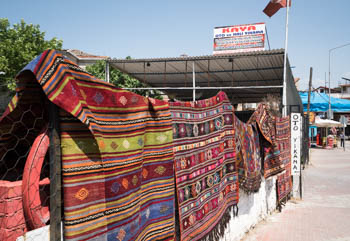 Three young people walked by while Jim was taking photos of this street. "Tourists," I said, motioning to him and myself. They smiled and Osnur asked where we are from. I said California and she, Ayse and Emre stopped to chat. They are in high school and like to practice speaking English.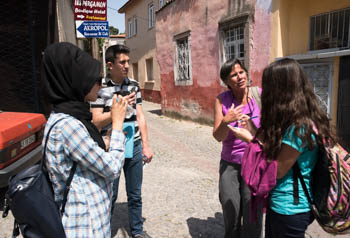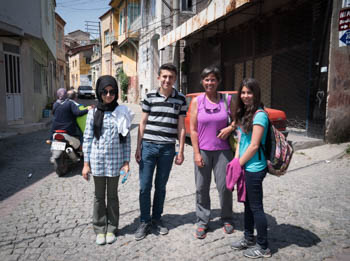 The Greek Island of Lesvos is just off this coast so it's no wonder we saw a Turkish Coast Guard ship as we motored south with little wind and lots of haze. Many Syrians are leaving horrific conditions at home in hopes of a better life in Greece or elsewhere in the European Union.
Anchorage between Garipadasi and Kalem Adasi - 39 00'.23N 26 47'.39E
It was great to be at anchor again. To dive off Tenaya's rail into cool, clear water was absolutely wonderful. Floating quietly with nobody around was just what we needed after so many weeks in marinas. The weather was sunny and warm and the rocky shores were intriguing so we took the kayak out for a paddle around Kalem Adasi.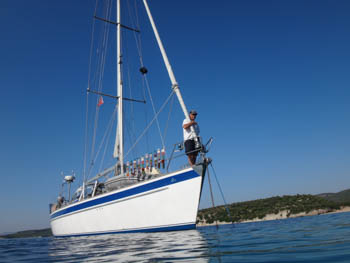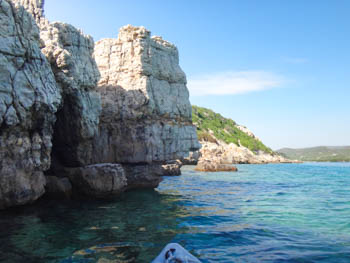 On the far side is a fancy resort that had not opened yet for the season. A little further south is another that was abandoned before it was completed.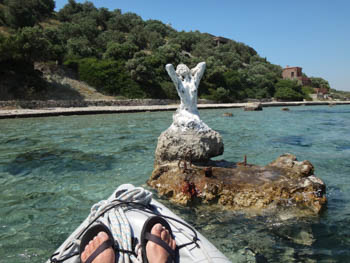 Rod and Lu's pilotbook shows hot springs across the channel so we paddled over to have a look. We also found the old, abandoned haman which held hot, very green and slimy water.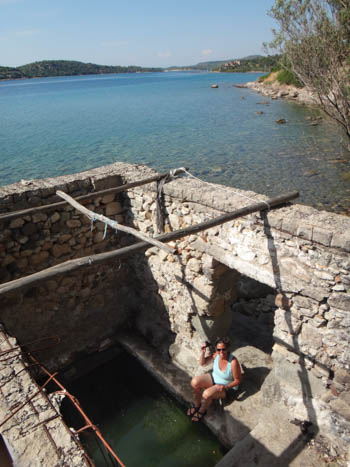 The place where the Aeolian Coast meets the Ionian Coast is Cesme. The entrance to the harbor is spectacular with a big castle looming above. It is very much a tourist area with upscale shops and restaurants all around the marina, not really our cup of tea. The best part - we finally have our Blue Card and can have a pump-out. That will make the Coast Guard happy if we are stopped.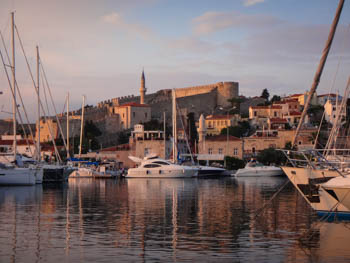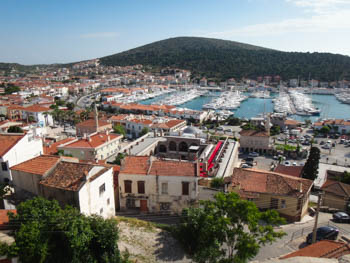 Excited for our next stop, Sigacik, we left early the following morning.
Go to May 2015 Part Four - The Ionian Coast, Turkey
Two minute video: Tenaya Travels to Turkey