May 12, 2015
In September Jim and I said goodbye to Tenaya. Not for good, but for six months which felt like almost forever. She sat alone at the end of a dusty yard in West Istanbul Marina and I didn't want to leave her or our traveling lifestyle. We were headed back to Mammoth Lakes, California, a town we called home but hadn't live in for 14 years.
We sold our home several years ago but kept a rental condo. Our plan was to clear out our storage locker and settle there for the winter. If we could still deal with snow and want to return to Mammoth after sailing, we'd keep it. If not, we'd sell it.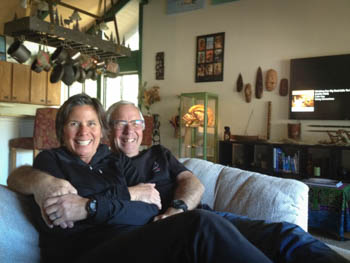 It took three days to realize that we still love the mountains. The snow part ended up not being much of an issue, and although California desperately needs water, we were selfishly happy with warm days, loads of sunshine, access to hiking trails, and good skiing on superb man-made snow.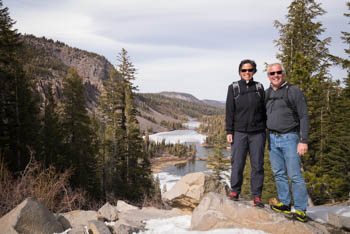 Jim likes photography and wants to get better so it worked out well that a few of his talented friends offered workshops: Gordon Wiltsie and Jerry Dodrill through Galen Rowell's Mountain Light Studio, and Vern Clevenger through his own studio. He was thrilled with all he learned from each person. I joined him for Vern's Lightroom course and learned loads.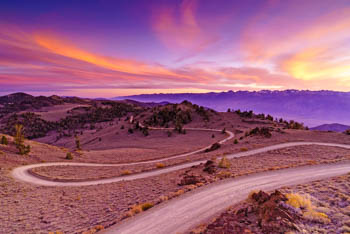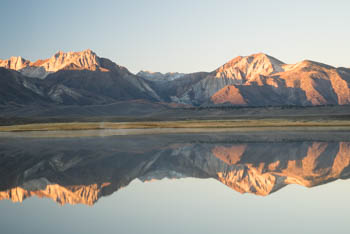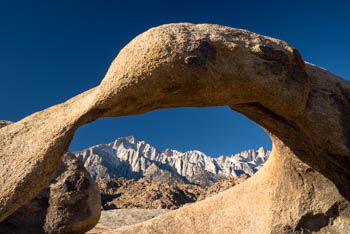 About our goals of not becoming one with our smart phones... We failed. Miserably.
Six months went way faster on land than it does on Tenaya and I'm still trying to figure out why.
We visited family and friends, but not as many or as often as we had envisioned. We thought we'd go to San Diego, maybe even to the San Juan Islands. We didn't. It was nice staying in one place for a change. Really nice. And having a washer and dryer. And a bath tub. And my bike. And a car even though it eventually died and had to be replaced. That sucked, but now we've got an Outback that we can sleep in with massively thick Therm-a-rests.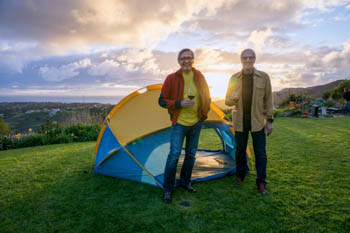 We flew back to Istanbul on April 15 and went straight to our favorite place, the Saruhan Hotel. Tenaya needed her bottom cleaned and painted and we were much happier staying in the old city center than two hours away by public transportation.
We love the colors, textiles, sights, buildings, people and history of Istanbul and are happy being back. But now it is even more beautiful. Why? Tulips! They are everywhere. A giant carpet blankets the entrance to Aya Sofya and small gardens are artistically planted all over the city. We thought tulips originated in Holland, but no, they are from here.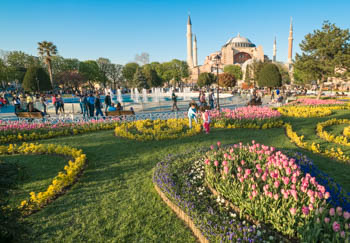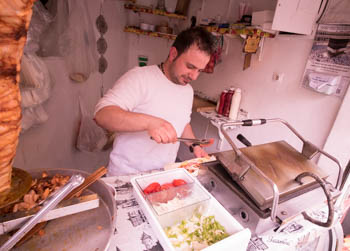 Jim listed some used sailing books for sale online and Ilkay bought a few. We were in the US and he is Turkish so Jim agreed to bring them back. To get them, Ilkay invited us to marvelous restaurant on the Bosphorus and sent an Audi A7 Quattro to collect us. It was like the old days except now we don't have the clothes or style to fit in. He and his charming wife were kind and generous and we hope we didn't embarrass them too much.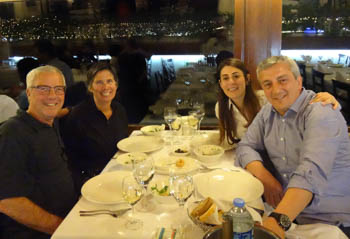 On my birthday I had a Turkish bath. It didn't quite compare to Jim's birthday a couple of weeks earlier camping with Scott, Amy and our grandsons, but, hey, it was pretty relaxing and I was in a hamam that was built in 1584 lying on a warm marble slab under a domed ceiling with sunshine peeking in through star-shaped holes having a soapy scrub and a massage with yummy honey. It could have been so much worse.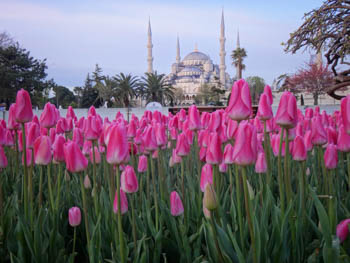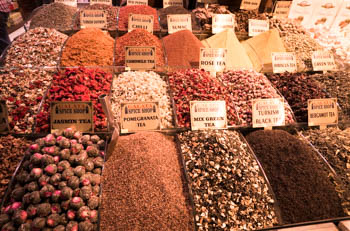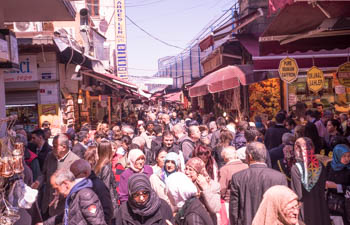 How did we spend our time in Istanbul? We shopped a little and wandered a lot. The closer we got to the Spice Market, the more packed the streets became. I was more comfortable shopping in the Arasta Market in Sultanahmet with far fewer people.
Ibrahim owns Lale, a gift shop and a bath shop. Someday he wants to live and travel on a sailboat. He carries lovely merchandise and now we have real Turkish towels on Tenaya.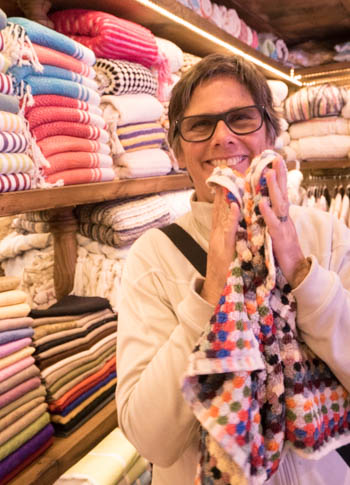 We spent longer at Saruhan Hotel than we'd planned because the painters needed three dry days to finish Tenaya's bottom and it kept raining. Finally, on April 27, we got a call in the morning that she'd go in the water that day.
We hurried to the marina and made the tram and metrobus commute in 1.5 hours, a record. We climbed aboard when the sun was climbing in the sky, tidied her up, and waited. As the sun dipped toward the horizon, the lift pulled up. Less than an hour later, just in time for a gorgeous sunset, our girl was tied up at her berth. The next day we were living aboard again.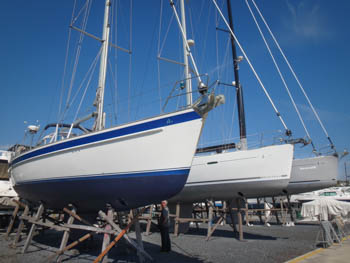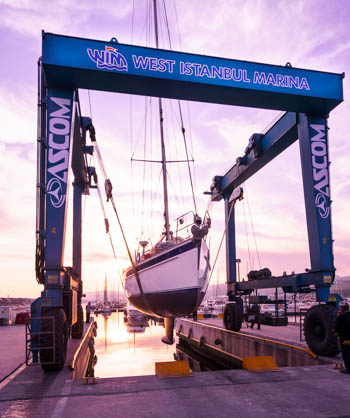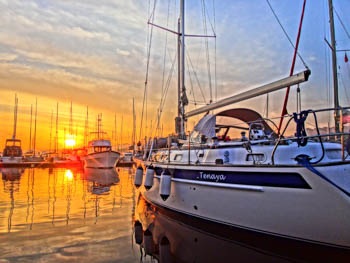 Then the projects began. There were a lot, but the most perplexing one was the watermaker. The housing for one filter was shattered. WTF? Jim spent more than a week trying to reach the local Spectra distributor who said he'd ordered another part we needed last fall but wanted to wait until we returned to install it. Turns out, now he doesn't have the part and doesn't have the housing. Fortunately Jim took a Spectra maintenance course and figured a fix to bypass the missing part and had an extra housing stashed.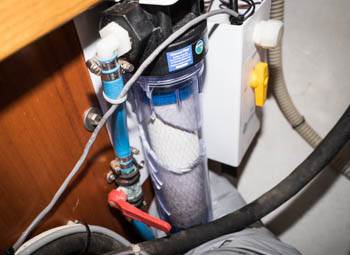 We couldn't have our cooking fuel bottles filled here so Jim changed out our valves to fit the Turkish tanks. Sometimes his workspaces are inconvenient.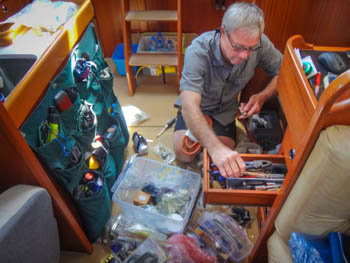 Last year our log was running slowly so Jim brought back a replacement. The installation ended well, but at one point I heard, "Oh shit," and churning water. Lots of water. I stood ready to do something as the electric bilge pump ran, but he got it under control. I'd forgotten that kind of panic.
When we moved the bags containing 100 meters of line each to their normal places, the mesh ripped and line oozed out through the rotten fabric. Jim whipped up two new bags from mesh and webbing we had aboard in no time. His talents amaze me.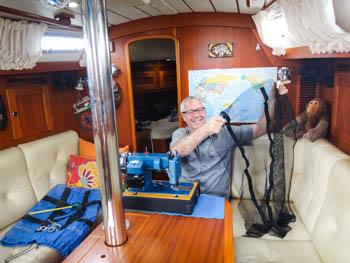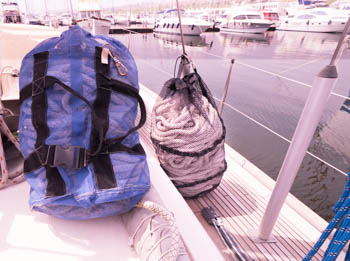 We are pretty sure we're not going to cross any more oceans so we gave those charts to Zeynep, a solo sailing woman friend whose boat is across the pontoon from ours. When we're gone, I'll miss her. She's very cool.
Tomorrow we leave the dock and head south towards Bodrum. It's weird knowing we're only sailing for five or six months and then stopping for six months. That's the way it will be now that we're back in Europe. It's okay. We're looking forward to seeing more of Turkey!
Go to May 2015 Part Two - Marmara and the Dardanelles, Turkey