11 July 2014
For 1600 years they called her Constantinople. Now her name is Istanbul. Her right foot stands in Europe while her left foot dances in Asia. She is alluring, energetic and a little bit schitzo. She's modern and traditional, tolerant and conservative, soulful and aloof.
She is the most beguiling city I have ever met.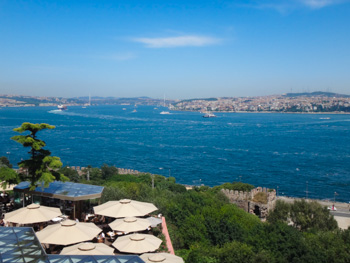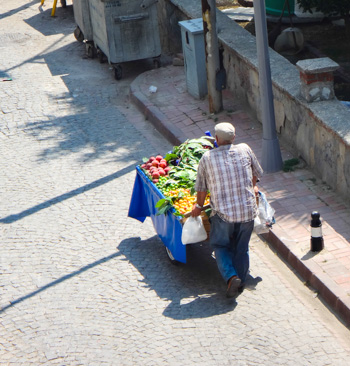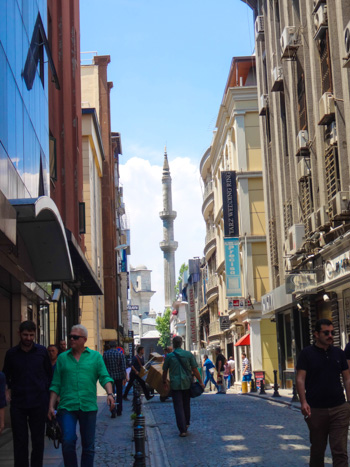 Jim and I wander through her shop-filled streets, fascinated as much by the people as by what is behind the glass.
There are streets for shoemakers, musical instruments, carpets and wedding gowns. There are bazaars for spices and mercantile. Most are crowded, all are compelling.
Istanbul smells of fragrant spices, freshly squeezed orange juice, rotisserie lamb, thick coffee, smoke, rubbish and overheated humanity. She speaks a thousand languages and is crazy about cats.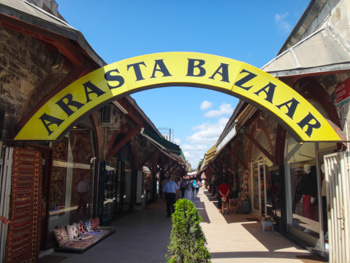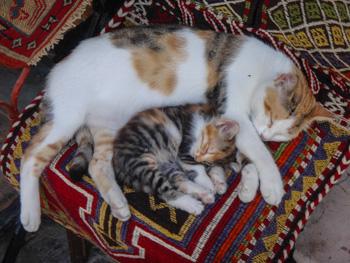 A man wheels a wagon of watermelons along a cobblestone lane as cars make way for him.
Behind a new hotel, ancient brick arches peer from a hole in the dry earth.
Four women walk by covered head to toe in billowing black. Only their exquisitely made-up eyes and black shoes are visible. One is wearing a pair of Converse and that makes me smile.
Istanbul is faithful to Islam and Muslims from many countries come to visit. Maybe this adds to her mystique.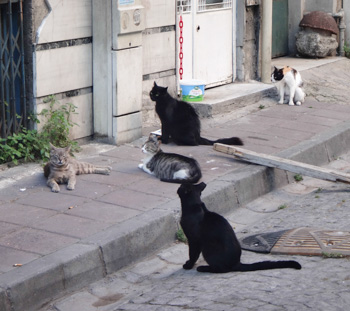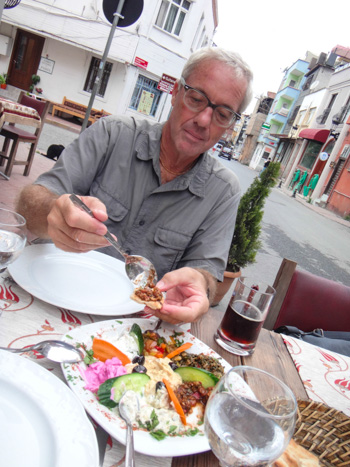 She welcomes visitors and, for two weeks each summer, hosts an expositon for women from Eastern Turkey to sell their crafts.
It is here we meet Yigit, pronounced 'Yeet', with a short exhale between the 'e's. He's a translation student at the university and helps me speak with the ladies.
One woman teaches soap-making in her hometown, near Mardin, one of the oldest settled areas of Mesopotamia. It's located near the Tigris River and Syrian border.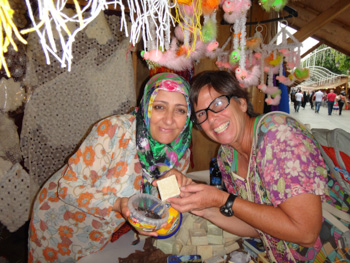 Another woman is from Sirnak Province, a Kurdish region named after the place where Noah's Ark came to rest. She has a beautiful kilim rug I'd like to buy but it won't fit on the boat. Kilims are flat woven, not knotted like oriental carpets. When she folds it up into a tiny bundle, I hand her the money.
Drinking tea together is a custom and she invites us into her booth to relax. After I give her a Tenaya pen she pins a fuzzy ladybug to my shirt. It's considered lucky if a luckbug lands on you. If you sing this song, roughly translated as, flyaway flyaway, luckbug luckbug, your mom is going to buy you a pair of sandals, and it promptly flies away, your wish will come true.
Turkey is bordered by (clockwise) Bulgaria, The Black Sea, Georgia, Armenia, Azerbaijan, Iran, Iraq, Syria, the Mediterranean Sea, the Aegean Sea and Greece. Istanbul has been the grande dame of the Roman, Byzantine, Latin and Ottoman Empires and she has momentos from them all.
Hagia Sophia was built in 537 AD. It was the largest church of the Byzantine period and Christian mosaics still grace the walls. In 1453 Mehmed the Conqueror took Constantinople and had Hagia Sophia converted into a mosque. Now it is a museum.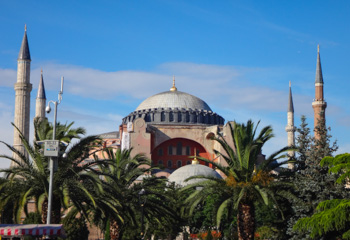 The Sultanahamet Mosque, aka Blue Mosque, is one of the largest mosques of Islam. Completed in 1616 and built on one of the seven hills of Istanbul, the six minarets and tallest dome are a prominent landmark. Inside, the blue tiled walls and pastel vaulted ceilings evoke calmness and joy. Women are required to cover their heads and shoulders and, although scarves can be borrowed, I've bought a pretty silk one to keep in my shoulder bag.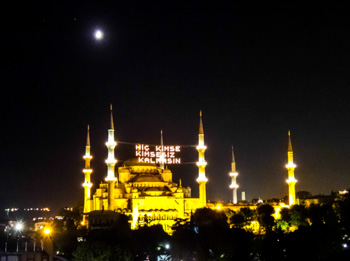 Two blocks from our hotel is the Small Hagia Sophia mosque. It was built as a model for Hagia Sophia. The understated interior is painted white and decorated in blue, silver and gold. It is a peaceful place to read the free publications and learn about Islam, the Prophet Muhammad and the month-long observance of Ramadan, called Ramazan in Turkey, which is happening now.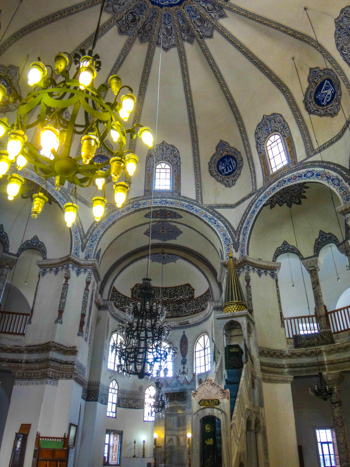 The noodles, rice, and Thai spices that have been our mainstay for three months have been replaced with lamb, eggplant, hummus, yogurt, oregano, allspice, dill, olives and a multitude of cheeses. It's not better or worse, just different.
Testi Kebab is a fun dish because it comes to the table on fire. The waiter pulls the clay jug out of the blaze, cracks it open and pours succulent chunks of meat, or seafood, onto our plate.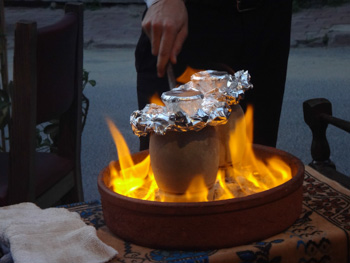 Adam is from Syria but Istanbul took him in. He sings and plays the guitar where we order the flaming food. He says that 1.2 million people have been killed there, including his sister, and he will not go back. His story is a somber reminder that not everyone coming to Turkey is on a holiday.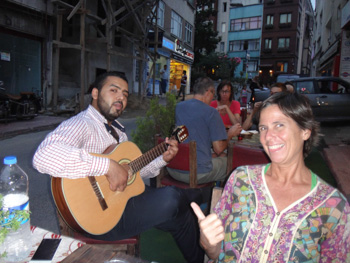 Shimmering atop Istanbul's opulent big right toe and overlooking the Sea of Marmara and the Bosphorus Strait, Topkapi Palace was home to the Ottoman rulers for more than 400 years. During the 12th century Constantinople was the wealthiest city in Europe. Even after the Fourth Crusade raped and robbed her, Istanbul's collection of jewels, weapons, costumes, clocks, ceramics and relics in the Imperial Treasury remains magnificent. Her most valued possessions are relics of the Prophet Muhammed and a pendant with an 86 carat diamond in the center.
Within the same walled grounds lie the Archaeological Museums. Hoping for a glimpse into her soul, Jim and I admire the ancient artifacts of Istanbul and her country. We learn some details but are incapable of comprehending much of her extensive history.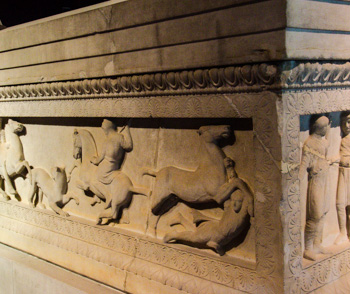 There is an exhibit of stone tablets found in Southeastern Turkey in 2009. They are more than 4000 years ago. Many would fit in the palm of my hand, but some are larger. Most are contracts. They include a verdict of the court, a letter of complaint, instructions about how to deal with gold investments, debts, smuggling, disbursement of bread and the sale of a young boy.
The tablet below is old Assyrian dialect etched in cuneiform script from the 13th century BC. It's an interesting topic...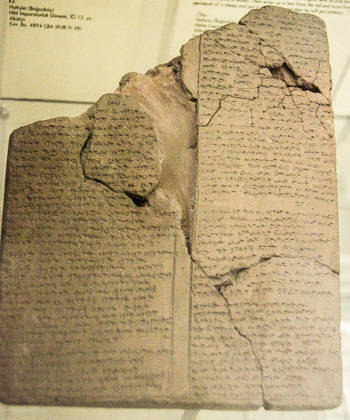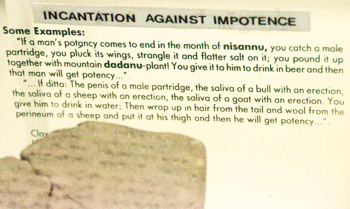 No need for Viaga which, by the way, is prominently displayed in pharmacies and for sale without a prescription.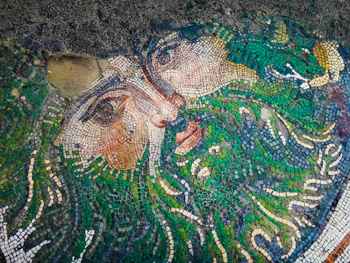 I adore mosaics. Our hostess has a splendid collection at the Museum of Great Palace Mosaics. The building is hidden behind the Arasta Bazaar near the Blue Mosque. While archeologists were excavating the bazaar during the mid-twentieth century they discovered a large tiled floor from the Byantine period. It depicts daily life, animals and mythological creatures in hunting and pastoral scenes.
The tiny 5mm tiles are made of limestone, earthenware and colored stones. Because these are so small, the artists were able to create shading effects, thus adding depth to the mosaics.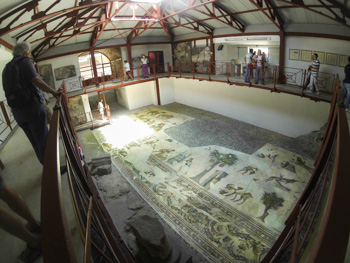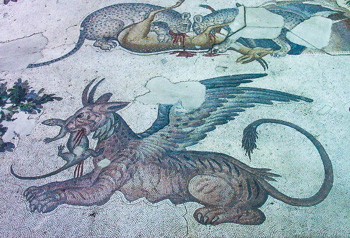 The Chora Church, aka Kariye Museum, is a quirky gem in Istanbul's treasure trove. It lies beyond the city center and is accessible by bus or ferry and a little walking. Full of divine mosaics and frescoes, it was built before 413 AD and revived in the 14th century. Their website describes it well - Like the mosaics and frescoes, the architecture of the Kariye is similarly artfully distorted, chaotic, asymmetrical, and decorative...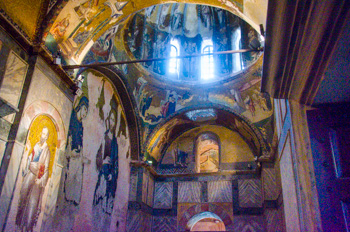 When our friend, Lorna, messaged me on Facebook saying she and her sister, Amy, were coming to Istanbul, Jim and I were thrilled. We hadn't seen each other in more than ten years. She was the only girl that came waterskiing and wakeboarding with me when we lived in Wisconsin. I can't tell you how frustrating it is to have a boat and nobody to go out with on a glassy day! Anyway, Lorna asked if we'd seen the Whirling Dervishes. We had not so they bought tickets.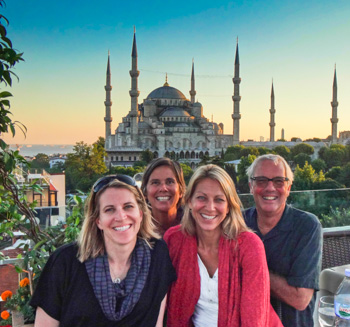 Watching the Whirling Dervishes is mesmerizing. On the second floor of the intimate, wood-panneled, octagonal room, seven musicians are gathered with a few curious instruments. One sounds flute-like, another is shaped like a banjo with a bigger resonator, and there is a drum. One man sings, or chants, I don't know what to call it but am pretty sure it is trance-inducing.
Ten men in long, black gowns and tall, camel-colored felt hats file in and walk around the perimeter slowly, repeatedly. Eventually the black is discarded and there is only white. One by one, they begin to spin, raising and opening their arms like a blooming flower. For a long time they whirl about the room in a steady orbit, moving gracefully to the hypnotic music and wailing voice.
In this form of Islam, followers dance the dhikr to the musical sema to reach an enlightened state. The sect was banned in 1923, the year Istanbul took her new name, but the Whirling Dervishes are allowed to perform as a cultural experience.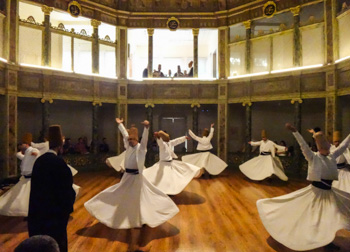 In addition to friends from land life, Jim and I saw cruising friends too. We shared an anchorage with Gloria and Michael on Paikea Mist in Abel Tasman National Park, New Zealand. Thanks to Facebook we have kept in touch. They passed through Istanbul on their way home to Vancouver and we met for dinner. Based further south in Turkey, they had loads of information about islands and anchorages to share.
We love exploring and meeting new people but it's always a highlight to meet up with those we already know.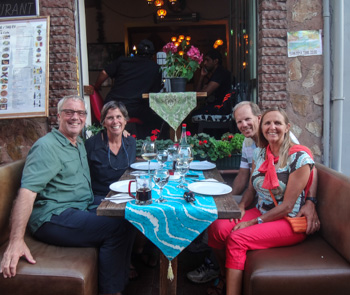 Tips for Istanbul:
Stay at the Saruhan Hotel in Sultanahmet, a 10 minute walk from the Blue Mosque. Friendly and helpful staff, bright, airy, quiet rooms, free wifi, free rooftop breakfast buffet and free access to the espresso machine. 70 euros a night.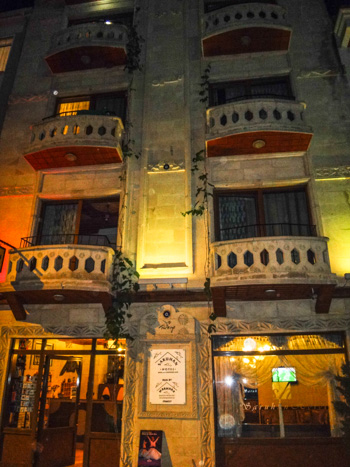 Buy a Museum Pass card for 3 days. See as many as you can while skipping the long lines.
Buy an Istanbulkart from the kiosk by the Sultanahmet metro stop along the T1 line and load 20TL. Then take this line, and a funicular, to go between Sultanahmet and Istiklal Caddesi, on opposite sides of the Golden Horn. The card works for the metro, funiculars, busses and ferries.
Get a city map from the Info center at Taksim Square. It's the best for the city, ferry routes and further afield.
Have a sunset meal at Seven Hills Restaurant with views of the Blue Mosque, Hagia Sophia and the Bosphorus.
See the Whirling Dervishes at the Galata Mevlevi Museum.
SIM cards only work on foreign phones for 1-2 weeks before the phones are cut-off. If you're going to be here a while, go to the Tax Office, below Tunel Square, register your IMEI number and pay the 140TL fee. Take the receipt to the big Turkcell shop on Istiklal Cad, buy a SIM card (choose data amount and countries) and you'll be set. Or, buy a cheap Turkish phone.
Don't do what I did if you want to make friends. Don't give the two women who have just helped you find the right bus stop the scuba diver's OK signal, the one where you touch your thumb and index finger together, forming an 'O'. It means something very, very bad.
Tesekkuler, Istanbul. Thanks for your kind hospitality. We are falling in love with you.
Go to July 2014 Part Two - Tenaya's Journey From Thailand to Turkey