June 20, 2014
Our land travels in Southeast Asia came to an end in Vietnam but we still needed to get to Istanbul to meet Tenaya, our floating home. Which big city would we fly through?
Jim loves Hong Kong, a place he visited several times while working for JanSport, Eastpak and Kipling. One of his best friends lives there and he's always wanted me to visit. So, the decision was a no-brainer.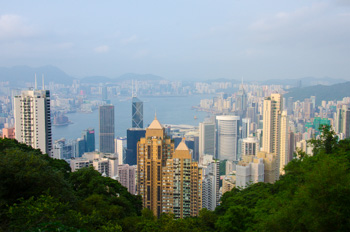 His friend, Defea, arranged a comfortable room in a nice hotel on Hong Kong Island for our stay. It even had a view of a marina.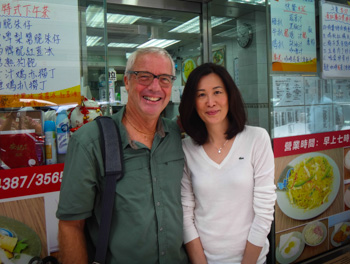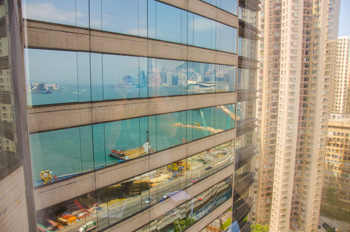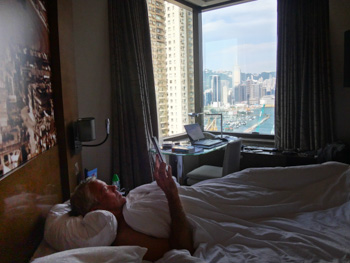 Wow, what a change from what we are used to! Giant skyscrapers are packed together and rows of cars flow between them like armies of worker ants on a massive mission.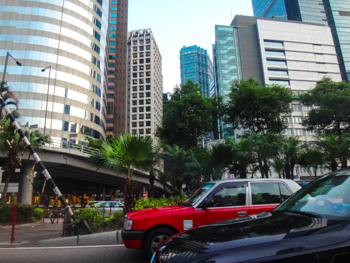 Hong Kong is all about shopping and food. In anticipation, thoughts of smart phones began popping up in Jim's head while we were still in Vietnam.
Samsung or iPhone? If we were staying in SE Asia, Samsung would have won on price and choice of apps. But we are heading to Europe and eventually back to the US, so an iPhone made sense, especially since we've already got many apps for the iPad.
The old Jim, the one that has been to Hong Kong before, would have certainly justified buying the new 5S. But this Jim, the thrifty get-by-with-less-stuff guy, only hesitated for a moment before choosing a 4S. Price was a factor, but so was the style of charger which is the same as those we already have for the iPad and iTouch.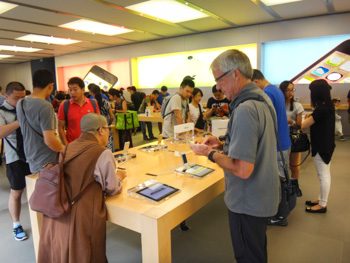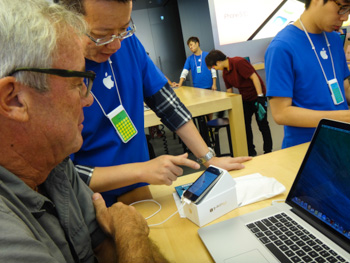 I was not at all convinced I wanted to be so connected. So, instead of buying an iPhone too, I opted to replace my favorite possession in the whole world, my little Sony waterproof P&S camera. It had slipped out of my pocket two days earlier in Ho Chi Minh City.
With our new gadgets, we set out to see Hong Kong. Our first destination - Victoria Peak.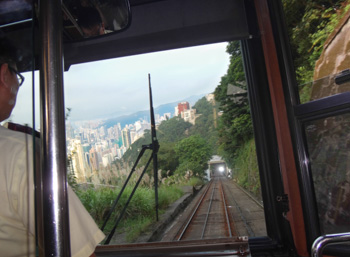 The Peak Tram carries people from the Central District up to Victoria Peak, the conical green mountain in the center of the island. Shops and restaurants are clustered about the top of the funicular but the main draw is the spectacular view of the city and harbour 400 meters below.
"Hey look," I said to Jim, "this restaurant has references to Forrest Gump."
"Better yet, it's got a great view, clam chowder and beer," said my hungry hubby. So in we went.
"Have you been to a Bubba Gump before?" asked the waiter. We hadn't. We'd never heard of it. "They are from the United States but now we have one too. If you want me to come to your table, please flip to the red card," he said as he reached to the thing on our table that looked and sounded like a stand of license plates. "If you want to be left alone, please leave it on the blue one."
Right. One more reminder that we are aliens on land.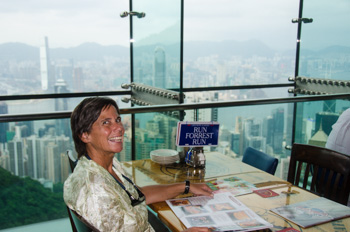 That evening we met up with Domi, another friend Jim worked with at Eastpak. She's still with the company and filled him in on what's happening there. All this talk made us sad that we are not heading to Antwerp as originally planned. Jim was excited to re-connect with old friends and collegues, so now they will just have to come visit us in the Med!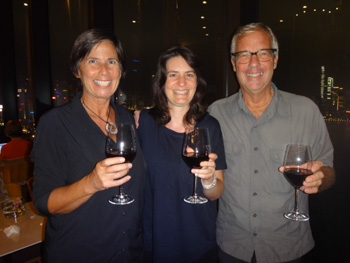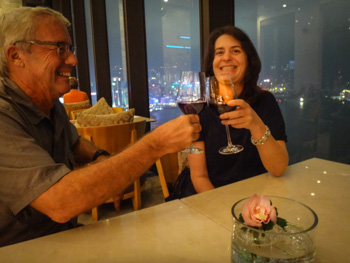 Merci beaucoup, Domi, for making time to see us during your busy stay. Many thanks for the lovely bottle of wine too. We are so happy our trips to Hong Kong aligned; it was great seeing you!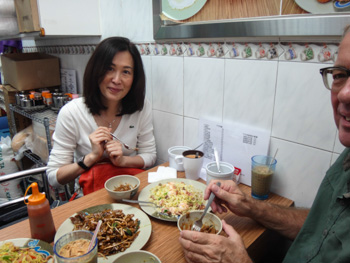 Defea made time in her hectic schedule to show us around. We had lunch at a tiny, buzzing traditional restaurant that did not cater to tourists but whose staff was very kind to us. Mmm, more noodles and rice! We are going to miss these dishes when we leave Asia.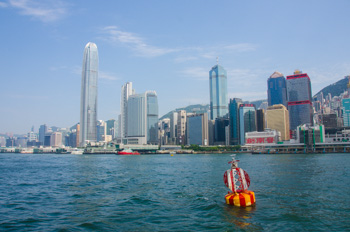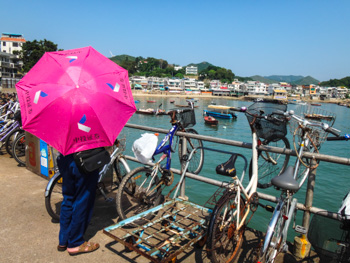 After lunch we took the ferry to Lamma Island. Souvenir shops, food stalls and small restaurants line the narrow walkways of the town. Beyond are paths leading to the leafy interior and to pretty beaches. We spent a relaxing afternoon walking along the path to the other side of the island. Lamma Island is so close to the excitement of Hong Kong yet so peaceful and quiet. I think it would be nice to live here for a while.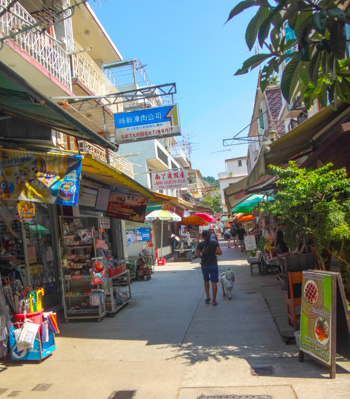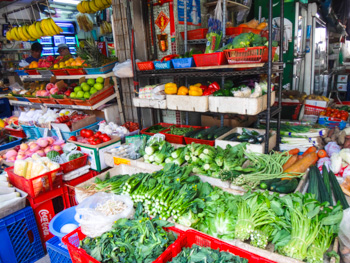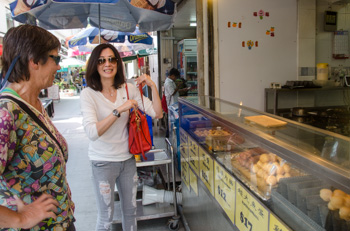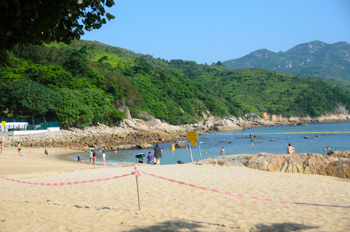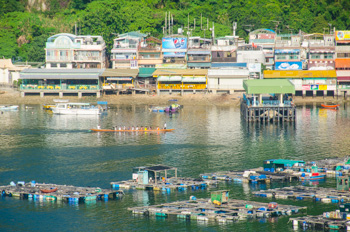 As the sun dipped lower in the sky we rode the ferry back to the bustling city. Defea suggested having dinner at the floating restaurant. It's touristy, she said, but it's one of two restaurants in Hong Kong with excellent Peking Duck.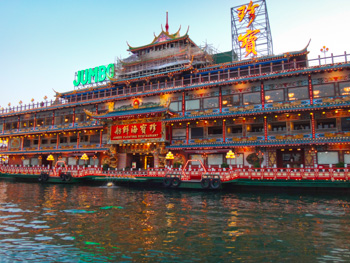 She was right. The duck was delicious! It's customary to serve mainly the skin, but when I said that I quite like the meat too, Defea asked the server to keep a bit more of the flesh attached. We rolled it up in rice pancakes with lettuce and a yummy sauce and devoured all the pieces on the plate. The server took the rest of the meat back to the kitchen, ground it up and brought it back for us to continue our feast.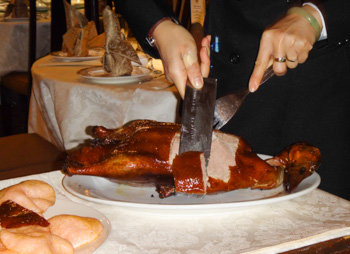 When Defea heard Jim chose an iPhone 4 over the 5, she offered me her old 4S. Now I can be connected all the time too! My re-entry from sailing nomad to the fast and furious life on land has begun. And it's a little frightening.
Thank you, Defea, for all you did for us while we were in Hong Kong. You are wonderful! We hope to see you soon in Europe or back on Lamma Island.
Next stop - Istanbul!
Go to July 2014 Part One - Istanbul, Turkey