June 18, 2014
Some stops along our journey are about the sea - diving, snorkeling and experiencing the underwater flora and fauna. Other stops are about what we find ashore - new cultures, endemic creatures, local vegetation and geological features. Very few stops are simply about meeting up with people we already know.
Ho Chi Minh City falls into the latter category. We flew here to see Jim's daughter (my wonderfully smart, loving and talented step-daughter) Corrine, and her bright, kind and creative husband, Eric. Eric teaches art at the American International School and Corinne substitutes there part-time. She is enjoying some down-time after working hard for three years teaching in a Masters TESOL program in Seoul. Corinne is a maker, one who creatively constructs things. Jim's hard-wired for building electronic stuff too so they're having fun exploring that world together.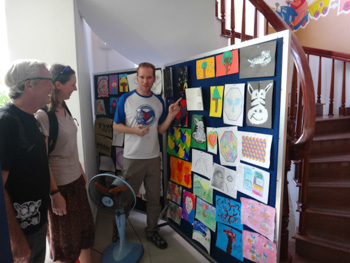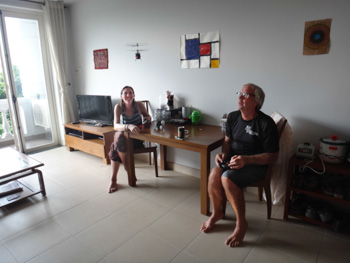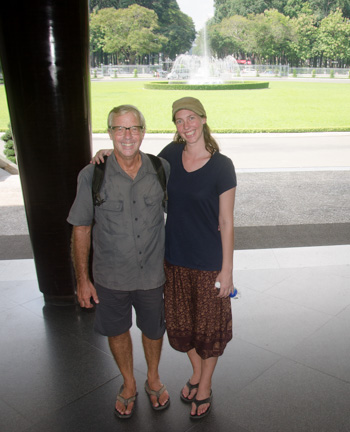 My father was an auditor for the US Navy in Saigon during the Vietnam War. Saigon is now named Ho Chi Minh City and the war is called the American War here. Perhaps because news stories back then referred to the jungle and rice paddies, those were what I expected to see. How wrong I was!
Ho Chi Minh City has embraced growth, manufacturing and tourism. In the last decade, building has accelerated at breakneck speed. The 68 story Bitexco Financial Tower was completed in October, 2010 and symbolizes modern progress in the heart of the city, a city of more than six million people.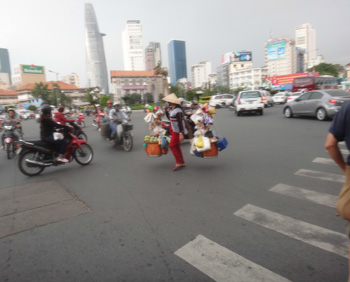 87% of the population is 54 years old or younger. Only 5% are 65 or older. Most people in this country were not even alive during the war. It is just a part of their history, like the French colonization. The French left beautiful buildings. It's debatable what the Americans left.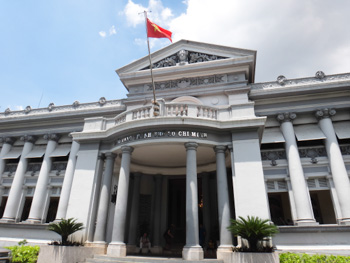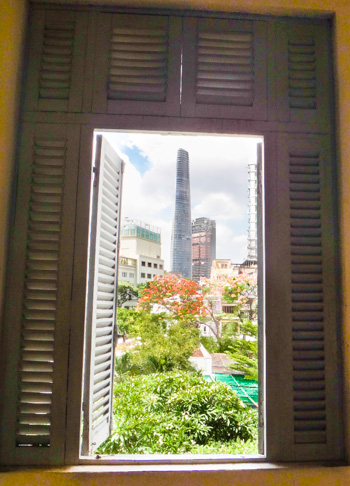 After the American War came the Vietnamese Cambodian War. Vietnam occupied Phnom Penh from 1979-1989 before they were pressured out by the United Nations. Displays and propaganda at the Ho Chi Minh City Museum give their view of these wars.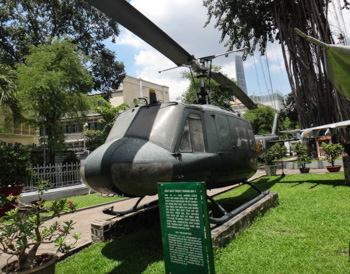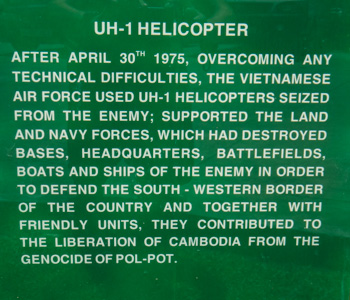 Various presidents of South Vietnam were based in the large Independence Palace in the center of Saigon. Communications and wartime strategies were planned and executed from the basement of this building. Maps and office machines are still there. On April 30, 1975 a North Vietnamese Army tank crashed through the gate, effectively ending the war between North and South Vietnam.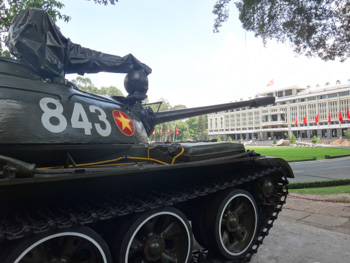 We took a bus tour to Cu Chi, where the National Liberation Front of South Vietnam, better know as the Viet Cong, created a network of tunnels to aid in fighting the Americans and their South Vietnamese supporters.
Tunnels were less than a meter in diameter and descended three layers, 2 meters, 6 meters and 8 meters deep. People moved about, hid and cooked down there. Water was diverted in when necessary. Vents let out smoke that could alert the American dogs so items taken from Americans were placed by the holes to make the scents familiar.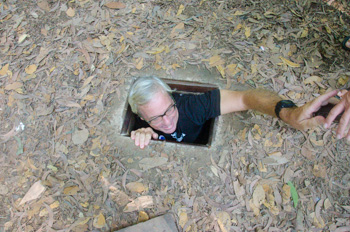 Our guide was 65 years old and had been a translator for the Americans. He was very opinionated and spoke more critically than we imagined someone in a communist country could.
He played a video of the area which stated Cu Chi "had been a peaceful place of tropical plants and rubber trees until ruthless American bombs from B-52s transformed the countryside. Americans came into Saigon like a crazy batch of devils, firing into women, children, chickens, Buddhas and trees."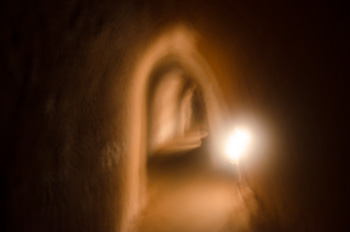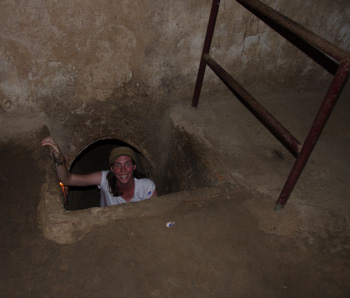 Women and children helped the effort. The Viet Cong made simple traps from bamboo that would inflict tremendous pain and fashioned weapons from fallen planes. They fought in the mornings and worked in the fields and rivers in the afternoon to provide food. "Cu Chi fighters killed 118 Americans," our guide said. "And a little girl was awarded American Killer Hero for helping to kill them."

Except at specific sites, visitors in Ho Chi Minh City are unlikely to see references to the American War. When the conflict ended in 1975, the majority of the population had not yet been born. Those we met seemed indifferent to our American heritage and welcomed us.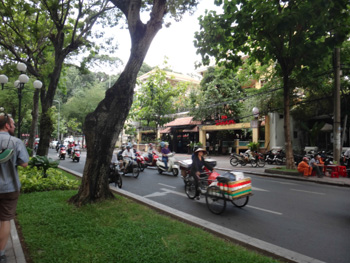 Ho Chi Minh City is a growing, vibrant city and the downtown area is packed with cafes, clubs, cars, motorbikes and people. There is a large ex-pat population and most of the younger ones live in city center. Corinne and Eric chose an apartment in a quieter, less populated district where they feel safer. Petty crime is rife in the center where most of the tourists congregate. We appreciate that Corinne rented the apartment across the hall from theirs for Jim and I to enjoy during our short visit.
They borrowed bikes for us to ride, but we were never in a hurry and preferred to walk everywhere. It's the way we usually get around cities and it allows us to stop, look, chat and learn.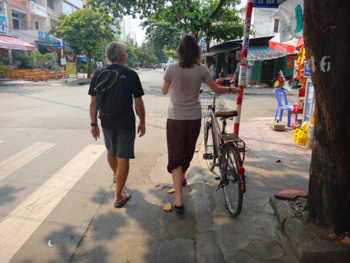 What was our favorite experience? Sampling the street food! It's everywhere, from baskets of mangosteens to fried bananas and other goodies to noodles to veggies and herbs wrapped in rice paper to grilled chicken to things we didn't recognize. Almost everything we tried was delicious!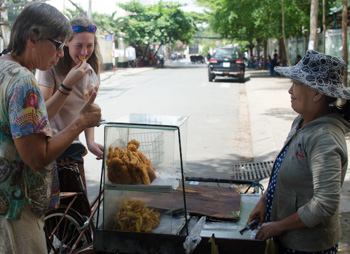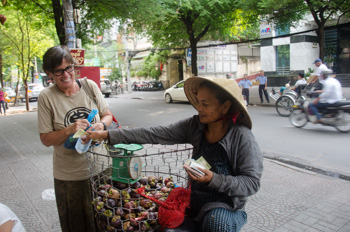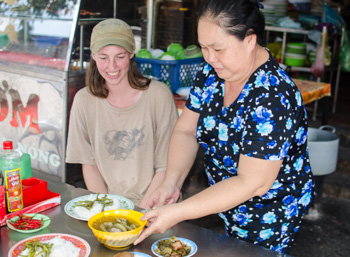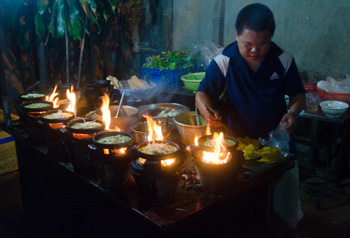 One day we saw this ornate truck go by. Later that evening it was parked in front of a temple and women monks were decorating it with roses. We asked what was going on. A monk pointed to a portrait of a monk mounted on the truck and said something we did not understand. And then she smiled and motioned for us to go inside.
A young woman invited us in, speaking English. She led us to a carpet in front of the decorated box that held the body and showed us how to bow correctly. Then she motioned for us to walk around the casket where we paid respect at the head. People were smiling, there were no tears. All the while a film crew was filming everyone, including us.
The young woman offered water and cookies and a seat at a long table. She explained that the monk was an old woman and had died earlier that day. The following day they would cremate her and she would be taken away in the vehicle.
As we rested, she asked Jim and I if we wanted to pay our respects with incense. We did.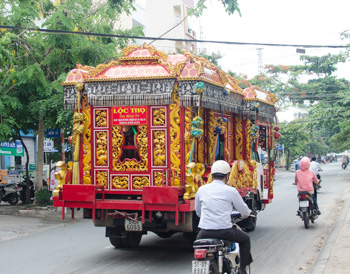 According to demographic information, 80.8% of Vietnamese are non-believers, 9.3% are Buddhist, 6.7% are Catholic, 0.5% are Protestant, 0.1% are Muslim and 1% are Cao Dai.
Cao Dai? This religion began in Southern Vietnam in 1926. It combines Christianity, Taoism, Confucianism and Islam. A big eye seems to watch over everything and we found this same eye on our bag of coffee. The largest place of worship is the Cao Dai Holy See in Tay Ninh outside of Ho Chi Minh City. It's a large building full of worshippers who welcome onlookers without pamphlets, booklets or pleas for donations.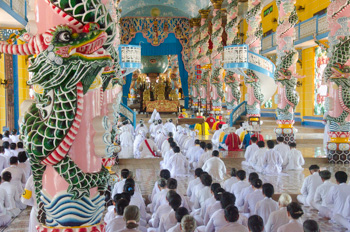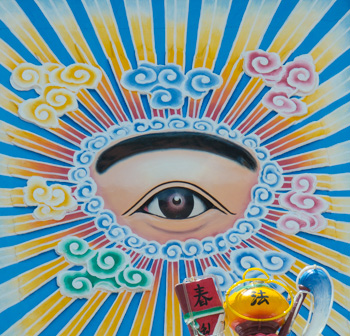 Our bus tour to Cao Dai Holy See and the Cu Chi Tunnel stopped at a factory where people disabled in the American War worked making crafts for sale in the adjoining store.
As I watched her work, Thuy Doan patted the seat for me to sit down next to her. "That's beautiful," I said. "Thank you," she replied in perfect English. She said she is teaching herself English by watching television.
I watched as she wiped lacquer on the wooden plaque she was working on. Then she placed a small piece of egg shell on the wet spot. Next she pierced the egg shell in the center and it cracked into several tiny pieces, creating an even more intricate mosaic. I stayed with her and learned about her craft until there were no more bus passengers in the room.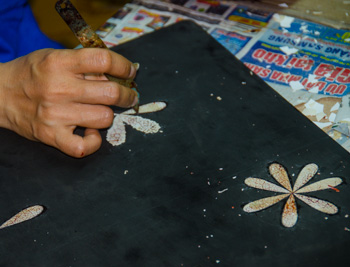 One afternoon I was busy working on a page for this website and didn't want to be bothered. Jim went up to the roof where Corinne and Eric entertained him with a colorful kite and a beer.
In preparation for our next stop, Hong Kong, and seeing some of his old friends, Jim set out for a haircut. Corinne said she knew just the place.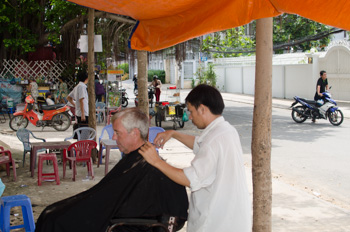 Thanks so much, Corinne and Eric, for showing us around Ho Chi Minh City, your neighborhood and the school where you work. We had a great time!
Go to June 2014 Part Five - Hong Kong