May 23, 2014
Thai cooking lessons. Longtail boat ride to enchanting islands including a traditional Thai lunch on the beach. Chillin' with other yachties on land. Road trip to Myanmar. Working out in a nice gym. The kindness of strangers. The delight of new friends.
We've been in Thailand nearly two months, much longer than planned, and we're liking it. We're having a blast with Bruce and Alene of s/v Migration. They do interesting things. On May 1st Bruce danced about their patio with bells jingling down his shins while playing his concertina. He's a morris dancer and the tradition on that day is to dance up the sun but because we were there at sunset, he danced it down. Another day Alene pushed him to the bottom of the pool and stood on his chest as he blew toroidal rings. What's a toroidal ring? Watch the video and find out. Dolphins make them. So do Strombolian volcanos.
That was the beginning of the toroidal bubble craze. Jim and I practiced each time we went in the pool at the marina. When Neal and Ruthie of s/v Rutea and Sherry and Roger of s/v Equanimity came down for a potluck dinner from Yacht Haven, we practiced bubbles. When Khun Aun and Khun Ao came over to do yoga, have Bruce's homemade pizza and make Phad Thai, we practiced bubbles. It's addicting. Kind of like Khun Aun's fabulous meals.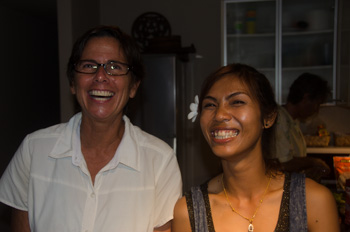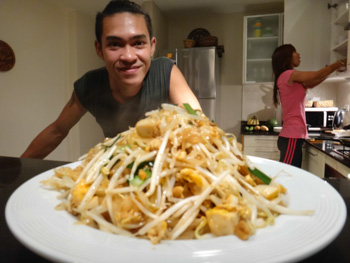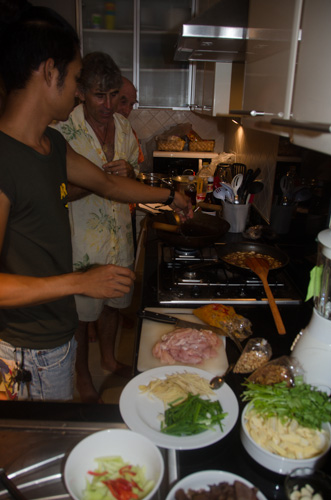 Alene loves holidays and birthdays. On Easter she had us painting eggs with Sharpies and for my birthday she decorated their apartment with balloons and banners and invited Dick and Tricia from s/v Geramar. Dick had just celebrated a birthday too, so Bruce read Happy Birthday to You by Dr. Seuss to both of us. Who better to read a children's book aloud than an author of childrens' books?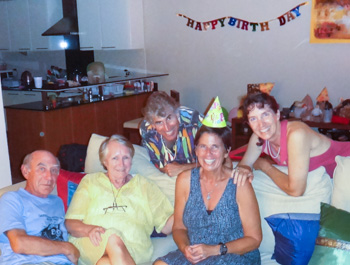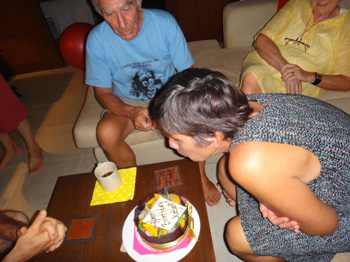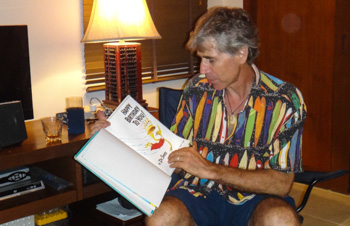 Thailand has a few different visas and each one involves leaving the country to restart the clock. You don't have to leave for long, a few hours will do. It was time for Bruce and Alene to go so they rented a car and invited us along. Yippee, we love road trips!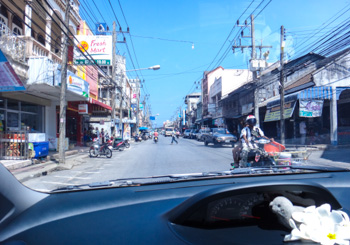 It took the better part of a day to reach Ranong near the border of Myanmar. Jim and I figured we'd renew our visas at the same time, but the Immigration officials said we had to be cleared by Marine Customs in Phuket first. It's a little screwy arriving as crew on a yacht in Thailand. You can't leave the country hoping to get back in without this extra step. Bruce and Alene hopped into a longtail and went to Myanmar for the night. We took the car to a hotel.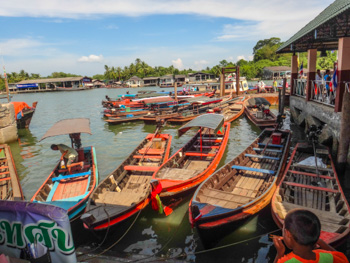 The next day the four of us drove across the peninsula to the Gulf of Thailand stopping at a waterfall and a large cave with thousands of bats. In Chumphon we found a hotel on the beach just in time to watch the sun set beneath a fiery sky.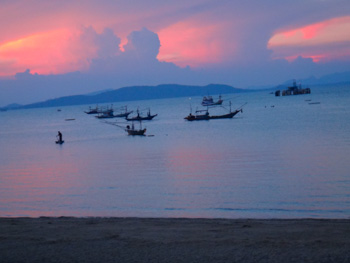 Day three was a long day of driving through lovely landscapes. Here and there tall limestone karsts jutted into the sky. Everywhere was green. We stopped at a picturesque lake, an ornate temple, and a food market before rolling back into Phuket.
Two days later Jim and I were back on the road to Ranong, this time wrapped in the tacky Las Vegasesque interior of a Visa Express mini bus. The guy at Marine Customs arranged it for us because we'd arrived with no plane, bus or boat ticket. You must have a ticket out of the country before they will stamp your passport. In Ranong, the bus driver handled our passports and we were sent to the Visa Express boat for a trip up the river to Myanmar with dozens of other farangs, white foreigners.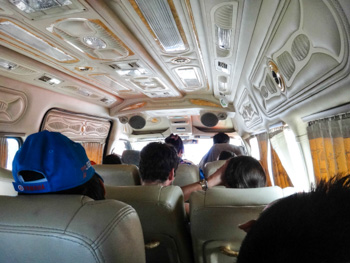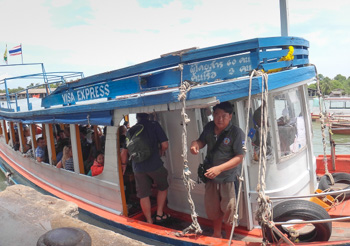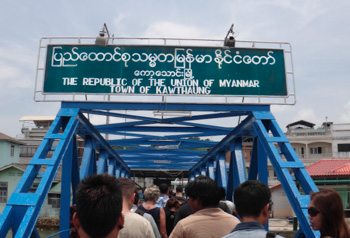 As far as traveling goes, I'm pretty sure this doesn't count as actually visiting Myanmar. We were in and out of the country in less than an hour. We did walk around a block though, and bought some yummy sweet pancakes and a beer from these two women.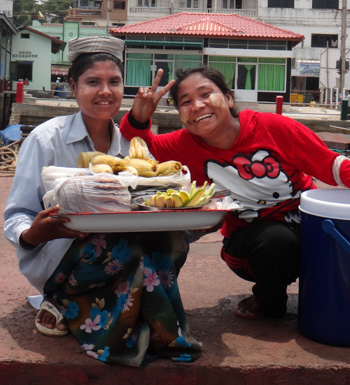 After waiting in the Immigration line we were given another 30 days in Thailand. Six hours later we were back in Phuket, a 12 hour mission completed.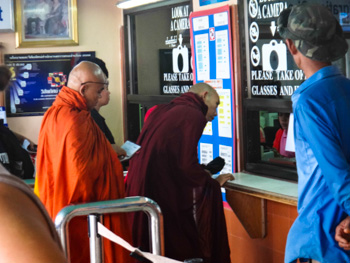 The bus dropped us off across the busy street from the Shell station where we'd caught it that morning. There was a small restaurant with three women working, Ef, her mother and her younger cousin. We asked if they would call a taxi for us and Ef said they would drive us back to the marina. "Take a seat for a few minutes," she said. Her mother came out from the kitchen. She doesn't speak English as well as Ef, who is married to a Brit, but managed to communicate just fine with lots of smiling. Jim and I watched as Ef and her cousin hopped on a motorbike and took off. Ef returned on the motorbike, her cousin in a car. They really went out of their way to help us. How kind is that?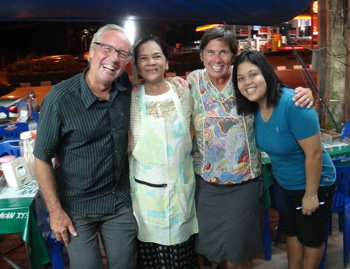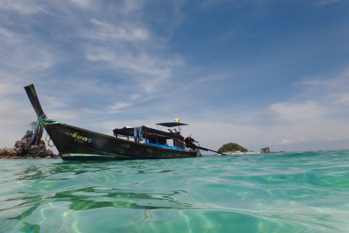 "Have you been to any of the islands?" Khun Med asked one day while Jim and I were working out in the gym. "No," I said. "We thought we were putting our boat on a cargo ship right after we arrived so it's all ready for that, not to sail."
"Would you like to go out to some islands on a longtail?" he asked.
"Yes, that would be awesome!"
"Okay, either on Thursday or Saturday. I'll tell you tomorrow. My girlfriend, Khun Bow, will come too and some others. We can have a picnic at the beach, traditional Thai style."
"Wow, that would be so cool!" I exclaimed. "We'd love to do that!"
"Do you like to snorkel? There are a lot of fish and there are star fish we can put on our heads and here," he said pointing to his stomach.
Thursday morning he picked us up at 7-Eleven. We squeezed into the back of a small pick-up and drove to the Ao Po Pier. There were more than a dozen of us in all - kids, men and women. And a lot of bags. Bags of drinks and bags of food.
Sure enough, our first stop was to harass the sea stars.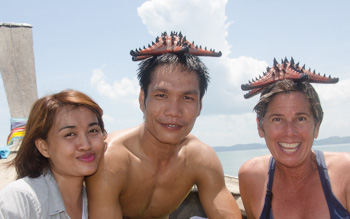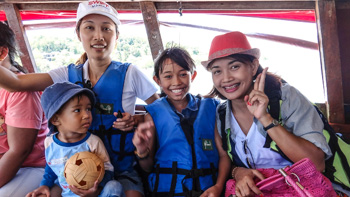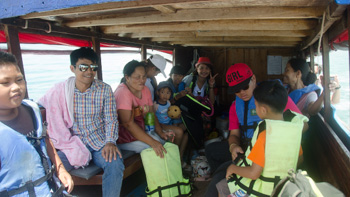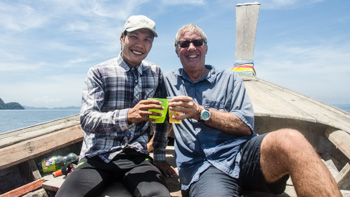 "Beer time, Mr. Jim?" Khun Med asked just after 11:00 am. Sure, why not? He poured a tall, chilled Leo as we rumbled south to Khai Nui. Aside from a few Thai people playing pool in the restaurant, the small island was deserted. I hopped off the boat and snorkeled to the other side of the island while Jim took photos.
I arrived to find Khun Med surrounded by masked people and a frenzy of sergeant majors. He put a piece of bread in my hand and they pecked until it was gone and then they pecked at my hand.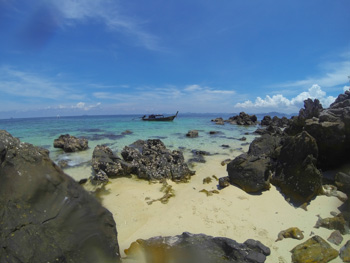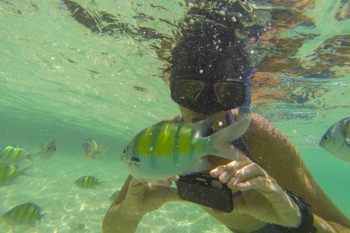 Next we traveled the short distance to Khai Nok Island. Here's where all the tourists were! Rows of brightly colored umbrellas shaded equally vibrant beach chairs from the glaring sun. We dared not sit down because we weren't staying long enough to justify the fee.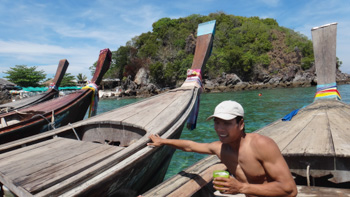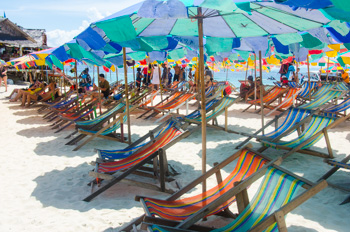 Crossing more flat water brought us to Rang Yai Island. We pulled up on a secluded sandy beach backed by trees and bushes. Someone took a wide mat ashore and laid it in the shade of a leafy tree with overhanging branches. Everyone helped carry food and drinks.
While kids played in the water, Khun Bow and another woman prepared green papaya salad. Khun Bow mashed chilis in a large stone mortar with a beefy pestle before adding fish sauce and the other ingredients. She made the first batch less spicy for us because I'm a wimp.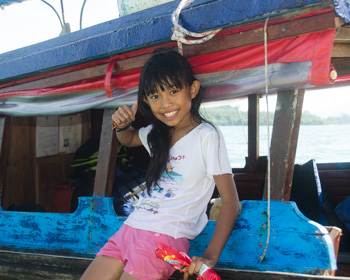 Khun Med explained that everyone sits in a circle with the plates of food and basket of rice in the middle, and we all help ourselves. Because of my less-than-flexible knees and hip flexors, I had a hard time doing this at all, let alone gracefully.
What a yummy meal! Khun Bow is a chef at a resort restaurant on Naka Island. How lucky we are that most of our new Thai friends are professional cooks!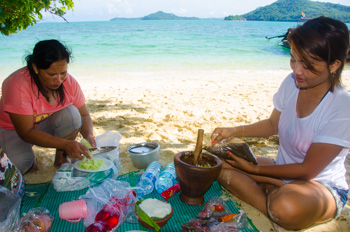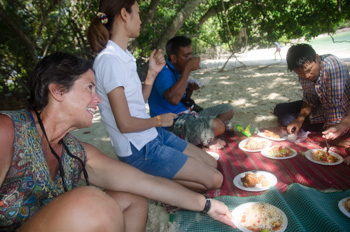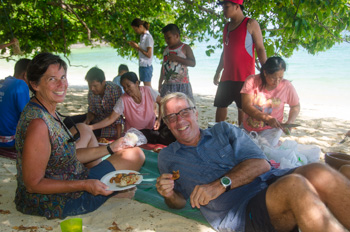 On the way back to town we stopped at a pearl farm and at a shop on Naka Island to see some harvested pearls. The sun was low and it was a nice ending to a wonderful day. Khawp khun ka, thank you Khun Med and Khun Bow. We had a fantastic time!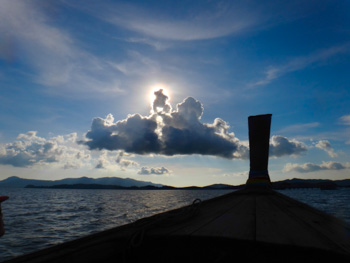 So, about our plans...
They've changed again!
We were going to ship Tenaya to Antwerp, Belgium the beginning of April with the Peters and May shipping company. The original ship was running late so they cancelled it to find another that would be here sooner.
That didn't work out. About the middle of the month they said they'd secured another ship that would be here the end of the month. 10 boats were planning to leave from Phuket. Several complained so Peters and May offered refunds. Many took their money and jumped ship. We stayed because we wanted to go to Antwerp.
At the end of the month we received a message explaining that because so many boats had bailed, they could no longer afford to proceed with the transport. They refunded our money at once.
Sevenstar was available to help. The last of three ships will be leaving Phuket for Turkey the end of May. They offered us space inside which meant we would have to take down the mast. We declined and began thinking about spending a year here in Thailand and traveling in SE Asia. That would be fun, Jim and I agreed.
The morning we left on a trip to Angkor Wat, Cambodia, we received a message from Sevenstar saying they'd had a cancellation and there was space on deck. Would we like it? Sure! So now we are scheduled to go to Istanbul.
Istanbul! Pretty cool, huh?
But we won't get really excited until Tenaya is actually on the big ship. The Thai army staged a coup d'etat yesterday so who knows what will happen. But it doesn't really matter to us. It's all good! We will miss our friends here when we go, though. That's the sad part about cruising.
Go To June 2014 Part One - Angkor Wat and more Cool Places around Siem Reap, Cambodia