March 15, 2013
Peaceful days and tranquil nights were interrupted by moments of sheer terror during our six day, 912 mile passage from Kota Kinabalu, Borneo to Singapore.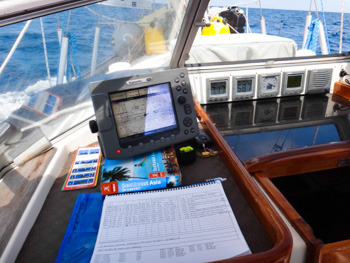 Most boats hop south along the Bornean coast stopping at Brunei and in Sarawak, Malaysia before leaving Kuching for Singapore. Not us. We're in a hurry. We have to reach Phuket, Thailand, by the end of March.
People had warned us about all kinds of frightening things we might encounter - offshore oil platforms, large unlit tanker moorings, unlit FADs (fish aggregating devices) and mass quantities of fishing boats, nets, buoys and other miscellaneous floating hazards. So it was with a bit of trepidation that we tossed off the dock lines in Sutera Harbour and headed off across the South China Sea.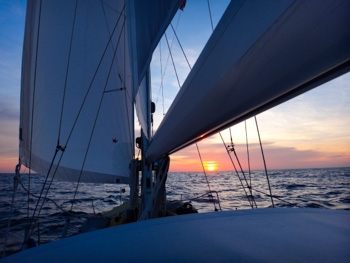 I took the green flash at sunset to be a good omen. Indeed, the first night we sailed blissfully in slight seas with winds 13-15 knots on the beam. The orange glows in the distance were perplexing until we reckoned they had to do with the oil platforms. We saw little else.
There was another green flash the next night! Smoke from the pipelines made the daytime sky hazy, but, like the old days of smoggy LA, it made the sunsets vivid red. A lovely day sailing was ending and I settled into my 6-10 PM watch. Tenaya was about 50 miles offshore, and the only lights I could see were from distant oil platforms.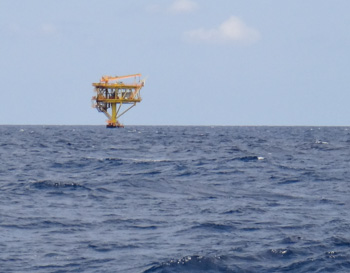 During magical nights like these I am inspired to write and ideas and emotions flowed onto the pages of my notebook. Suddenly a light I thought was an oil platform in the distance was too close. It showed several white lights plus red and green lights. Yikes! I jumped up to see a fishing boat coming straight at us, head on. "Jim" I hollered as I rushed behind the wheel, disengaged the autopilot, turned on the engine and turned to port. Jim emerged from his slumber and planted himself at the chartplotter as fast as he could.
"It's on AIS", he said.
"Which way should I go?"
"I don't know!"
"I'm going to port, tell me if our CPA increases." It did, but the sails quickly backwinded and the main gybed Whoops. At the same time I remembered the COLREGS rule: Boats are to pass port to port when approaching head on. So I flung the wheel to the right and swung Tenaya 180 degrees to starboard as I shoved down the throttle. Jim was still rolling in the mainsail.
The fishing boat turned to his starboard and when we passed I could see everything on his deck and in his wheelhouse. My heart was racing. I had just come really close to sinking Tenaya and killing both of us. When I uttered those words aloud, Jim simply said, "I know." He did not yell, scold or lecture me. I could not have loved or appreciated him more than in that moment.
The rest of the night was uneventful and the next day dolphins came twice. They were small and jumped high into the air, perhaps pan-tropical spotted dolphins.
That night we reached the latitude of the border between Sarawak, Malaysia and Kalimantan, Indonesia and we were less than 20 miles offshore, keeping inside a group of reefs and islands. Lights appeared strung across the horizon like a pearl necklace on black velvet. I could not see a clear spot through them and was happy when Jim came on watch. He could deal with it.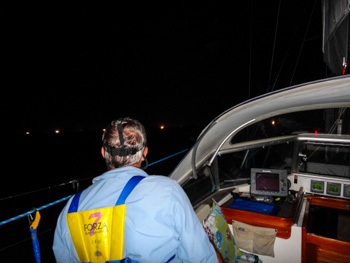 He was worried by all the boats too. I offered to stay up and he readily agreed and mixed us each a cup of 3-in-1 coffee.
One by one the lights crawled above the horizon. They went on and on. After an hour we got used to them and Jim said I could go to sleep. At midnight he wrote in the log: In the middle of a fleet-count 38 boats now. He dodged them until dawn when they all seemed to disappear.
The next day we were still sailing nicely under sunny skies with slight seas. Winds were 10-15 knots on the beam and we had to reef to slow the boat down to reach the traffic separation zone near Singapore in daylight. That night, shortly before Jim came on watch at 6 AM, I saw a huge radar target. HUGE. It was over 10 miles in front of us and flashed a long, bright blip. Bigger than tankers or cargo ships at closer range. And then it was gone. I briefly wondered if that's what a crashing plane would look like.
I told Jim about it, thinking maybe the sail was blocking whatever it was, and it would pop out again. It never did. It never showed up on AIS. If I had written the lat and long in the logbook, I would tell the Malaysian Coast Guard as that was the night the airliner went missing. But they are not looking in the South China Sea, they have reason to believe it disappeared on other side of the peninsula.
Coming into Singapore on a small yacht is not a relaxing time. We were really happy to have AIS show the CPA for all the ships coming at us. The anchorage goes on for miles and miles and starts on the east side of the traffic separation zone. We waited until dawn to cross and poked our bow into the shipping channel twice before finally jetting out. We crossed the wake of a ship that sent us water splashing and pouring over our bow and bouncing us up and down. "Glad I closed the front hatch," Jim commented. Uh oh. I ran below to find the carpet and our sea berths soaked in saltwater. I'd opened the hatch and forgotten to close it. "Sure glad it wasn't me that did that," he said when I came back up completely disgusted with myself. But I didn't have time to wallow. We altered course three more times to avoid being run down before finally making it across.
As we were weaving through the anchorage the AIS stopped working. And then the chartplotters died. Jim brought up the iPad which has our back-up electronic charts so we could find our way through. It overheated and quit.
At one point we came around the bow of one boat to see another. I was steering and saw the slightest ripples in the water around the next boat. "Is that boat moving?" I asked. Jim wasn't sure. I steered hard to port to go behind just in case. Sure enough, it was. I looked up to see a man on deck watching as we passed. We rely so much on the AIS telling us CPA, speed and other information about the boats that I'd gotten out of the habit of just looking at them and using my brain. Stupid, but true.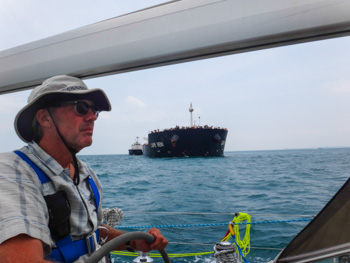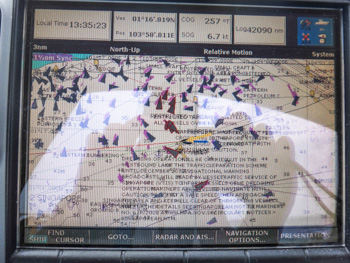 The Navtex works again! We haven't received broadcasts since we left the Canaries in 2008. It's a fabulous tool for gathering local information that we missed in the Carribean and Pacific. The first messages we received were a little scary. Two sea robberies were reported in the Singapore Straits.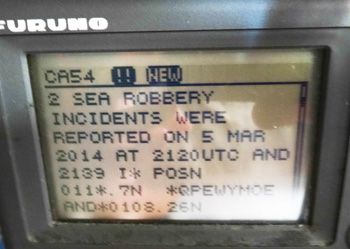 The Singapore skyline began to appear through the thick haze. A crazy looking building with three towers was connected at the top. What the heck is that?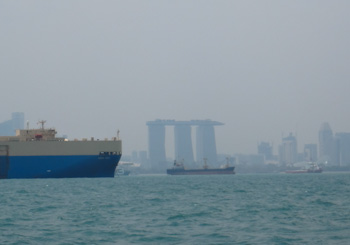 It's the Marina Bay Sands Hotel! The top few floors connect the three towers and there are restaurants and a look-out deck on the 56th and 57th floors. After walking through the Indian and Arab neighborhoods we took a taxi there to have lunch and enjoy the view.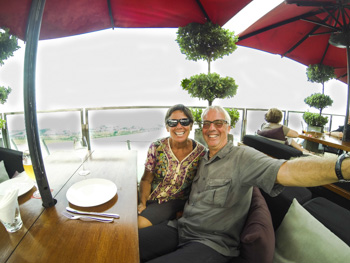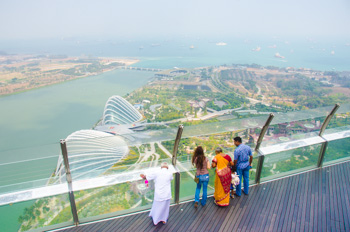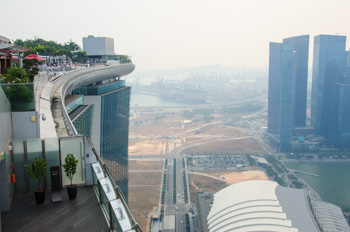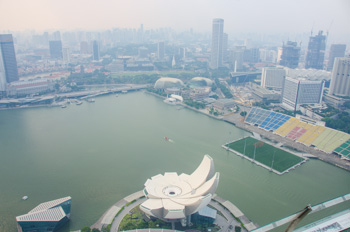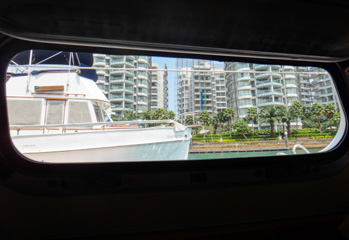 Tenaya was berthed at One*15 Marina on Sentosa Island which is a bit like a theme park. Gondola cars and a bridge connect it to Singapore. The marina was nice with good facilities including laundry, a well-stocked grocery store and a few restaurants. Yachties are given bus passes for free rides on the employee shuttle to the mall where busses and taxis gather.
Fortunately the water pressure is very strong which made cleaning the carpets easy. They dried in no time in the hot sun. I'm getting the boat ready to be left so while the curtains were in the washer I cleaned off the mildew around all the hatches. It's amazing how quickly it forms in the hot, humid tropics.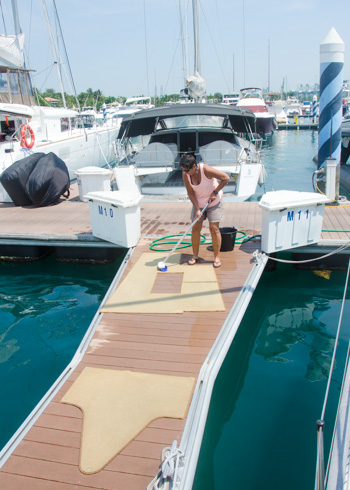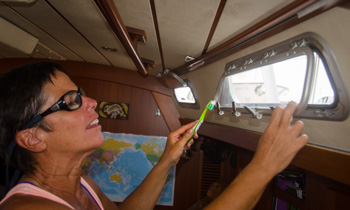 Most of Singapore seems to be enormous high rise buildings. Everything is light colored and very clean. It feels sterile, organized and very fast-paced. We wanted to walk somewhere other than among skyscrapers so took a taxi to Little India and the Arab neighborhood. Maybe we'd do a little shopping too. Singapore is all about shopping!
The Abdul Graffoor Mosque is at the head of a small pedestrian street full of tourist shops and restaurants. The streets in the area sell Muslim garments for women and an array of other items. Our favorite shop was Sufi Trading on Arab Street. Inside are the most beautiful Turkish lamps and lovely carpets. Lal Muhammad and his son, Saadullah Faizullah own it. Saadullah kindly let us look around even though we explained we live on a small boat and would break anything made of glass. He was curious about our lifestyle and sailing. I decided that the glass might survive when he stood on one orb and it did not break. Now we have a pretty lamp wrapped in bubble-wrap under our bed.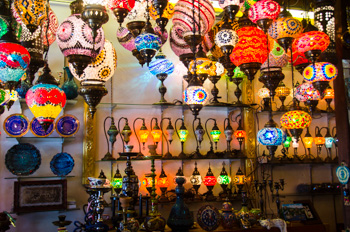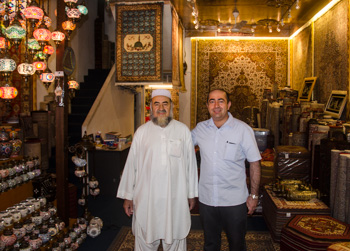 Sri Mariammam Temple is the oldest Hindu temple in Singapore. The original was founded in 1827. It has six rows of Hindu deities outside and a peaceful feeling inside.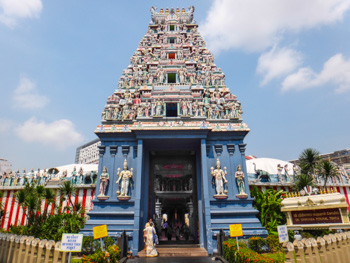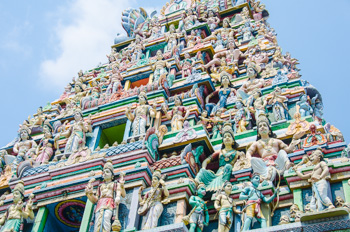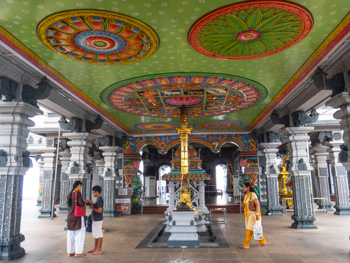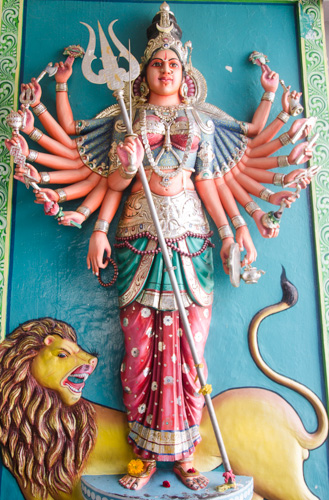 My favorite place in Little India was Lakshmi's store. I don't know the name, but Lakshmi was really nice and helped me find two tops. We had a fun time talking while I tried to decide what to buy. I love making new friends!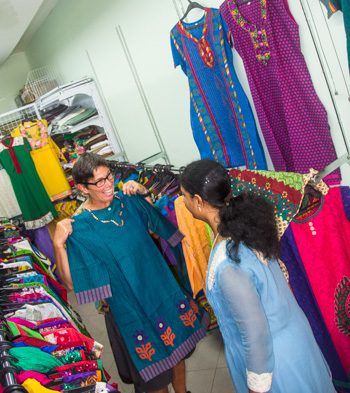 Corinne recently moved to Vietnam. Her husband, Eric, already has a job teaching at an international school but she hasn't committed to anything. Yet. So she had time to meet us in Singapore and sail to Thailand on Tenaya. We are so happy to have her aboard and spend time together!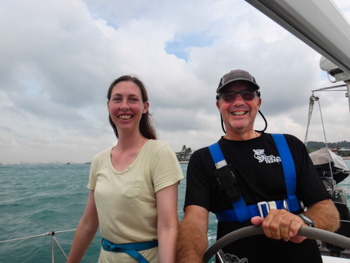 Go to March 2014 Part Four - Singapore to Pulau Penang - Georgetown