March 1, 2014
Guide books are filled with adventurous things to do in Sabah, Borneo. There is Mt. Kinabalu to climb, spend the night on its flank, and watch the sunrise from the granite domes of the summit. There is Sipadan to dive, one of the most spectacular sites in the world. There are scenic coastal islands to lounge on the beach. There are rainforests to trek through which are home to many endemic, rare and endangered creatures. It would be easy to spend months here.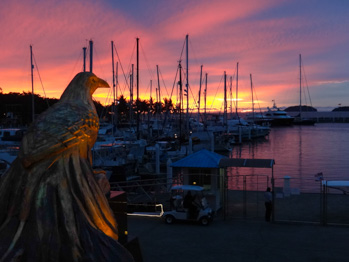 Jim and I parked Tenaya at the lovely Sutera Harbour Marina in Kota Kinabalu for two weeks. We felt pretty decadent at this 5 star resort with its five swimming pools and large gym. Yachties are welcome to use these for free and towels are provided for swimming and showering.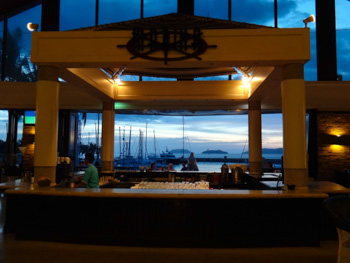 Kota Kinabalu is the capital of Sabah, one of two Malaysian states on Borneo. The city was mostly demolished during WWII and not rebuilt with much imagination, but KK is not about architecture. It is about shopping and food. All kinds of delicious food. With the Malay, Chinese, Filipino, Indonesian and European influences, it's a treat for the tastebuds.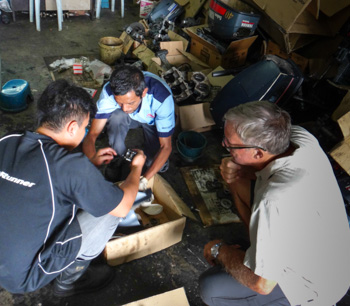 There is a terrific Yamaha shop downtown that was able to repair our 8hp outboard. Completely refurbished, parts and labor, our bill was about $100 USD. They even picked up and delivered the small beast.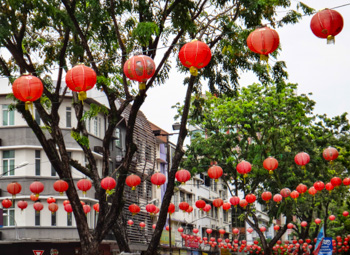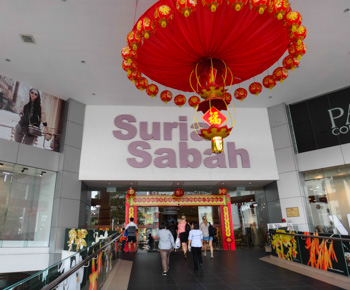 Along the waterfront are large markets - a fruit and vegetable market, Filipino market selling all kinds of stuff, and the Night Market where scores of stands offer cooked-to-order fresh seafood, veggies and meat.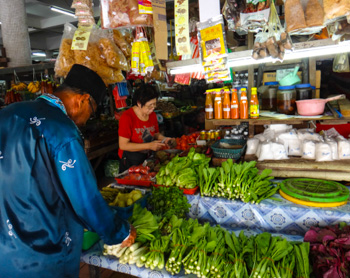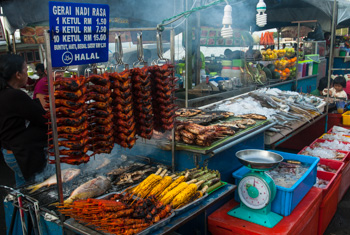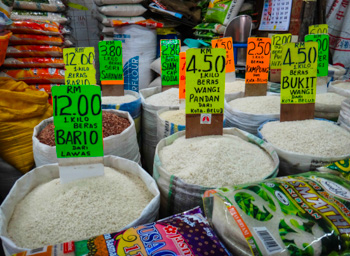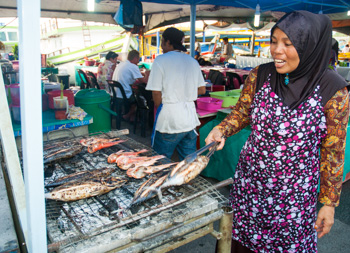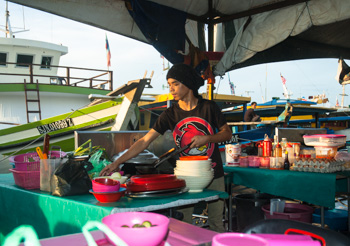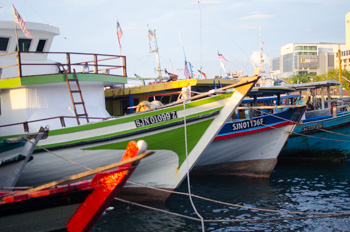 I normally organize our time in the places we visit, combing the internet and guide books for fun things to do and interesting things to learn. But Borneo made my head spin! There was so much to do. With only two weeks to spend here, I enlisted a pro.
Meet Charlie Ryan of Sticky Rice Travel. He and partner, Jess, offer responsible, culturally sensitive, adventurous travel opportunities. Jess was born here and Charlie may as well have been for as much as he knows and cares about the people and places of Borneo.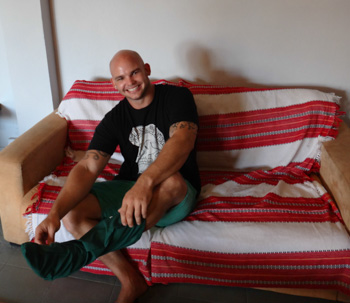 Charlie asked a lot of questions before suggesting an itinerary. When he sent us back to the boat with leech socks, we knew we were in for something special. But before we headed off on our adventures with Charlie, we took a taxi to Lok Kawi Wildlife Park outside of KK to see some animals we hoped we might glimplse in the wild.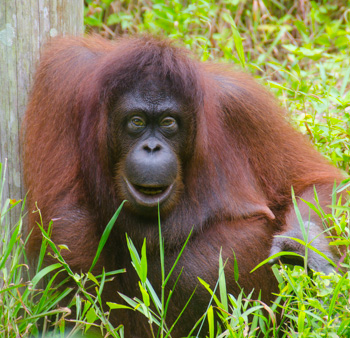 Orang utan mean 'man of the forest'. Indeed, our red-haired furry cousins are the most well known creatures in Borneo.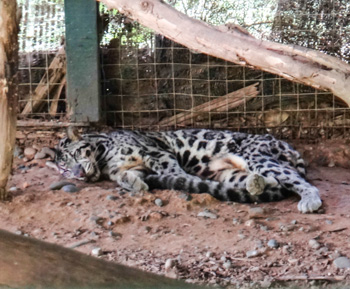 But clouded leopards, sun bears, pygmy elephants, gibbons, proboscis monkeys, several types of hornbills, and the endangered Sumatran rhino are just a few of the plethora of beautiful creatures found in the primary and secondary rainforests of Borneo. We sure hope we can see some of these in the wild!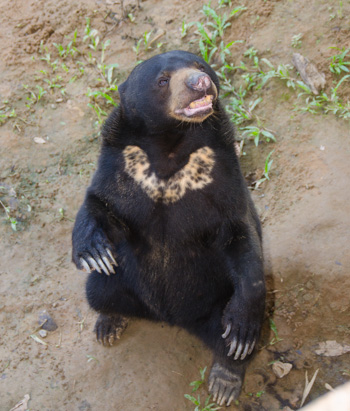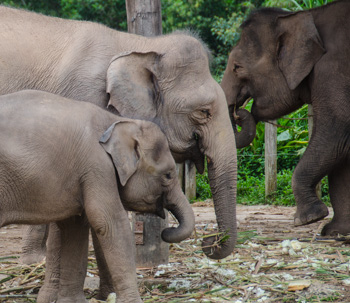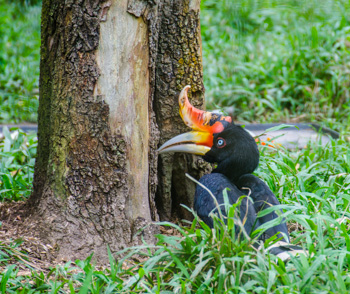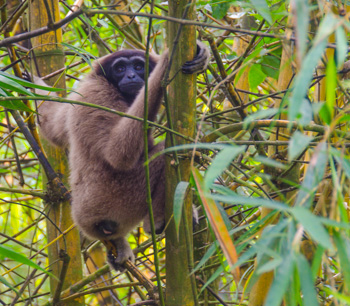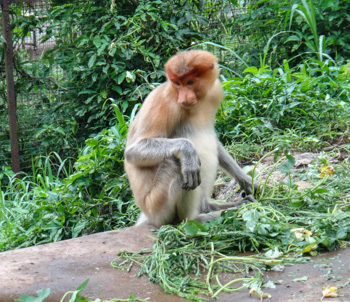 Okay, animal lovers may want to stop reading here. While we were in Jayapura, Indonesia, Jim and I went into a traditional Papuan gift and souvenir shop. The owner took a liking to me and proceeded to dress me up in dead things. He wrapped dead plant material around my waist and over my shoulders. He tied feather bands around both arms and planted a heavy headdress made from a dead tropicbird on my head. It was creepy. I imagined bugs crawling into my hair and onto my skin.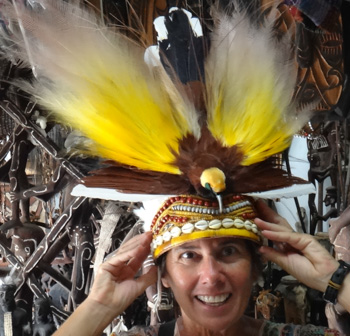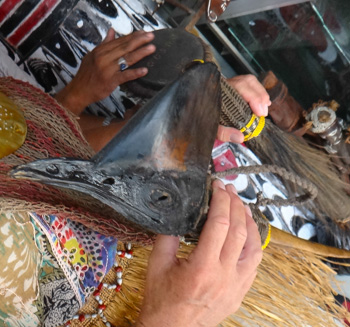 Then he handed me a weapon. The handle was made from the head of a cassowary and the dagger was a sharpened leg bone from the same bird. Jim was intrigued and seriously thought about buying it. This was a moment we would never replicate and may regret not taking full advantage of down the road. It was cool in a National Geographic kind of way, but I was certain I wouldn't want it sitting on a bookshelf in California when our nature loving friends come to visit.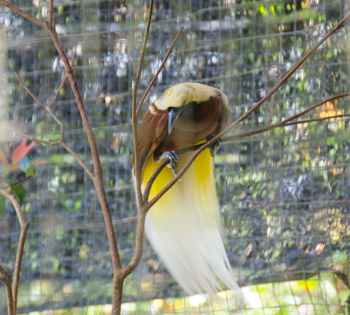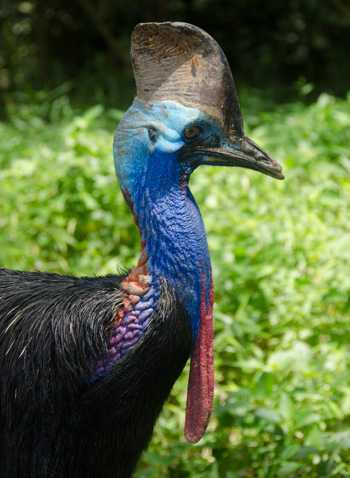 So we were happy to finally see a live tropicbird and cassowary to flush out the images of dead ones in our minds' eyes.
Next stop, the rainforests of Sabah!
Go to March 2014 Part Two - Danum Valley Conservation Area, Kinabatangan River & Sepolik. Sabah, Malaysia, Borneo