January 24, 2011
Is it the magnificent raw scenery, primeval forests, craggy coastlines, wild weather and fun-loving kiwis that make a visit to New Zealand a mission to accomplish as many physical activities as possible? Day and multi-day hikes and bike rides, black and whitewater rafting, jetboating, bungy-jumping, zorbing and a plethora of other exciting adventures await.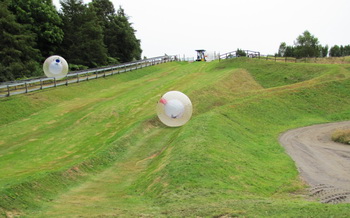 Jim's brother had told us about this strange adventure and we were keen to zorb. There are a few ways you can do it but basically entails diving into the center of a clear, inflatable ball and rolling down a hillside.
You can choose between wet and dry rides. Wet means you get completely soaked as you splash along the bottom of the ball while dry means you are strung out by your limbs and go head over heals over and over again down the hill. You can go single, double or even triple. We chose single, wet so we could take the curvy course instead of the one straight down the hill and not lose our lunch. What silly fun!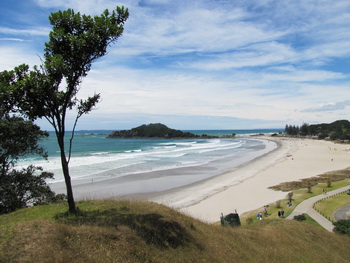 Mt. Maunganui is a volcano perched at the end of a peninsula between Tauranga Harbour and the Bay of Plenty. We came here to check out the harbour and marinas in case we sail here next year.
Tracks run all over Mt. Maunganui. We hiked up one side and down the other before circling around the base.
There is a lovely holiday park at the base, Mt. Maunganui Holiday Park, but we did not stay there. Rather, we stayed at the huge Top 10 in Papamoa Beach.
Kids swarmed everywhere like noisy, buzzing bees and people that looked quite unnatural around the ocean sat in clusters under awnings. Worst of all, a TV blared in the kitchen.
Fortunately we were given a break by a nice couple, Wayne and Annette, who invited us to a BBQ dinner at their beautiful beachfront home. We enjoyed our evening with them and their friends Gail and Ken.
The following morning we drove to Rotorua. First stop was the Zorb adventure and next was the Kiwi Wildlife Park at Rainbow Springs.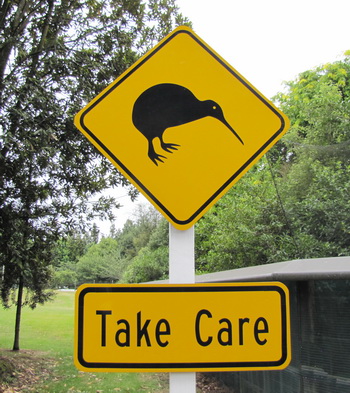 Set on 22 acres of lush landscape, the Kiwi Wildlife Park offers a wonderful way to see New Zealand's rare birds, including kiwis and the dinosaur-like tuatara. An informative Kiwi Encounter led us behind the scenes to watch the staff monitor eggs and check some newborn kiwis. How cute they are! We were able to watch an adult kiwi busily patrol her territory in near darkness.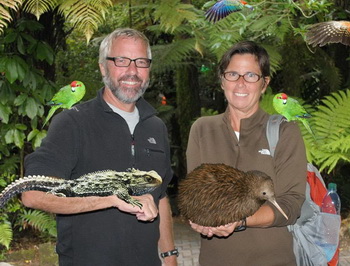 Yes, this photo is a bit touristy and cheesy but we figured it was the only way we'd get a picture of a kiwi and a tuatara. Besides, the money goes to a good cause. No, that's not some sort of strange New Zealand animal around Jim's chin. Just his own fur.
Several rare birds are housed here as well as the cheeky kea. These parrots live at or above timberline on the South Island. They are often found at ski areas where they slide on the snow and steal lunch from unsuspecting folks.
Soon after we entered the Kea house this little guy came walking up to us carrying a ripped up brochure. He dropped it on the ground in front of us, shredded it a little more, looked at us, back at it, again at us, and then turned and sauntered away as if to say "I've had my fun with it, now take this trash away." We did.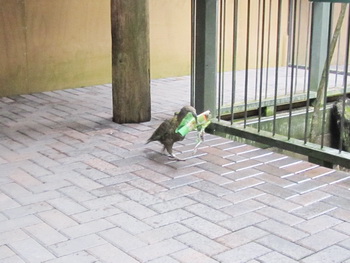 Our main reason for visiting Rotorua was to see the spouting geysers, oozing, bubbling mud and colorful pools of this amazingly active geothermal area.
The rain on Saturday intensified during the night and it was absolutely teeming Sunday morning when we wanted to leave for Wai-O-Tapu and a geyser that goes off on cue each morning. With thoughts of returning to Gerty completely soaked and mud-encrusted, our enthusiasm waned. Instead, we headed off to our next destination, Waitomo, three hours west.

Driving into Waitomo we stopped at The Legendary Blackwater Rafting Co. to ask if our trip was still on for the next morning. Nope. Cancelled because of all the rain. So we settled into our pleasant campsite at the Top 10 Waitomo, a small, tidy place with pretty grounds, few kids, and a quiet TV in the kitchen.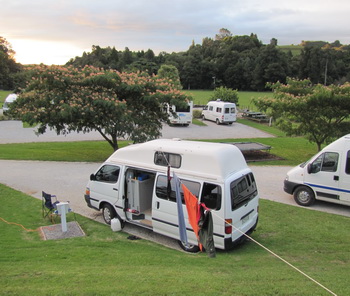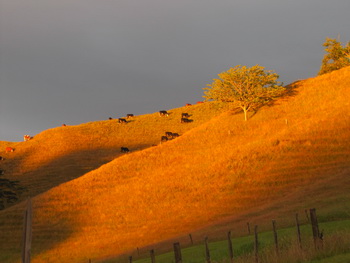 Waitomo is a small town with a big reputation for fabulous cave trips. Among the green, undulating hills are craggy limestone outcroppings and streams that disappear down funnel-shaped sinkholes. The name, Waitomo, means "water entering shaft" in Maori. Appropriate. These shafts are everywhere!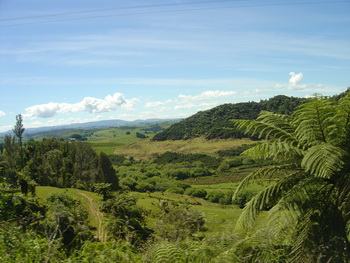 The next morning we stopped at the iSite information center and asked if any companies were offering blackwater rafting trips today. Yes, Cave World was. Yippee! Sign us up!
Within two hours we were suited up in our 7 mil wetsuits and white rubber boots toting our inner tubes down into the bowels of the earth.
Blackwater rafting is actually floating in an inner tube down an underground river through a cave system sometimes cavernous and other times quite snug.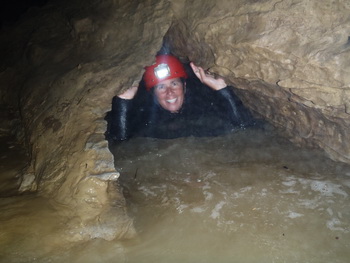 Stalactites hang from the ceilings and stalagmites seem to push up from the floors. Water rushes around the polished limestone and roars down waterfalls.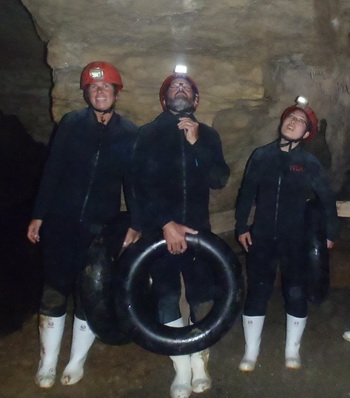 When the headlamps are turned off and it is completely dark, eerie blue-green dots shine on the ceilings and walls. Glow-worms. These are not worms at all, but gnat larvae that produce twenty to thirty mucus and silk threads. These hang down a few centimeters and capture flying insects attracted by the light. The glow-worms then draw in the line for a tasty meal.
This particular trip was one of the easy ones where, for safety, the group floats as one long line with each person resting their feet on the tube of the person in front of them.
Because of the copious amounts of rain, the river was flowing higher and more rapidly than normal. It didn't seem like a big deal when we reached the first waterfall and were told to jump off backwards holding our tubes behind us. It wasn't that far but both Jim and I were surprised at how far under the water we went.
The second waterfall had a slide built over it and was quite exciting with all the water rushing down. We held ourselves in place like a child at the top of a playground slide until the guide told us to let go and gave a shove. Down we flew. What fun!
Go to January 2011 Part Four - Tongariro Crossing