January 6, 2011
We arrived in New Zealand by sailing yacht nearly two months ago and are about explore this wild and gorgeous country in our new but very used campervan, Gerty. But first, a little history about Gerty and Aotearoa New Zealand.
We knew exactly what we wanted and saw several vans on the TradeMe website that would work for us. Unfortunately we didn't have a way to check them out as they were spread all over the North Island so we enlisted Phillip at Cars for Cruisers New Zealand in Opua to find us a nice and tidy one. He did!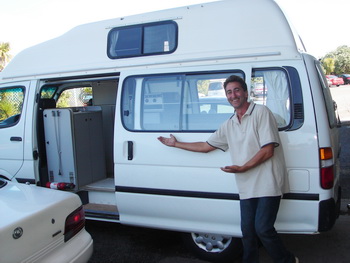 Gerty was good to go. She's got over 250,000 km on her petrol engine but apparently Toyota Hiace vans can go forever. These are quite common in NZ and hold their value well, thus more expensive than other makes. The stove, fridge and small sink all worked well and we were pleased with the interior layout.
A few additions made her even nicer. The windows were tinted, four new tires were purchased and new carpet went in thanks to remnants from re-carpeting Tenaya.
Four stacking wire drawers on a shelf mean we don't have to live out of duffle bags. An awning slips into a track above the sliding door giving us shade and rain protection, and a square of brilliant green astroturf topped with two collapsible camp chairs completes the package. Gotta fit in with the Holiday Park crowd! Gerty is looking smart and is ready to go.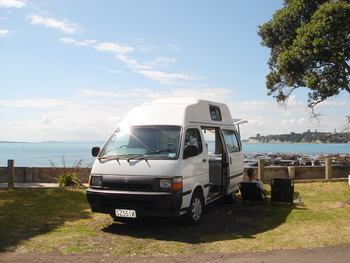 New Zealand is a small country about the size of California, Great Britain or Japan. It is 268,670 square km / 103,733 sq. miles and has a length of approximately 1600 km / 960 miles including Stewart Island, the third and furthest south of the country's islands.
Rugged coastlines, pristine rain forests, snow-capped alpine peaks, clear mountain lakes, impressive rivers, furrowed glaciers, deeply indented fiords and picturesque islands floating in large bays bundle together to make New Zealand a unique and amazing land to explore.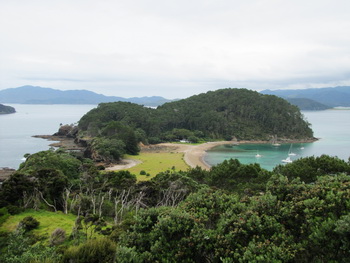 .

On sighting it from their canoes, Maori named this land Aotearoa, the land of the long white cloud.
Aotearoa New Zealand was once part of the great southern super-continent, Gondwanaland along with Antarctica and Australia. Gondwanaland later broke up when the crustal plates moved apart. For most of its history the country has been at the edge of the ocean continually pressured by the moving crust beneath.
New Zealand is located where the Australian and Pacific tectonic plates meet. Below the North Island, the Pacific plate is sliding beneath the Australian plate. Spurting geysers, bubbling pools of mud, natural hot springs, sulfurous scents, a plethora of mountainous cones and frequent earthquakes attest to ongoing volcanic activity.
Under much of the South Island, the Pacific plate is riding over the Australian plate. Spectacular, rugged snow-covered peaks are evidence of continued mountain building in the Southern Alps.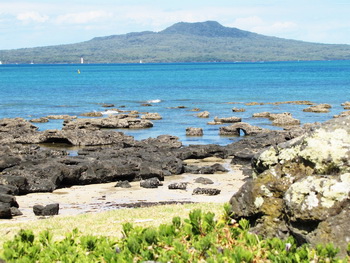 When Gondwanaland split up, New Zealand evolved untouched for 80 million years. Before the arrival of early Maori 800 years ago, the land was covered in thick forest with over one hundred species of trees.
The only mammals were seals, whales and dolphins and a couple of species of bat. Land mammals were non-existent. Birds adapted to fill the role normally held by mammals and many became flightless through lack of predators.
The moa was heavier than an ostrich and the kiwi evolved with skin as tough as leather, feathers like hair, a highly developed sense of smell and a body temperature of 38 degrees C, more like a mammal's than a bird's.
A lizard-like reptile called a tutara, which has stayed much the same since the time of the dinosaurs, roamed the forests as did carnivorous land snails with shells over 10 cm in diameter.
The Maori and their introduced animals ate the massive moa into extinction. They also began clearing forests for agricultural purposes, reducing the forest by about 50%.
With the arrival of the Pakeha / white Europeans in 1840 the islands changed dramatically. The grand kauri tree, with its tall, strong, straight trunk was cut down for shipbuilding and exported to England. Vast areas were cleared for farming. More pests were introduced which further harmed native species.
Almost ninety percent of the flora and fauna in New Zealand are not found anywhere else in the world. The country now has a strong conservation ethic to save and protect its natural heritage.
Follow along as Gerty takes us round New Zealand to see as much as we can of this amazing country in two and a half months. More pictures and less writing on future pages, I promise.
Go to Driving South on the North Island. January 2011 Part Two