September 12, 2010
Untangling ourselves from the web of mooring lines securing Tenaya and neighboring boats to the wall at Rarotonga and hauling up the anchor proved simple and we were on our way to Palmerston Island at 1420 on August 20.
Light winds of 5 to 9 knots blew over the calm sea from the NW, exactly where we were going. The motor droned on for 8 hours until the wind clocked to the NNE and we were able to sail at 5-6 knots in 10 knots of wind. How nice it was to sail on a beam reach for a change!
As we neared the island it was obvious we would not arrive before dark on the second day without burning lots of fuel. Shortening sail, we spent a very pleasant night sailing as slowly as possible to arrive in daylight.
Two days, 20 hours and 329 miles later Tenaya reached the tiny island which is actually an atoll. We were excited to meet the people, all of whom are descendants of one man. A remote island in the Southern Cooks, they have one phone and one computer. Supply ships visit every few months. They rely on yachts to bring mail and extra provisions. We were delivering three cases of New Zealand apples.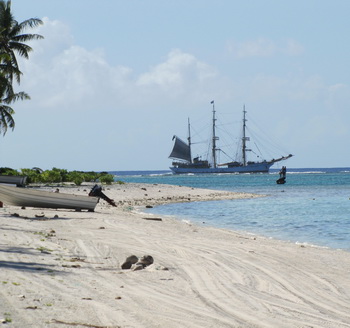 As we approached the island our radio squawked. "Palmerston Island this is Picton Castle" "Go ahead Picton Castle" "We shall arrive in about 30 minutes and would like help anchoring and ferrying our excited crew ashore".
So much for a quiet encounter with the locals! We had seen the tall ship Picton Castle in Rarotonga. It appeared to hold about 1000 people though in reality 53 were on board the training vessel.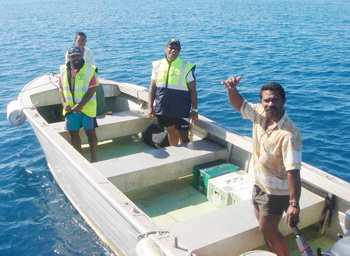 As we neared the anchorage an aluminum boat raced up. Edward welcomed us, said he was our host, would fetch the customs agent and meet us at a mooring ball. Once Tenaya was secure he and Tere Marsters came aboard while Simon and David, his brother and son, waited. Tere was pleasant and professional and the proceedings went quickly.
Edward asked if we could spare any cabbage. Certainly. Did he need anything else? Yes, they could use a few things. He promised to return in an hour to take us ashore and would pick up his loot then.
When Edward returned two hours later we handed him a large shopping bag full of veggies, packaged food and some line before hopping into his skiff. He steered us through the narrow, shallow pass at breakneck speed.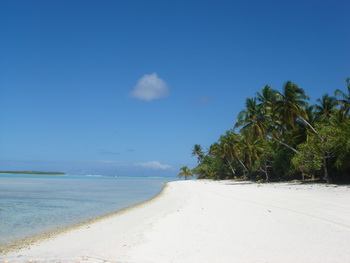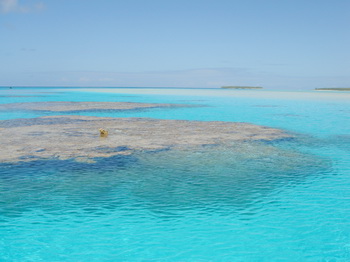 Powdery white sand rings the amazingly brilliant turquoise water inside the lagoon. Every nook and cranny of coral below the surface can easily be seen. Palm trees, the tallest things in sight, thrust skyward while their fronds rustle in the breeze.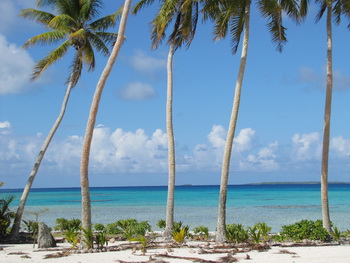 As Edward moored his boat we waded ashore in the warm water as fish scurried about our legs. Soft sand turned to dirt as we walked under the canopy of palms to his house. Resembling a large patio, most of the house consisted of a sturdy roof unencumbered by walls. Several beds, a dining table and many plastic chairs occupied this space. A separate kitchen was nearby.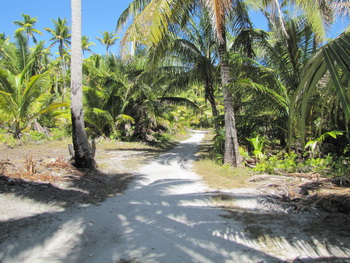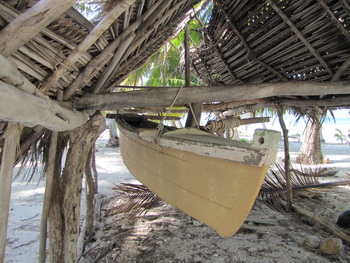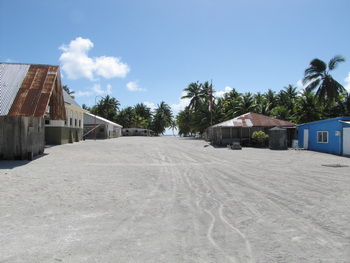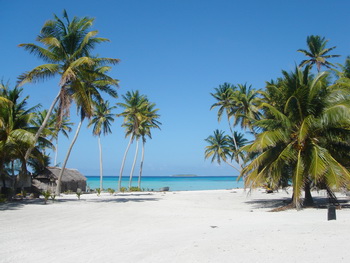 The story of Palmerston is an interesting one. In 1850 the crew of the Merchant of Tahiti discovered four starving castaways on the island. As was customary at the time, the castaways had a legal right to claim the uninhabited, unclaimed island. They traded that right with the ship's captain for safe passage to Rarotonga.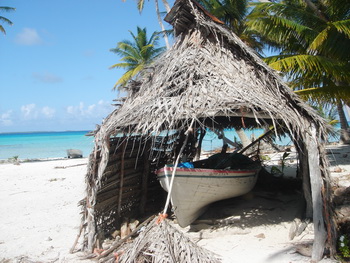 A Scottish trader in Tahiti ended up with the claim but needed a representative to live on the island. He found William Marsters, an English whaler living on Manuae Atoll willing to settle there. Marsters was quite the adventurer having already worked the gold rush in California.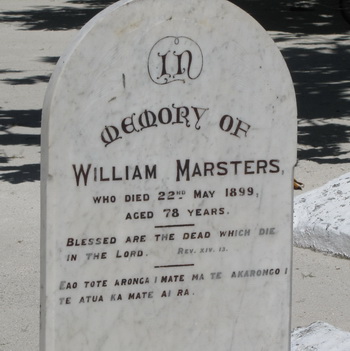 William Marsters moved to Palmerston in 1863 with two Polynesian wives and quickly found a third. These three families would come to populate the island governed by strict rules concerning marriage and the allotment of land and resources. Today there are more than 2000 Marsters on Rarotonga and New Zealand.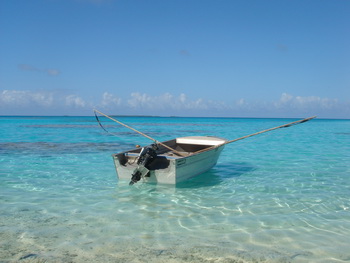 The island's small population, about 50, earn most of their income by fishing. Deep waters just beyond the reef provide bountiful tuna which is sold to restaurants in Rarotonga.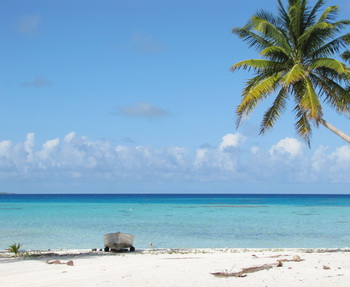 Edward introduced us to his mother and pulled up two chairs for us to chat with her while he dashed off to collect the five crew he was hosting off the tall ship. She regaled us with stories of singing in church often flashing her toothless smile and laughing heartily. Church is a big part of life on Palmerston Island.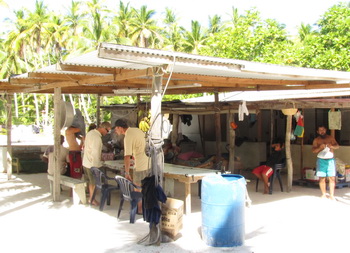 Along with the five crew from Picton Castle we toured the island with Edward. We saw William Marsters' grave as well as his original house with a rusty tin roof that has weathered several cyclones.
We met Tere Marsters again working in the sturdy Palmerston Administration building. It houses the island's only computer and is the safe gathering place when cyclones threaten.
We came across a telephone booth missing its phone so I assume the island telephone is in the Admin bldg. as well. The residents all appeared to have VHF radios tuned to channel 16 where they contacted each other and incoming yachties using two letter call signs.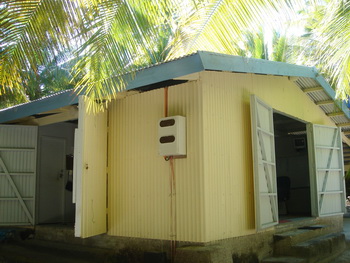 We walked the deserted grounds of downtown where all the buildings save the pristine church were weathered and dilapidated with uneven roofs missing unnecessary trim.
After our tour Edward gathered us all around his dining table where he served a delicious wahoo lunch and Gatorade, no doubt from a previous yachtie. Hospitality on the island is second to none though it comes with strings.
Once someone has welcomed you they have the honor, the right, to host you and there is nothing you can do about it. You can not wander aimlessly meeting others without your host's careful attention.
Three hosts have mooring balls. Pray one of theirs is available when you arrive or they will make you anchor in the beautiful coral rather than put you on someone else's ball and give up the opportunity to host you. All is not harmonious in this paradise.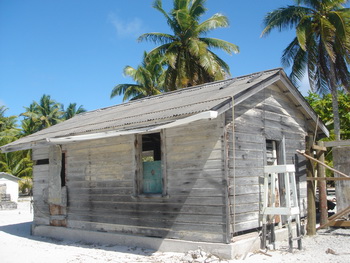 We spent just one day at Palmerston. The intrigue was lost with all the other people ashore. The anchorage was rolly and we doubted the strength of the mooring rope emerging from the coral. In addition, the weather was turning so we needed to get to a safer anchorage. Next stop, Niue.
Go to Photo Gallery - Palmerston
Go to September 2010 Part Two - Niue
.