June 15, 2010
Running before light winds of 10-15 knots, sails were fixed wing-n-wing nearly the entire 623 mile passage from Nuku Hiva to Rangiroa.
We left Taiohae anchorage on Nuku Hiva at 1:20 pm on June 8 and arrived at Rangiroa, in the Tuomotu archipelago, also part of French Polynesia, at 8:00 the morning of June 12.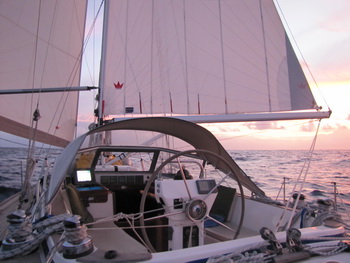 With such an easy passage it was a good time to experiment with longer night watches. I stood watch from 6:00 pm to midnight and Jim came on from midnight to 6:am. He would then take a nap for a couple of hours in the morning and I'd nap in the afternoon before preparing dinner. This worked very well for us.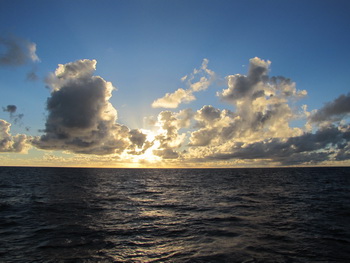 Each evening the sky would light up with brilliant colors as the sun set. Vivid shades of orange, yellow, pink and violet contrasted the deep blue sky and white or gray clouds.
This was a really wonderful passage. We both enjoyed the great sailing, perfect weather and having just the two of us on board. With plenty of banana bread and tasty meals each night to enjoy together as we watched the sunset, there was no place we would rather have been....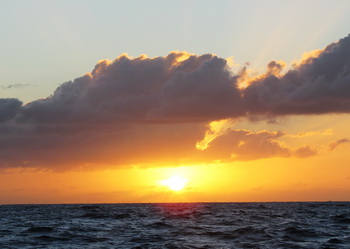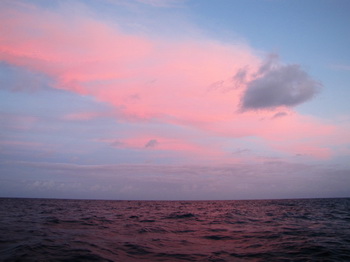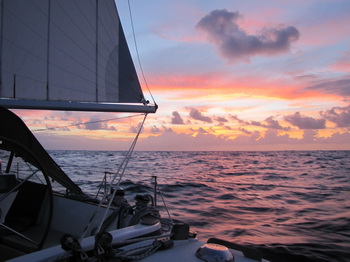 ...Except maybe in a romantic lagoon with warm, clear water and palm trees swaying. The Tuomotus were often called the "Dangerous Archipelago" in the days before GPS and radar because the low lying atolls are unable to be seen until a yacht is nearly on top of them. Now they are easy enough to navigate providing careful attention is paid.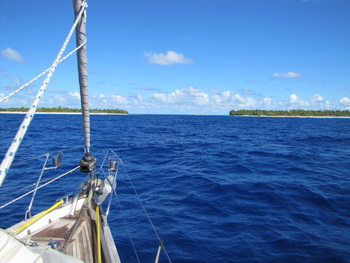 Atolls are created when islands from long ago erode and sink back into the ocean leaving the coral ring around them which continues to grow. Along the ring are tiny motus (islets) of sand and broken coral topped with tall palm trees and low, hardy ground cover.
Rangiroa is the largest of the 69 atolls that make up the Tuomotu archipelago with a circumference of about 100 miles. At its widest point it is 40 miles long and 17 miles wide. 240 motus separated by about 130 very shallow channels form the ring. There are two deep water passes and we chose Passe Tiputa because there is a lovely anchorage just inside.
Once we arrived at Rangiroa we waited until slack water to enter the pass. Outgoing currents up to 6 knots create steep, short seas when encountering the easterly wind and ocean current. Some yachties blast on through and have an exhilarating ride but we are less bold.
.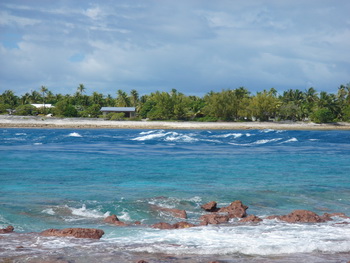 Once the water was calm, at 12:30 pm, we motored through the pass, around a small motu, and over to the stunning anchorage. Across the shallow, turquoise water stretches a row of rounded, thatched-roofed huts built over the water like those seen in travel magazines of paradise. It seems we've arrived!
All the boats we anchored with at Nuku Hiva, about eight in all, went to Fakarava, but we wanted to visit Rangiroa. There are less than a dozen boats here spread out nicely. The wifi is reliable and fast.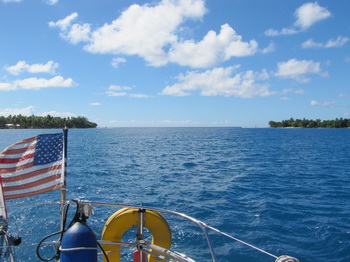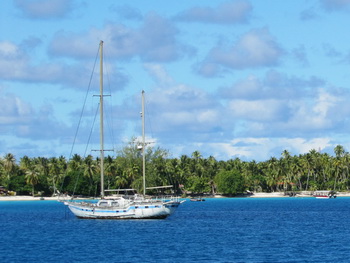 Tenaya is anchored in sand in 13 meters of crystal clear azure water. As soon as we were settled I dove over the side to immerse myself in the inviting water. Too warm to be refreshing, it was still glorious. Wanting a reason to stay in, I grabbed a brush and scrubbed the growing grass skirt at our trusty girl's waterline.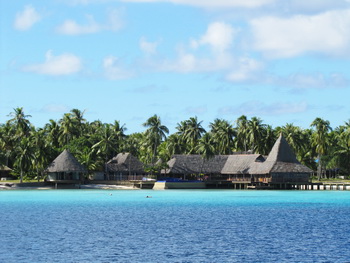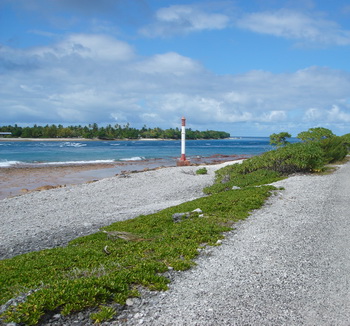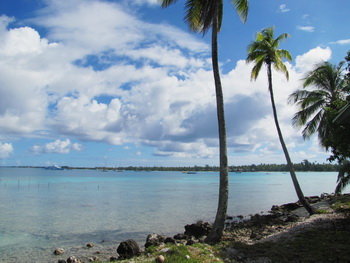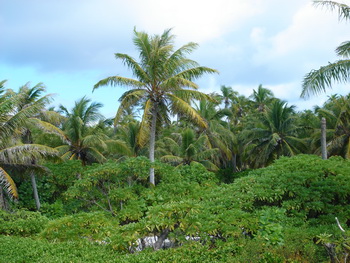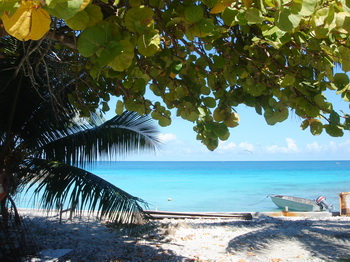 The morning after scrubbing the hull I noticed something I've never seen swimming around the boat before. A shark. It was small but I think it was very deep.
Yesterday I saw a larger shark, or one closer to the surface, slowly swimming in circles off the starboard side. That is when I decided to shower inside rather than standing on the swim steps. This morning another swam like a sentry patrolling the length of our boat. Hmmm.... this is rather disconcerting.
I look forward to learning more about these sinister creatures so I will realize they don't all want to take a bite out of me as movies suggest.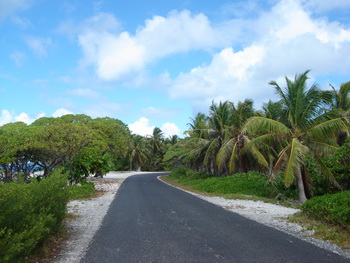 This morning we dinghied to the end of this motu and walked along the shore to have a look at the pass. We were walking on our first atoll! As it was low water, tidal pools were everywhere along the coral shore. I've never seen so many stranded fish before.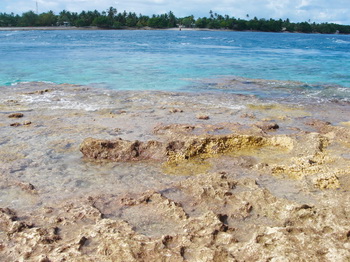 A water taxi took us across the pass to the small village of Tiputa. There isn't much to it but stretching our legs felt good and I found a store that sold a little of everything and treated myself to a jar of Nutella and a sundress. Of the dress Jim's only comments were, "it's cute" and "it sure is bright." The latter repeated several times.
The driver's assistant on the water taxi was tattooed literally from head to foot. You can't see his face in the picture but it was indeed etched with ink. An authentic Polynesian.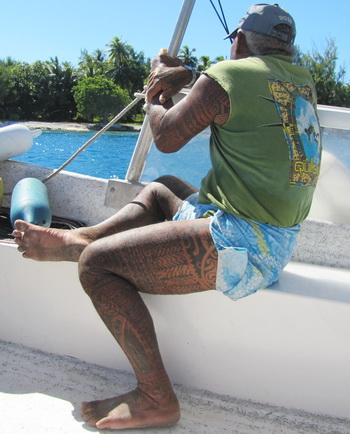 Yesterday afternoon we went for thrilling snorkeling trip with a guide to ride the rip of the incoming current. First on the west side, then on the east side, then in the center of the pass. Wow, it was amazing! We raced along in the clearest water I've ever seen watching large schools and many, many individual fish I've yet to learn the names of. And, of course, a shark swam below us as we drifted hand in hand, five abreast, with bulky life vests on.
Sharks mate in the pass in May and June but we did not witness that spectacle. Because sharks must move in order to breath, and a female does not move while mating, she survives the process if done while drifting down a pass where the water can be forced into her.
After riding the rip we snorkeled in an area known as the aquarium which is right next to the small motu by the pass. Filled with coral and a multitude of colorful fish, new to us, we were amazed and had a wonderful time. Too bad we didn't take our camera for that.
This afternoon we will leave for the 227 mile passage to Papeete, Tahiti. GRIB files show winds of 10-15 knots today, dropping to less than 10 tomorrow. Looks like we just may make it in time for the Pacific Puddle Jump's party Friday night.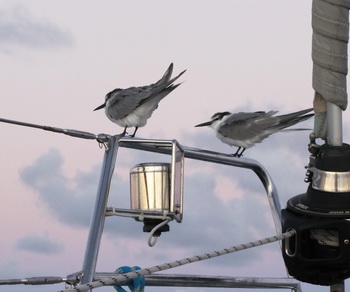 .