May 22, 2010
Hooray, we made it! We arrived at Hiva Oa in the Marquesas Islands on May 18 at 1:00 p.m. after sailing 2935 miles in 19 days from the Galapagos Islands. That's pretty much the equivalent of jogging from Los Angeles to New York City. The farthest we traveled in one 24 hour period was 189 miles, usually we traveled 160-175 miles.
Overall it was an easy and untroubled passage. Although the wind was light the first two days out, it picked up and blew consistently 15-25 knots the rest of the time. Sea conditions varied from slight to moderate of 1/2 to 2 1/2 meters so quite tolerable indeed. Only three days did Tenaya pitch and roll enough to bother us.
Jim on watch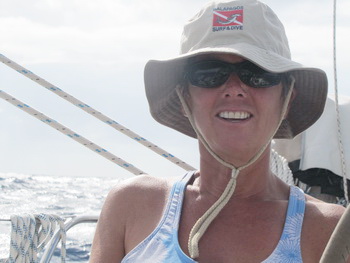 Katie in the cockpit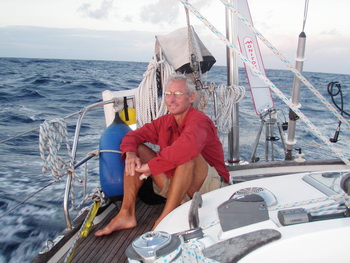 Mike relaxing on the back deck
The tradewinds normally blow from the southeast between the Galapagos until somewhere near the Marquesas where they come from the east. I wonder if that is backing or clocking in the southern hemisphere?
Our strategy was to stay north as long as possible and then turn south when the wind shifted. The trades bucked conventional patterns and came more from the east than usual. That caused us to angle a bit more south than planned but we still managed to keep a good diagonal line to Hiva Oa.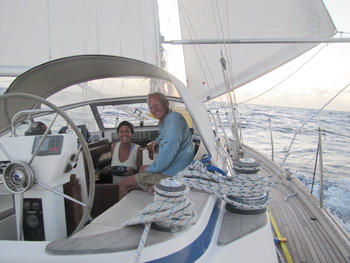 Sailing wing-n-wing at dinnertime
What do you do for 19 days at sea, you may ask. Not a whole heck of a lot! Our four-hour night watches were spent listening to our iPods, exercising and stretching (well maybe Jim didn't do that) and just gazing at the immense sky. Some nights the clouds filled the sky and we watched those approaching anticipating an increase in wind speed. Other nights were clear with millions of stars to gaze upon.
During our two-hour day watches we read and tried to stay out of the blazing sun. Our off-watch time was spent reading and sleeping. I prepared porridge at 10:00 am and dinner at 5:00 pm and sometimes baked bread, cookies or muffins.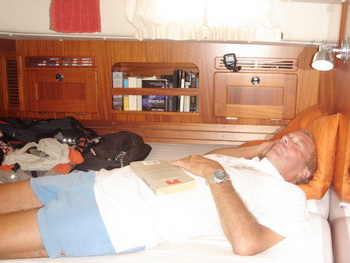 Jim went back to get a new book and fell sound asleep. This is our regular bed, not his sea bunk!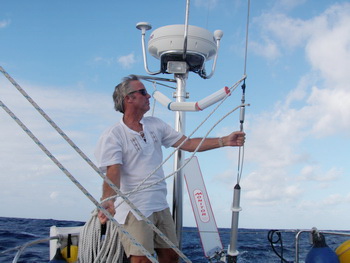 Jim strings up the water filters to air them out between usages
The afternoon of our second day out while Jim was on watch he heard a loud snap then whir. He looked up to see the jib racing down its track and blowing over the leeward side. Running to gather it, he called for help from the napping crew.
The top shackle had broken. Mike went up the mast to retrieve the halyard just as the boat really started to roll. With a jumar as back-up he was only able to hold on with one hand and a particularly large swell sent him spinning around the mast and into the sail, not before banging his head pretty hard. He retrieved the jib halyard, came down the forestay and sat dazed on the back deck for a while. We're not sure if the ensuing nausea was caused from ringing his bell or from seasickness as he was napping to relieve a headache, an early sign of seasickness.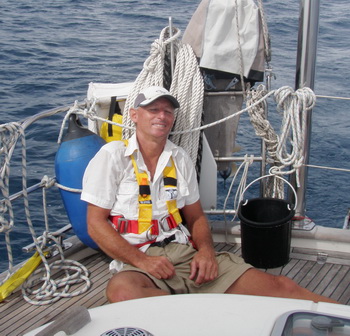 Mike resting after going up the mast
After replacing the shackle they hoisted the jib. We were on our way again about 2.5 hours later after seeing the only sailboat we would see for the rest of the passage.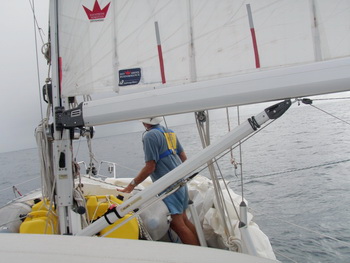 Jim works on getting the jib back up
Eleven boats left the Galapagos on the same day so we established a scheduled net twice daily to check in and report conditions over the SSB radio. Being so far from land, it was nice to know there were others within a hundred miles or so. With that many boats you might think we would have seen each other but we only saw a few boats the first day and one boat the second day. Several nights out we saw nav. lights from a sailboat but they vanished as dawn broke. Midway through the trip we spotted a sail that moved quickly past us, probably a large boat or catamaran. That was it except for the occasional big fishing boat.
Mike listening to the net
It was a thrill each time we saw creatures. A small pod of pilot whales came first followed by bottlenose dolphins. Another day spotted dolphins frolicked at the bow and leaped enthusiastically out of the water. Another day more bottlenose dolphins visited.
Sitting in the cockpit one evening we spotted something dark and smooth in the disturbed water off our starboard side which quickly disappeared. Next a huge dark, blunt thing rose out of the water. A head! A really, really big head belonging to a sperm whale about the length of Tenaya was right next to the boat! It moved slowly along into our wake spouting a few times. After a few minutes it excreted a big, bubbling batch of brown before kicking up its fluke and descending into the deep. Amazing!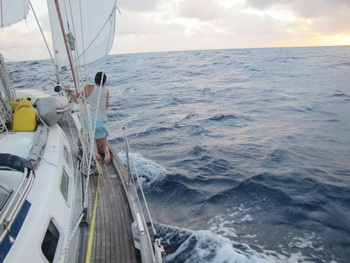 Watching dolphins at the bow
.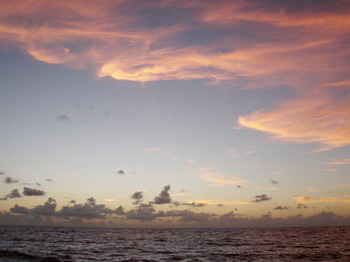 Beautiful sunsets over the Pacific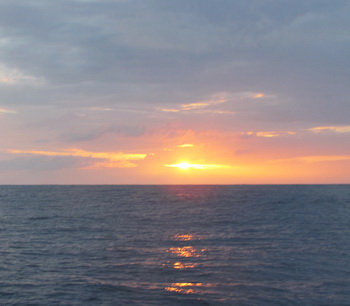 Each evening the three of us gathered in the cockpit for dinner. In the cool breeze we watched the sky put on a different show every night. Sometimes the colors were muted shades of grey and other times it seemed the sky was on fire with brilliant oranges, pinks, lavenders and reds.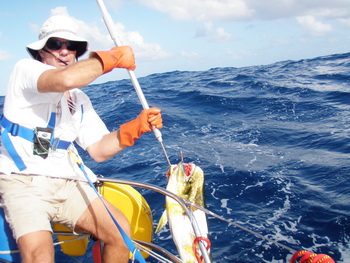 Jim's first pelagic fish, a mahi-mahi
Jim was determined to catch fish on this trip so let out the line a few times. The fist time he brought in a small mahi mahi about 12" so released it. The second time he caught a slightly larger one, about 18" and released it too. I suggested trying a larger lure to attract a larger fish. He tied one on and let out the line. Disappointed in not getting a hit he pulled in the line a few hours later to find the lure was gone. Back to the little squid lure.
Mahi-mahi for dinner!
One morning as I lay half awake waiting for my alarm to sound I felt the boat turn into the wind and heard the sails flappering like mad. Something was up so I climbed out of my sea berth and peeked out companionway to find Jim hanging over the stern with the fish hook. Not even considering he had actually caught a fish, I though something important had gone overboard. "Hey, what's up?" I asked. "I've caught a fish!" he exclaimed. And what a nice fish it was. A dorado, also known as mahi-mahi or dolphin fish, it was more than a meter long and came on board without much effort.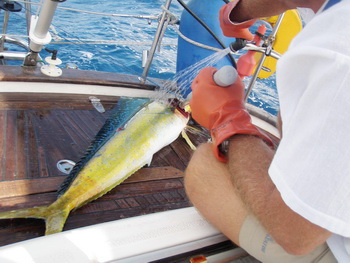 Amber sides with turquoise spots and an azure dorsal fin
Jim filleted it the way Amanda recommends in her wonderful cookbook, the Essential Galley Companion and we dined on grilled mahi-mahi with coconut rice. The next afternoon we had cold fish with wasabi seafood dressing, a delicious recipe from the book. Dinner the following night was fish tacos with shredded cabbage and salsa and the rest of the fish is in the freezer.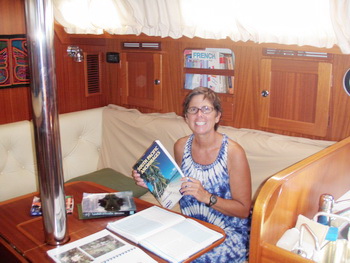 Researching places to go once we make landfall
About 100 miles out of Hiva Oa the winds became variable and died. We tried motorsailing but the flappering sails were annoying so they were rolled in. We awoke the morning of May 18 to see land. Mike was absolutely thrilled as he'd had about enough of this sedentary lifestyle and was ready for a long hike. Jim and I would have been completely content to continue on but were excited to make landfall and explore new lands.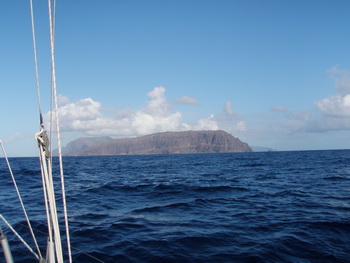 Land Ho!
Approaching Hiva Oa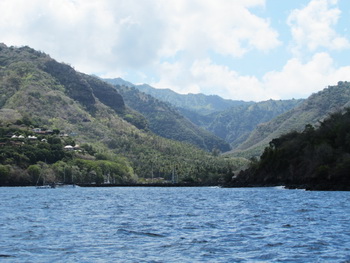 Coming into the anchorage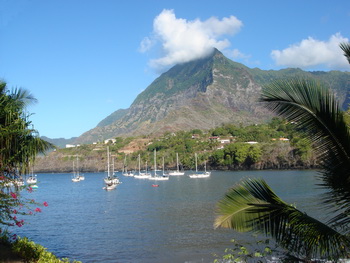 The anchorage at Hiva Oa
Even when the winds were light at the beginning of the passage we sailed most of the time instead of motoring, but still used the engine 51 1/2 hours during the course of the trip. 55 gallons of fuel were used since arriving at San Cristobal, the first of the Galapagos islands on April 17. Approximately 25 gallons of fuel were used for motoring on the passage and approximately 30 gallons were used for the generator to charge batteries during the past 5 weeks. There are too many energy-hungry gadgets on this boat!
We are exceedingly happy with our Monitor self-steering windvane and our Spectra watermaker. Without them the voyage would have been much less comfortable. The in-mast furling with electric winches were really convenient, allowing the person on watch to reef or let out sail alone with no need to disturb the others. Our Petzl Tikka+2 headlamps with 2 different brightness levels and flashing or solid light for both red and white are the nicest we've owned and invaluable on night watches, working in the engine room and rummaging in the bilge. And we would never leave port without our iPods and loads of books!
Mike Waugh, crew extraordinaire
Mike has decided to go back home rather than continuing on to Tahiti. He said he wasn't quite old enough for the inactivity that comes with cruising and he has never been away from his wonderful wife, rock climbing or cycling for this long, and missed them all. He thinks one day, maybe in 10 years, he might like to cruise with Brenda to far off places to enjoy together.
We thank him very much for joining us on this adventure. His cooperative spirit, boundless energy, willingness to crawl in the engine room, go up the mast and dive into the water to check things under the boat was endearing and very much appreciated. He even tried desperately to deal with my moods and seemingly irrational requests. Honestly, he was the best possible crew one could ask for.
Jim and I are happy as clams on our floating home, whether we are crossing oceans or anchored in the South Pacific exploring French Polynesian islands. We love this life!
Go to May 2010 Part Two - Hiva Oa
.