April 13, 2010
Pa cif' ic - of a peaceful nature, tranquil. The Pacific Ocean lived up to its name during our passage from Panama to the Galapagos.
We've chosen to follow the popular "Coconut Milk Run" because it is easy and predictable, a good choice for our first time sailing in the Pacific. It will take us to the Galapagos, the Marquesas, the Tuamotos, Tahiti, the Cook islands and Tonga. Then we'll sail south to spend the cyclone season in New Zealand.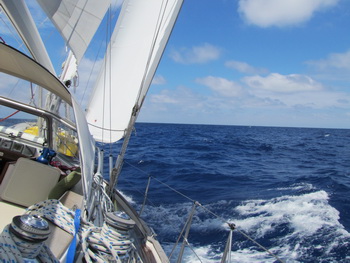 Nice sailing from Panama to the ITCZ
The route follows the trade winds which blow from the SE in the southern hemisphere. To reach these we must first cross the Intertropical Convergence Zone (ITCZ), an area between these SE trades and the NE trades of the northern hemisphere.
The ITCZ extends the width of the Pacific just above the equator but is at its widest near Panama. This time of year it is located roughly between 6° and 3° North. Winds are notoriously light in this zone while squalls, heavy rain and thunderstorms can be expected late at night.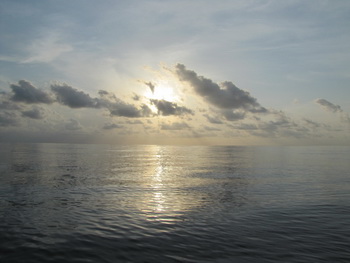 Crossing the ITCZ
Our course from Panama took us on a diagonal line SW to the Galapagos. Prevailing easterlies and the Equatorial Countercurrent made for nice sailing on a broad reach with winds of 10-15 knots the first day, April 2, and 16-21 knots the second day until 1800 when it abruptly died. The engine hummed non-stop for the next two days. Motoring at 1000-1200 rpms allowed us to travel at about 5 knots but with the current against us we averaged 3.5 kts.
Where's the wind?
The sky was ever-changing with new clouds forming and others dissipating. Often there were different clouds at different layers in the sky. The weather book was in the cockpit as I tried to identify them all. During most of our time in the doldrums the sky was hazy, overcast or foggy washed in an eerie grey palate and the humid air hung heavily.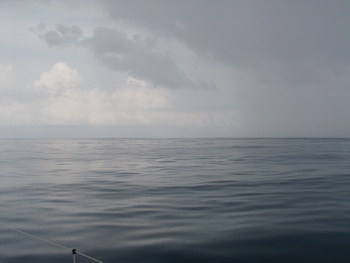 Calm seas in the doldrums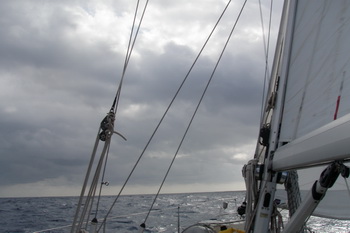 Ominous dark clouds brewing ahead
Motoring along on the evening of April 6 we spotted some creatures off our port side. They looked and behaved differently than any we'd seen before so out came the whale/dolphin book. Ahh, Risso's dolphins. They have bulbous heads more like pilot whales than common dolphins and seemed a little lethargic compared to the bottlenose dolphins that appeared to starboard shortly afterwards.
Several bottlenose dolphins darted back and forth at the bow while others swam along both sides. Two stayed about 50 meters away, one jumped enthusiastically several times while the other spy-hopped a couple of times. We sat at the bow as they swam so close to our bare feet we could almost touch them. What fun it was to watch them frolic and how fortunate we felt to have them join us. Even Mike was too enthralled to grab his camera.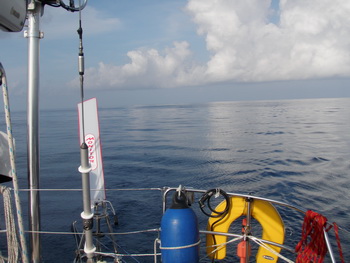 Glassy sea in the ITCZ
We check GRIB files and subscribe to Commander's Weather for our weather forecasts. Commander's said winds should be 10-15 kts. and thunderstorms likely to develop in the ITCZ with winds 40-45 kts. We weren't really looking forward to those. Luckily they never materialized. Each night we saw "heat" lightning somewhere in the sky, and sometimes all around us, but we never sailed through it. A couple of times we caught the edge of a squall and had light rain as the wind picked up to 20-25 kts. but that was the extent of our bad weather. Not bad at all.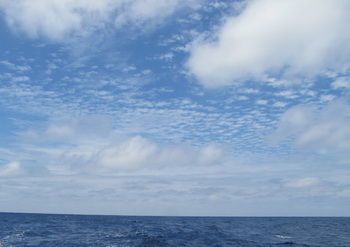 The sky is a constant source of awe, day or night
We felt fortunate to have escaped the doldrums fairly quickly and without any scary squall encounters. We entered the ICTZ at 6°46' and were through by 4°28' on April 6. April 7 was Jim's birthday. He enjoyed fair winds and peanut butter cookies.
During our passage Tenaya logged her 15,000th mile. We've come a long way since our first summer aboard in the Netherlands.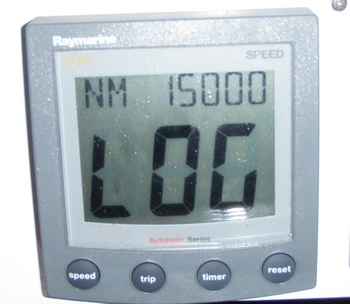 The Galapagos Islands are known for their endemic wildlife. These species and groups are not found anywhere else in the world. There are also many indigenous species that make their homes here but are found elsewhere. Boobies are indigenous and very common with three species represented: the red-footed booby, the blue-footed booby and the Nazca booby.
Red-footed booby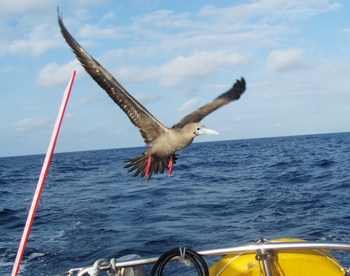 At 1600 on April 8 four red-footed boobies came flying around Tenaya and dive-bombing for fish nearby. These pelagic fish travel quite some distance to feed. Indeed, we were 250 miles from the islands!
Red-foots are the only boobies adapted to grip with their webbed feet
Red-footed boobies perched on Tenaya
We watched in awe and took hundreds of pictures as they circled and dove to the water. One bird seemed very interested in our bow and finally landed on the pulpit. Then another landed. By nightfall four birds were perched on our bow. Three stayed through the night and were not bothered in the least when we furled the jib right next to them.
We saw a bit of trash floating our first two days out of Panama. Plastic bottles were the norm but at one point we spotted a big square thing and steered over to have a look. It was a freezer! About a mile away we came upon a 55 gallon drum. Yikes! Wouldn't want to meet those things at night.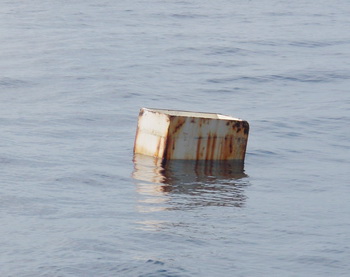 A freezer floats by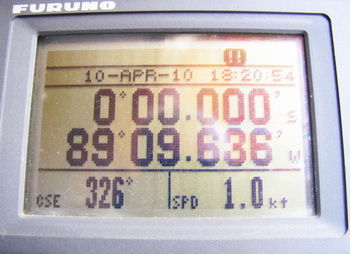 The equator!
Another highlight of this passage was crossing the equator. As the GPS counted down from 1° North we rolled in the sails, untied the windvane and opened up the swim gate so Mike and I could dive in and swim across the equator as Jim steered Tenaya across. The cool refreshing water felt wonderful! We even convinced Jim to jump in. He's afraid of big fish and doesn't like deep water. It was 3000 feet deep, better than 10,000' a few miles away.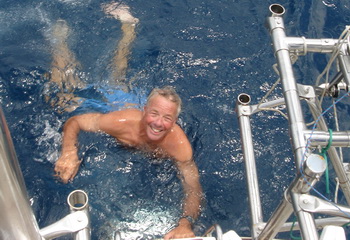 Jim swims at the equator
Katie dives into the northern hemisphere and swims to the southern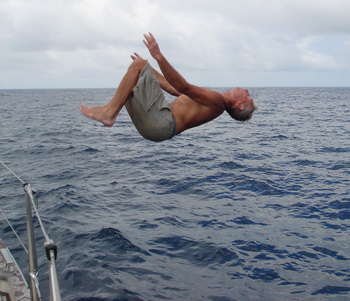 Mike's backflip at the equator
Wanting to arrive at Isla San Cristobal in daylight we took our time the last day and spent an hour at the equator swimming and lunching on fresh mango, pineapple and grapefruit. Mike got in a workout as he hung by the fingers of one hand from the rubrail while scrubbing Tenaya's hull with the other hand. Guess he must miss climbing.
We sailed as slowly as possible until dawn, then motored into Wreck Bay, Isla San Cristobal at 1100 on April 11. Our passage took 9 days and 1088 miles. The motor ran 83 hours (38% of the time), an average of 4.7 knots. We could have sailed faster but were happy with reefed sails and a comfortable, barely-heeled ride.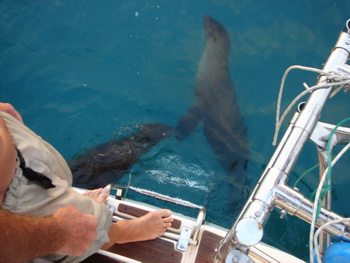 Sea lions greeted us in Wreck Bay, San Cristobal
Go to April, 2010 Part Two - The Galapagos
.