March 18, 2010
The Kuna women make beautiful molas as part of their ornate costume which includes brightly colored glass beads adorning their arms and legs. When the women no longer wear these garments they unstitch them and sell the molas to visitors.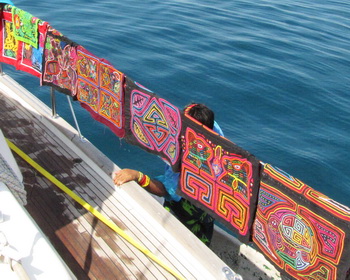 Molas hang on Tenaya's lifelines
Shortly after anchoring at Isla Porvenir two Kuna women paddled up in their dugout canoe, called an ulu, and offered to show us their molas. Smiles and greetings of "nuedi" began a wonderful experience.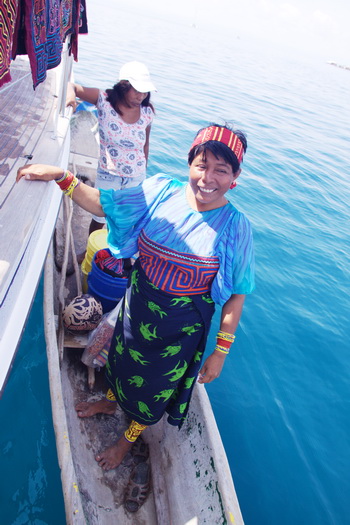 Rosibel dressed in traditional style
Rosibel and Noemi pulled out many molas, sometimes several sewn together, for what seemed like hours while Mike, Jim and I admired them. They spoke no English and we spoke no Kuna Kayya but with hand signals, smiles, honest emotion and a bit of Spanish we managed to communicate and have a wonderful time. After deciding which molas to buy Rosibel and Noemi gave us gifts and wrapped a pretty bracelet around my wrist before they paddled off. They were absolutely delightful!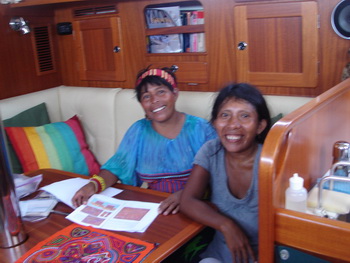 Rosibel and Noemi visit Tenaya
The next day as they paddled through the anchorage I invited them aboard. Intrigued by copies of a book about their culture sitting on the chart table, they studied pictures of old molas and were thrilled when Jim gave them the copies. They invited us to their island and we dinghied over that afternoon.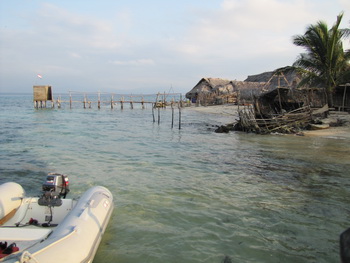 Nalunega shore
We were warmly greeted as we arrived at Nalunega, a few islands to the west. Noemi pointed out a precarious dock to tie up the dinghy and Mike, Jim and I carefully walked its length. Children quietly gathered as Noemi led us to her house where her mother and other family members produced more molas for sale.
Kuna society is matrilineal. The women control the money and the husband moves into the woman's family compound. When a new house is to be built the wood is brought from the mountains of mainland Kuna Yala and the entire village helps build it.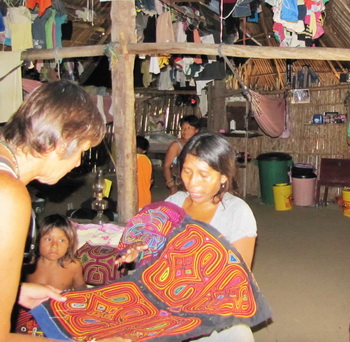 Noemi presents more molas for sale in her house
We asked to take some pictures but weren't allowed until they had properly dressed and posed. Jim took a video of a little girl singing and dancing. After she saw it she never left his side. If he wasn't carrying her, she was holding his hand as we toured the village.
Mike gave his camera to a curious boy, showed him how to use it, and sent him off to take five photos. They were so good he was allowed to take five more. They all appear on the Photo Gallery page and are the candid pictures of his family and friends.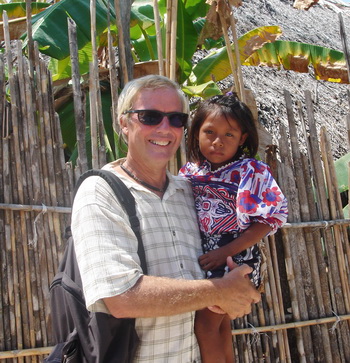 Click to see this little girl singing and dancing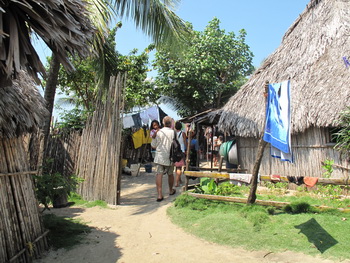 Walking through the village on Nalunega
Noemi led us through the village to an interesting building with walls filled with plastic bottles between the normal lashed sticks. The inner walls were lined with paintings, carvings and other crafts. The entire room was arranged like a gallery.
Inside the Kuna History Center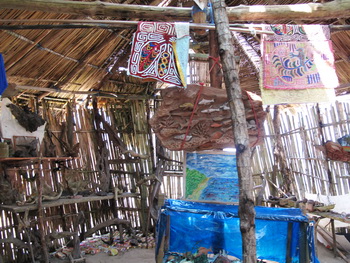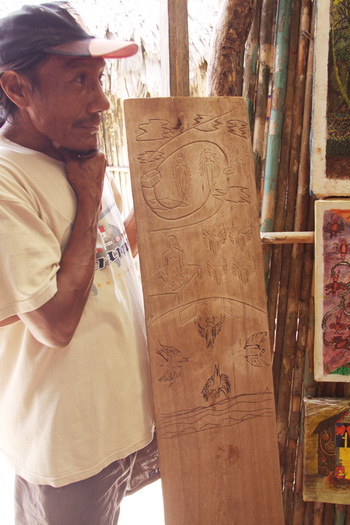 Teo begins our lesson on Kuna history and culture
A man named Teo began to tell us the history of the Kuna using the paintings and carvings decorating the walls to illustrate his stories. He worked his way slowly around the room as his lesson progressed. One area was devoted to the beginning of the Kuna people. Another showed how their lives intertwined with nature. Another displayed dried herbs and wood used for healing. Another featured hand made tools including a drill that worked by Teo rapidly moving one hand up and down holding a crossbar to twist and untwist a line attached to a center stick to make it spin.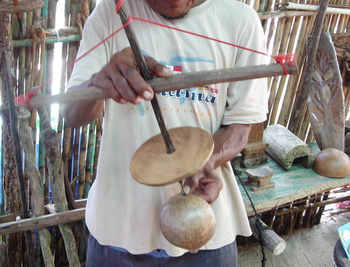 Teo demonstrating the Kuna drill
Once our Kuna history lesson was finished Noemi and Rosibel gave us a tour of their island. Their neighbors acknowledged us as they went about their business and we noticed a peaceful, easy feeling among the people.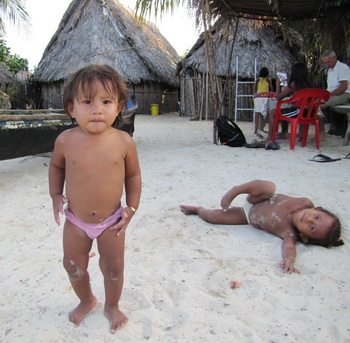 Kuna children Dessie and Caroline
After our tour around the island we returned to Noemi's house to find her husband, Nestro, there. He speaks English well and invited us back for dinner that evening. He also asked if we would like to sail in their traditional dugout sailboats to which we enthusiastically replied, "Yes!"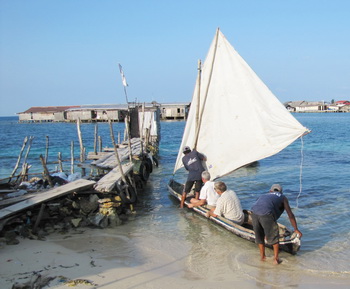 Mike and Jim go sailing in the ulu
Sailing in the dugout sailboat was amazing! More stable than would appear, they move along quite comfortably in the water. The entire time Nestro stood on the side of the boat adjusting a line from the mainsail. He said they sail well in up to 15 knots. Each November there is a large regatta between the islands that sounds like loads of fun.
Nestro gave us another, more complete, tour of the island when we returned later for dinner. He introduced us to his uncle, the Chief, who did not like Jim's Dominican necklace at all.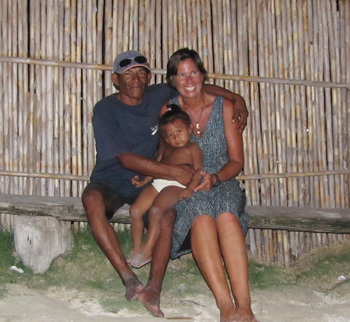 Nestro, his daughter Caroline, and Katie
Dinner was delicious and consisted of baked fish, rice cooked in coconut water and spiced lentils. We were served along with Nestro at an outside table while his three youngest daughters wandered about. Noemi and the older children were nowhere to be seen. Apparently they eat separately.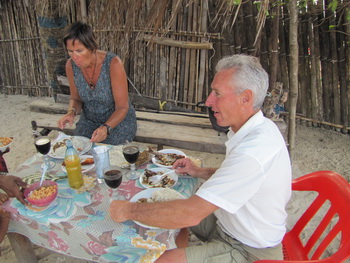 Dinner with our Kuna friends
What a special day we had with our Kuna friends learning a bit about their culture and playing with their children. They have managed to hold onto their unique way of life and still coexist with the outside world. The men all dress in western garb and many young women do so as well. Here and there we saw people chatting on their mobile phones. During the last 500 years the Kuna have been able to repel the Spanish conquistadors, other tribes and invaders, pirates and privateers, drug runners, gold extractors and disease. Let's hope they can fend off the consumerism of the "developed" world.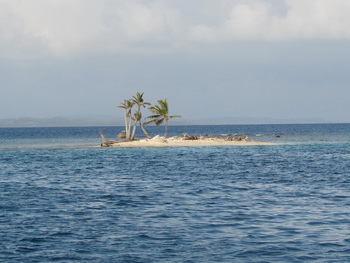 This tiny island borders the anchorage at Chichime Cays
With many small islands in view we decided to visit another group of islands nearby but were scared off as we tried to enter between reefs. The guide book showed a channel that was plenty deep but as we tried to follow it we lost the channel. Tenaya draws 2 meters and as the depth gauge showed less than 3 meters in both directions we decided to give up and backed out to deeper water. We'll have to get better at navigating reefs in the South Pacific! Fortunately we had charted a route to another group of islands where the approach was more straightforward. With Mike at the bow and Katie on the charts Jim steered us in with no problem.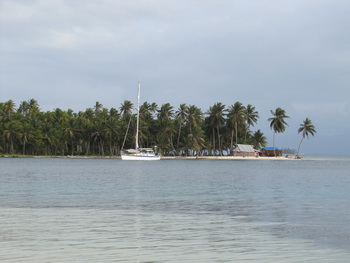 Anchored by Uchutupu Dummat Island in the Chichime Cays
Chichime Cays is a picturesque group of islands surrounded by reefs with a pleasant anchorage in the center. From the boat we could swim to three islands and snorkel two reefs. One day I while snorkeling I thought I saw a lionfish and told Mike and Jim. We had seen a flyer in Bonaire asking people to be on the lookout for this invasive, non-native species. I'm not sure they believed me so we all went to have a look. Sure enough, there was not one lionfish but two.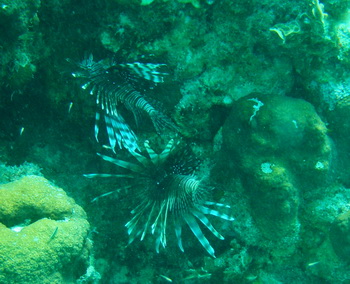 Invasive, non-native lionfish
Not long after dropping anchor in the Chichime Cays two Kuna women paddled up in their ulu selling molas. We didn't really need any more but the interaction is fun and it helps the women. Mike disappeared behind a camera and I looked at more molas and pretty glass beaded bracelets. The bracelets are one continuous strand of beads approximately 18" long wrapped around the wrist about 10 times. Each wrap is tied so when it is finished there is a line of string holding it together and tied with a knot or bow.
Katie's new bracelet is small compared to the women's
One afternoon Mike was on deck and called down saying there was a man with molas and I should come have a look. He had a feeling these were special so we sat patiently as Venancio pulled out his work.
Wow, his molas were gorgeous! Intricately cut and finely handsewn with five to seven layers of fabric made Venancio's molas the most elaborate, complex and beautiful we had seen. The title on his business card is Master Mola Maker and he is from the island of Mormake Tupa which means mola making island in Kuna Kayya. We were pleased he took the time to paddle over to Tenaya and he seemed pleased that we valued the quality of his work. Everyone was happy as he left with a pocket full of money and we have beautiful molas to bring Mike's wife, Brenda, and other friends and family.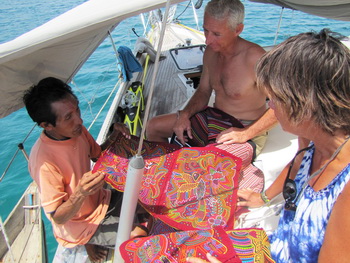 Venancio shows us his intricate molas
Mike walking on Uchutupa Pipigua in the Chichime Cays
The weather looked good to sail overnight to Panama so on our sixth day in the San Blas islands we sailed back to Isla Porvenir to clear out. As we prepared to drop the anchor our transmission failed. We drifted back away from our intended spot so I went back to the helm to tell Jim to go forward. He said to drop the anchor, NOW. He never raises his voice.
We were lucky to be in the anchorage when we lost steerage as it too is surrounded by reefs. Mike dove below to cut yards and yards of fishing line off the prop but that was just a coincidence. It turns out the bolt that connects the cable to the shift control came loose so they were able to fix it and we were on our way to Panama by 1800.
Go to Photo Gallery of San Blas Islands
.