March 4, 2010
We untied from our mooring ball in the crystal clear water of Bonaire the morning of Feb. 21. With winds 18-22 kts. and slight to moderate seas we had a great day of sailing on a broad reach.
It took 8.5 hours to sail 47 miles west to Curacao. The islands are only 23 miles apart so it doesn't say much for our tactics! We went a bit out of our way to avoid heading directly downwind and also sailed below Klein Curacao, a small island to the south. We were having fun so why not sail as long as we could!
Willemstad, Curacao
Eventually we arrived at Spanish Waters, a protected lagoon surrounded by colorful houses. Almost all the boats in the anchorage were Dutch and most looked as if they have been there for some time. This seems to be one of those places where cruisers come and never leave. It felt peculiar and people didn't seem particularly friendly. The water was dirty and I couldn't wait to be out of there.
Monday morning we caught a bus into Willemstad to check-in with the authorities and schedule a time to have our generator fixed. Erik at Westech, Mastervolt's highly recommended technician, was busy that week and said he would come look at our generator the following Monday if we got a berth at Curacao Marine.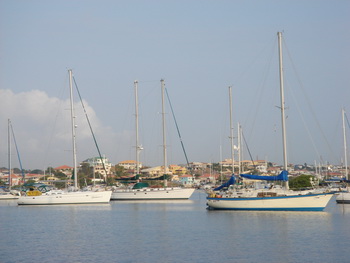 The anchorage at Spaanse (Spanish) Water
Curacao is the largest and most industrial of the Dutch Antilles. Willemstad, the capital, is split in half by St. Annabaai, a deep waterway that leads to a large protected bay. Barges and small cargo ships frequently travel up and down the waterway to the industrial docks. We were excited to sail into Willemstad because a few years ago we sailed to the original Willemstad in Holland and tied up to the wall in the city center. That was 3.5 years and 13,000 miles ago.
Two bridges cross St. Annabaai, the Queen Juliana Bridge at 185 feet and the Queen Emma Pontoon Bridge. The Queen Emma pedestrian bridge must open each time a ship enters the bay. As we approached on February 26 heading for Curacao Marine we saw a tug ahead of us. I called for clearance to pass the bridge and was told to follow the tug. We motored by the pretty waterfront and were soon in the industrial area.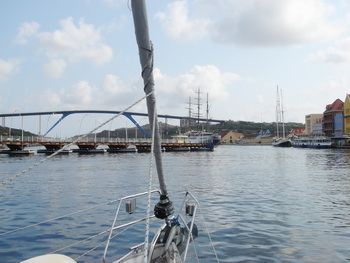 The Queen Emma Pontoon Bridge opens so we can pass through
The waterfront and old town of Willemstad has been listed as a UNESCO world heritage site since 1997. Beautifully maintained colorful Dutch colonial buildings line the waterfront and the narrow streets seem more in tune with an older cosmopolitan European city than ione on a Caribbean island.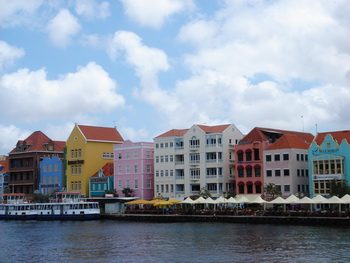 Colorful buildings in Willemstad with restaurants at the waters edge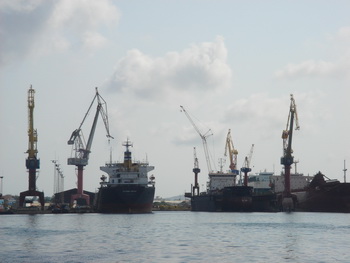 Industrial docks near Curacao Marine
.

We worried that if Erik found a problem with the generator that required parts be sent from the factory we might be stuck here a while. But he came and fixed it quickly and it runs perfectly now .....we hope it continues to do so!
More importantly than fixing our generator, which was quite important to us, Erik found a problem that would have stopped us from reaching Panama. The bolts that hold the prop shaft to the engine, which are beneath a bolted cover, were loose. He noticed it when he stepped on the shaft and it gave way a little. We had no idea this could be a problem. Erik sent one of his technicians to fix it and we are extremely grateful for his attention and thoroughness.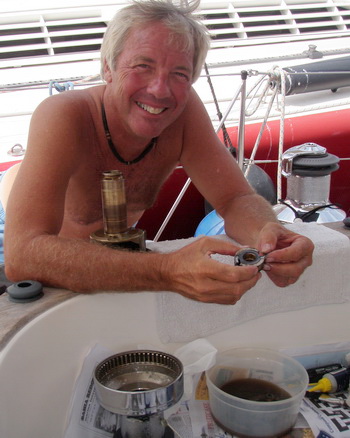 Jim cleans one of the winches
Once in the marina tied to a long finger with shore power and plenty of water we busied ourselves with projects. Jim cleaned and serviced the winches while I gave Tenaya a thorough cleaning inside and out.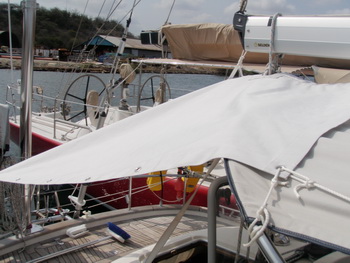 Our new bimini extension is versatile and works well
There is a very good supermarket, Albert Heijn, 20 minutes walk from Curacao Marine and each morning around 9:30 a shuttle arrives to take yachties to another supermarket, Vreugdenhil. Each day I have gone to both stores with my fabulous Arc teryx pack and giant shopping bags. I've succeeded in packing food into every bit of space available on Tenaya. A hammock full of oranges, apples, pears and pineapples hangs in the main saloon. We've got enough food to last us until New Zealand and quite possibly to survive a nuclear winter.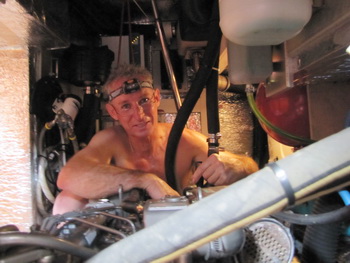 Mike in the engine room
Our friend, Mike, arrived yesterday laden with stuff we'd ordered and had sent to his house as well as good coffee and lots of snacks from Trader Joe's. He probably thought we would toss off the docklines first thing this morning to begin our sailing adventure. Instead Jim gave him a long To-Do list.
Projects included changing the oil in the generator, engine, and transmission as well as changing the coolant in the engine and mounting another harness attachment in a difficult location in the cockpit.
When he worked on our generator, the mechanic suggested we take apart the heat exchanger and clean it. It sounded like a smart idea, and indeed it was, but turned into a much bigger project.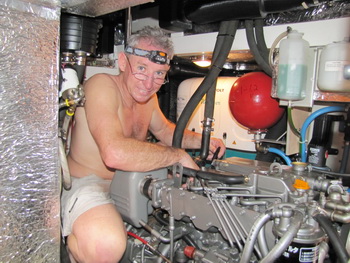 Mike in the engine room again
Mike's first day in paradise was spent mostly in the engine room. Jim encouraged him, saying it was important that he learned what was where, but that didn't fool anyone. He was more than happy to have someone else working in there for a change.
After an extremely full day almost all the projects are completed. After a few more in the morning we will return to the anchorage at Spaanse Water, fill up Tenaya's fuel tanks and check-out with the authorities. Saturday morning we will embark on the first of many passages, a 700 mile, 5 day sail to the San Blas Islands of Panama. Our Pacific adventure is almost underway!
We don't know how often we will find wifi in the Pacific and assume it will not be very often, but we will update this site when we can. To keep you informed, we will post short messages on our Facebook page using HAM radio. The "where is Tenaya now" link on our home page will be updated automatically by HAM radio. We will be very pleased to get messages from those of you that have our "at sea" address. They are always a highlight.
Panama and the Pacific, here we come!
.