November 5, 2010
A week is a very long time to spend in a marina when beautiful anchorages at romantic, picturesque islands are nearby. How much nicer it would be to dive overboard and swim in warm, clear water on these hot afternoons than remain tied to a quay in the stagnant air and water of an enclosed marina.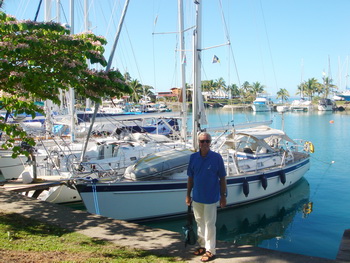 But for us, the advantages of staying at Vuda (pronounced Vunda) Point Marina, on the western coast of Viti Levu, outweighted the idyllic settings at anchor. We arrived here exactly one week ago, in time for a day of diving and some souvenir shopping before our friend, Marianne, returned home. We have been doing projects and chores ever since. Having shore power means we can easily use our air conditioner which has been very welcome indeed.
The marina is a pleasant place in a pretty setting. Nearly round in shape, it is not very large but hold several dozen boats. Arriving yachts tie to permanent mooring balls in the deeper water before tying either stern to or bow to the concrete wall. A small wooden finger with one of the tie-off points allows easy access to land.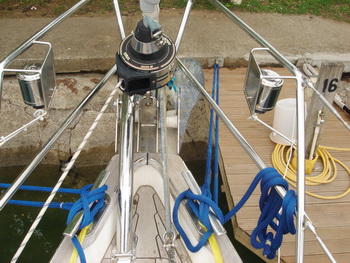 Showers, laundry, fuel and propane are available and there is a small chandlery, general store, cafe, bar and restaurant. Prices are quite inexpensive. A nice resort called First Landing is right next door. They've got a lovely pool, spacious restaurant and bar, dive center and a day spa.
Marianne treated me to a facial at the spa, my first ever. Wow ... what a difference! She'd tried to convince me to have a massage and a full body scrub but in my current frugal mindset I just couldn't accept. Now I wish I had!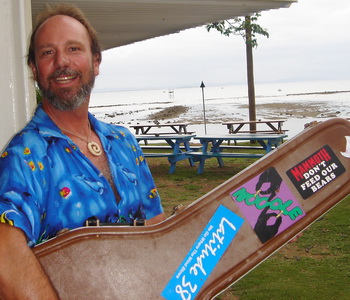 Talented yachties sang melodic folk songs at the restaurant and bar last week. Marianne and Jim both bought CDs and Marianne gave Roger a sticker from the bear awareness program she runs in Mammoth. What fun to see it on his guitar case the next day!
.

We have been waiting for Commander's Weather to notify us of a good weather window so we can leave for New Zealand. A message from them today said that noon on Sunday was a good time to depart.
We must take the boat to Lautoka, about 10 miles north, to clear Customs and Immigration. During normal working hours there is no charge. They are not open on Sundays so we have made an appointment to clear out tomorrow morning at 10:00 and pay the $94 overtime fee. Then we have one hour to get going. A $20,000 fine for boats caught stopping once they have cleared out is incentive enough for us to leave a day earlier than Commander's suggests.
Today I baked banana bread, english muffin bread and chocolate chip cookies. I prepared a few days worth of burritos and pasta dishes that we can microwave until I've got my sea legs again and am comfortable spending time in the galley.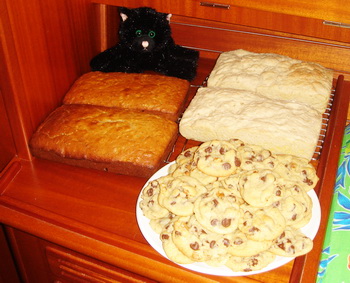 The passage should take about 12 days. 20-25 knot winds are forecast for the first half. After that, new lows could form, or not, so we'll just have to wait and see what Mother Nature sends our way. Sailing as fast as we comfortably can, there will be no dallying on this passage.
We are looking forward to our time in New Zealand and the cooler temperatures there. We've still not decided whether to buy a camper van and travel on land or spend our time exploring the harbors and anchorages while living aboard Tenaya. I suppose either will be a good choice. We plan to return next year so do not have to cram all our exploring into one season.
Jim will update the tenayatravels page on Facebook during our passage.
Go to November 2010 Part Two - Fiji to New Zealand Passage
.