January 15, 2010
Gliding along on a beam reach under sunny skies and ideal winds of 17 to 22 knots we were having a great time sailing from Isles des Saintes to Portsmouth, Dominica. Suddenly all our instruments went off. No chart plotter, no GPS, no log, no auto pilot. Nothing. We plotted our position on the chart and Jim went below to sort out the problem while I steered. A couple of hours later we arrived at the anchorage in Prince Rupert's Bay with the problem still unsolved.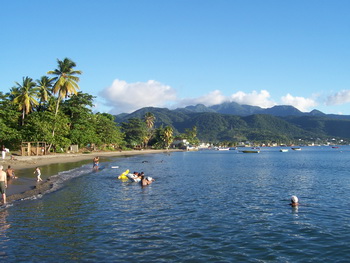 The beach at the anchorage in Portsmouth
Our daughter, Corinne, and her boyfriend, Eric, arrived on January 3rd for their first visit aboard Tenaya. Graduation presents for earning their Masters degrees in teaching, this trip was packed with loads of adventures to keep them busy during their two week stay.
We woke early the next morning for a trip up the Indian River with Martin of Providence services. The deepest river on the island, it is said Columbus sailed up into it. As it is a national park guides must turn off their engines and row the distance of one mile up the densely forested river. The only sounds heard were the paddles dipping in the water and various bird calls. A kingfisher followed us, Antillean crested hummingbirds darted among the trees, an egret perced atop a tree, several herrons went about their business at the shoreline and mullets swam below us while land crabs scurried about near the shore. It is a magical place.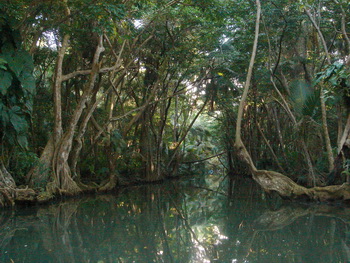 A trip up the Indian River transports you to a primeval time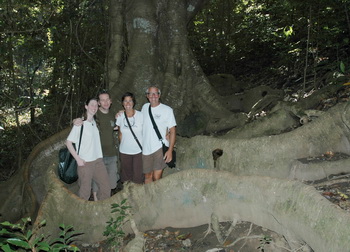 Huge roots of a ficus tree surround Corinne, Eric, Katie and Jim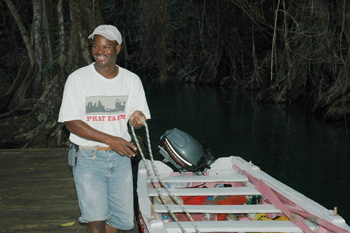 Martin is a very knowledgeable, friendly and professional guide
After lunch Martin took us snorkeling in the Cabrits Marine Park. Corinne and Eric, sporting the alabastar white skin of those living in the Pacific Northwest, slathered themselves with SPF 55 sunscreen, donned their snorkeling gear and hopped over the side of the boat at the first area which was along a steep wall where the land descends deep into the sea. We followed the wall around to a shallow area where many colorful sponges and coral grew. Next he took us to another spot in more shallow water filled with lots of fish and more colorful coral and sponges. Both were absolutely gorgeous.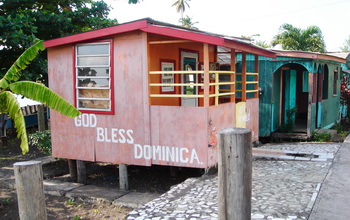 Colorful buildings dot the island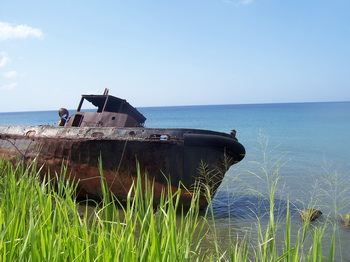 Wrecked ships from past hurricanes litter the shore in Portsmouth
After spending a couple of days in Portsmouth exploring and trying to find the gremlin in the electronics we sailed 22 miles to Roseau. All gauges worked for a while before going dead. Not surprisingly as Jim and Corinne found no problem and were surprised when everything worked once hooked back up. Did we ever fix it?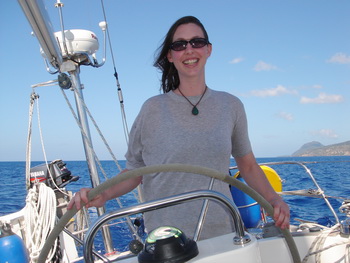 Corinne sailing to Roseau
Eric was a natural at the helm
Desmond helped us tie to one of Sea Cat's moorings just south of Roseau and we all dove into the water to cool off and stretch our legs. A man was handline fishing near our boat and I waved hello as it is polite for visitors to greet locals first. He waved and we exchanged a few words. Intrigued by his success, I swam over to chat and peeked into his bilge to find several red snappers and a few small tilefish. Later Marcus sold us four snappers for dinner.
red snapper can carry ciguatera but is safe to eat in Dominica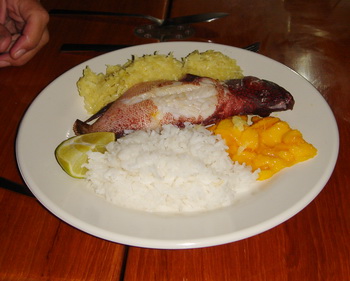 Dinner of red snapper, curried green papaya, rice and mango
Harriet and TL of Hands Across the Sea, a non-profit organization, donate time and resources to several of the primary schools in Roseau where many underprivileged children attend. They arranged for us to help build reading corners in some of the classrooms. Eric and Corinne are both very artistic, Corinne with her Waldorf education background and Eric with his degree in Art Education, so made wonderful contributions.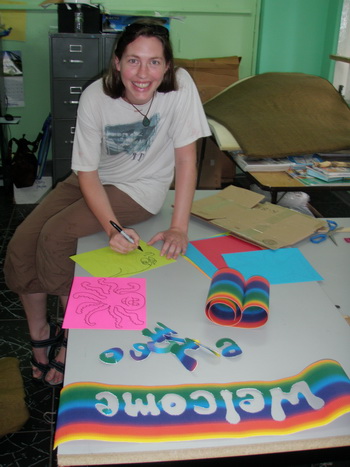 Corinne drew, cut, colored and kept us all focused
Eric drew the signs and cartoons for the reading rooms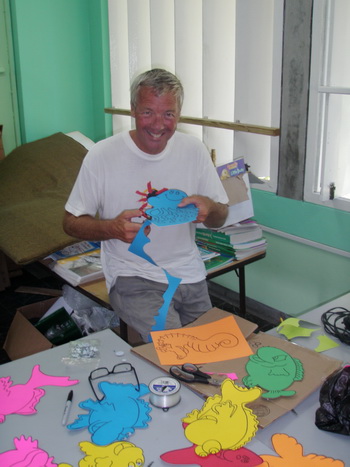 Jim cuts out Eric's drawings for the Reading Aquarium room
Corinne secures the backdrop of the Reading Jungle room she and Eric made
Katie colors a sign for the Reading Jungle room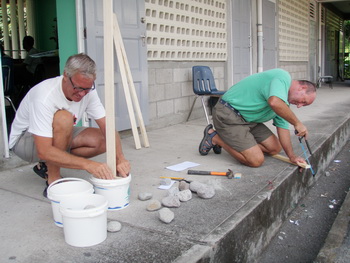 Jim and TL build braces for the plastic walls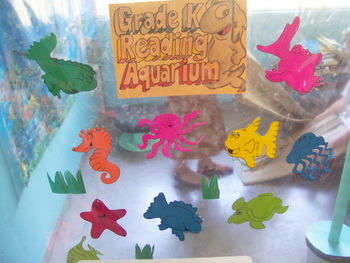 the Reading Aquarium room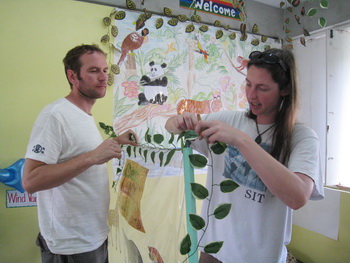 Eric and Corinne hang vines on the Reading Jungle room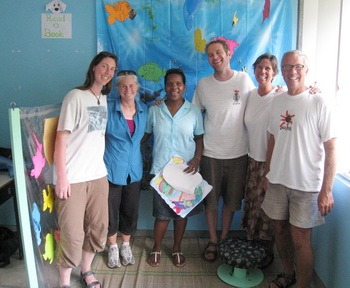 Corinne, Harriet, Shermaine, Eric, Katie and Jim at Roseau Primary
These kids loved posing for pictures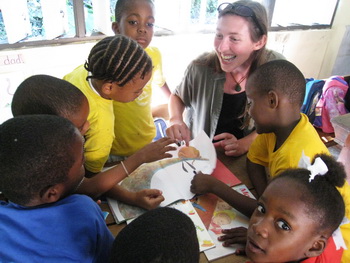 Corrine reads to a group of first graders at Newtown Primary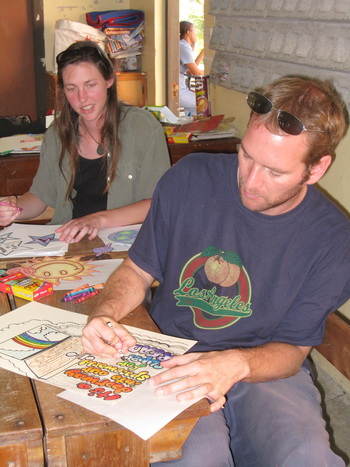 Corinne and Eric make signs for the Space Station reading room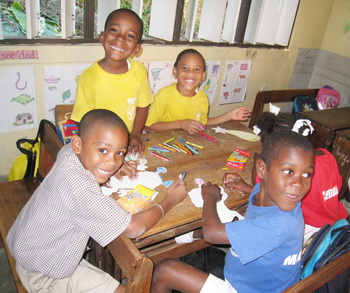 Kids color stars and aliens to decorate the Space Station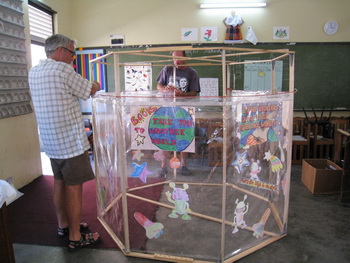 Jim and TL assemble the Space Station reading room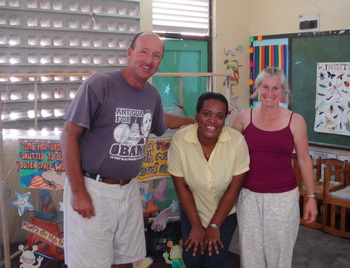 TL, Miss Celaire and Harriet in her first grade classroom at Newtown Primary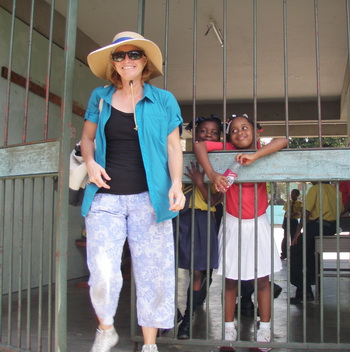 All the kids love Harriet!
What a memorable experience working at the schools was! The children were extremely polite, quite curious and very enthusiastic, often times offering to help us. Shermaine Bardouille organized our efforts, Harriet and TL provided the resources and we all pitched in with the work. In the end we'd created three reading rooms at Roseau Primary and one at Newtown Primary. We hope our contribution inspires the local community to create more opportunities for the children to learn and enjoy their time in the classroom.
Looking back, I feel we gained as much or more from our time at the schools as the children did. Their bright eyes, big smiles, happy chatter and multiple hugs warmed our hearts and enticed us to stay on this beautiful island with it's friendly people. Although many lack material goods and money, the people of Dominica have a love for their island, respect for each other, and a genuine joie de vivre. This would be a lovely place to call home one day.
.