September 26, 2009
One morning in the middle of August Jim and I loaded a moving truck with our stored furniture to deliver it to our daughter in Portland, Oregon. Jim piloted the U-Haul and I followed in our car filled with camping gear. Our plan was to beeline it up Interstate 5 to spend several days visiting Corinne and Eric and then drive back leisurely exploring parts of Oregon. A nice road trip indeed.
Eric and Corinne
Once the furniture was unloaded and organized we headed towards Mt. Hood to camp and hike.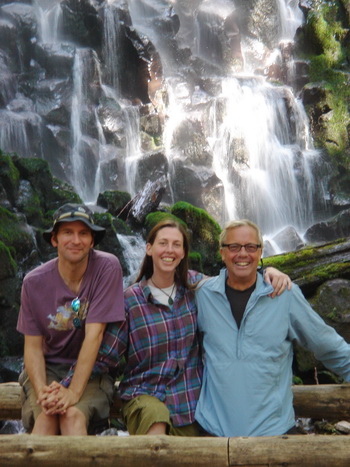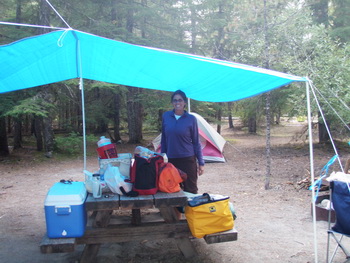 Mt. Hood loomed above our campsite and hiking trails. One evening Jim and I went to have a look at Timberline Lodge, an amazing hotel built in 1936-7 on the southern slope of the mountain. I had been here skiing in 1981 and snowboarding in 1988 but Jim had never been and I was keen to show him.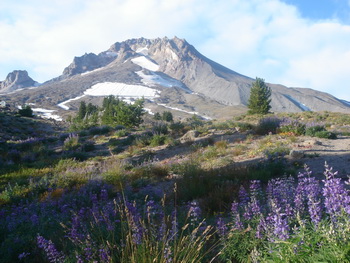 Mt. Hood with lupine in the foreground
In an effort to put people to work after the Great Depression, F. D. Roosevelt created the Works Progress Administration (WPA) and Timberline Lodge is a wonderful example. Built and furnished entirely by skilled craftsmen and unskilled workers learning a trade, the lodge was created using wood from the forest and rock from the nearby quarry. Extensive wrought iron work, paintings, mosaics, weavings and carved and inlaid woodwork delighted us in this rustic setting. An enormous stone fireplace rises up in the center of the grand room with large beams branching off to the outer walls. Carved wooden furniture is arranged comfortably around the huge fireplace soften with fabrics made from locally grown cotton and flax. Animal and bird figures are carved into the posts along the staircases. The more one looks, the more one sees. It's a fantastic place!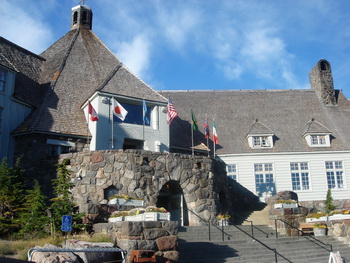 Timberline Lodge, built during the WPA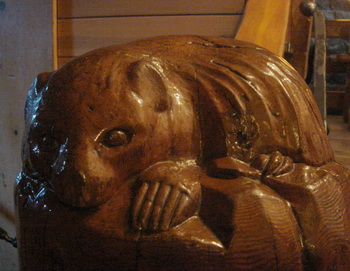 A bear carved into a post along one staircase
After visiting Corinne and Eric we drove through vast forests to the coast and camped along the beach. The weather was cool and overcast, a nice change from the high temperatures in Portland. Here are some coastal scenes.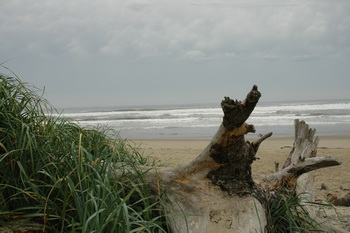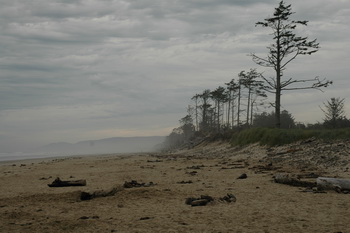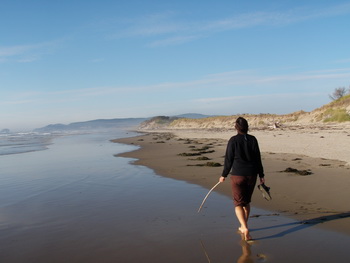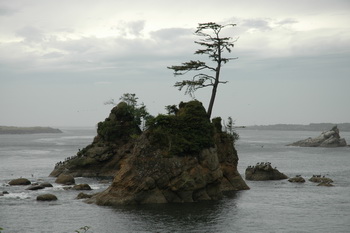 Having been to Edam and Gouda in Holland for cheese, we couldn't pass up a tour of an American cheese factory. As you might expect, it's bigger here, as are the people!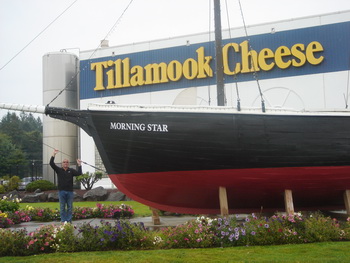 The Columbia River separates Washington from Oregon. Lewis and Clark discovered the beauty of the region as they traveled along its waters and explored the land. Now tamed by locks, the river has has been a major shipping and trading avenue for centuries. In fact, Astoria, near the mouth of the Columbia River, has been an active town and trading post for 10,000 years!
We drove east along the southern bank from Astoria to Hood River, a windsurfing mecca. In a small town west of Portland we stopped for the night and camped in a tiny campground. The host gave us an enormous zucchini and a bag of sweet, tasty cherry tomatoes from her garden and told us stories of the planes and people from the small airport next door. She told us of a marina down the road and yearning for a sailboat fix we visited. An inviting restaurant hung over the water surrounded by small sailing boats. As it was nearly dinner time we took a seat on the deck. Friendly people chatted with us as we enjoyed a delicious dinner. What a nice evening!
The Columbia River Gorge
.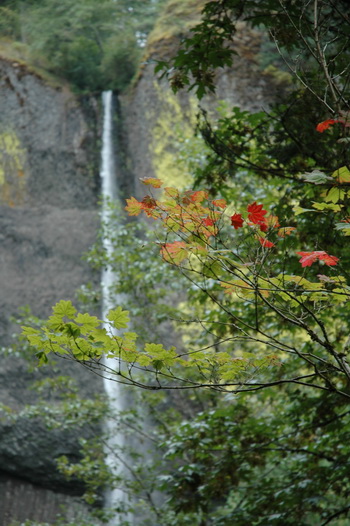 Oregon has so many waterfalls!
We drove south from Mt. Hood through the dry interior of the state to Crater Lake where we camped for a couple of days.
We saw no water as we approached the lake. No rivers or streams flow from it. We turned off the highway and into the National Park. Still no water. We drove higher up the mountain until at last the road flattened out. A turn-out beckoned and as we pulled over we saw the vast blueness that is Crater Lake.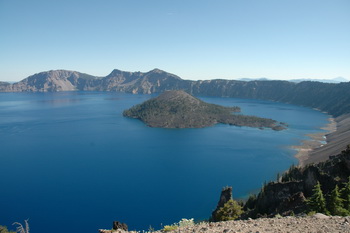 Over 5 miles wide, this lake fills the crater in a dormant volcano, Mt. Mazama. Wizard Island pops its little cinder coned head out of the deep, blue water. The water is incredibly clear and blue because it is not contaminated. The water arrives as rain or melting snow, no streams or rivers flow into the lake.
We took a boat ride around the lake and stopped for a few hours to explore Wizard Island. We hiked up to the top, around the small crater, then down and out a rocky trail to a small bay where I dove into the clear, crisp water. Having a swimsuit would have been nice but my shorts dried by the time we got back to the dock.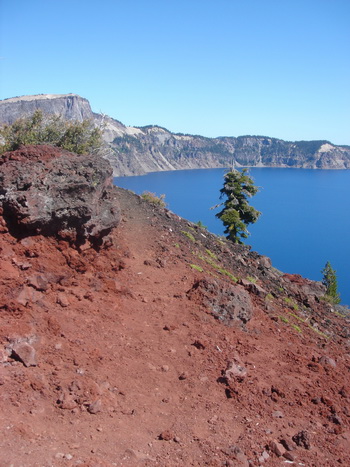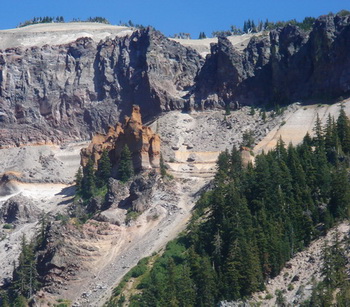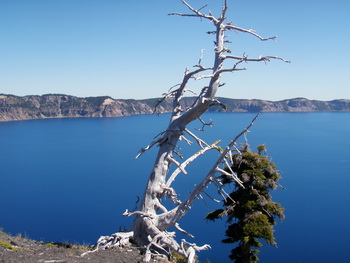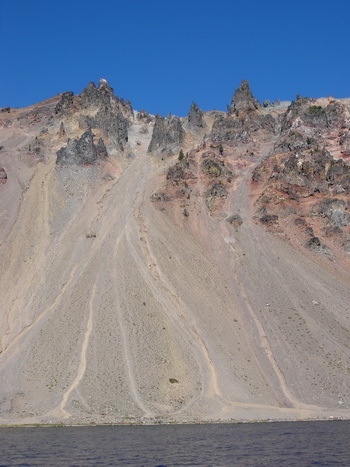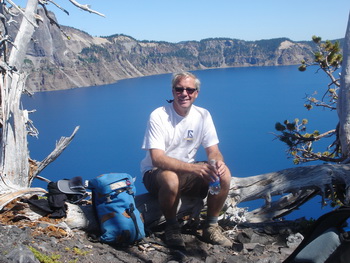 Scott and Amy were married on the shore of Lake Tahoe on Sept. 12. Amy was absolutely gorgeous, the ceremony was lovely, and Jim was thrilled to be Scott's Best Man.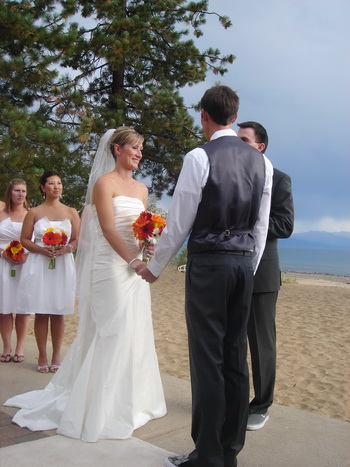 As those who know Scott and Amy would expect, there were some unexpected surprises. First off, their rings were not rings at all, but square. And very substantial. And very cool. Next their wedding dance was a bit unusual. It started out traditionally but when the DJ scratched the sappy song and went into the theme song from the movie Juno, Scott and Amy switched to kicking up their heals in line dancing fashion. Hilarious and great fun!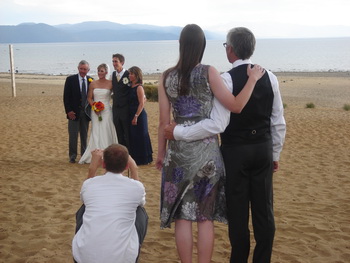 Pictures with Amy's parents as we look on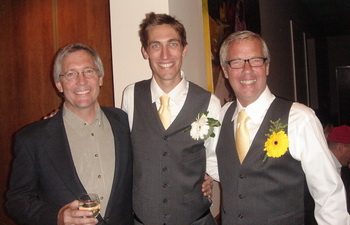 Greg, Scott and Jim. See a family resemblance?
Katie, Jim, Corinne and Eric
See the videos:
Scott and Amy's Wedding September 12, 2009
While Scott and Amy are on their honeymoon we are watching their house and their dog. Shasta is a 7 month old Australian Shepherd with a lot of energy. To keep us all sane we frequent the dog park. Shasta is very social and plays well with other dogs. He loves to swim and jumps into the bay with absolutely no prodding whatsoever. Over and over again.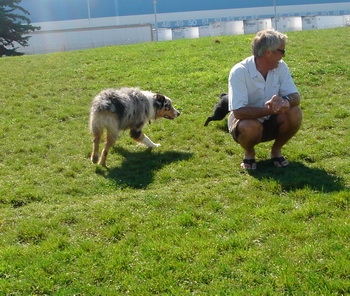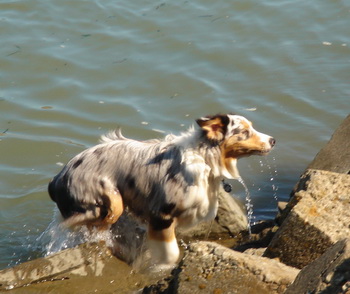 We have been enjoying our time on land visiting friends and family and spending time at Scott and Amy's comfortable home. As summer comes to an end we are getting anxious to get back to Tenaya and resume our sailing lifestyle. Only six more weeks ....
Go to November 2009, Northern California wine country
.