August 17, 2009
When we left Tenaya we thought we would take a break from updating our website since the goal is to chronicle our sailing adventures and we are not sailing. The boat is stored in a field on Tortola.
Friends and family have asked what we are doing while not sailing so we've added a page highlighting our summer activities. We've been pretty busy!
Arriving at our home base in Boulder City, NV, we had 9 days to clear everything out as our property manager had leased the condo and tenants were moving in June 15. We organized, packed and cleaned, gave lots of stuff away and loaded our remaining belongings into a U-Haul for Jim to drive to a storage locker by our son's home near San Francisco.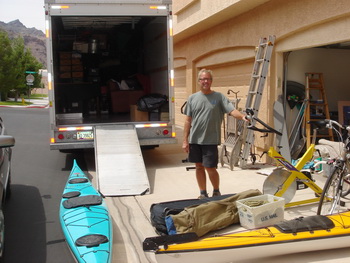 Moving out of the condo in Boulder City, NV
Scott and Amy bought their first home a few months ago. Although it was in perfectly acceptable condition, Scott, being an architect, had to make some changes. Out came walls, up came flooring and on went paint. They had a couple of work parties but still had some unfinished projects when we arrived. Jim helped with the flooring and I helped clear the front garden.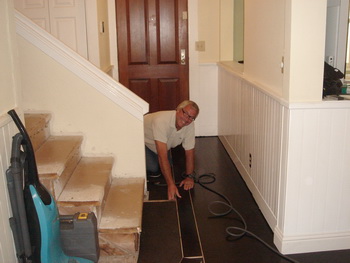 Jim helps Scott lay the new flooring at their home
After a week at the kids' house we drove up to Mammoth to work on our own house. We haven't lived there since 2000 and our long-term tenant had just moved out. It seemed the perfect opportunity to spruce it up and sell it. Cash to pay off Tenaya was a motivating factor! After two weeks of full-time effort the place looked great with new paint, new carpet and lots of small upgrades.
As luck would have it, one of our rental condos in town was vacant until August 15 so we were able to stay there. Basically unfurnished it has a bed and a dining table. Along with my exercise ball, a couple of sand chairs and my road bike, we were set. After living on a cramped sailboat this place seemed incredibly spacious.
It's not the best time to be selling a home in a resort town in California but with the help of a good realtor we managed to do so. The house is pretty unique with an awesome view in a private location but has a steep driveway with a switchback that puts off a lot of unenergetic people. Fortunately an adventurous couple fell in love with it.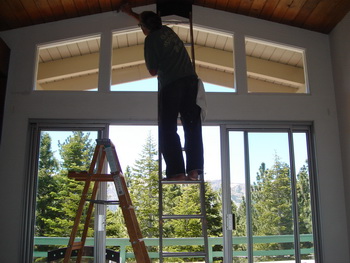 Jim paints our house in Mammoth
We took a day off to do an early season hike with friends Dan and Lori Lynn out of the Lakes Basin and around Crystal Lake. Patches of snow were a welcome sight after missing winter while sailing in the Caribbean those months.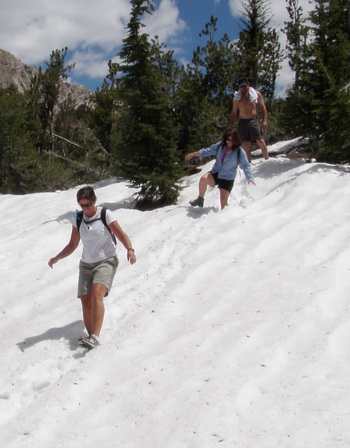 Katie, Lori Lynn and Dan in the snow above Crystal Lake
Once work on the house was finished we went back to see Scott and Amy for a few days and sleep in our own bed. They have kindly let us set up our bedroom furniture in one of the guest rooms so we don't feel like complete vagabonds during these six months on land.

Ready for some fun, we packed up the car with our camping and kayaking stuff and headed to Tuolumne Meadows in Yosemite National park to camp and play for two weeks.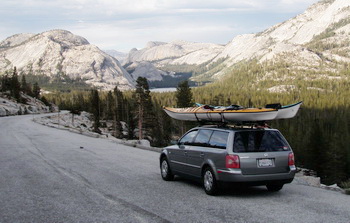 Ready for some fun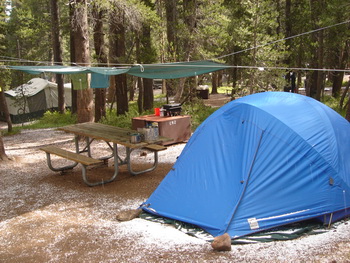 Our campsite in Tuolumne Meadows the day it snowed
The Tuolumne River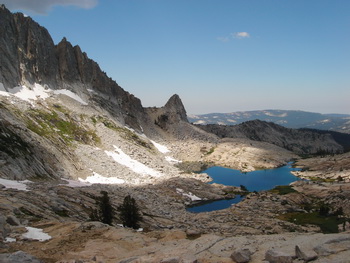 Near Mt. Hoffmann
Our friend, Mike, has been climbing in Tuolumne for more than 30 years. These days he spends more time hiking though, almost always off-trail. He has found some incredibly beautiful places with very diverse scenery. Along with his wife, Brenda, and several other people, he led us on exciting and wonderful adventures.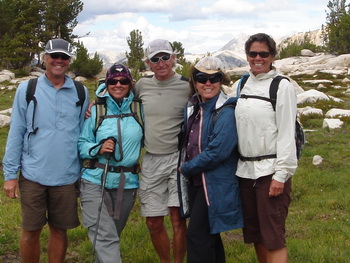 Jim, Brenda, Mike, Lori Lynn and Katie
One location a couple of hours cross-country hiking up and over huge slabs brought us to a large marble outcrop, an anomaly in the granite of Yosemite National Park. Here a river has carved a cave and if we hadn't been there we would think all the pictures were of snow. The marble seemed to have sun cups just like the nearby snow.
Marble in the Crystal Cave
Friends Gary and Christel came up from Mammoth to camp with us for a couple of days. We had a lovely day hiking up Lyell Creek and enjoying the gorgeous weather and surroundings. Later in the day Christel relaxed at camp while the rest of us went in search of a secret swimming hole and natural water slide. We found the general area but after speaking with Mike realized we hadn't walked quite far enough down the drainage. Oh well, next time...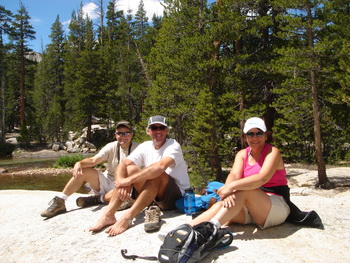 Gary, Jim and Christel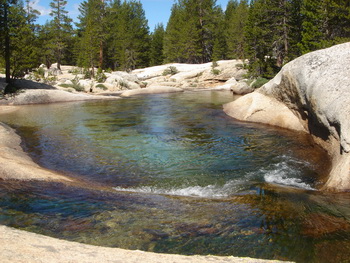 Pools in granite along Lyell Creek
Jim used to climb in Tuolumne and Yosemite and has always loved Cathedral Peak. One day Mike lead a hike almost all the way around it which was mostly off-trail, beautiful and fairly strenuous. We had a great time.
Another day we kayaked across Saddlebag Lake to hike up to the Conness Lakes. Wanting to do a loop instead of hiking in and out on the same trail we scrambled up some steep rocks and really got a good cardio workout.
.
We hiked everyday, exploring lots of beautiful places off the beaten, dusty, horse-pooped trail. We are sworn to secrecy on some locations but can identify others.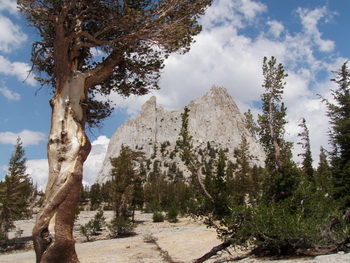 Cathedral Peak
Cathedral Lakes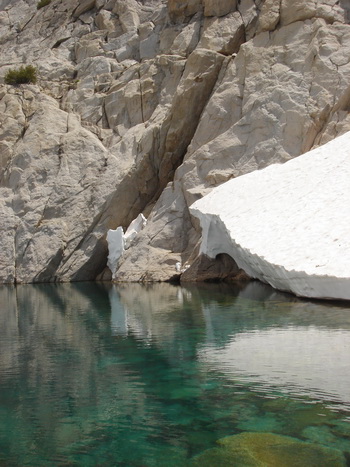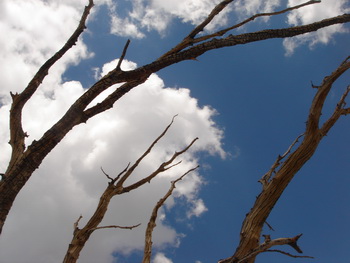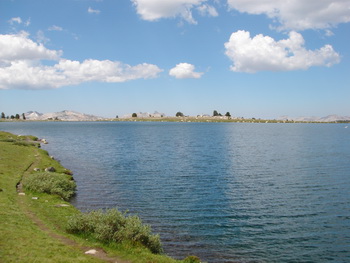 Gaylor Lake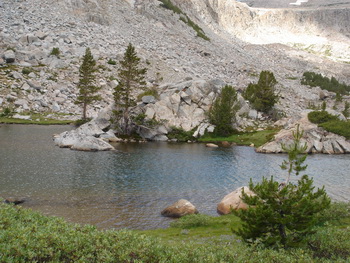 One of the Granite Lakes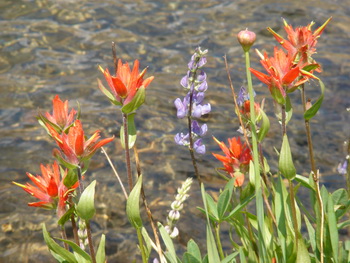 Flowers at the edge of Granite Lake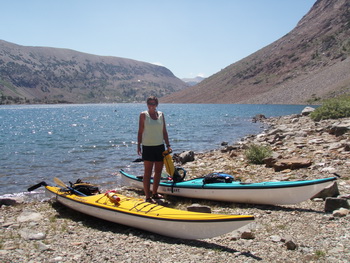 After kayaking across Saddlebag Lake
Waterfalls below Conness Lakes
One of the Conness Lakes colored by glacial water
Kayaking back across Saddlebag Lake after a great day of hiking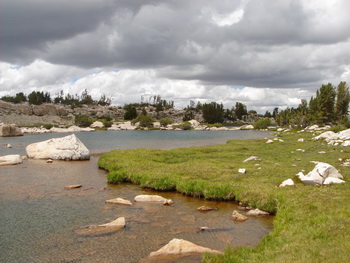 Brenda calls this "The Shire"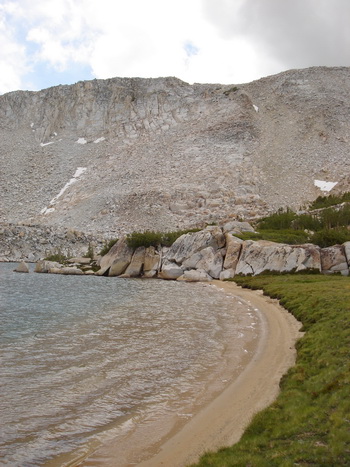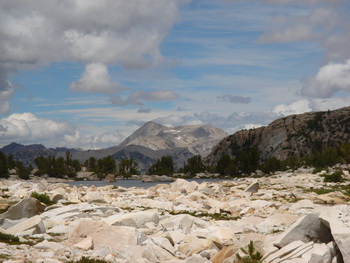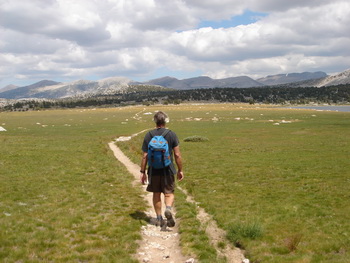 Pretty meadow by Evelyn Lake near Vogelsang Camp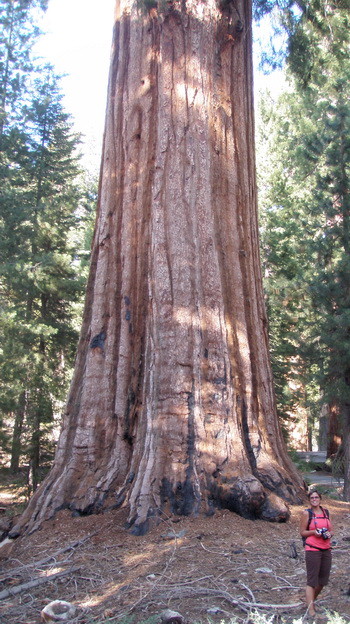 Giant Sequoia in the Mariposa Grove of Yosemite dwarfs Katie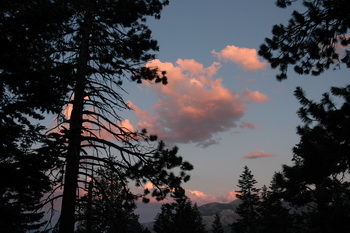 Sunset from the deck of our condo in Mammoth
Our time in the Sierra ends tomorrow as we head back to the Bay to pick up a rental truck and drive a load of stuff up to our daughter in Portland, OR. We had a fabulous time camping and hiking with friends in Tuolumne and relaxing on the sandy shores and swimming in the refreshing waters of Tenaya Lake. Katie got a bit of cycling in with Mammoth friends and we sold our longtime home with few regrets. All in all a very good two months.