November 23, 2009
Months of accumulating replacement parts, lines, clothes and random stuff had our storage locker stuffed. When it came time to pack we filled seven bags! Fortunately we'd picked up several used suitcases from Goodwill for $5-$10 each that we could give away once unpacked.
We rented a car and drove from the East Bay to Las Vegas to fly out on the red-eye to Miami and on to Tortola. Hauling around three 50 lb.and four 70 lb. bags as well as our carry-ons was a workout. We were happy to be assigned a ground floor room at the Nanny Cay Hotel.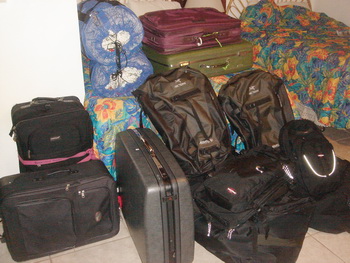 Lots of luggage - Goodwill suitcases to Eastpak and Arc'teryx packs
A day after we arrived Tenaya's hull was painted with anti-fouling and she was ready to go back in the water.
Once the travel lift eased her in Jim went below to check things out. No electricity. We'd asked for the batteries to be charged monthly but they were dead. Fortunately the starter battery was all right so the engine ran. We'd also had the throttle/shifting cable replaced. Jim shifted through the gears and all seemed fine.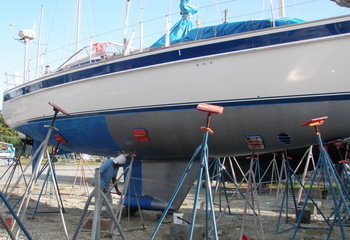 Anti-fouling is painted on in the yard
We motored over to the slip and, as he was pulling in, Jim shifted into reverse to slow the boat. Nothing happened. I was at the bow motioning to slow down when he said it would not go into reverse. The speed seemed to increase as I realized there was nothing we could do. It is necessary to give a shot of power when shifting into reverse for a quick response. As Tenaya was going forward the extra power just sent her in that much faster. With dead batteries the electric kill switch at the helm was worthless. The crash made a lot of noise and brought all the neighbors running. We hadn't touched the boat next to us or the finger though.
.

Fortunately Hallberg-Rassys are built like tanks. A more popular boat would have a gaping hole. There's a chunk out of the bow with fiberglass hanging off both sides and an equal size gouge in the concrete dock but no hole in our floating home.
Damage to Tenaya's bow
The managers were beside themselves apologizing and trying to make good. The marina manager gave us two free nights in the hotel and managers Keith and Drew came in on Saturday, their day off, to push Tenaya back to the yard with their RIB and haul her out. Drew spent most of the day glassing the damaged area and arranged for someone to work on the shifting problem. They are being most helpful and accommodating which we appreciate.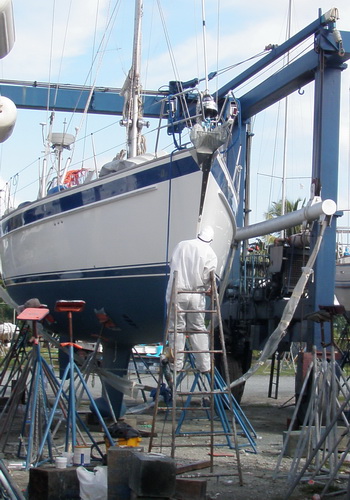 Drew making the repair
We arrived Wednesday evening and hoped to be settled on board by the end of the weekend. It's now Monday and Tenaya remains in the yard. The shifting still does not work properly and the fiberglass repair is nearly done but needs painting. Although we're having a great time watching newly discovered HGTV in our chilled hotel room, we're hoping she goes back in the water tomorrow.
I've broken enough things in my life so now when I reach resistance I stop. When Jim asked if I'd shifted as far forward as possible I said yes. Wrong. Turns out there is a very stiff spot that must be pushed through. Thought a sticky throttle was what we paid to have fixed ... Anyway, now it sticks in a different spot but we have new beefier cables for it and the throttle, attached in a way that cannot pop out. They popped out and that is what caused us to loose control of the shifting when we hit the dock.
It took two attempts to match the paint nicely and the repair looks great. Tenaya went back into the water Wednesday afternoon and I must say we motored into the slip with some hesitation.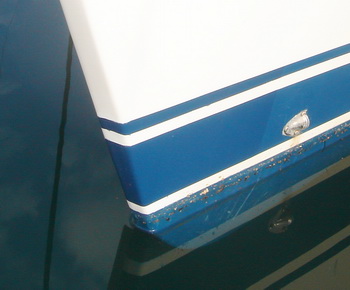 The management was terrific in handling our repair and time in the yard. Many thanks to Keith, Drew and Miles! Miles, the marina manager, arranged for us to stay in the hotel at no charge for the four nights we were out of the water.
Everything on board is organized and stored, all systems have been checked, sails are on, the outboard is ready, and we have plenty of provisions. After installing the newly restitched dodger and giving Tenaya a good washing we will be ready to head out to an anchorage tomorrow and do some snorkeling. Yippee!
.