May 13, 2009
Three days spent in Road Harbor on Tortola was more than enough. The anchorage is wedged up against mangroves and sandwiched between two marinas, one the location of the Moorings and Sunsail charter fleets. No clear water here, it is opaque brown and absolutely uninviting. Our oversized Delta anchor was unimpressed with the soft mud ground and preferred not to set in it. After 4 tries and overheating the windlass we finally let out the chain 6:1, didn't back down to test it, and hoped it held. Fortunately it did.
We met some really nice people, making our time there worthwhile. Richard on Adventuress took our foldable bikes and bought us a delicious dinner as thanks. An evening of great fun on Bravo 2 with Wendy and Graham was a delight. We spoke briefly with the owner of another Hallberg-Rassy, Born Free as he prepared to set off across the Atlantic, the same trip we had planned 6 months ago. Petr on Endless had Jim over for a beer and they got on very well. As they also plan to go through Panama next year we hope to meet again.
One afternoon a 53' charter boat set their anchor and pulled back way too close to our bow. I stood on the deck with my hands on my hips shaking my head NO and vibing them to go away. No such luck. Their flag showed they were Russian so I spoke clearly and slowly. "You are too close, you can't stay here". They looked at me but continued to anchor and as soon as it was set they lowered the dinghy and the skipper took off. Jim and Richard dinghied over and explained that the wind shifted more at night and they could hit us. "No problem" was the man's happy reply. Later they rolled in some chain which gave us a little more swinging room. We hoped for the best. At 1152 we were awaken by a wack and a shake. I looked out the window as I hopped up and saw the boat right up against us. Throwing on a robe I ran up the stairs to find them already pulling away. To his credit, the skipper hadn't taken time to dress and was steering the big boat away from Tenaya buck naked.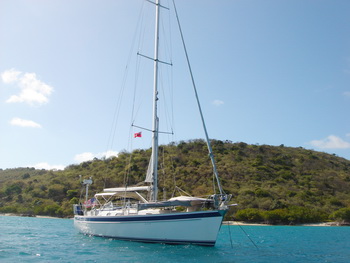 Tenaya anchored by Prickly Pear Island
Needless to say we got out of Road Harbor as soon as we could. Now we are happily anchored off of Prickly Pear Island in the North Sound of Virgin Gorda. It is a beautiful location as this part of the island is unspoilt. We are near Saba Rock and the well-known Bitter End Yacht Club.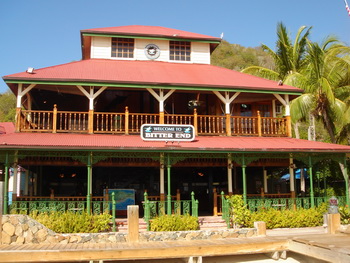 The Bitter End Yacht Club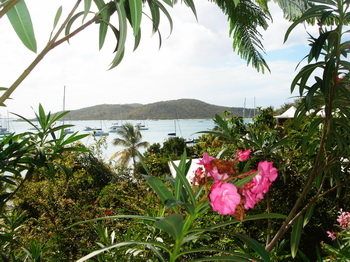 Anchorage in front of the BEYC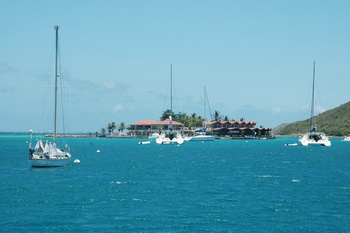 Anchorage in front of Saba Rock
.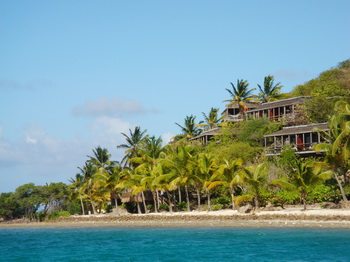 Rooms of the Bitter End Yacht Club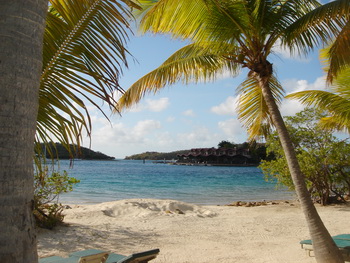 View of Saba Rock and Prickly Pear Island from BEYC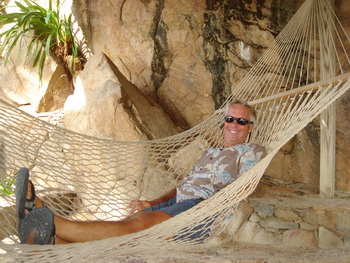 All he needs is a rum drink!
Bitter End Yacht Club
The season seems to be coming to an end. There are fewer boats in the anchorages and most of the other cruisers have headed either north or south to find refuge for the hurricane season or they've headed across the Atlantic to Europe.
We did meet a couple on another cruising boat anchored nearby. Peter and Raewyn on Saliander kindly invited us for a drink and offered a delicious array of munchies. Like us, they came across this season and have worked their way up through the islands. We stopped at many of the same places which confirmed my thoughts that we had seen Saliander before. As they are from New Zealand we picked their brains for ideas on places to visit once we arrive.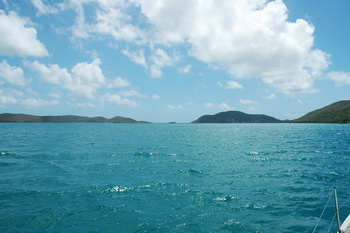 North Sound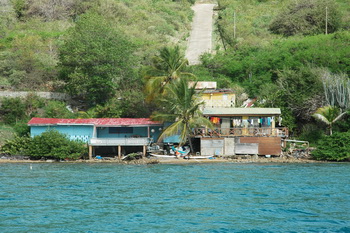 Local housing at Gun Creek at the north end of Virgin Gorda, a far cry from the resorts scattered around the sound
Tenaya sails at anchor frequently as we are exposed to the full force of the wind. Fortunately reefs block the ocean swells so the anchorage is quite tolerable. With luck the winds will lessen and we will be able to snorkel on the reefs before we move on.
Today I made bread and was finally successful in getting the dough to rise. I've lost count of my attempts with yeast but was not giving up! The recipe for English Muffin Bread is from Amanda Swan Neal's The Essential Galley Companion, my favorite cookbook onboard. It is delicious if I do say so myself!
.