March 22 , 2009
We left Ile Fourchue, near St. Barth, at 0830 on March 19. A lovely day for sailing with winds 10-15 knots, we ran with full sails and slight seas for most of our 3 1/2 hour trip to St. Martin. The distance was 23 miles.
St. Martin/St. Maarten has been half French and half Dutch since 1648. Boats must clear customs in each country if moving from one side to the other but travel on land is unrestricted.
We arrived at the anchorage on the French side, Marigot Bay. It is large and shallow with depths of 3 meters and less, making us a little nervous at first. Once anchored, we settled in to enjoy the incredible colors. Clear aquamarine water set against a deep blue sky dotted with puffy white clouds was absolutely gorgeous.
Tenaya anchored in the beautiful waters of Marigot Bay
We took the dinghy ashore to check-in with customs and explore Marigot, the capital. Nothing was open, not even the customs office. The town was deserted so we returned to the boat. Turns out it was a holiday that wasn't listed in our guide book. We still don't know what they were celebrating.
The following day Jim was able to check-in. It was easy as he filled in a form on a computer and paid the fees at the same desk. Afterwards we set out to explore Marigot.
The waterfront is packed with duty-free shops and the town seems built mainly for tourism. After visiting more picturesque towns on other French islands we were not too excited about this place.
We dinghied through the large Simpson Bay Lagoon to see a little of the Dutch side and visit the large chandleries, Island Water World and Budget Marine. That is always fun, but expensive, for a yachtie! We found most of the things on our list and came away with big bags from both places.
.

A sizable swell from the north forced us to move from Marigot Bay to Simpson Bay. As Simpson Bay is on the Dutch side, we checked-in with customs once again. Again we paid about ten euros per night to anchor and again it was a simple affair, though no computerized form.
We stayed two nights and explored Phillipsburg, the capital. Like Marigot, it caters to tourists with many duty-free shops. The hotels and resorts are larger here. Brush and shrubs cover what land has not been developed. English is spoken but signs in Dutch can be found here and there.
We awoke one morning to find the Maltese Falcon anchored nearby in Simpson Bay. We sailed past as we headed out for an overnighter to Virgin Gorda.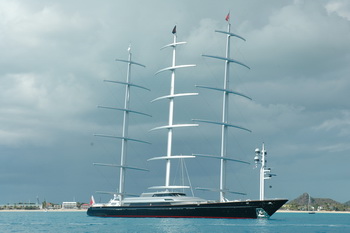 The Maltese Falcon anchored at Simpson Bay
Unless we need work done on Tenaya or need to buy more supplies from one of the excellent chandleries, we will probably skip spending any time on St. Martin/St. Maarten on our way south next year. It wasn't interesting or exciting to us and there are so many beautiful islands in the Caribbean with much more charm. Though, to be fair, we did not venture past either of the capitals.
Wind speeds never reached the double digits and the seas were slight during our 91 mile trip from St. Martin to Virgin Gorda. Just after daybreak Jim settled down for a nap in the cockpit. Tenaya crept along on autopilot as I savored the serene morning.
All of a sudden a loud, strange noise startled me. I looked to starboard and saw a huge gray hulk spouting water not 10 feet from the boat. "Holy shit!" Jim was on his feet in no time. As his eyes focused he saw the whale sink back into the water. It surfaced several more times as we pulled away. Seeing such a magnificent creature was amazing. That it was twice the size of Tenaya, and right next to her, was a bit frightening though.
The humpback whale that surfaced next to Tenaya
.