March 15 , 2009
Barbuda is an enchanting island with its turquoise water, eleven mile-long pink sand beach, frigate bird colony and complete lack of interest in anything relating to tourism. We could have stayed much longer.
Thursday afternoon we noticed a mass exodus from the anchorage. Eight sailboats were present at noon but by 4:00 only two remained. Some had only arrived that morning and surely hadn't see the frigate birds. Was something up? Did we miss a vital weather report? As we don't listen to the radio in port we very well might have.
Out came the computer and Jim downloaded the latest GRIB files. Sure enough, bigger waves from the north were predicted. We knew they were increasing but felt safe to stay through the night and leave in the morning. Maybe it's the herd mentality, we decided to leave that night and sail 60 miles to St. Barts. The west coast of Barbuda is no place to be in big northerly swells. The full moon promised magic and it was exciting to think of doing an overnighter again. We'd have a slumber party and stay up all night together in the cockpit talking and enjoying the moon-lit passage.
After 3 years of living on a 40' boat we still like being together
The anchor was up by 6:00 pm and we followed our inbound route to clear all shoals and reefs. Once in deep water (14 feet) we rolled out the main and jib keeping them reefed. Winds were 15-20 knots aft and we wanted to move slowly so as not to arrive before dawn.
Tenaya had other ideas. She sailed along very nicely. Too nicely, in fact. Wanting to average no more than 5 knots she was sailing closer to 6. We reefed some more. After dinner I was feeling sleepy and Jim suggested we do our normal watch schedule of 4 hours on and 4 hours off. I crawled into the sea bunk and rested. When I came back on watch Jim went below to sleep. So much for our fun night in the cockpit together!
The large northerly swells arrived as forecast giving us a very bumpy ride. Only having tiny bits of sail up probably didn't help the motion either. The full moon was covered by clouds most of my watch and squalls came through pushing our SOG over 6 knots, even with heavily reefs sails. Fortunately in the wee hours the wind died down and our speed slowed. Dawn broke as we approached the anchorage.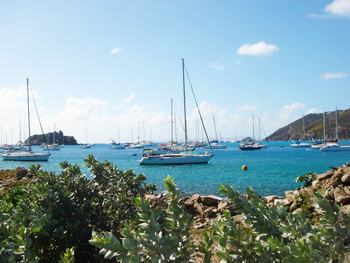 The anchorage at Gustavia, St. Barts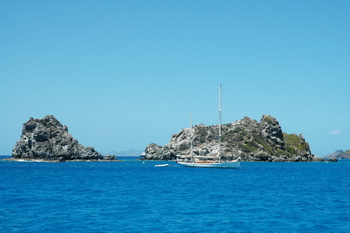 Several islets in the anchorage have good snorkeling
I could see the anchor perfectly in clear water eight meters deep. As I let out chain a sting ray swam along the sandy bottom. Later, after the anchor was set and we were sitting in the cockpit, the largest turtle we've seen yet swam by. I'm going to like this place!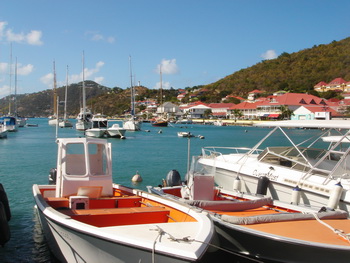 The harbor at Gustavia
St. Barthelemy, known as St. Barts to Americans and St. Barth to everyone else, conjures up images of massive yachts, chic jet-setters, designer shops, celebrities, trendy restaurants and fabulous beaches. That's not far off. We've seen more huge power yachts and gorgeous, classic sailing yachts at anchor here than anywhere yet in the Caribbean. It rivals Portofino in Italy. There are also aged and worn diminutive French sailboats with years of growth fringing their waterlines. Their owners seem to have settled here.
Not interested in seeing famous people or shopping, we came for the Frenchness, if that is a word. No strike here! Boutiques, restaurants and markets are all open. Our first stop after checking in with customs was at a patisserie to have an espresso and a croissant. Mmm....
.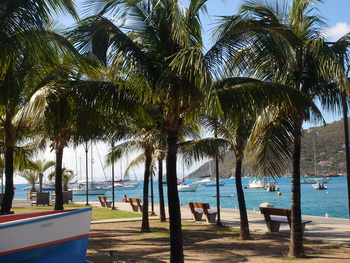 Boats at St. Barts
Jimmy Buffet's song "Cheeseburger in Paradise" came out while I was teaching skiing and living in a different kind of paradise. Although I didn't sail I could relate to his songs. My friends and I were fans. Hard to believe that was 30 years ago. Lo and behold the inspiration for that song is a bar in St. Barts!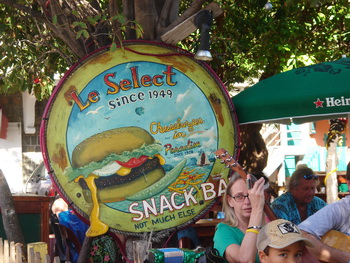 Inspiration for Jimmy Buffet's song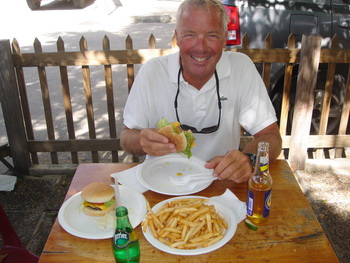 Cheeseburger in paradise
St Barts is only 25 square kilometers and can be seen on a scooter in a day. Everything is small scale with no large resorts or shoreline hotels. Palm trees tower above any buildings in Gustavia, the capital. Red-tiled roofs top the small cottages and buildings around town. Magnificent beaches ring the island and many secluded bays are only accessible by boat.
The bookstore sells English language newspapers, a treat for us having lived outside the U.S. for nine years. The Wall Street Journal, USA Today, and the International Herald Tribune were available. We chose the IHT and read every word. Normal things in a past life are luxuries now that we live on a small sailboat with dwindling savings in foreign countries.
March 19, 2008
We spent a couple of nights anchored in the lovely bay at Ile Fourchue, part of the St. Bart's marine reserve. The reserve has laid mooring balls in an effort to preserve the seagrass and coral. Most yachts tied to one but a few just anchored where they pleased.
The island's origin is obvious by several hills topped with volcanic crags that rise above the rest of the dry, desolate place. Goats once roamed the island but ate all the vegetation leaving it barren and themselves with with no more food.
Tenaya on a mooring ball at Ile Fourchue
The private, undeveloped island didn't seem interesting enough for us to untie the dinghy. Instead we jumped off the stern and snorkeled around the walls of the bay each day. We saw a flounder, several parrotfish, angelfish, trumpetfish, butterflyfish, wrasses, cromis, blue tangs, snapper, a huge school of 6 inch silver fish that weren't bothered by our presence a bit and the biggest spotted trunkfish to date.
As we approached Tenaya at the end of each snorkeling adventure we saw a sea turtle eating along the bottom. Once he swam up and very close to us. We stopped and watched as he veered slightly and swam to the surface, popping his head up for air. What a great view we had of him from both above and below the surface of the water.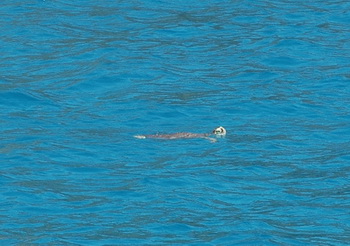 A turtle surfaces for some air
Nearly every time we looked around from the cockpit we saw a turtle at the surface or a pelican diving. We enjoyed the peaceful anchorage, clear water and abundant wildlife.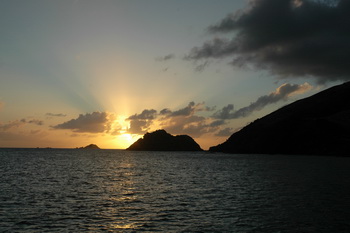 Sunset at Ile Fourchue
.