March 9, 2009
We arrived at English Harbor, Antigua after motoring into light winds of 4-8 knots. The 48 mile trip took 8 hours and was a simple slog with lovely weather and slight waves.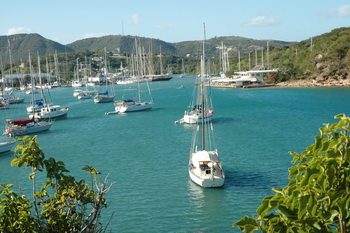 Never have we seen so many boats packed in so close to each other! A channel must to be left free for boats to navigate to the far reaches of the harbor and we were sure it was the only empty space in the entire harbor.
Tenaya is somewhere in this first anchorage, Freeman Bay
The wind was blowing from the north and we chose the best spot we could find. All was good until the wind changed to the east and we got pretty close to a lovely classic boat. We fell behind him though so it seemed okay. After Jim went to bed I popped up the stairs to have a look. We were very close! I sat in the cockpit and watched as we both swung. As we lined up we no longer fell behind him. He must have let our more chain which actually put us closer. My heart jumped as I feared we may collide. Jim was up in a flash after I knocked on his window and we hauled up the anchor.
We moved a good distance away, into the channel a little, but at 2330 it seemed like the best idea. I set my watch for 0600 to check our position and move if necessary. In the morning we weren't obstructing the channel so we waited until 0800 to move to a better spot so as not to wake the neighbors with our chain noise. Over the course of two days we had dropped the anchor 6 times before we were finally happy with our spot. I think we'll stay a while now!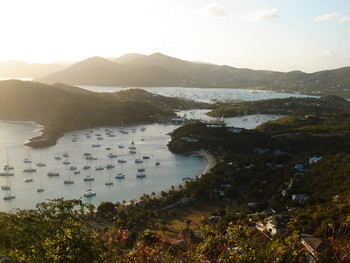 English Harbor with Falmouth Harbor in the background
English Harbor and Falmouth are two of the finest natural harbors in the Caribbean. They are protected from the seas and safe in hurricanes. In 1723 the British began building a dockyard in English Harbor as it was perfect for careening ships (pulling them on to their sides and cleaning the bottoms). By 1745 it was Britain's main port in the Caribbean from which they protected their plantation interests on several islands and fought nearly constantly with the French.
Admiral Nelson was stationed here in 1784. He never really liked Antigua, and the local businessmen didn't particularly care for him once he began to enforce the Navigation Act which kept the port closed to all but British ships, putting a halt to the rapidly growing trade with the new USA. But, since he is England's favorite hero, it is now called Nelson's Dockyard.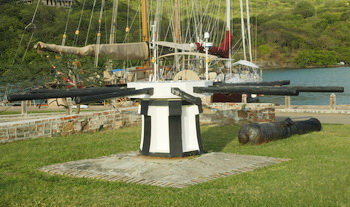 Capstan for careening ships
Jim sits on a huge, old, rusty anchor
The Dockyard continued to grow in importance and by the late 1700s had over 300 people working on the repair and maintenance of the British West Indies fleet.
As steam powered ships became more prevalent and Britain's interests in the Caribbean declined in the 1800s the dockyard fell into disuse. It was finally decommissioned in 1889.
Many buildings at Nelson's Dockyard date to 1785. Some of these buildings were built with the ballast of bricks and stones brought to the island by British trading ships. Leaving England empty, they needed the extra ballast which was then replaced with sugar and rum for the return trip.
In 1949 Nicholson opened the first charter service and the idea of restoring the dockyard was conceived. Extensive repairs and rebuilding were done from the 1950s to 1970s. In 1961 it became a National Park and today is both a working harbor and tourist attraction.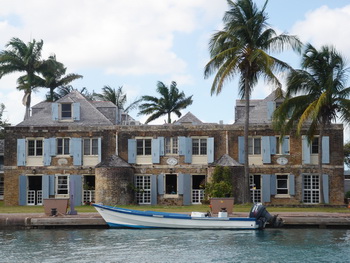 Once the copper and lumber store, this is now a hotel and restaurant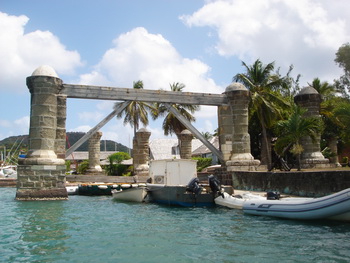 The old sail loft pillars
12 large stone pillars remain of what was originally part of a large boathouse and sail loft. Boats would enter and have their sail repaired in the loft on the upper floor. It is next to a lovely restored building that is now the Admiral's Inn. Tables are set up in the garden and, with a view of the harbor, it is a quiet place for a drink or meal. The dinghy dock in front makes it convenient for yachties to visit.
.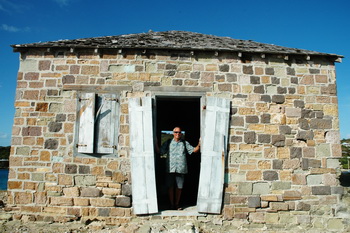 Storage building for gun power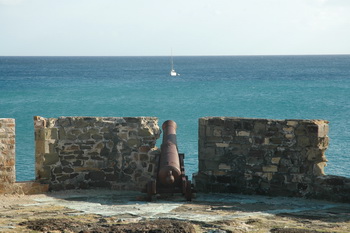 Overlooking the entrance to English Harbor
Fort Berkeley is located on a narrow spit of land at the entrance to English Harbor. Built in 1745, it was the harbor's first defense. A nice walking trail leads up to it from the dinghy dock at Nelson's Dockyard where a wonderful view of the harbor can be had.
Walking further up the hill to the west the view opens up even more to include Falmouth. We could see the unique masts and booms of the Maltese Falcon moored along with other huge luxury yachts in Falmouth.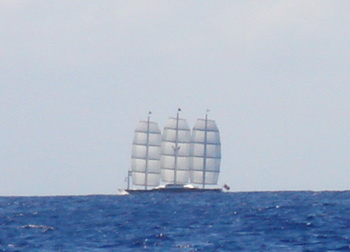 The Maltese Falcon sailing past the entrance of English Harbor

In December 2006 we attended a seminar by Beth Leonard in Newport Beach, CA. Along with lots of great information and helpful hints, we were introduced to their website. She and husband Evans Starzinger, of s/v Hawk, have an incredible amount of useful information for bluewater cruisers along with beautiful photos from their 2 circumnavigations.
Jim had been in email contact with them and Beth said they were in English Harbor and invited us to stop by to say hello. We did and enjoyed our visit very much.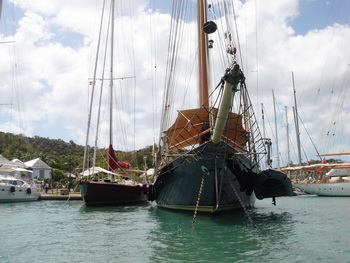 We met Jens and Daniella at the marina in Figueira da Foz in Portugal in August 2007. They also have a Hallberg-Rassy 40 so Jens came over for a beer and we compared notes. He was headed to the Caribbean and we were headed for the Mediterranean.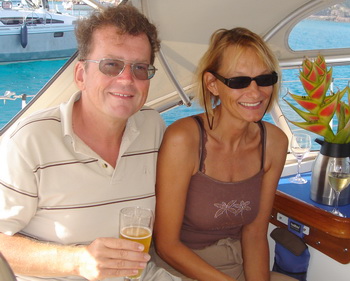 Jens and Daniella of German flagged Arwen
How small the cruising community is! Jens, already anchored in English Harbor, spotted our HR coming into the harbor and approached in his dinghy shortly after we anchored. We chatted enthusiastically about our experiences and equipment. It's always fun to talk to people with the same boat. Yesterday he and Daniella came over to Tenaya for a drink we compared notes again.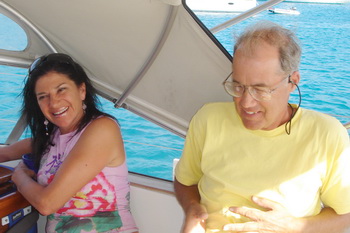 Tom of Awaywego and crew Gladys
We met Tom when we went on a daysail with a group from Harbor Sailboats in San Diego to see the magnificent Star of India sail in November, 2006. We sailed together again the following spring to watch the migrating whales. At the time he was in the market for a boat. He bought a Tayana Pilothouse 46 which he's been sailing in the Caribbean. We met again here in Antigua. His yacht, Awaywego, is in Jolly Harbor and he and crew, Gladys, dinghied over to visit yesterday. It was a long dinghy ride!
Tom needed more fuel for his return trip so Jim called the fuel dock for their hours. Beth on Hawk had been listening and called to say it was closed. She had extra fuel and kindly offered it to Tom. Today we refilled and returned her fuel jug. Tom reported that they had a nice ride back in the light of the full moon.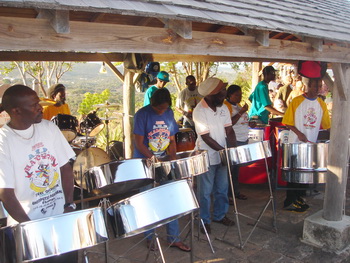 Steel drum band at Shirley Heights
Jens, Daniella, Tom, Gladys, Jim and I took a taxi up to Shirley Heights for the Sunday barbeque and music. Remains of a Nelson era building have been restored and is now a restaurant and bar. A steel drum band played first which we enjoyed. Later, another band started out sounding a little Reggae but quickly spiraled downward with typical British bar music - a small selection of the same 70s and 80s greatest hits. How disappointing in a place with so many dreadlocks.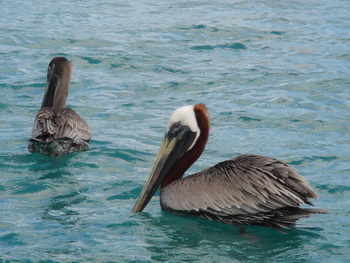 Pelicans are always at the dinghy dock at Nelson's Dockyard
English Harbor is a pleasant anchorage and Nelson's Dockyard is charming. A little touristy for me, Jim loved the history and seeing what remains of Britain's glory days in the Caribbean. With so many boats in the harbor there is a very active social scene and people could find themselves staying longer than planned.
Go to March Part Three - St. John's & Barbuda
.