March 6 , 2009
Sailing from Dominica north to the Isles des Saintes was quite pleasant. Winds were fairly light at 12-15 knots as Tenaya sailed along on a beam reach for 24 miles.
Described as an irresistable group of islands with idyllic Gallic charm in our guide book, we were thrilled to be visiting a bit of France.
Bourg des Saintes, the only town on the largest island of Terre d'en Haut is reminiscent of small fishing villages we visited on the Brittany coast as we sailed south from Holland. Fishing has been a way of life since the island was settled by Breton fishermen and small fishing boats are scattered about the waterfront.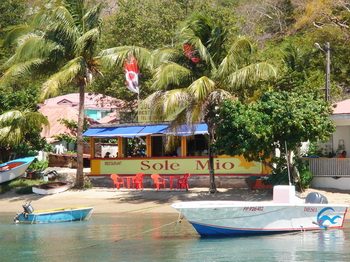 Small Caribbean gingerbread cottages with balconies, houses with red roofs and shutters, and lots of flowers line the narrow streets of this picturesque town at the waters edge. The delightful French language is an ideal companion to the aromatic scents drifting from restaurants, boulangeries and patisseries. People stroll along in no hurry at all. It is absolutely charming.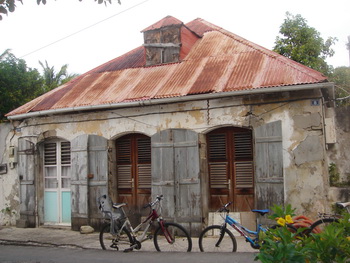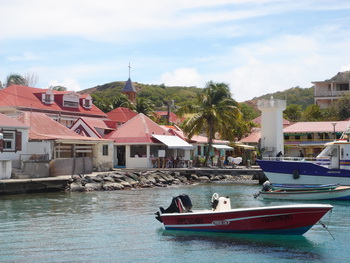 There is a large anchorage just in front of town but we opted to anchor to the west at an anchorage called Le Pain de Sucre. It wraps behind a small piton and has two nice beaches. Rocks between the beaches offer excellent snorkeling which was well worth the long, wet dinghy ride into town.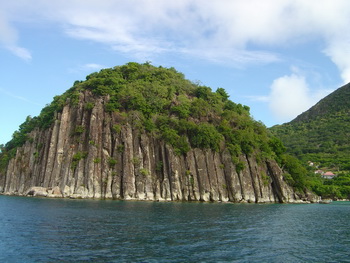 Le Pain de Sucre
We saw parrotfish, butterflyfish, blue tangs, seargent majors, blueheaded wrasses, lizardfish, large schools of tiny fish that let us swim among them, and some interesting flat, white wormy things that looked like they had about a million legs. Unfortunately they are not listed in our book so we have no idea what they are.
Most exciting were the two large reef squid guarding a couple of dozen smaller ones floating above. They kept their big eyes on us, always turning to face us. Possibly in an attempt to look scary they curled their beaks above their bodies looking really cute. Not wanting to upset them we backed away slowly. Twice we saw flounders swimming along and I caught a glimpse of an eel's body before it ducked back between the rocks.
Time for a haircut
This is the first Caribbean island we've visited that is not inhabited mostly by descendants of African slaves. As the island never had plantations, most of the population are of French descent and the French sense of style abounds. It seemed a perfect place to have our shaggy hair tamed. Behind a picket fence, around the side of a house and up a small flight of stairs we found a tiny, cute, shuttered house containing a salon. Good thing Jim had seen the small sign in the garden or we would have never found it! The friendly lady spoke no English but we communicated with my broken French, lots of hand signals and a few pictures. Cropped in short European styles, we are set for several months. Perfect!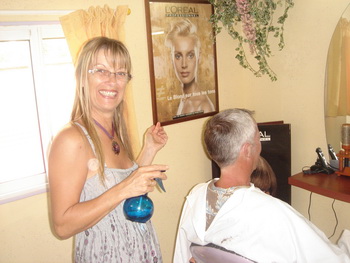 He's going to have a red neck now!
.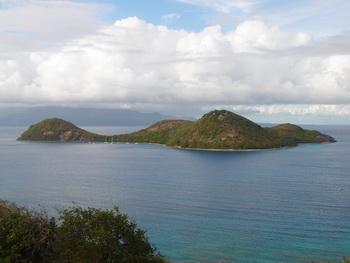 Isle de Cabrit just N of Terre d'en Haut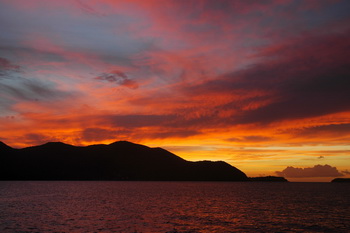 Sunset over Terre den Bas
We left the anchorage at Le Pain de Sucre Wednesday morning expecting to sail across to Guadeloupe and then motor up the west side to Pigeon Island, about half way up the coast. To our surprise the wind stayed fairly constant, between 15-20 knots from the SE, and we had a great sail for most of the 24 mile trip. Our SOG was over 7.5 knots at times as Tenaya glided along on a broad reach.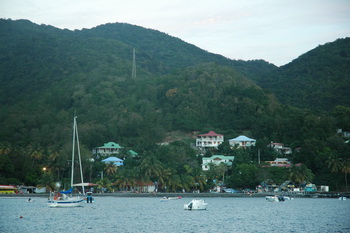 Pigeon Island Ancorage
Stopping at Pigeon Island was a priority because of the Cousteau Underwater Park. Jacques Cousteau once said it was one of the best dive sites he had ever visited. That's something!
Pigeon Island beyond the anchorage
La Plage de Malendure
Yesterday morning we went diving with Archipel Plongee, one of several dive outfits on the Plage de Malendure. Our group of 4, including the instructor, swam out to the dive boat moored in the anchorage before the short ride to the dive site.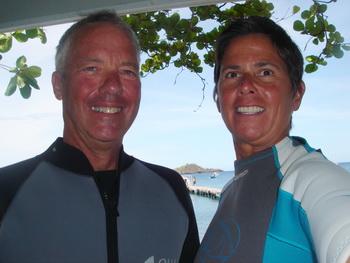 Getting ready to dive
The site is amazing! Underwater walls and rocks are covered in spectacular corals and sponges of bright, vivid colors. Among them swim a multitude of colorful reef fish. Crystal clear water allowed us to see quite far. Some fish and sponges we had seen before but we saw many others for the first time. At one point our instructor pointed up to a barracuda swimming slowly above. It was the most beautiful place we've seen yet.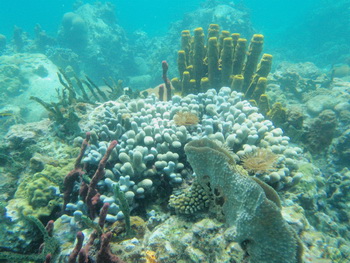 The Cousteau Underwater Park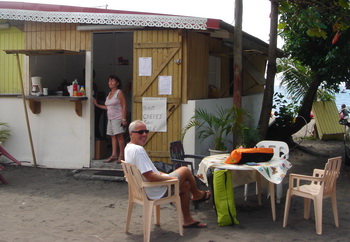 A crepe after diving was a tasty treat
Back on Tenaya by early afternoon, we quickly readied her to leave and took off for the short 10 mile trip to Deshaies. Arriving too late to see much on shore, we left the dinghy lashed to the deck and settled in for the night.
The next morning we sailed north to English Harbor, Antigua.
Go to March 2009 Part Two - English Harbor
.