February 12 , 2009
Sailing from Rodney Bay, St. Lucia to Fort de France, Martinique yesterday was exhilarating. We pounded our way North for 5 1/2 hours on a beam reach with winds from the East at 12-24 kts. and 2 meter seas.
Excited to visit Martinique, part of France, we looked forward to learning how the Caribbean and French cultures mesh. I envisioned brightly colored colonial buildings housing an eclectic blend of cafes and shops, the melodic French language with calypso music and wonderful scents emanating from patisseries and restaurants.
Fond memories of France and the anticipation of Martinique were quickly dashed when we found out the country is on strike. Ahhh yes, a strike. A routine occurrence in France. Funny how you only remember the good things.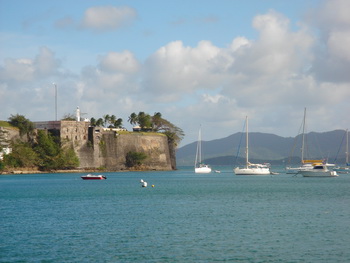 Anchored below the fort in Fort de France
Not sure if we would be able to check in or not, we readied the dinghy to go ashore to see what was happening in the island's capital. A squall came through with winds up to 35 kts. which made that interesting.
We noticed the absence of ferries and cars parked at the ferry dock. Not many people were out and about and most of those we saw were at the park with children. Lots of trash littered the streets.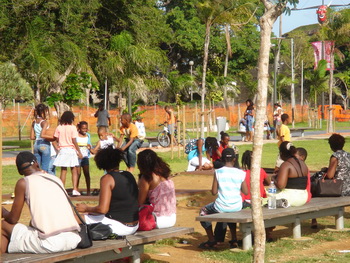 Many adults and kids were at the park. Schools must be closed too.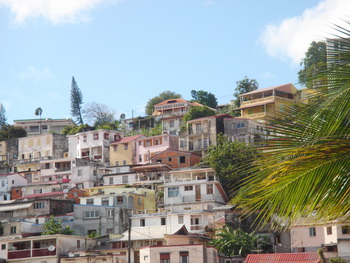 Houses on the hill in Fort de France
Checking in with customs was an easy affair. Sea Services Chandlery has a computer where the captain fills out a form with entry and exit dates along with all the pertinent boat information. Very simple. And luckily the shop was open although their rolling metal doors were halfway down and we had to ring a bell to be admitted.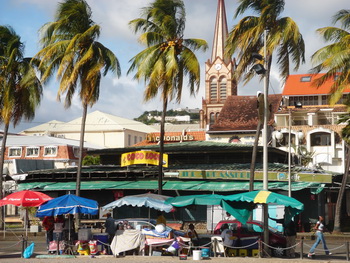 Along the waterfront
A handful of other shops had their rolling doors half open but the vast majority were closed. The shopping district looked like a ghost town. Somewhere in the distance a voice was blaring over a loudspeaker no doubt rallying the strikers. After a short time ashore we went back to Tenaya.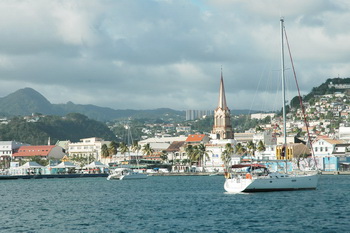 The anchorage at Fort de France looking towards town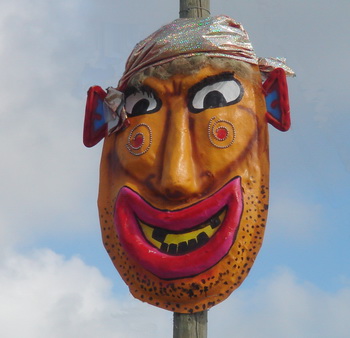 Several of these colorful masks decorated telephone poles
We left Fort de France at 0845 this morning for the 3 hour trip to St. Pierre. The wind was extremely erratic. We motored, sailed, reefed, let out reefs, reefed again, motored some more, never doing the same thing for more than 20 minutes at a time. Winds varied from 2-22 knots with gusts over 30. The sea was calm as we followed the coast North.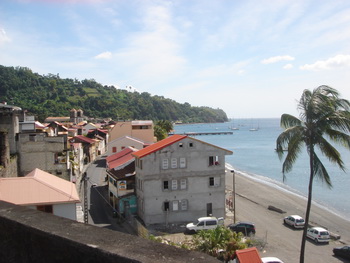 St. Pierre waterfront and anchorage
.

St. Pierre is a picturesque town backed by beautiful green hills and mountains. Prior to May 8, 1902 it was a bustling cosmopolitan city of 30,000 with the majority of the island's wealthy plantations nearby. Ships would take on rum, coffee, sugar and cocoa and their crews would enjoy the lively waterfront entertainment.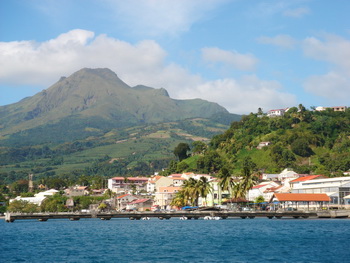 Mt. Pelee above St. Pierre
Mount Pelee rises just beyond the town. The volcano gave plenty of warning before it erupted on Assumption Day in 1902, destroying the town. Unfortunately the new governor, who had been on the island less than a year, was swayed by the rich plantation and business owners not to evacuate the city for fear of economic losses. He worried evacuation could affect the coming elections and wanted desperately to believe that nothing bad could happen to such an important city. So although Mt. Pelee belched a few times killing some people and animals, the local paper continued to pronounce it safe to stay.
When Mt. Pelee erupted an estimated 29,933 people perished in the giant fireball of superheated gas that overtook the city. Two people survived. A cobbler who was working in his basement and a prisoner who was protected in his thick stone cell. The prisoner's luck and following notoriety lead him to join the Barnum and Bailey Circus in the United States.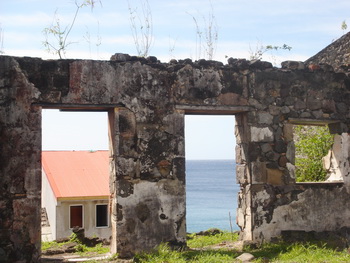 Ruins from the 1902 eruption
We spent the afternoon today wandering around the small town. Burned walls and partially standing reminders are intertwined with small, colorful buildings. Often walls are shared, new buildings having been added to existing burned walls. In several places short charred walls created boundaries for gardens. Part of the theater and a portion of the prison survive. A museum depicts the event and exhibits some relics but it was closed due to the strike.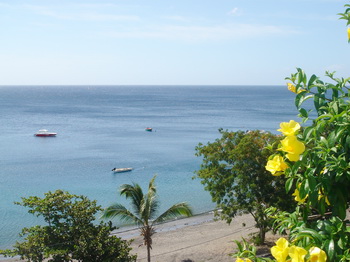 Looking out to sea from St. Pierre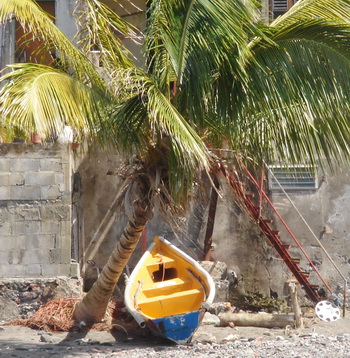 Along the shore
Several shops and many restaurants were open in St. Pierre. We bought pain au chocolate at a small patisserie, an avocado at a stand on the street and wine and juice in an 8 a huit market with their rolling doors half shut and protected by a uniformed officer. As we were checking out two men in shorts and masks tried to enter. One was wearing the rubber head of someone we probably should have recognized and the other was wearing a red ski mask and sunglasses. Where the heck did he find a full ski mask around here? The officer and clerks told them they couldn't come in and we were hurried though.
As soon as we left the doors were closed and we did not turn back to see what became of the masked men. That was enough for us and we beelined it back to the dinghy. An official looking boat sped past with more than a dozen uniformed, armed men heading for the dock we'd just left. We were happy to be going back to our floating home but pleased that we got to see a small portion of the island. Guess we will just have to come back next year to see more!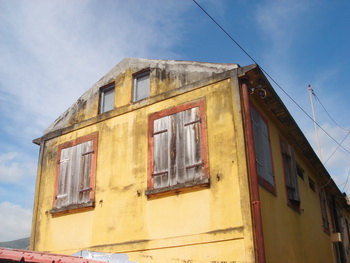 Some interesting buildings in St. Pierre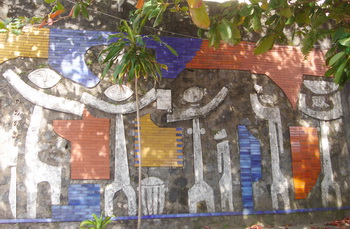 Mural celebrating the abolishment of slavery
For the sake of the residents as well as those visiting Martinique and other French Caribbean islands we hope the strike is resolved quickly. A better standard of living seems a tall order and one not solved quickly.
Go to February Part Three - Dominica
.