December 15, 2009
We haven't been in the US for many holidays during the last 9 years and have missed the yummy meals, friends and family that accompany them. When Brenda visited us on Tenaya this spring she offered to make us a Thanksgiving turkey dinner complete with all the trimmings and pumpkin pie on our next trip to Southern California. Sure enough, when we visited Brenda and Mike in October she had a fantastic meal prepared. Many, many thanks!
With the memory of a delicious turkey meal still lingering in our heads we splurged and had Thanksgiving lunch in a restaurant at Nanny Cay. Although not as tasty as Brenda's meal, we enjoyed it and the key lime pie that followed.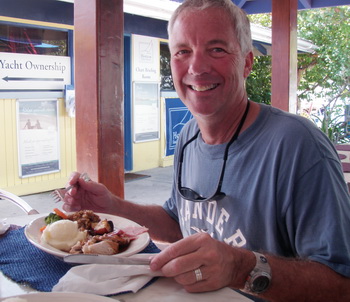 Jim enjoying our second Thanksgiving meal
The last day of November we finally left Nanny Cay Marina. Yippee! Up went the sails and off went the engine. For a short time anyway. The quiet, idyllic anchorage that was our destination for the night was only 5 miles away and we arrived in no time.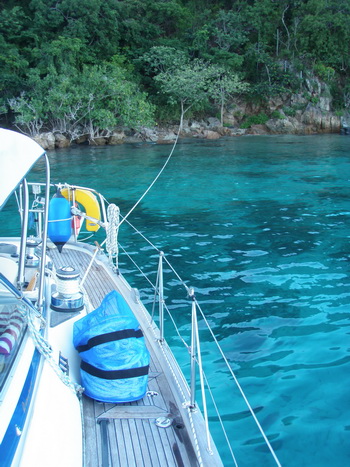 Tenaya tied to shore with our new bagged 300' lines
Motoring in we recognized a boat whose owners and Jim had struck up a friendship online. After anchoring and taking lines ashore we met Karen and Sandy and went for a snorkel. How great it felt to be in the water again!
Later, over drinks and munchies on Tenaya, we talked of all things cruising. Karen and Sandy are new to this lifestyle and had lots of questions. Surprisingly, we had lots of answers. Still feeling a bit green ourselves with only 3 1/2 years behind us, it was nice to answer the same questions we had not so long ago. With their great attitudes and enthusiasm they will adapt to life aboard very well and I expect they will be helping newcomers in a few years.
Karen and Sandy on Tenaya at Little Harbor, Peter Island
We left Little Harbor anchorage at 0900 December 1st to sail first to Virgin Gorda to check out of the BVI and then on to St. Maarten 100 miles to the east.
As the wind was coming from the east, as it normally does here, we took the lazy way and motor sailed through the night in 15 kt. winds. Although not serene in any sense, the journey was magical nonetheless. A full moon lit the sky and shone brightly on the confused seas as we sat our four hour watches through the warm tropical night. In total we traveled 118 miles in 26 hours.
Saint Martin is a duty-free island of two separate countries. The north is a French department and a part of Guadeloupe and the south is one of the Netherlands Antilles. Boats must check in on one side or the other but once registered with customs and immigrations people are free to roam wherever they please.
The French side has wonderful restaurants and patisseries and style befitting the language whereas the Dutch side of Sint Maarten has the two big marine stores, an enormous ACE hardware store and absolutely no charm. We chose to stay on the Dutch side in Simpson Bay, not because we are dullards, but because we are here to do projects. Lots of them.

Projects:
Convert cooking gas from Camping Gaz butane to propane
Replace all (6) service batteries
Figure out why generator keeps stopping
Sand and varnish companion way trim and doors
Fix seawater leaks in galley and aft cabin
Fix bimini where joint comes apart
Have dodger completely restitched
Buy oil for future changes (generator & engine/transmission)
Install Hella fans above bunks
Make a pantry out of the wet locker
Buy assorted spare filters & parts & misc. stuff
Load up on French wine and cheese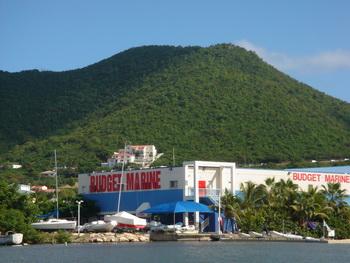 Budget Marine - Jim visits at least twice daily, not unlike going to Home Depot when doing household projects
Out with the Camping Gaz, in with the propane tanks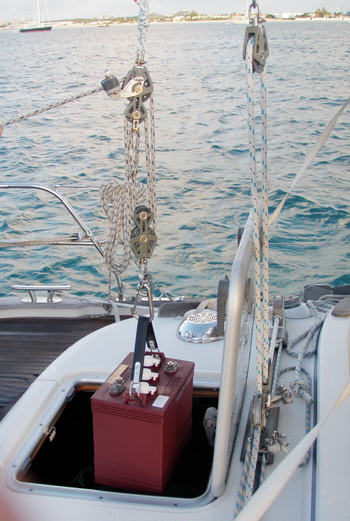 Out with the old batteries, in with the new Trojans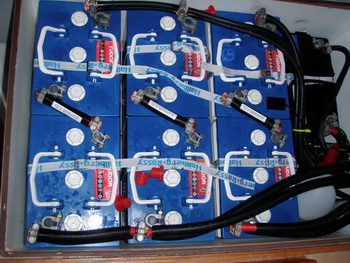 Jim explains in detail about the battery exchange and propane change out on the Equipment Comments page of this site.
.

The anchorage at Simpson Bay, outside the lagoon where most boats stay, is slightly rolly but quite pleasant with a constant breeze and warm water to jump into when we need a break. Marvelous sunset views make for a great ending to our busy days.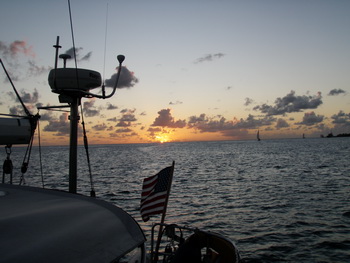 Sunset from the Simpson Bay anchorage
Six months in the tropical sun left some of Tenaya's woodwork in need of varnishing. An article stuffed in our bag of supplies says practice makes perfect. I sure hope so! After 6 or 7 coats and subsequent sandings, I've lost count, I think I'm getting it down.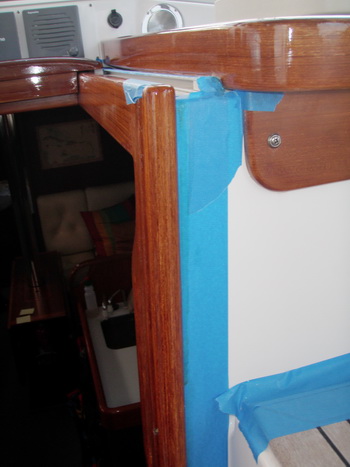 Varnishing the companionway trim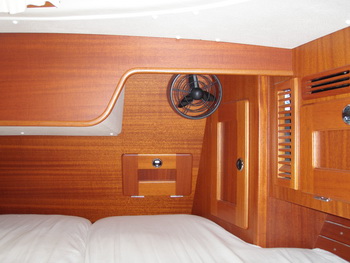 New Hella fans swivel up out of the way when not in use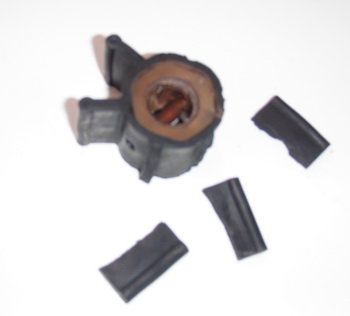 Impeller for the generator. The fourth piece worked its way into the water intake pipe towards the engine. Explains why the generator kept stopping.
The customs dock and dumpster with the anchorage in the background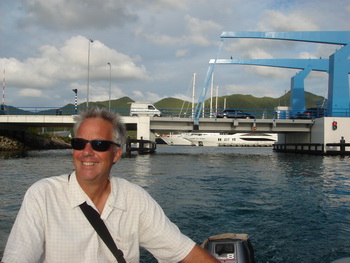 Leaving the lagoon on our way back to the anchorage
This large 4 ft. iguana is often sunning himself near the bridge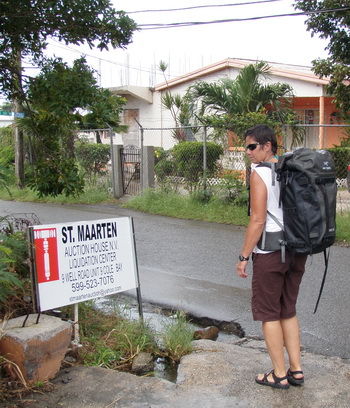 Returning from Ace Hardware. We LOVE our waterproof Arc'Teryx packs!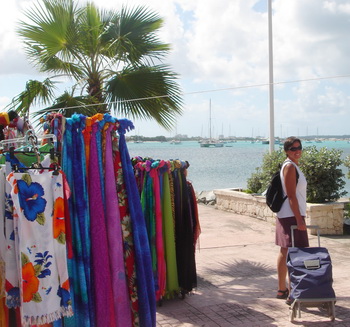 Shopping on the French side near Marigot Bay anchorage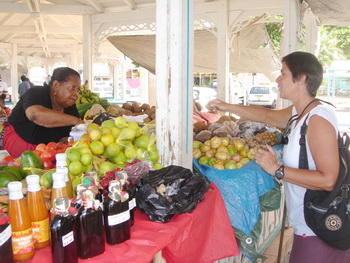 Buying some fresh veggies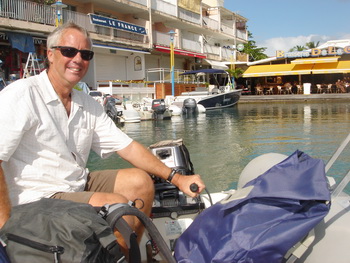 Leaving the French side with bags of groceries - lots of wine and cheese
Our dinghy finally has a name. With so many similar dinghies in the Caribbean we thought we should label ours. Since Tenaya was an Indian chief we thought Papoose was a good name for the little boat.
All our projects are completed and our storage areas are packed to overflowing so tomorrow morning, after one last trip to Ace Hardware, we will sail 25 miles to Saba, a tiny, steeply pitched top of a volcano poking out of the sea. Off the beaten path with uncomfortable to untenable anchorages but with excellent diving, snorkeling and hiking, we are looking forward to enjoying a few days there before heading further south.
.