November 14, 2009
Our time living on land is coming to an end. Wandering the west coast has been interesting and loads of fun but we are looking forward to being back on Tenaya. We are eternally grateful to Scott and Amy for inviting us into their new home, encouraging us to set up our bedroom furniture, and allowing us to use it as our home base.
We arrived after they had completed the majority of a remodel in the living room and kitchen. Once a new puppy joined the family finish work slipped to the back burner. We offered to do whatever we could to help complete the work so painting and finish carpentry occupied our spare time between trips and adventures.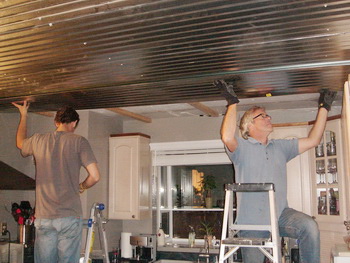 Scott and Jim installing the new kitchen ceiling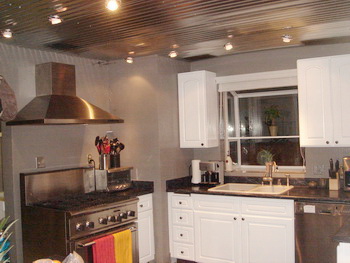 The kitchen is done!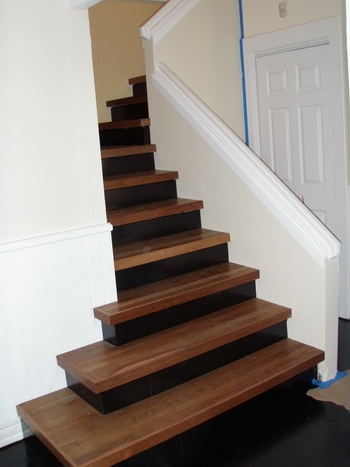 Oak flooring was reused on the stairs - no more carpet
Renters moved out of one of our Mammoth condos so the beginning of October we headed back up there to do some painting, repairs and upgrades. Amy's parents were very kind and offered us the use of their lovely condo while we worked. We spruced up our place so our property manager was able to find some great new tenants.
From the beautiful Sierra Nevada mountains we drove down south to visit friends and family and sample guest rooms. Dwight in Redlands, Mike and Brenda in Valencia, Greg and Allison in Malibu, Larry and Carol in San Clemente and Camille in Del Mar were all wonderful hosts. A few nights of camping on the beach at San Diego North County's San Elijo State Beach literally brought us back down to earth.
Once the opthomologist, optometrist and dentist visits were ticked off we returned to the East Bay. One last trip beckoned: a tour through the wine country of Napa and Sonoma counties. We searched out well priced, retro motels in charming towns and were happy with our finds.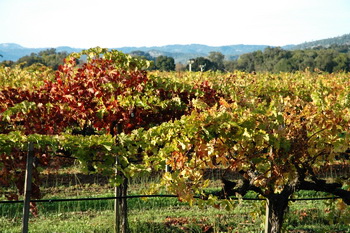 Alexander Valley vineyard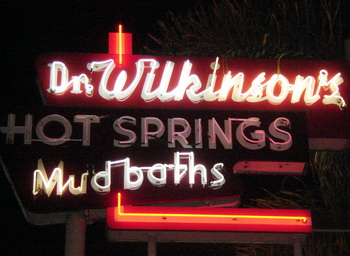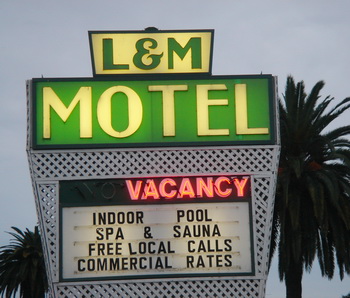 Quaint family-owned hotel in Healdsburg
Silver Oak is one of our favorite cabernets so we were pleased to find them open to the public. With tasting rooms and tours at both their Napa and Alexander Valley locations, we chose to visit Alexander Valley as it is our favorite. Enjoying a fine reputation, they not feel the need to encourage people to buy as other wineries do. The tastings were generous and the tour was informative.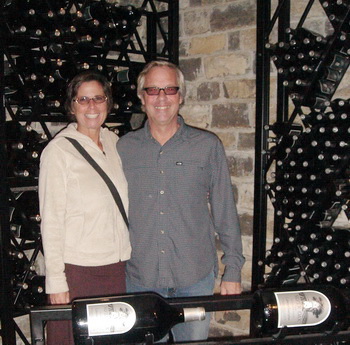 Surrounded by bottles and bottles of Silver Oak Cabernet
.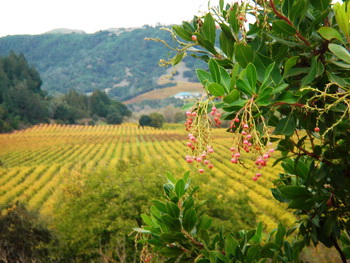 Fall colors of the wine country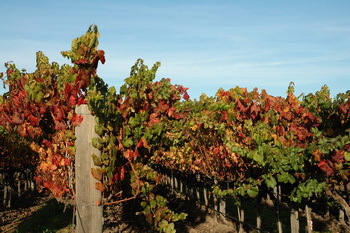 When she heard we were headed for the coast Wanda, the young proprietor of the adorable L & M Motel in Healdsburg, suggested we visit the Botanical Garden in Fort Bragg. It is a lovely garden of plants and trees native to the area with a gorgeous view of the ocean.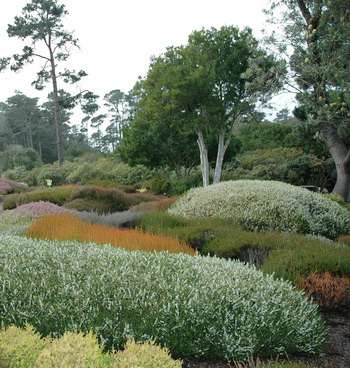 The heather garden at the Botanical Garden in Ft. Bragg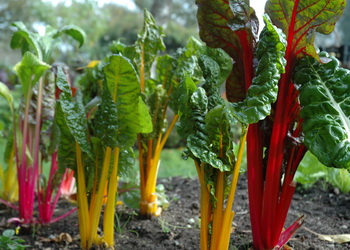 Chard growing in the vegetable garden
Old building, juniper and cypress on the cliff above the sea
Jim wishing for a boat and a beer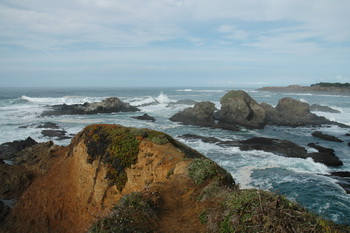 The Mendocino coast
After seeing Scott's gung-ho demolition with a lack of enthusiasm for finish work in his home remodel, I began to question his architectural abilities. My fears were alleviated when he took us to see one of his first designs being built. Fantastic!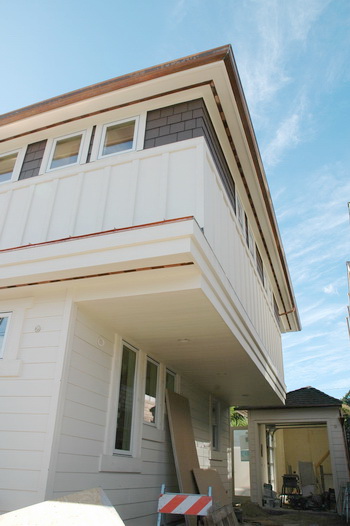 Scott designed this brilliant house on a tiny lot in Santa Cruz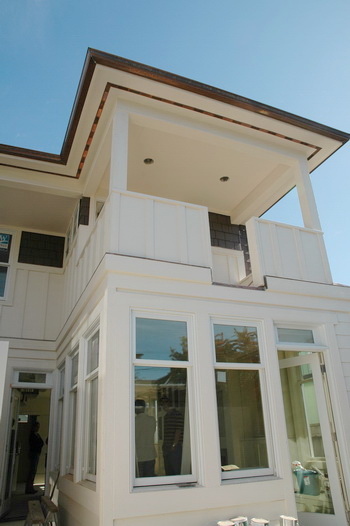 We accomplished all we set out to do this summer: Moved out of our condo in Boulder City and rented it, organized all our belongings in a storage locker in the East Bay, fixed up our house in Mammoth and sold it, made some repairs at one of our Mammoth rental condos, painted, repaired and updated the other, camped in Tuolumne for two weeks doing lots of hikes and kayaking, visited Corinne and Eric in Portland, camped in Oregon, and helped Scott and Amy finish their remodel. Whew. Now we're ready to get back to Tenaya, our floating home.
Go to November 2009 Part 2, Nanny Cay, British Virgin Islands
.