July 16, 2008
After an overnight trip from Calvi, Corsica we arrived at Beaulieu-Sur-Mer on the French Riviera on Saturday, July 12. Motor sailing in the light winds, the peaceful darkness was interrupted several times by large ships appearing on radar and AIS. We allow Tenaya to pass within half a mile of large ships during the day but at night we prefer more distance. Several times we altered course and at one point during Jim's watch two ships passed closely ahead and behind Tenaya simultaneously.
Before arriving at our berth we sailed past Nice and into the beautiful natural harbor of Villefranche.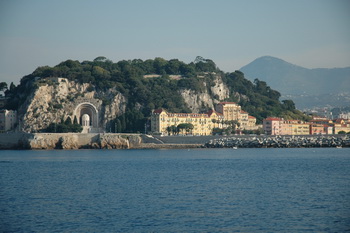 A memorial carved into the cliff at Nice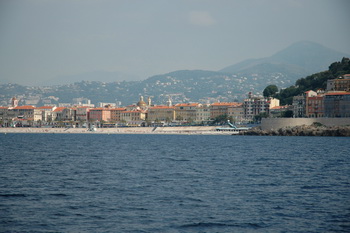 The seaside at Nice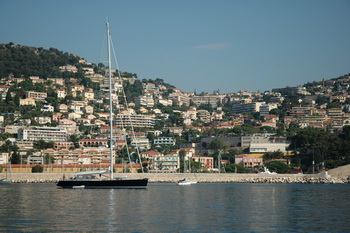 Villefranche-Sur-Mer
Friends from Brussels, Jim and Ineke, have a place in Villefranche-Sur-Mer and introduced us to the area. A lovely walk on Sunday along the coast from Monaco was followed by tasty dinner on the deck of their delightful home with their daughter Jennifer and grand-daughter Mila. As the following day was Bastille Day we were entertained by fireworks and later a celebration at the citadel. Our time together was fun and enjoyable. Jim offered us the use of his car to explore further but having driven only boats recently we declined figuring we would take trains and busses.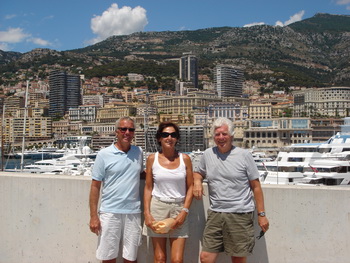 Ineke and the Jims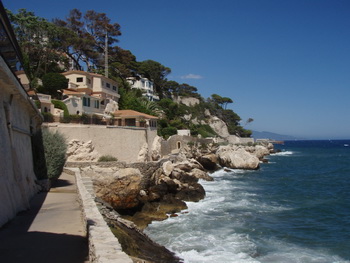 Along the coastal walk from Monaco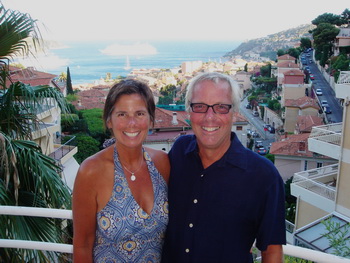 Katie and Jim on the balcony of Jim and Ineke's home high above the harbor at Villefranche
A memorial decorated for Bastille Day the 14th of July
One of Jim's favorite people from his days at Eastpak is Kostia. He lives in Monaco and Jim sent him a message when we arrived. He insisted we take his wife's car to explore the mountains for a couple of days and would not take no for an answer. When we returned it he treated us to a delicious meal on the patio of his gorgeous apartment overlooking the sea. Even better than the black truffles, which were extraordinary, was the lovely evening we had together. A nicer, more interesting person would be hard to find. We were sorry not to have met his wife and children who are out of town.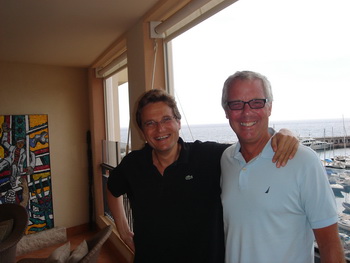 Kostia and Jim
After going through our guide book with Kostia and noting his recommendations we left his place and headed up into the mountains. Armed with two routes in our guide book, the car's GPS and no real map we were feeling adventurous. Land trips by car do that to us these days.
The Alpes Maritimes rise abruptly very near the sea and are absolutely spectacular. Steep, jagged, rocky peaks soar above we drove the narrow, windy roads. Medieval towns huddle on top of mountains and cling to the steep walls.
The medieval town of Peillon perched high on a hill
Approaching the town of Peillon offered a fantastic view of the area's first medieval town clustered tightly and completely covering the summit of a steep, rocky mountain.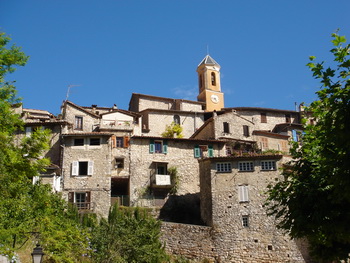 The town of Peillon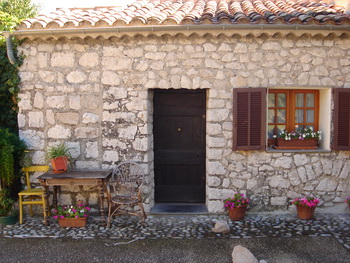 A home in Peillon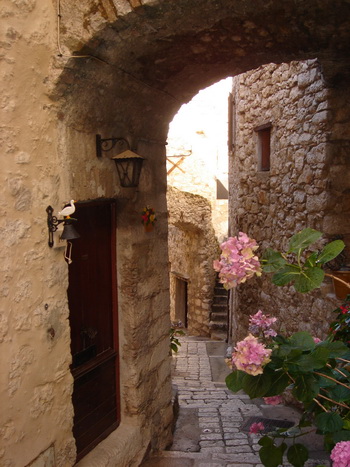 Peillon has many arches and narrow streets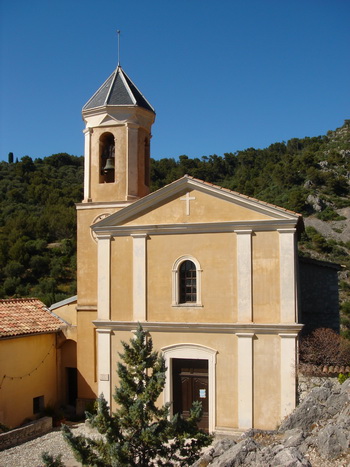 A quaint church at the top of the village of Peillon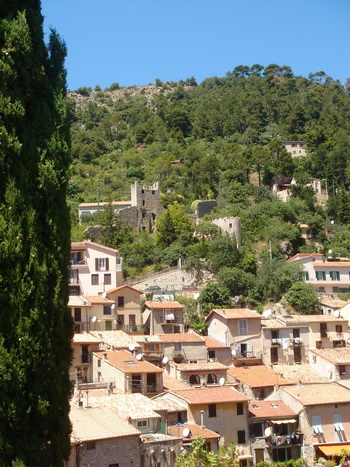 The town of Peille
Peille clings to the side of a mountain and although it is an old village it is alive with local people and small businesses. Steep, narrow streets are covered here and there and stone arches abound.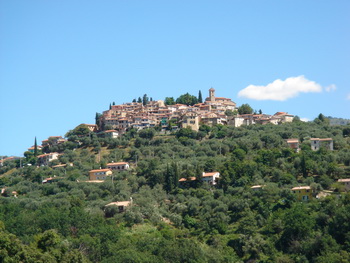 Many of the hilltop villages look like this from a far
.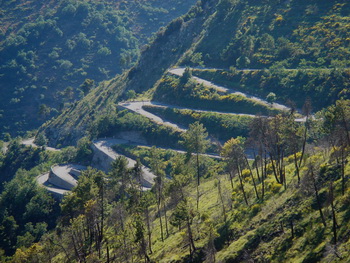 We wound through the mountains, among the dense trees and brush, through several tunnels, often clinging to steep, rocky cliffs and passed through deep gorges to visit the towns of Peille, Peillon, Sospel, Ste. Agnes and Coaraze. All are delightful medieval towns with incredible character. The stone houses, narrow streets and corridors, arches and covered walkways were enchanting. Amazingly there were very few, if any, tourists. I guess busses can't negotiate these roads.
One of the smaller tunnels on our tour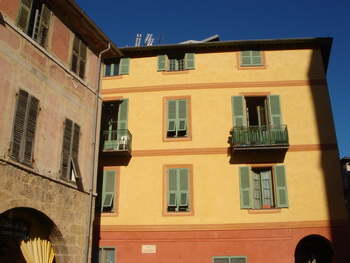 Colorful buildings in Sospel
Sospel was one of the region's most prosperous communes in the Middle Ages lying at the crossroads for the alpine and Italian routes. Many 15th, 17th and 18th century buildings remain.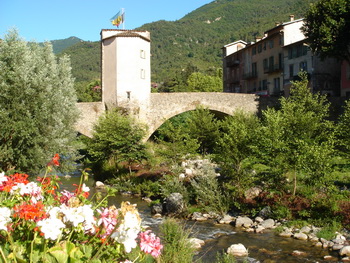 A river runs through Sospel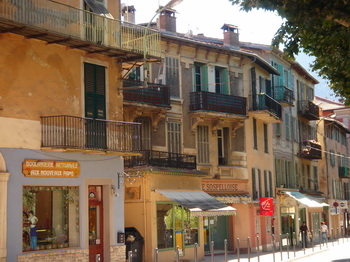 Sospel's main street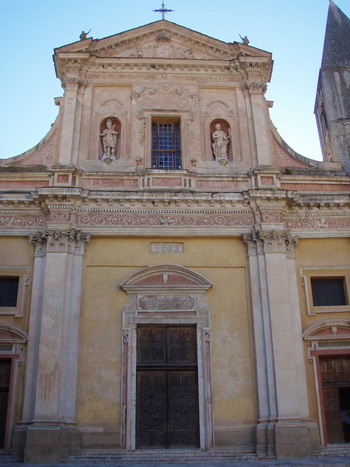 The church of St. Michel was started in 1641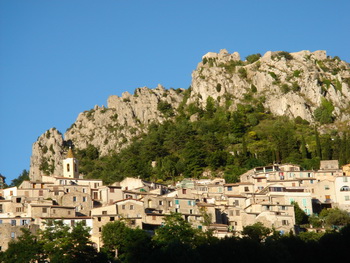 Ste. Agnes high above the sea
Ste. Agnes, elevation 2500 feet, is the highest perched coastal village in Europe and was protected by its location. In the 1930s a concrete fortress was built just outside town. Part of the Maginot line, France's ambitious plan of fortresses built from Belgium to Italy, this modern citadel is an interesting contrast with those from medieval times in the area. Unfortunately the line was not completed by the beginning of WW11 and the Germans invaded through the gaps.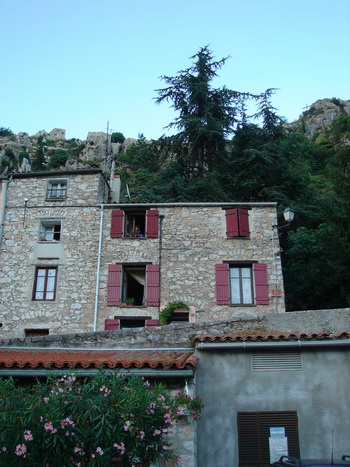 A house clings to the hillside in Ste. Agnes
Remains from a 16th century castle above Ste. Agnes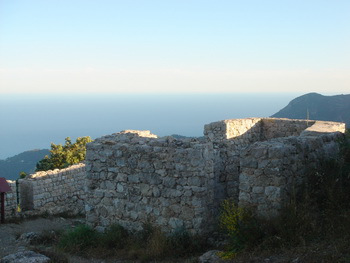 Ruins above Ste. Agnes with a view out to sea
The medieval village of Coaraze is another that sits atop a rocky outcrop. We walked the towns steep, narrow cobbled streets, covered in many places and with more arches than we could count and only came across two other obvious visitors.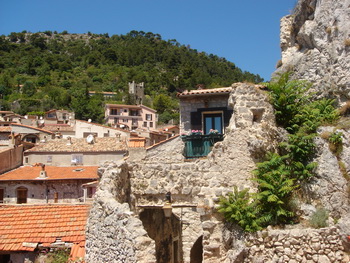 Houses in the medieval village of Coaraze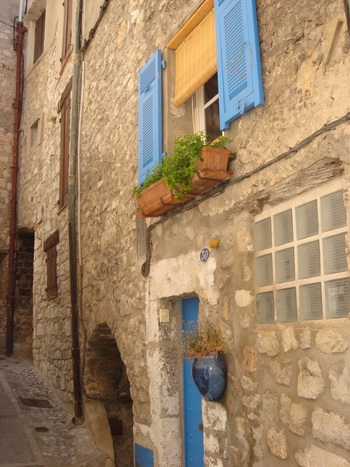 Typical street scenes in Coaraze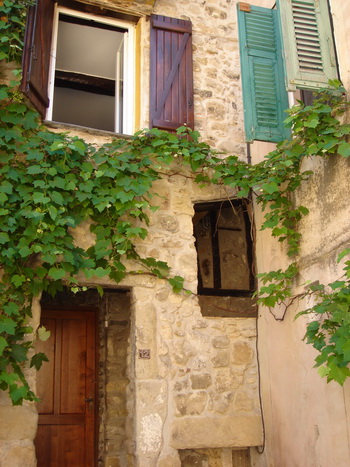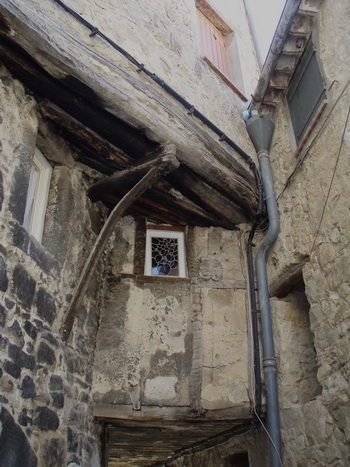 Buildings join to the next one in Coaraze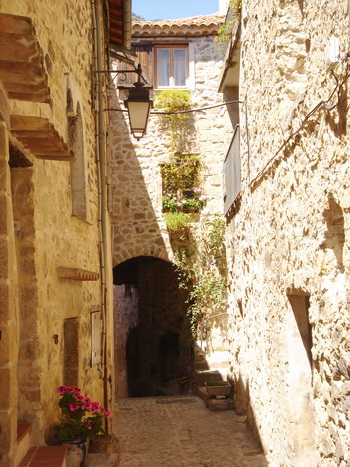 One of the wider streets in Coaraze
Find Beaulieu-sur-Mer on Google Earth
.