November 13, 2008
The Navtex is a small screen at our chart table that shows vital weather and navigational information. This was the first time we've seen a warning like this broadcast on it. Fortunately the locust didn't find us as we sailed along the Lanzarote coast.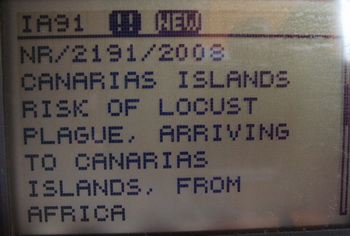 Interesting Navtex warning
We arrived at Marina Rubicon 10 days ago. Only a 10 mile sail from Puerto Calero, the area here is a little different. The village around the marina is more developed and the holiday resort of Playa Blanca is nearby. Numerous restaurants and boutiques line the walkways and streets. A well designed walking path runs from Playa Blanca east to Playa Papagayo so we can walk several kilometers either direction of the marina. Above Playa Papagayo, where the paved path ends, are several dirt trails meandering high above the beaches in the natural park at the tip of the island. Although stark, it is a pretty setting with the ocean on either side of the point. A nice contrast to the not unappealing development. Our foldable bikes have come in handy here.
The day after we settled in John and Amanda of Mahina Tiare arrived. Mahina was on the hard and we helped them ready her to go back in the water. Taking six members on expeditions of 2 or 3 weeks, they teach all the necessary skills to venture out on ones own. We are past members and highly recommend their course. One evening the four of us walked over to Playa Blanca and enjoyed a typical Canarian dinner with some yummy appetizers. A couple of days later their crew arrived and Mahina set sail across the Atlantic.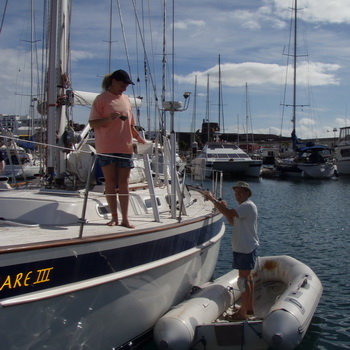 Amanda and John varnishing Mahina's toerails
We felt a bit guilty each time we passed Mahina on the pontoon as Amanda and John worked feverishly to make her shine. She has been meticulously maintained and is a beautiful boat. Feeling as though we've been neglecting Tenaya we decided to haul out and have her bottom painted with new anti-fouling, have some scratches repaired and have her hull waxed and polished. Now she shines like new!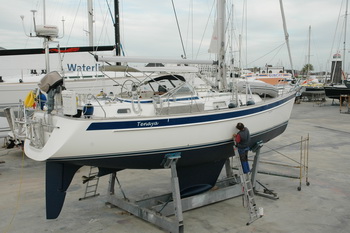 Tenaya being spruced up on the hard
.

Several Hallberg-Rassys have passed through the marina while we have been here. At the moment there are four HR40s: Alila, Blonde Moment, Viente and Tenaya. At one point there were two HR46s and two HR48s along with us and Alila on our pontoon. Some of the HRs are doing the ARC, some are crossing alone and others are based here for a while.
Annick and Francois of Alila invited Gerry and Pat of Viente and us on board for a delicious dinner one night. What fun for six of us with similar boats to share information and experiences. It was a lovely evening with new friends.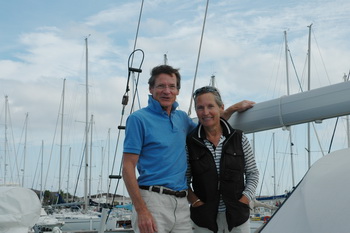 Francois and Annick of Alila
Later in the week Paul of Blonde Moment arrived. Having had his boat the longest, he's already sailed to the Caribbean and back. He was full of helpful information and great stories each time we saw him.
Each month Amanda writes an article called Galley Essentials for 48 Degrees North, a magazine published in the Pacific Northwest. You can read them on Mahina's website
We got a chuckle out of her October article. Amazing really, as I am anything but a cook! Guess this sailing life is changing me in many ways.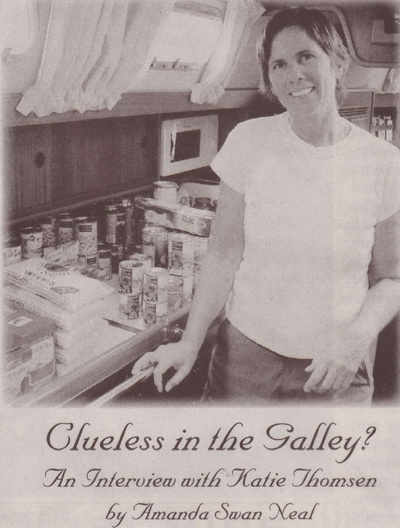 Tomorrow we will set off to sail overnight to Santa Cruz de Tenerife. I've just finished baking oatmeal raisin cookies for the short voyage. It will be nice to be sailing again. We are looking forward to seeing more of the Canary Islands before heading out across the Atlantic in December.
.