October 1 - 7, 2008
We tossed off the docklines and backed out of our slip at Almerimar, Spain at 7:30 in the morning on October 1. Finally, we were on the move again! The plan was to sail to Gibraltar, 130 miles west, in exactly 24 hours to coincide with the tide flowing through the Strait in a favorable direction. Our timing was spot on and we had a smooth passage through. Had the winds been against us or had we missed the tide we would have stopped in Gibraltar and waited for better conditions.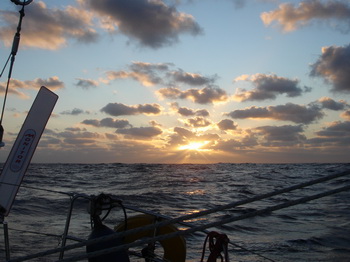 Sunrise as we leave the Mediterranean Sea
As we motored through the Strait of Gibraltar the AIS screen looks like a video game with enemy targets coming at us from all sides. It felt that way too.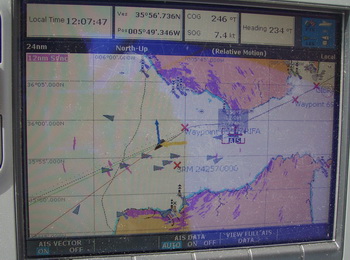 All those little gray triangles were very large ships
As few rivers flow into the Mediterranean Sea and there is little rainfall, only about one third of the water lost to evaporation is replaced. The shortfall is made up by water flowing into the Med. through the Strait of Gibraltar. Sea level at the Atlantic end of the Strait is over a meter greater than at the Med. end. With an average width of approximately 7 nautical miles and an average easterly flowing current of about 1 knot there are approximately one million cubic meters of water per second flowing through the Strait into the Med. Unlike tidal flow which is affected by the moon and changes twice during the day, this current is unidirectional, always into the Med., at between 1 to 2 knots.
The Strait has three distinct tidal streams, the main or center stream and two counter streams running along both the north (Spanish) and south (Moroccan) shores. To make matters difficult, these streams all flow at different times to the east and west.
The constant incoming current makes entering the Med. in a small yacht easier than exiting. We left during a springs tide, the time of the greatest flow, with the tidal stream running over 3 knots. It was important to stay in the proper stream to avoid the confused seas caused by the opposing tide to the current. Even so, we navigated through an energetic popple for a mile or so.
Once through the Strait of Gibraltar we turned south, hoisted the sails and settled in for our 600 mile downwind passage to the Canary Islands.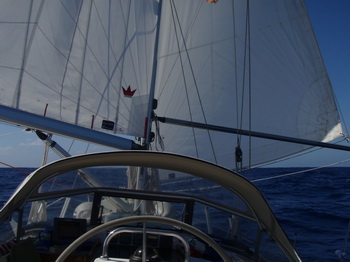 Tenaya sails well downwind with the jib poled out.
We keep four hour watches around the clock. We like this system as we always know when we will be on watch and when we will have free time. It gives us a nice long stretch to sleep. Our watches are as follows: 0600-1000 KT, 1000-1400 JT, 1400-1800 KT, 1800-2200 JT, 2200-0200 KT.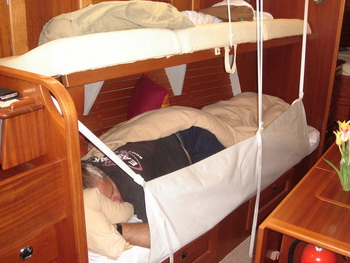 Jim is comfy in our sea bunk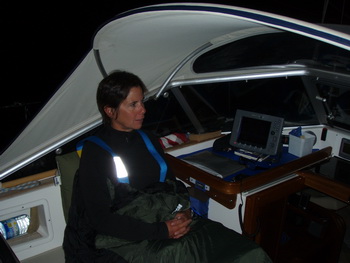 Katie on a night watch cozy in a sleeping bag
We had no moon the first few nights out. It was so dark that the stars shown incredibly brightly above. It was absolutely beautiful as Tenaya glided along the inky ocean with the multitude of stars shining overhead. Shooting stars were everywhere.
One night dolphins swam with me during my entire watch. As I settled in for 4 hours in the cockpit I plugged in my iPod and turned up the volume. Within a couple of minutes 3 dolphins came bounding over. Then more. Then more. They were jumping actively and darting back and forth under the boat from one side to the other. As the songs changed I noticed their activity level did too. They really liked the Allman Brothers but were more subdued when Dylan came on. When they didn't jump much I'd play Ramblin Man again and they would jump higher and dart faster. They seemed happier when I was not singing along so I had to contain my enthusiasm a bit. The time went so quickly that beautiful night!
When Jim came on watch I pointed to the dolphins and told him my story. He plugged in his iPod and I went below to sleep. When I awoke he told me the dolphins left shortly after I did. Maybe they were tired or maybe they didn't like his music.
One morning we awoke to find a flying fish on the deck. Another time I couldn't figure out why the water on the side deck was so high. I looked at the scuppers and found one clogged with a cuttlefish (squid/calamari). Guess the stranded little creature was trying to get back to the sea. I thought for a moment how tasty they are as I tossed him back overboard.
.

Flying fish skim the surface of the water at high speeds for quite some distance. Guess Tenaya got in this ones path.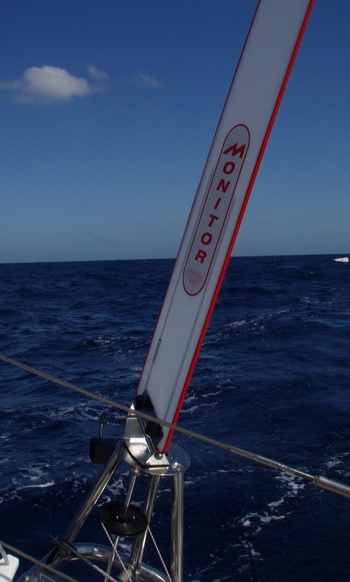 The windvane steers Tenaya towards the Canaries

This was our first opportunity to try our Monitor windvane. After fiddling with it for half an hour Jim pulled out the instruction booklet and had a look. Shortly thereafter he had it running like a charm.
Much of our sailing was almost directly down wind when an accidental gybe is possible with a small change in wind direction. As the Monitor steers by wind direction, it kept us on course without a problem. We are thrilled with this addition to Tenaya.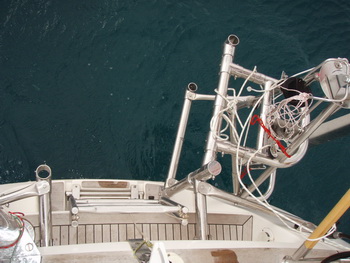 The open swing gate allows easy access to the steps
Because we often use our steps for swimming and getting in and out of the dinghy we chose to add the optional swing gate when ordering the windvane.
The instruction booklet says it works well as long as there is wind. Guess that's obvious since it is a windvane! We got a chance to test it in very light wind and it still worked well.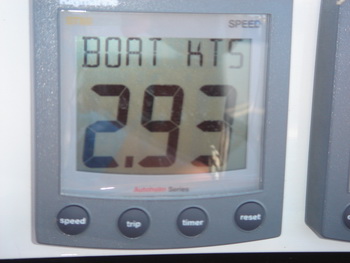 With a wack and a thwack and a wack and a thwack and a bang of the boom (this was rhythmic) Tenaya rolled back and forth on the ocean swells in very light wind. As we were in no hurry we patiently experimented sailing in these conditions. We probably should have tried flying the asymmetrical spinnaker but we were so enthralled and pleased with our new windvane that we kept the jib poled out and sailed wing and wing. Eventually the wind rose and things quieted down.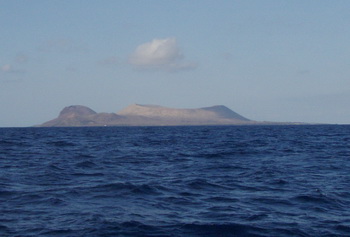 Isla Alegranza, northernmost of the volcanic Canary archipelago
In 6 days, 5 hours we covered a total of 906 miles. Winds were generally light at 13-18 kts. although we experienced a period of near calm for several hours with winds only 2-3 kts.
Shortly after 1:00 in the afternoon on Tuesday, Oct. 7 we arrived at the Playa Francesa anchorage on Isla Graciosa. A couple of sandy beaches ashore with a red and orange volcanic cone just to the west surround this small bay. A small harbor and town are past the next bay. Tall cliffs on Lanzarote rise straight up from the narrow channel separating the islands. Volcanic peaks and craters of that starkly beautiful island show in the distance. We will be happy here for several days.
.