June 3
After an overnight visit to Svolvaer we motored 20 miles to one of Norway's most scenic spots, Trollfjorden. The entrance is 300 feet wide. The north wall is over 1,000 feet high, capped by ever-ascending mountain peaks that level off to form an ice field. The length of the glacial fjord is a mile long and it opens up into a small round bay, maybe a half mile in circumference. The chart shows depths over 100 feet but we did find a location shallow enough to anchor. We had this lovely bay, surrounded by snow capped mountains and waterfalls, all to ourselves.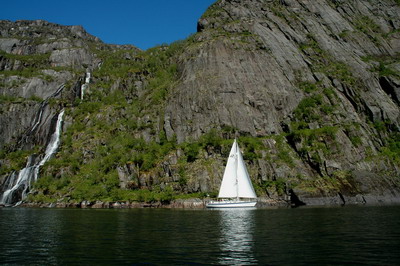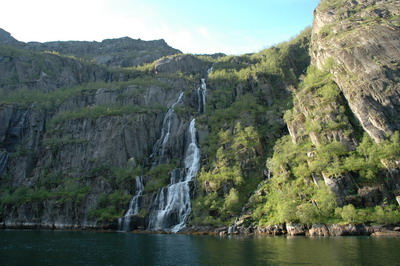 In 1890 a historic incident, the Battle of Trollfjord, occurred in the Trollfjord. The battle in question was to be of major significance for the management of marine resources, and has been portrayed by artists, authors and historians alike. What happened in 1890 was that wealthy ship owners used their steamships to cordon off the Trollfjord, where the largest occurrences of cod were crammed together, demanding to have the fish for themselves. The majority of the ordinary fishermen, who carried out their fishing operations from small boats, were furious at this, and launched an attack on the steamships. There were bitter skirmishes, but in the end, the wealthy ship owners were forced to submit.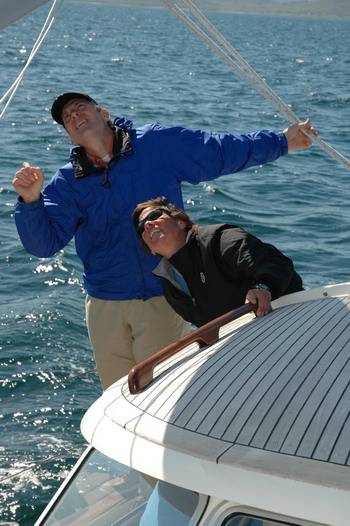 Katie is always passionate about correct sail trim and picked John's brain as much as possible.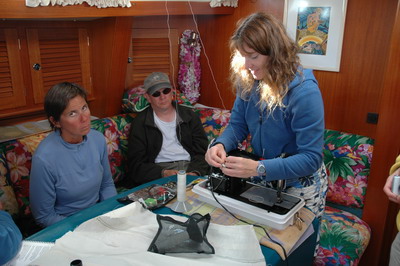 The class covering sail repairs and use of a sewing machine had Katie wishing she was back trimming sails. "Sewing? Really? That's Jim's job!"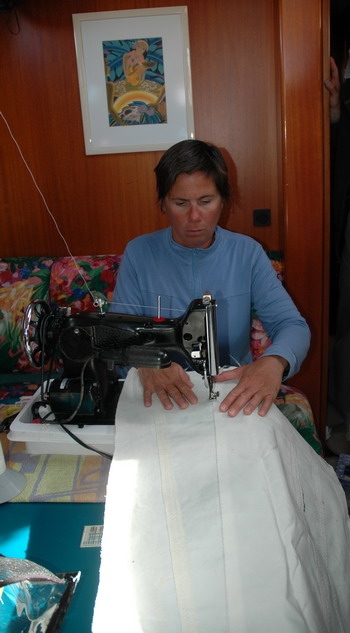 One of my few attempts ever with a sewing machine.
June 4 - 8
After leaving Trollfjorden we sailed the remaining 165 miles to Tromso, stopping at Neshamn, Harstad, Hestoy. Tromso was an exciting town with an excellent museum of polar exploration.
June 9
On Saturday, June 9th we flew back to Brussels and by evening we were back on Tenaya. It felt great to be home again. We did get to sail one day before Katie returned to the USA for a week. When she returns we are off....following the north coasts of France, Spain, then Portugal and into the Mediterranean.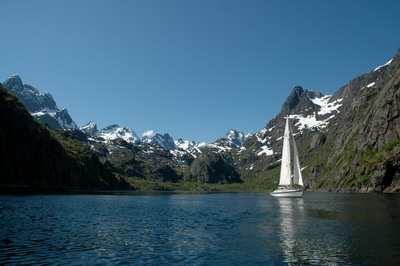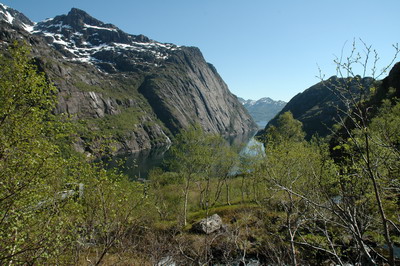 We hiked up the valley for a great overview of the fjord.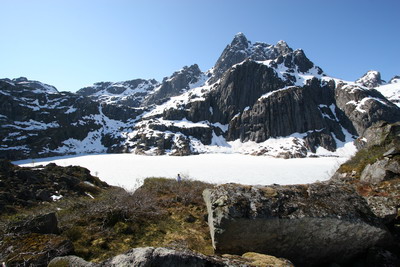 We climbed through streams, bushes and over huge boulders and finally snow. It could have been in the high mountains, but was only a few hundred feet above sea level.
Besides the fantastic sailing and incredible islands, villages and mountains we also had classes in a number of subjects including winch servicing and repair (above), marine weather, navigation, anchoring, diesel engine maintenance, storm tactics, splicing and rope work, celestial navigation, electrical power systems and more.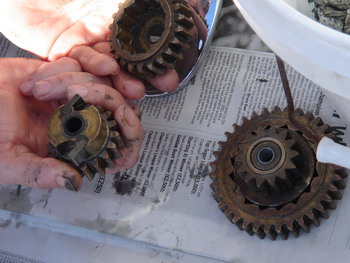 Since our winches are just like theirs (but smaller) Amanda was kind enough to go slowly and let me take lots of pictures for reference when we take ours apart. Katie found this way more interestsing than sewing.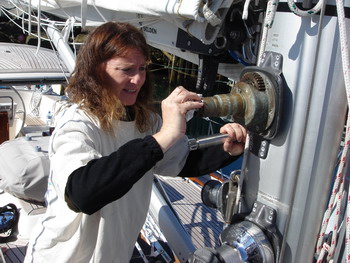 Amanda made servicing the winches look simple. She took it completely apart, cleaned all the parts and reassembled it. It all made sense then. I hope it works that easily for us.
The entire crew: Donna, David, Will and Al were all great, and living together on a small boat for 21 days was an enjoyable experience. Read about the entire expedition and the crew on the Mahina website Expedition Updates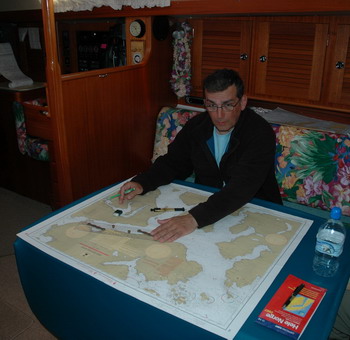 Al was working hard, planning our course for the following day.
While watching Al plot a course, Katie and Donna get the uncontrollable giggles!