May 23
We left Bergen with a forecasted Force 7 following winds and had more fun surfing the waves as we travelled north. A short 38 mile day and we arrive at Fedje Island. We tied up to an abandoned barge and Amanda and I (Jim) built a bridge of planks to reach the shore.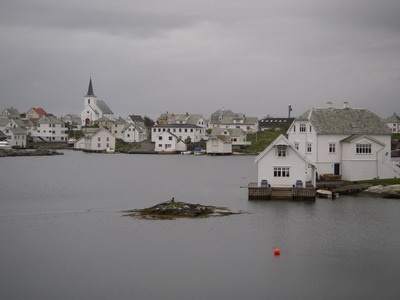 Fedje Island
May 24
Sailed 63 miles, wind wind gusting to 34 knots, to the town of Floro, a small fishing and ship building town.
May 25
Another great day sailing 90 miles north to Alesund. The city covers a number of small islands all linked by bridges. In 1904 a fire destroyed the city and Kaiser Wilhelm of Germany sent German craftsmen and ship loads of building supplies to rebuilt the city in Art Nouveau style.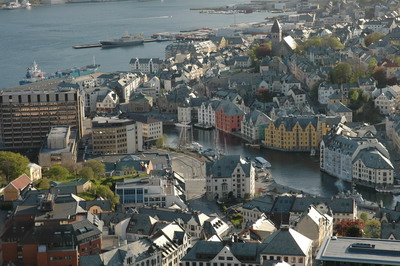 Alesund from a hilltop cafe
May 26-28
On Saturday, May 26th the GRIB weather files showed gale force headwinds coming in 72 hours so we took advantage of fresh southerly winds to sail 350 miles non-stop to Lovund Island.
May 28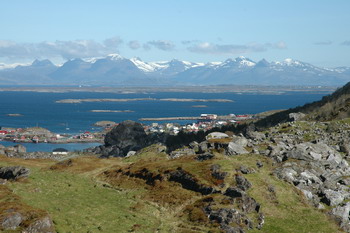 We arrived at the island of Lovund, famous for the world's largest colony of puffins. Seeing puffins was one of Katie's goals for this trip and we saw thousands!
A nice walk around the island took us to a couple of puffin viewing sites. The nesting area, which is closed to visitors, is on the side of the 619 meter summit of Lovund.
Puffins are one of the best divers of the Arctic sea birds, able to dive 20 meters (60 feet) to catch herring. Their streamlined body shape and short wings make these birds good underwater hunters but poor fliers. They need rapid wing strokes to stay airborne. Between April and August, they fly out to sea each day, sometimes as far as 70km to catch herring to feed their young.
May 29
Next we sailed 55 miles north to the Holandsfjorden. We followed a complicated course around numerous islands and past the Arctic Circle to Holandsfjorden and the toe of the Svartisen glacier.
We crossed the Arctic Circle at 2 PM on May 29
Katie took this reflection picture at 11 PM in Holandsfjorden. We are in the wonderful world of the Midnight Sun.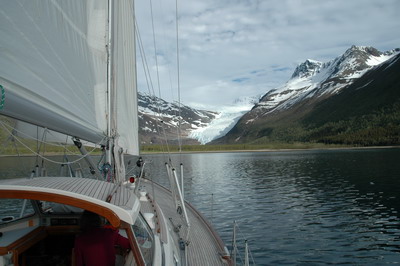 Sailing into Holandsfjorden with the Svartisen Glacier and the snow covered mountains surrounding us. Truly incredible.
Continue our voyage: Norway Part Three
.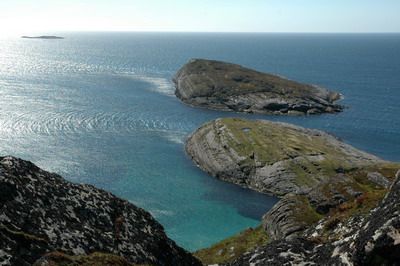 A beautiful bay on Lovund Island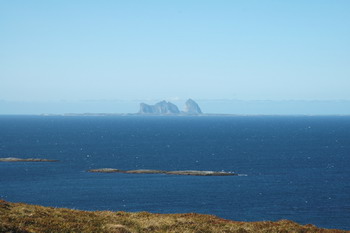 The view from Lovund of several distant islands rising dramatically on the horizon.
Thousands of puffins flew over us as we took pictures which looked like lots of black dots in the sky. But we were close enough to their nests to see them land.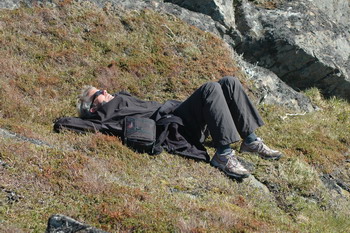 Jim hard at work watching for the returning puffins
The Svartisen Glacier. This is only the tip that reaches the sea of the 140 square mile glacier - the lowest glacier in Europe.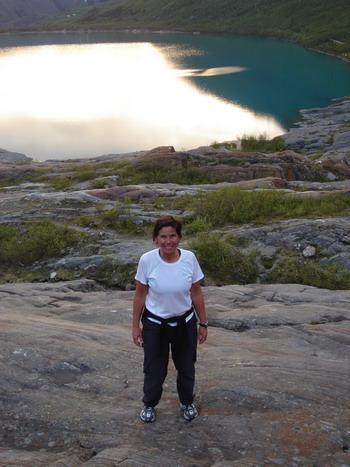 Katie having a great time hiking to the base of the glacier. In the background is a lake formed in 1950's when the glacier retreated. See Katie's View for her thoughts on this walk.
After a long hike there is nothing better than to sit in the sun in shorts and read - north of the Arctic Circle!
.