June 10 we arrived back in Bruinisse and the next day Katie flew to San Diego for one week to see her mom. While there she filled 3 duffle bags with more things we needed. Lots of boat supplies and parts and some bulk foods from Costco. Thanks to the vacuum packer the nuts and dried fruit will last quite a while. It was handy for packing ziplock bags too.
Our plan was to leave around the 25th of June to begin our travels to the north coasts of France and Spain, then Portugal and into the Mediterranean. We would like to spend the winter on the south coast of Spain, hopefully in Almerimar Marina. Almerimar does not take reservations, but a posting on the Seven Seas Cruising Club's forum received a couple of answers saying that if we arrived before the end of September there should not be a problem finding a space. So, as of now, that's our plan.
It's exciting and a little hard to believe that after living in Bruinisse all last season and up until now that we will be leaving. Traveling without a "home" berth to return to, instead we'll be taking our home with us and stopping wherever we want (or the weather dictates) to explore and enjoy new towns and villages in different countries.
We do not have a set plan other than to arrive in southern Spain sometime in September. Scott and Amy are planning to join us for a time and since we didn't know where to meet, they decided that we will be in Porto, Portugal on August 7th so booked flights.
Before we leave we have a list of "To Do" items that include some maintenance projects (winches and furlers), buying additional equipment including a second anchor and 100 meters of anchor rode (and finding a place to store it) and provisioning for meals for when we will be at sea or arrive and leave towns at hours the stores, if any, are closed.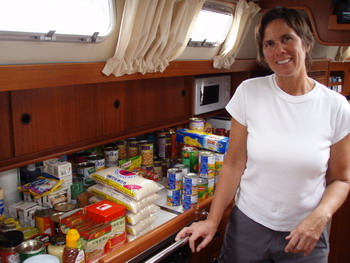 Katie worked out a 2 week menu plan and multiplied it by 4. Not knowing how much we'll be eat in restaurants and be able to buy fresh ingredients, we wanted to have enough stored for quite a while. We bought a few kilos of chicken, some beef and pork, and a little fish and shrimp for our freezer. This is the first time we have used the freezer, so far it's been our drink refrigerator holding beer, wine and sparkling water.
We have a Spectra Watermaker that we have never used save for a demonstration in April. When I tried it the other day, now that we want to use it, it worked for a few minutes and then stopped. Our departure is now delayed a few days for the watermaker distributor to come fix it on the 26th (I hope it can be fixed without a longer delay waiting for parts!) Maybe we should have paid attention to those warnings we've read about too many moving parts on gadgets. We like gadgets at this point... ask us about it again in a couple of years though.
Our Raymarine chart plotter has been working fine, except a couple of times it seemed to re-set itself. A technician from the local radio shop came and replaced the E120 unit (apparently there had been some problems with these). Afterwards the display we view from the helm, an E80, no longer worked. Maybe the new plotter can't communicate with the old plotter? We're waiting for the technician to sort it out and get everything working. More gadgets, more problems. I'm beginning to see a trend here.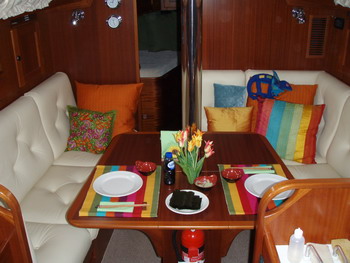 After nearly a week of bringing things in from California, Antwerp and Holland, everything is packed and the main saloon is all in order, table set for salmon and rice hand rolls.
June 26th update:
Everything is fixed! Almost. Both chartplotters now work, although may still have a problem when we use our newly installed AIS system that gives us information about large ships in the area.
The Benelux distributor for Spectra Watermakers came today, found a defective part, replaced it, and then did a complete check on our system. It now seems to be working perfectly.
So, tomorrow we are off........................ stay tuned. We will update when we can.
We decided that although the weather was not ideal and the winds were still gale force, we would sail to Roompot Marina as we were very excited to begin our adventure. The marina is very close to Roompotsluis, the lock to the North Sea. This way we'd be ready to lock out when the weather cleared a bit. It was a very wet sail with nearly continuous spray and many dousings. Happily, by evening we were safely in the marina.
The weather report for the 30th wasn't great, winds from 15-20 knots and waves 2-3 meters (6 - 9 feet) coming directly at our bow. However, it was the best forecast so far, so we decided to give it a try. Because of our mast height we had to leave at low water and that would mean a late start and not enough time to reach a pleasant port before dark. The best solution was to to go through the lock at night and spend the night tied up outside so we could get an early start in the morning.
Low water was at 8:30 pm and we had about a one hour window to fit our 19.5 meter mast under the 18 meter bridge. But as evening approached the winds kept getting higher and higher until they reached gale strength, consistently blowing in the high 20s with 30+ plus gusts. We had never tried getting our of a marina with winds this high. The direction of the wind was directly from behind so getting out of the box was no problem but we wondered if we could get the bow turned down the fairway before hitting any boats on our pontoon. Needless to say we were a bit nervous! The fairway was the widest we've seen and there was a finger between us and the next boat so it seemed like the ideal time to see what Jim and Tenaya could do. We finally went for it and all went very smoothly. Now we know the bowthruster works in Force 8. When we called the lock keeper and told him we were coming he was surprised...no one else was going out of the lock in this weather. He was very kind to have the gate open for our arrival.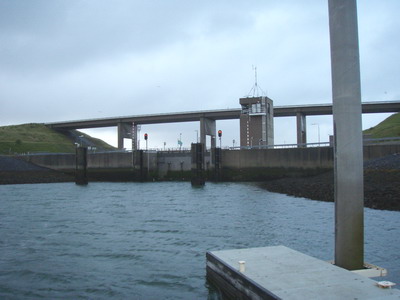 On the morning of June 30, Roompot lock from the North Sea side
The conditions that night weren't perfect for sleeping. The pontoon, which rose with the tide, made all kinds of terrible noises. We were being blown onto it so were bouncing around a bit, listening to the squeaking and squealing of lines and fenders as Tenaya jostled in the high winds. We did manage to get some sleep and awoke at 4:45 to lower winds and high water. Perfect to head off! The trip was exciting for us...our first trip alone in the North Sea. Lots of navigational problems, many huge ships entering and leaving the ports of Flushing, Antwerp and Zeebrugge, and 15+ knot winds directly on our bow. Waves were splashing over Tenaya and spray was our constant companion. Not perfect for sailing but an exciting day. By late afternoon we had traveled 53 miles and were in a marina in Nieuwpoort, Belgium. We walked to a market to buy a few groceries and stretch our legs, then Jim made a yummy stir-fry beef with broccoli dinner. We were sound asleep by 10:00.
.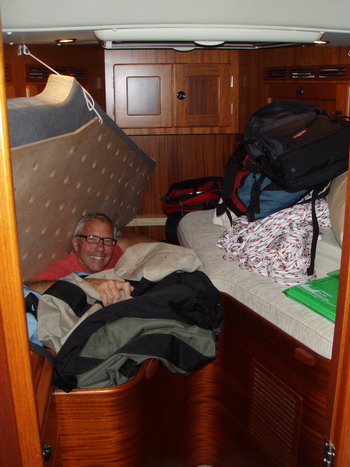 Getting everything packed away
I have been working out different passage plans. As of today, June 24, the plan is to leave the Netherlands through Roompot Lock and enter the North Sea. Our first stop is Nieuwpoort, Belgium, where we took our first boating lessons in 2005. From there our next stop will be in northern France. Then we plan to hop along the coast with each tide.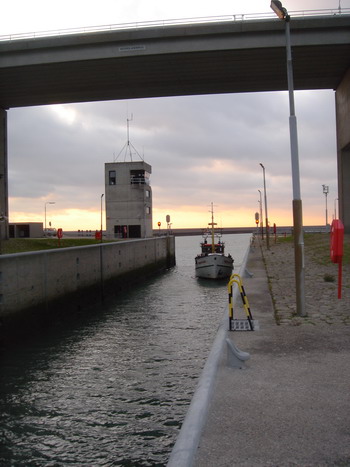 Roompot Lock - We need to plan this one correctly. The bridge is 18 meters high and we are 19.5 meters high so we need to pass under at low water.
.