4 August 2015
Albania. We're in Albania!
Jim and I are attracted to places that most yachties are not. We tend to run from the herd and, in the Mediterranean during August, there aren't many places to hide. But we found Albania. We like it and can't quite get it through our heads that we're actually here.
With Greece to the south, Montenegro to the north, and Croatia just beyond that, most boats sail right by Albania. In the whole of the country, there is one marina. It's tiny and offers no yacht services whatsoever. In our sailing guidebook, Adriatic Pilot, the authors admit to never having actually sailed in Albania. Perhaps they are intimidated by the minefields marked on the charts.
Tourism hatched when the country emerged from isolation in the early '90s and is a fledgling industry today. Coastal visitors arrive by ferry from Italy and Greece, the latter with whom they are still technically at war. There are a few ruins and quaint villages, but the main attractions are the beaches. Most are rocky, pebbles or dirt. I've seen sand once. We hope to join the few travellers who venture into the mountains.
750,000 pillbox bunkers, remnants of communism, dot the fertile farmland and rugged mountains. People are poor compared to those in other European countries. Unlike Kosovo where their leader, Tito, allowed people to travel, Albania's leader, Hoxha, did not. As a result, Albanians did not have the opportunity to study and work abroad. When the borders reopened, Kosovars returned from Germany, England, the US, and elsewhere to invest in their home country. Albanians have nothing to draw on.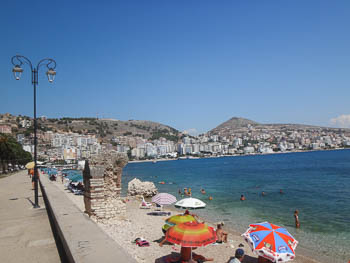 Sarande (port)
39 52'.26N : 020 00'.2E
It was an easy 17 mile trip from Corfu to Sarande, the southernmost port of entry in Albania. Without a cloud in the sky and less than 5 knots of wind, we motored on a calm sea. Every so often we were passed by small lizard-like hydrofoils or large lumbering ferries. When we arrived, our agent, Agim, was waiting on the dock to catch our lines.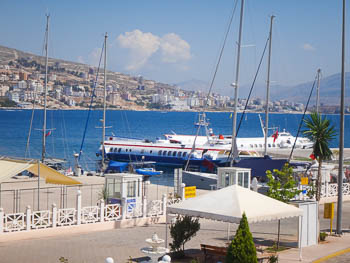 Having no idea of what to expect, Jim and I set out to have a look around. A cobbled promenade wraps around the bay lined with shops, restaurants and bars. Pastel-colored, multi-storied, cube-shaped hotels and apartments are packed on the hillside behind. People bobbed in the water and lounged on chaises under umbrellas. Our first stop was the Vodofone shop to get Albanian SIM cards. Gotta have that internet! Then it was time for a beer.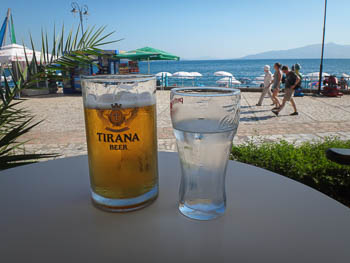 The next day Agim arranged for a taxi and a guide to take us to the ancient ruins of Butrint, the 13th century castle in Gjirokastra, and the alluring Blue Eye natural springs.
Our guide, Luis, pointed out buckled unfinished concrete buildings on the outskirts of town. He said that after communism ended people started to build without permits. The authorities randomly destroyed the supports of some as a warning. Eventually the people rebelled and won. Now uninspiring concrete buildings are sprouting like mushrooms.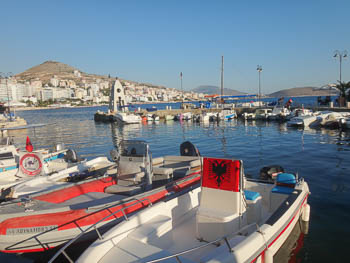 Butrint
We can't seem to get away from ruins. But, when there is a UNESCO World Heritage Site just 24 kilometers away, why not see it?
Built across the narrow strait from Corfu, Butrint was a harbor in the 6th century BC and continued to be settled, off and on, until the early 19th century. During the communist period, Butrint was occupied by the military because of its close proximity to Greece.
The theater and bath house have had extensive work and the gorgeous mosiac floor of the baptistery is covered in sand to protect it. Because I love mosiacs and search them out, I was happy to find a photo in the museum.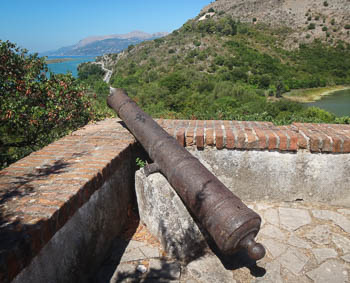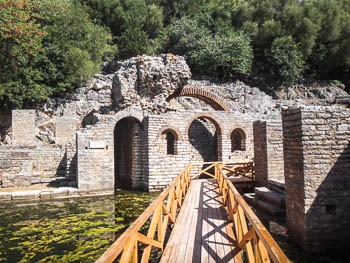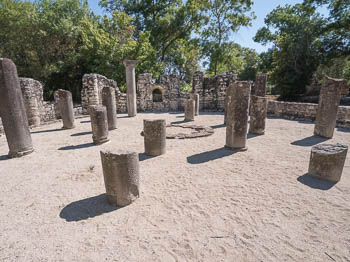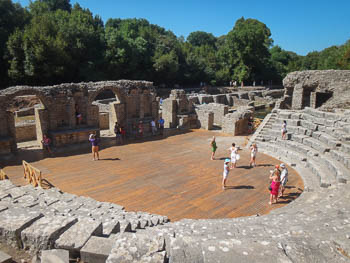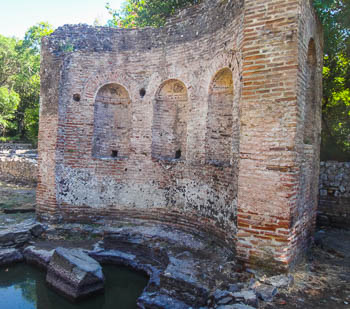 Individuals were forbidden to own cars during the communist regime and people were not allowed to leave their communities. Land owned by the rich was confiscated and given to the poor to farm. When the system collapsed, the traditional landowners were supposed to get their land back. Politicans took prime coastal real estate and some rightful owners are still fighting for their claim more than twenty years later. Many who farmed stayed on the land because they had nowhere else to go.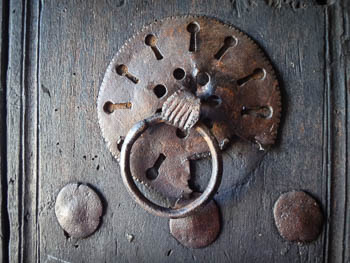 Gjirokastra
Driving over the first row of mountains roughly paralleling the sea, we came to a large valley and headed north. Luis explained that the groups of houses climbing towards the west are owned by Greeks.
When we saw a castle on top of a hill with a city running down its flank, we knew we'd arrived at Gjirokastra.
"This was a surprising city which seemed to have come out of the valley unexpectedly one winter's night, like a prehistoric being, and clambered up with difficulty, stitching itself onto the side of the mountain. Everything in this city was old and made of stone, from the streets and fountains right up to the roofs of its big houses, a century old, which were covered with stone tiles the color of ash, like so many huge carpaces. It was difficult to believe that under these hard shells the soft flesh of life thrived and was renewed." Albaian Ismail Kadare describes the city well in Chronicle in Stone.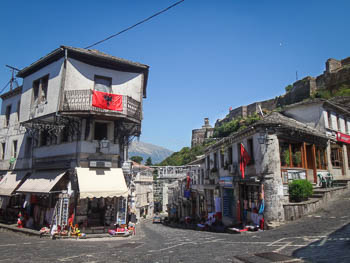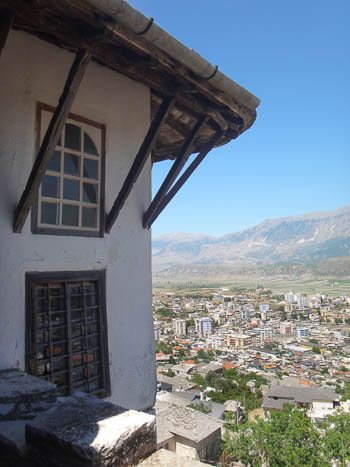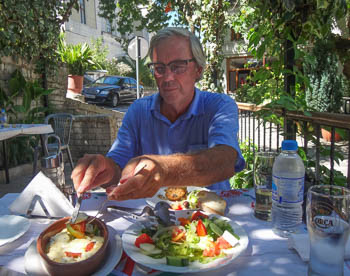 The Blue Eye
In the foothills, just off the road between Gjirokastra and Sarande, several rivers come together beneath large shade trees. At the head of one is a brilliant blue pool that bubbles with fresh spring water. The setting is marvelously cool in the August heat and the water is positively chilling.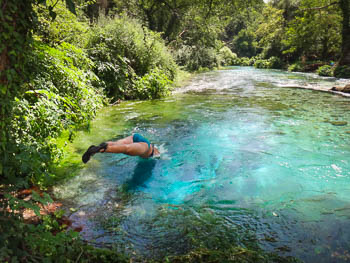 How appropriate that we happen to be in Albania during a blue moon!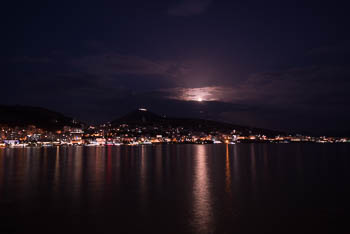 Vlore
40 20'.35N : 019 28'.4E
We left at 6:00 AM for the day's 66 mile trip up the coast. The wind was 2-4 knots from the southeast until about 11:00 when it shifted, as usual, to the northwest and increased to 18 knots. The sea grew from slightly agitated to moderate as our bashing increased. Cloud cover was nil. Vlore is the dividing line between the Ionian Sea to the south and the Adriatic Sea in the north.
Vlore is a good, safe place to leave the boat to do a road trip or just drive to the mountains for the day. There are no restaurants, markets or anything except a concrete bunker in the immediate vicinity of the marina. That's about all I can say about the place.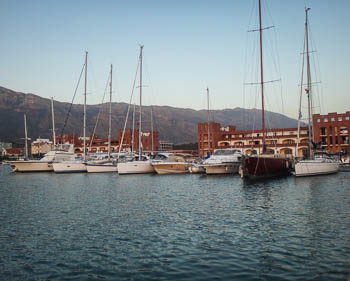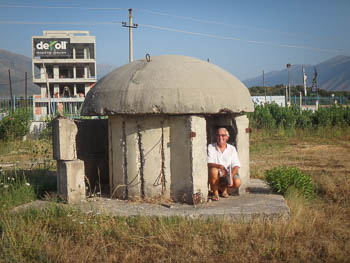 Yachtie information:
The best Pilot Book to have is: 777 Harbours & Anchorages, Eastern Adriadic - Slovenia, Croatia, Montenegro & Albania by Sonia Florian, Dario Silvestro and Piero Magnasbosco, 2014 version. Each page is a true nautical chart - North up - featuring meridians and parrallels. The anchorages show directions of wind protection and contour lines. The author provides a keen insight into the country and its people, better than the Bradt Albania (non-sailing) guide book. The Imray Adriatic Pilot, by Trevor and Dinah Thompson, has more waypoint errors than we have seen in all other Imray publications combined.
Quote from the Imray guide: We have been unable to visit Albania ourselves because of the political and social situation. 2012 Version.
Quote from the 777 guide: We arrived in Durres two hours later. It was the best decision in our lives: Albania became our great passion. This is the reason why this pilot book was written.
Arrive in Albania with full fuel and water tanks. There is no place to refuel easily and there is a lot of motoring involved. Normally the wind is light from the SE until about noon when it picks up from the NW and can top 20 knots.
Sarande welcomes private boats although an agent is required to deal with the authorities. We used Agim Zholi at Agimzholi@yahoo.com, 00355692566576. He and his colleague, Gherti, are helpful, and professional. Agim's fee was 35 euro plus 10 euro per night. We stayed 4 nights without a problem except the night our smoke alarm sounded at 0300. Panicked out of our sleepy stupor, we checked Tenaya thoroughly before concluding the wood-smelling smoke had blown in from somewhere ashore.
Boats med-moor to the same wall ferries do. It's high, so a passarelle is handy. There is a shared electrical circuit and the water is often no stronger than a trickle.
It is necessary to check in and out of each port with the police. The agent takes care of this and provides an outward clearance document that must be presented at the next port.
In Vlore, boats needing to clear-in to the country must proceed directly to the customs quay where an agent can be secured. Irene Cop has been recommended at sailalbania@gmail.com, 00355697324138. Otherwise, go straight to Marina di Orikum at marinaorikum@hotmail.it. Luan Bitri 0035682000603. There is electricity and water for each berth but no fuel or yacht services.
Minefields were a problem in the bay but charts show a path through. Apparently they've all been cleared now, but we didn't stray far. Call us chickens.
Keep the red buoys to port as you enter - the first one seems very close to the breakwater but has a minimum depth of 3 meters. We paid 45 euro for one night. The Italian management demanded payment by credit card but their machine could not accept our non-European chipped cards so they eventually took cash.
Go to August 2015 Part Two - Central Albania