April 6, 2014
Hello Thailand! Our mad dash to sail 3000 miles in two months is finished. Between all the water, reefs, fishing boats, big ships, and floating debris, we had some amazing adventures and found a few beautiful, peaceful anchorages.
Corinne joined us from Singapore to Phuket and had the 10PM-2AM watch. Even when steering around fishing boats, identifing ships by their lights and worrying if floating things might be connected and get stuck in the prop, she had a great time. Everything was fresh and exciting. She loves new challenges, just like her dad.
Koh Lipe - 06 29'.71N : 99 17'.75E
A short day hop northwest of Langkawi are the Butang Islands of southern Thailand. Diving is good around Koh Lipe and there are pretty beaches so we stopped for two nights.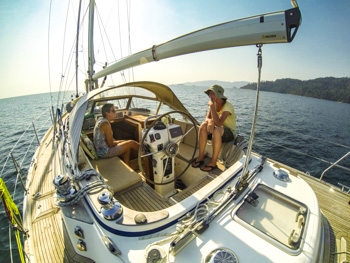 We did two dives with Shane of BK Dive and saw many eels at Stonehenge. A white-eyed moray and a fimbriated eel poked their pointy little heads out of the same hole! We also saw a large titan triggerfish, 2 batfish, lionfish, banded cleaner shrimp, tiger shell cowries, a few types of anenomefish and puffers along with a varicose wart slug.
Everything seemed super-sized at Pattaya Corner, the second dive site. The triton sea snail, the giant morays, the blue spined unicornfish, and even the tigertail sea horse were all the largest we've seen anywhere.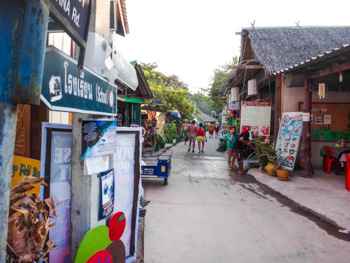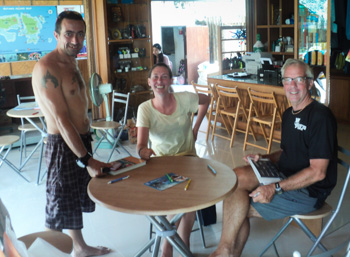 As we sipped cold beers on the beach after the dives, a guy that runs snorkeling trips told us about beautiful soft corals off of Arch Rock. There are public moorings at Ko Adang, he said, and we could take the dinghy over to see the coral. Just tie up where all the longtails do.
Ko Adang - 06 31'.90 : 99 16'.91E
Tenaya chugged 3 miles and we found a mooring close to the western shore of Ko Adang. Piles of boulders are lumped on the beach just beyond the glistening aquamarine water. The forested island is barely developed, only a ranger station and a few buildings are found on the southern shore.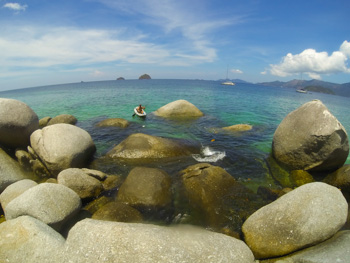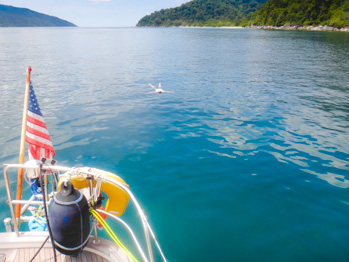 Corinne and I jumped in to cool off and see what was below. The current was strong. As we clung to the kayak to avoid floating away, I looked under the boat. Uh oh. A mess was entangled in the prop. That explains why it stuck when Jim shifted between reverse and forward while leaving Telega Marina and she was running rough. Guess we should have checked the prop earlier. There's that hindsight thing again.
There were two lines, a thick yellow one and a thin brown one. The brown one was stuck in three places of our Gori folding prop which wouldn't fold at all. Each time I went down to try to clear the yellow line, I had to wedge my leg against the rudder and my shoulder against the bottom to stay put until Jim looped a dockline around the midships cleat that I could tie around my waist.
Much easier! When twisting and pulling the lines didn't work, he handed down our sharpest knife. It cut through the brown line like butter and I was able to get most of it untangled. With a few bursts in forward and reverse the lines began to untwist. A little wiggling and jiggling freed the rest.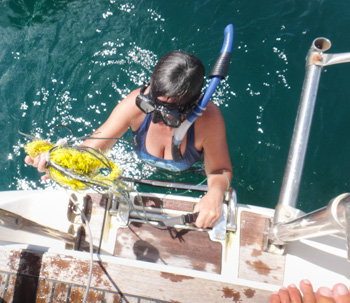 Now we could play. Corinne and I finned to shore and Jim took off in the kayak.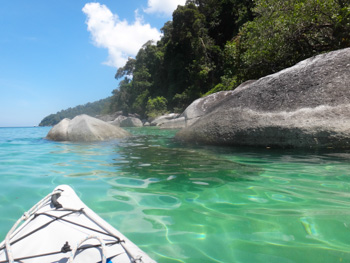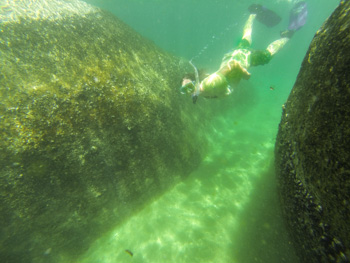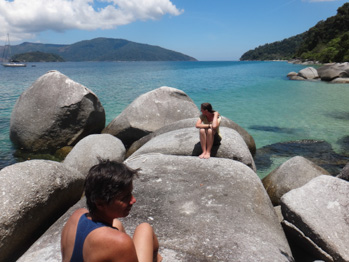 Jim loves granite rocks. When he saw us climbing around after snorkeling, he paddled back, climbed up, and promptly fell asleep.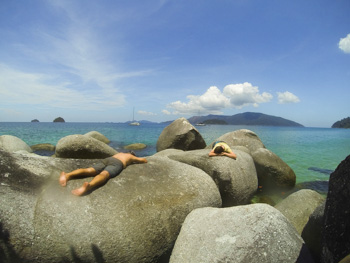 Wanting to see the soft corals at Arch Rock, we lowered the dinghy from its perch on the bow and went to have a look. The current was really strong! To get far enough past the coral to descend, aim my camera, and shoot the coral before being swept back to the row of lontails tied to the line, I had to swim with all my might. A few of the snorkelers held on to various lines and bobbed in their orange life vests, but most stayed on the boats. It would have been scary for people not comfortable in the sea.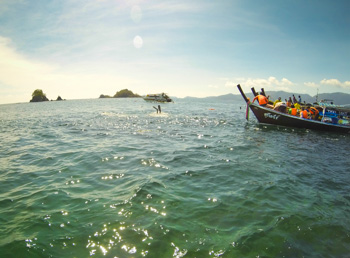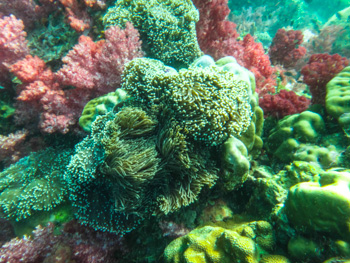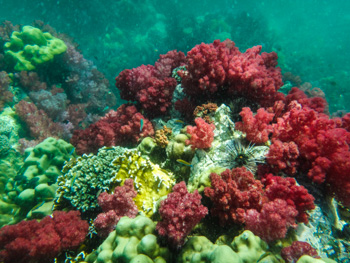 It is 136 miles from Ko Adang to Ao Po Marina on Phuket, our next and last destination in Thailand. Another overnighter. Here are some of the log entries in 24hr time.
1900 - Pretty sunset
2001 - Lightning left and right, over 20 brightly lit fishing boats
2100 - 25+ fishing (squid?) boats - big lights
2206 - Lightning. Veered 20 degrees
2312 - Lightning everywhere. Trying to avoid
0102 - Lightning, squall on radar
0300 - Raining. Squid boats on the horizon. Jim finally sleeping
0500 - Lightning, sprinkling. Small squid boats all around
0600 - Thunder and lightning behind us. Small fishing boats all around. Dawn breaking!
Dawn is usually a good thing for tropical thunderstorms. They go away. Usually.
0659 - Up to 30 knots. Raining, t-storm, thunder
0715 - major squall and lightning
0800 - squall, no visibility
0900 - Heavy rain again, some thunder. Lots of high-speed boats.
We were sailing between the south end of Phuket and the tourist haven of Ko Phi Phi. Lots of fast ferries go between the two. Normally boats show up on radar as a small purple blip on the chartplotter. Rain shows up on radar too. It makes a big purple blob around our boat. The blips indicating boats are lost. We can't see them in real life or on radar. Scary. We switched from wearing harnesses to inflatable life vests in case we were hit.
1000 - Vis better, 3-4 miles. Can't arrive at Ao Po Marina until 1600 (slack water)
1300 - Grey, hazy, calm, surreal with odd shaped mountainous islands ahead.
1515 - in Ao Po Marina, April Fools Day
Jim and I were sure glad that trip was over. We hate lightning. It scares us. Corinne, on the other hand, thought it was fun. You can see our track on the chartplotter when Jim and Corinne did a 180 and headed back south trying to avoid it. Eventually they gave up. Lightning was everywhere. Turns out Jim's prescription swim mask works well for standing watch in torrential downpours and strong winds.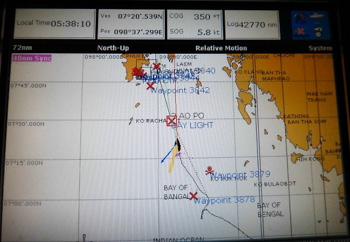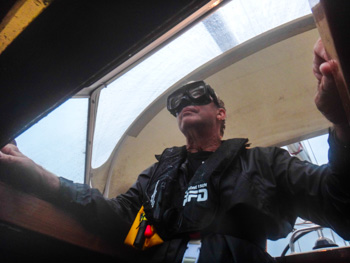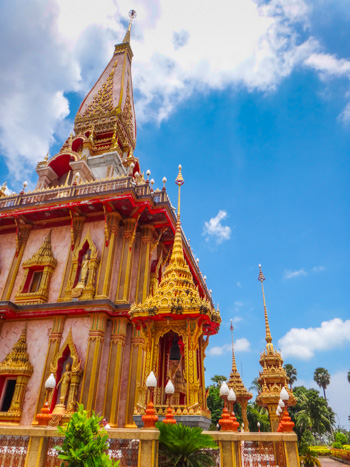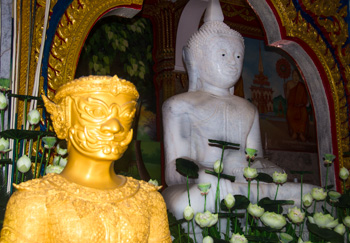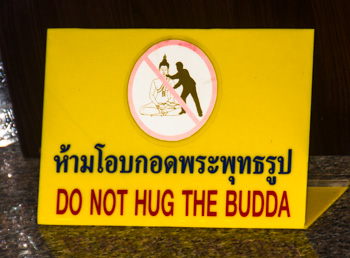 We like to think of ourselves as voyagers. Or travelers. But sometimes we are just tourists. We went to a snake show and then felt bad for the cobras and mangrove snakes that were poked and prodded to attack. No more animal shows for us.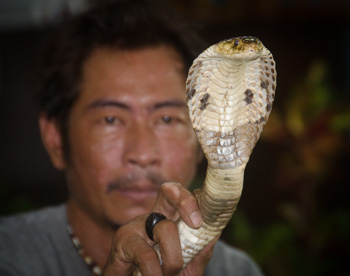 The streets of old Phuket Town are narrow and lined with two storied buildings. We didn't see many tourists, just a lot of business going on. Jim and Corinne stumbled upon a printing business using 50 year old presses while I went searching for silk.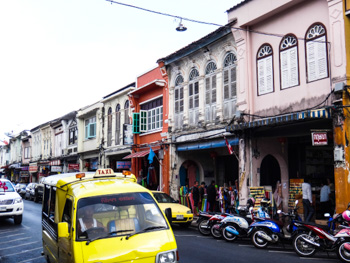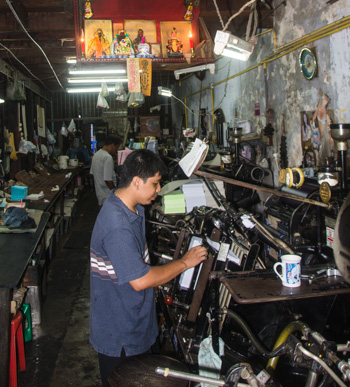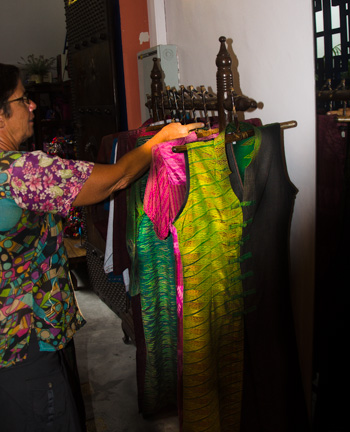 Ao Po Marina - 08 04'.16N : 98 26'.70E
An extensive remodel is underway at Ao Po Marina. Luxury apartments are being built, a water purification system is in place and a gym, pool and restaurant have already been completed. We were the first to use the new restrooms and showers and we've had the air conditioned gym all to ourselves.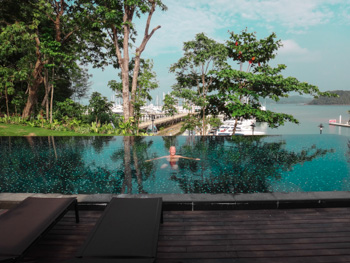 It's a lovely place and gets better each day - lounge chairs by the pool, an outdoor shower installed... The wifi is free, the food is delicious, the staff are friendly and the gym has a fabulous view. A larger pool will be built soon to compliment the shallow infinity pool by the gym. A laundry service is provided by Happy Hut, a convenience store 100 meters down the road, where a few essentials can be bought.
We are getting Tenaya ready for her trip to Antwerp. The load date is still up in the air and depends on when the m/v Rike arrives. 10 boats are loading but some will be offloaded in Turkey.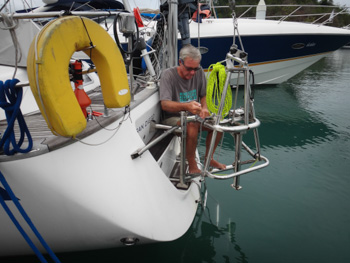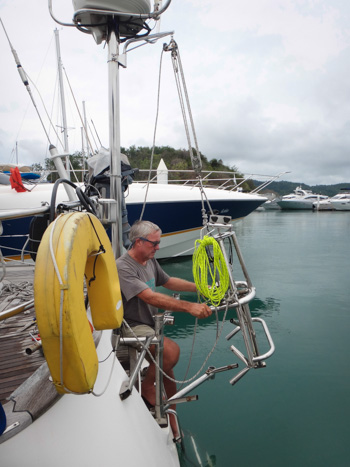 Thanks for all your help, Corinne. We love you. See you in Vietnam in a few weeks!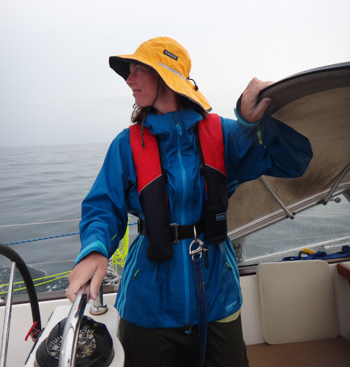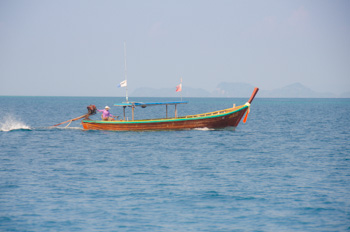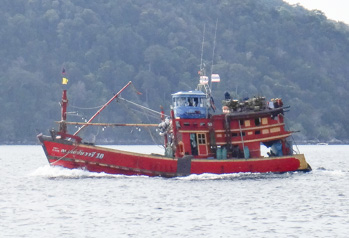 Go to April 2014 Part Two - Thai Cooking Lessons and New Friends