May 18 - June 8 - Sailing the West coast of Norway
Over the past year we have gained a lot of sailing experience and feel comfortable handling Tenaya in most conditions and in crowded marinas and locks. But we had never made a multi day passage and had not sailed in winds above Force 6 (wind speed of 22-27 knots) and never with larger waves.
Last March we attended a seminar in Seattle by John and Amanda Neal from Mahina Expeditions. Each year (for the past 18 years) they sail 11,000 miles in 6-8 months, conducting hand-on sail training for groups of six students on 2-3 week passages aboard Mahina Tiare, their Hallberg-Rassy 46. John and Amanda seemed like enjoyable people and passionate about training people to make their own offshore trips, so we signed up. We were on the first trip of the year and Mahina Tiare had just been through an extensive re-fit near the home of Hallberg-Rassy in Ellos, Sweden. Our trip was to start from Ellos with a 300 mile offshore passage to Stavanger, Norway and then continue north, past the Arctic Circle to the isolated Lofoten Islands, then on to Tromso for a 1300 mile, 21 day trip.
The experience was even better than we had anticipated. John and Amanda were great, the sailing was challenging and enjoyable and Norway was beautiful. We even had great weather most of the time!
May 18
In the afternoon of May 18 we set sail for Kristiansand, Norway, 90 miles to the west. John had been closely monitoring a large 987 low as it made its way across the North Atlantic, and thought that we might be able to sneak across the Skagerrak before the winds changed from SSE (beam reach) to SW (headwinds). We were just getting going when the wind increased to gale force 40 knot wind (force 8) with driving rain. The sailing was exciting but if we continued into the middle of the Skagerrak the waves would be much worse, so we turned around and spent the night the pretty village of Gullholmen.
May 19

Saturday morning the winds were down to 10 knots and we set off again, but once clear of land the winds were back up to 27+ knots (Force 7 "near Gale") and coming head-on. We changed course more to the north and headed for Risor. The Navtex posted a Gale warning but as the next day was supposed to be nicer we continued.
John wrote, "With the wind forward of the beam and a solid 34, gusting 40 we did indeed have a rough passage, especially once we cleared the lee of Denmark. Large breaking rollers occasionally came roaring through and our helmsmen would need to turn slightly into them to avoid having them smack on the beam, sending cascades of icy water streaming over the boat"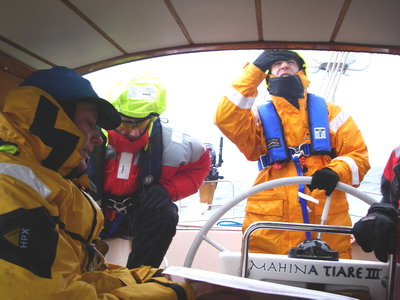 Crossing the Skagerrak in gale conditions
I couldn't write anything.....…I was too busy being seasick! Nearly the entire crew was sick but we all took our turns at the helm. Well ... mostly anyway. Amanda and Jim both covered for me (Katie) as I was down and out for quite a while. How did it go for Jim? Easy... throw up, drink some water, throw up again, hand steer for an hour, drink some water, throw up…… and keep repeating for 86 miles at 6 miles per hour. It was a very VERY long day, but we arrived in Risor at 8 PM. Katie came to life as we neared the harbor so was able to help moor to wall. After a shower and lots of good soup everything was perfect again. Even better when we found an ice cream shop! And no one was seasick again over the next 20 days.
May 20-22

The next day we enjoyed exploring Risor and around 9 PM the winds dropped and we set sail. The 15-18 knot wind was on our bow so we motor sailed. A high pressure system moved in and we motored around the southern tip of Norway in light winds, smooth seas and clear skies. Normally this is a challenging section, known as the Cape Horn of Norway, but we had it very easy.

May 22
After rounding the tip and turning north the wind picked up, gusting to 35 knots but this time from behind. We had great downwind sailing and surfing down the big swells. We sailed past the busy harbor of Stavanger and after 2 ½ days and 290 miles we arrived in Bergen.
Bergen was a great town to walk around, with a large open air fish market and a climb up a hill for a spectacular view of the city and harbor. We were not the only Americans in Bergen that day....Bill Clinton was in town for a music festival along with Norway's King and Queen.
Read John & Amanda's description of this trip in the Mahina Expeditions Trip Report section.
See Norway route map
.

.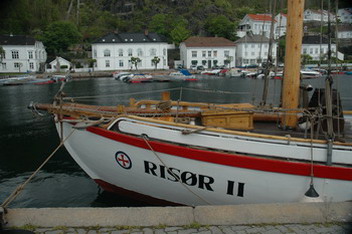 A historic lifeboat in Risor
Risor is famous for its classic wooden boat festival and the pride and joy of the town is a traditional gaff topsail Colin Archer designed volunteer coast guard sailing rescue boat, Risor II. Tied up in the middle of the inner harbor, a steady stream of volunteers were maintaining this classic boat.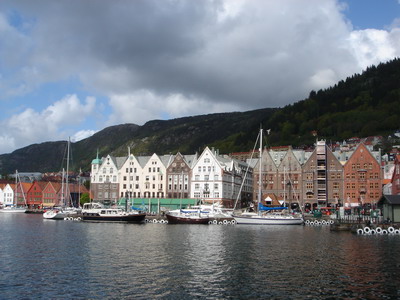 Bergen
Katie and the Bergen Troll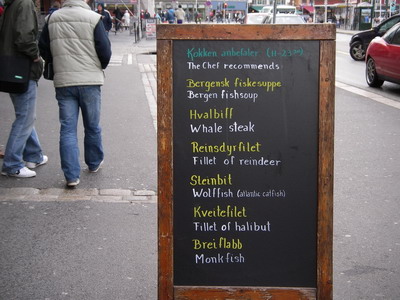 Norway and Japan are the only 2 countries that still allow whaling. Whale meat was available in some restaurants and in the fish market.
Of course we tried everything. The dark meat is whale - not very tasty to us.
Continue with us as we head
North from Bergen - Norway Part Two